Nobody says no to those monthly facials which give you that healthy post-facial glow. However, in-between the spa visits, you can always give your face mini pampering treats by using sheet masks regularly.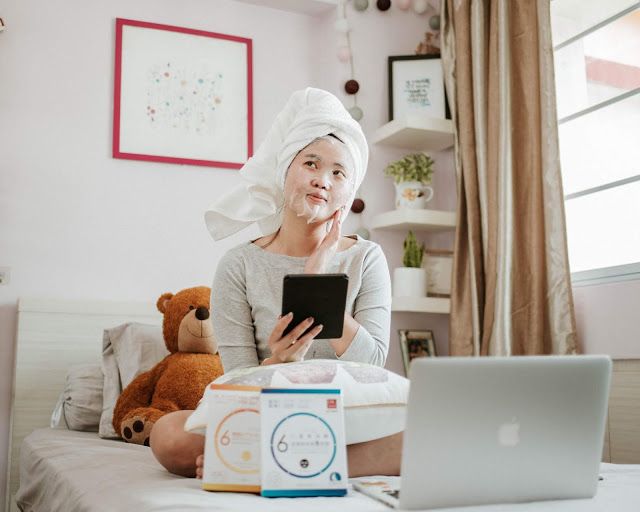 While sheet masks have become our go-to solutions when we want to give our skin a little TLC, here are some beauty tips to follow to make sure that we get the most out of these sheets saturated with nourishing essences.
1. Longer doesn't mean better
If I leave a mask on for an hour instead of the recommended 20 minutes, it means that my skin gets three times the nutrients, yes? The answer is a resounding no. In fact, leaving our sheet mask on our skin for too long causes reverse osmosis and moisture will be drawn from our skin back into the mask, and you will end up with drier skin than you had. Stick to the recommended timing to ensure that your skin is plump and hydrated.
2. Prep your skin prior to masking
Credit: Bombay on a Budget
Cleanse your skin and give it a gentle scrub before using a sheet mask. Getting rid of all the dead skin lying on the skin surface allows for better absorption of the nutrients.
3. Massage your skin
Credit: Virgin Media Television
Once you remove the sheet mask, massage all the remaining essence into your skin. A good massage helps in the absorption of the nourish essence and improves blood circulation. You can be sure that you will be waking up with radiant and glowing skin the next day.
4. Pick the right mask
Last but not least, pick a mask that is suitable for your skin. Check the list of ingredients to make sure that you've got a good quality mask because not all masks are made equal. Try the award-winning Dr. JOU Six Essence Hyaluronic Acid Mask range if you are confused by the plethora of masks that are available in the department stores.
Dr. JOU Six Essence Hyaluronic Acid Mask
Dr. JOU Six Essence Hyaluronic Acid Mask features six different types of masks — Whitening, Luminous, Hydra, Brightening, Revitalizing, and Soothing masks. They provide a 5-in-1 skincare solution because each mask sheet is a toner, serum, lotion, facial mask, and eye mask all in one. Talk about time-saving and convenience!
Each mask sheet contains a generous 32g of moisturizing serum, and six types of hyaluronic acids (HA) are integrated into each mask to ensure that our skin is well hydrated:
- Macro molecule HA forms a skin protective layer to avoid moisture loss.
- Medium molecule HA promotes the movement of moisture in and out of the skin.
- Micro molecule HA penetrates into the stratum corneum to hydrate skin.
- Adhesion HA has strong absorption properties to keep the moisture in our skin.
- Repair HA strengthens the skin barrier and improves rough texture.
- Acetylated HA, a derivative of HA, helps to soften skin.
Skin felt soft and supple, and plumped up with hydration after use, and you can definitely see that coveted glowing skin even on the very next day. Dr. JOU Six Essence Hyaluronic Acid Mask is available exclusively at Watsons, and retails at $16.80 each.