Once upon an Etude House, the world's largest flagship store at 2,300 sq ft was launched in the basement of Wisma Atria, Orchard Road, Singapore.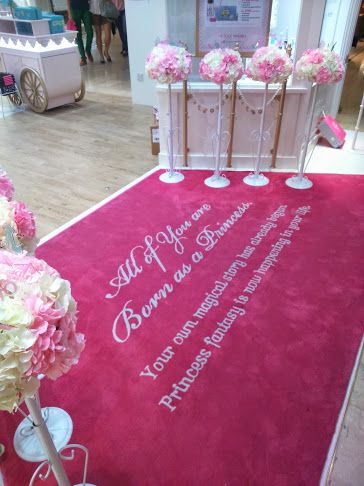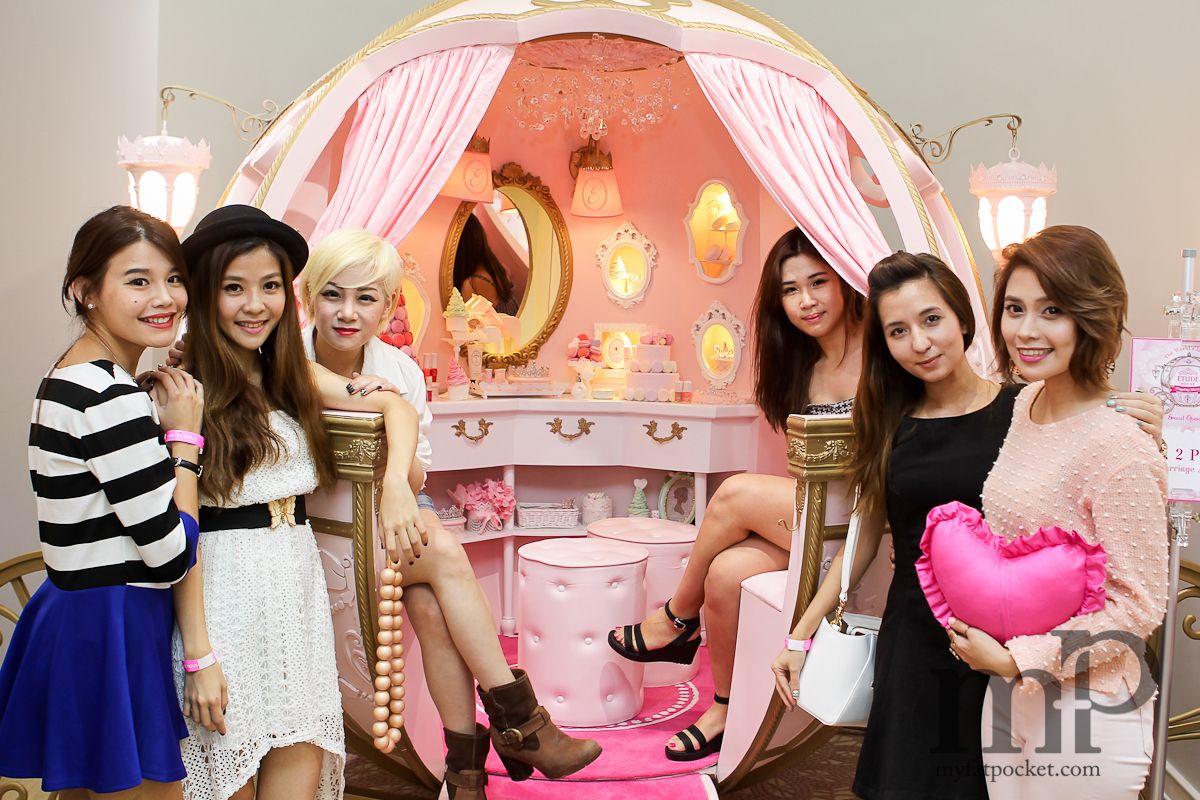 Step inside the magical kingdom of K-beauty and you will never leave the place missing a glass slipper or a bag full of makeup or skincare goodies. The designers of Etude House flagship store in Singapore wanted to make each and every patron feel like a princess while they are in the shop. With princess touches everywhere from splashes and shades of pink to photo booths, capsule machines and even a life-size pumpkin carriage, you can almost feel like you are in a Han Christian Andersen's fairytale story.
Cinderella? Your highness, your pumpkin carriage is waiting for you. Belle? Boards of skincare and beauty tips and information for you to read. Snow White? Many shades of red lipsticks, lip stains and lip creams and tonnes of skincare and whitening products to choose from.
Pony, the makeup maestro from Seoul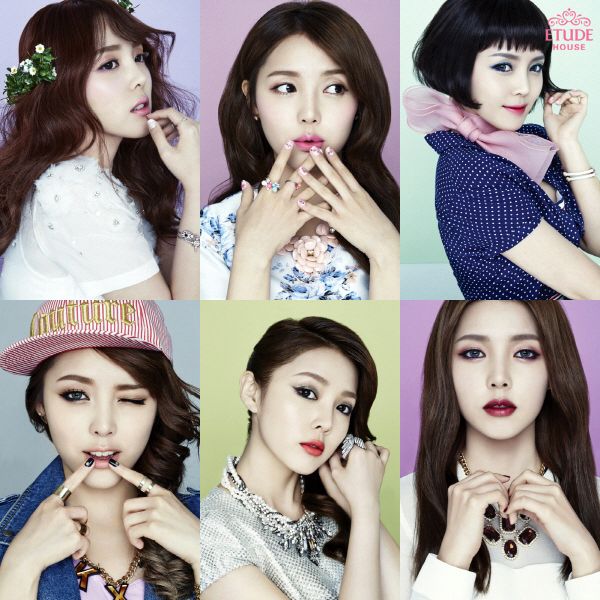 "Singapore is in the heart of South-east Asia and Singaporeans are savvy with a keen interest in K-beauty products," says the spokesperson of Etude House.
Yes we are! And it was evident from the mad crowd that almost caused a stampede. Especially so when Pony (aka Park Hye Min), the makeup maestro from Seoul, did a demonstration on how to create a lovely Princess makeup using Etude House's signature multifunctional pencil, Play 101, together with the Disney Collection collection products.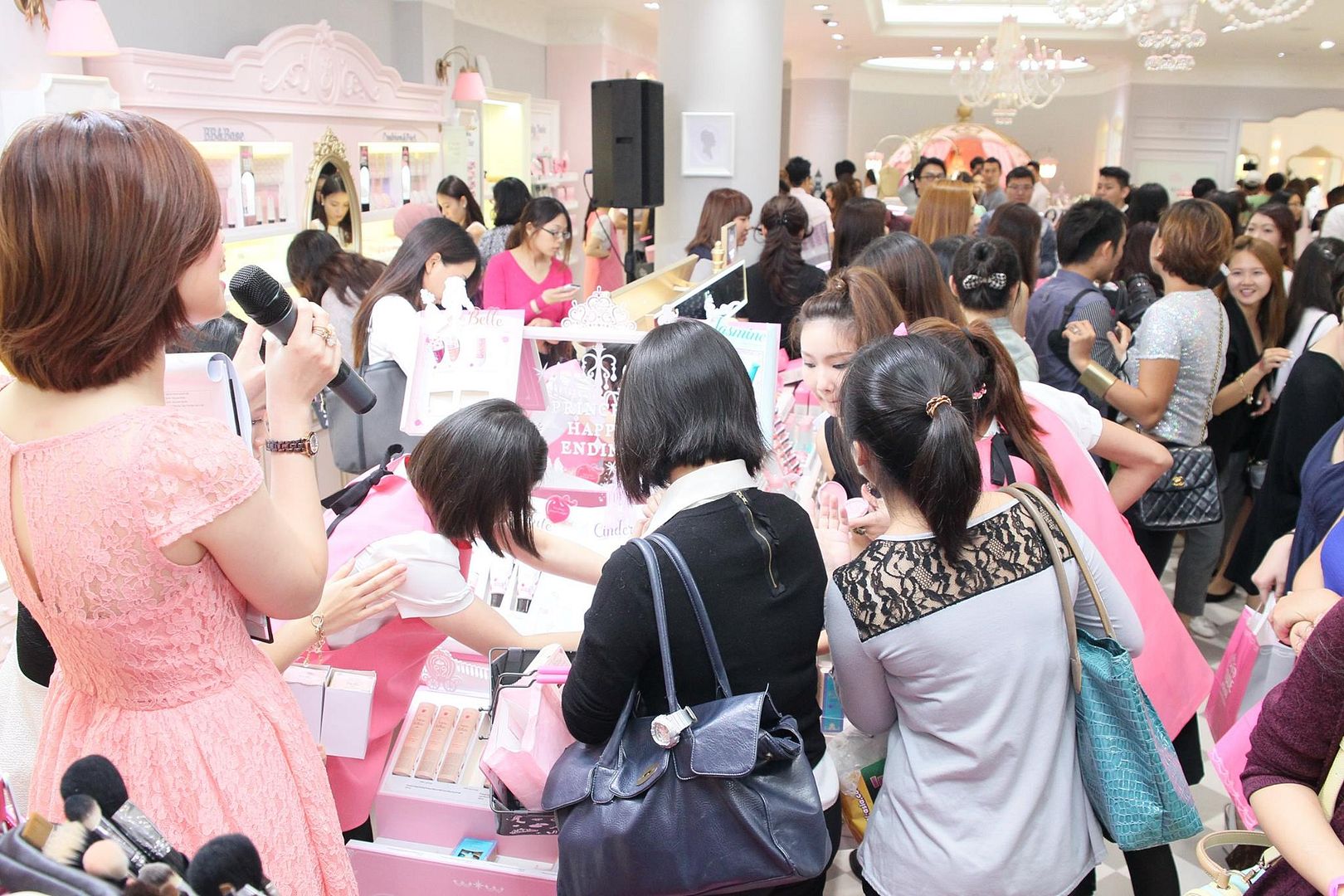 Etude House has appointed her to be the model to promote Play 101. Korea's largest entertainment group CJ E&M introduced a high-profile Hallyu makeup show which is called Pony's Beauty Diary.
Updated every Friday on INSITE TV's YouTube channel, the host, Pony, is an ullzang who shares Korean make up tutorials and the latest make up trends.The beautiful Pony, who is very much a chameleon herself, has created several different looks with these pencils.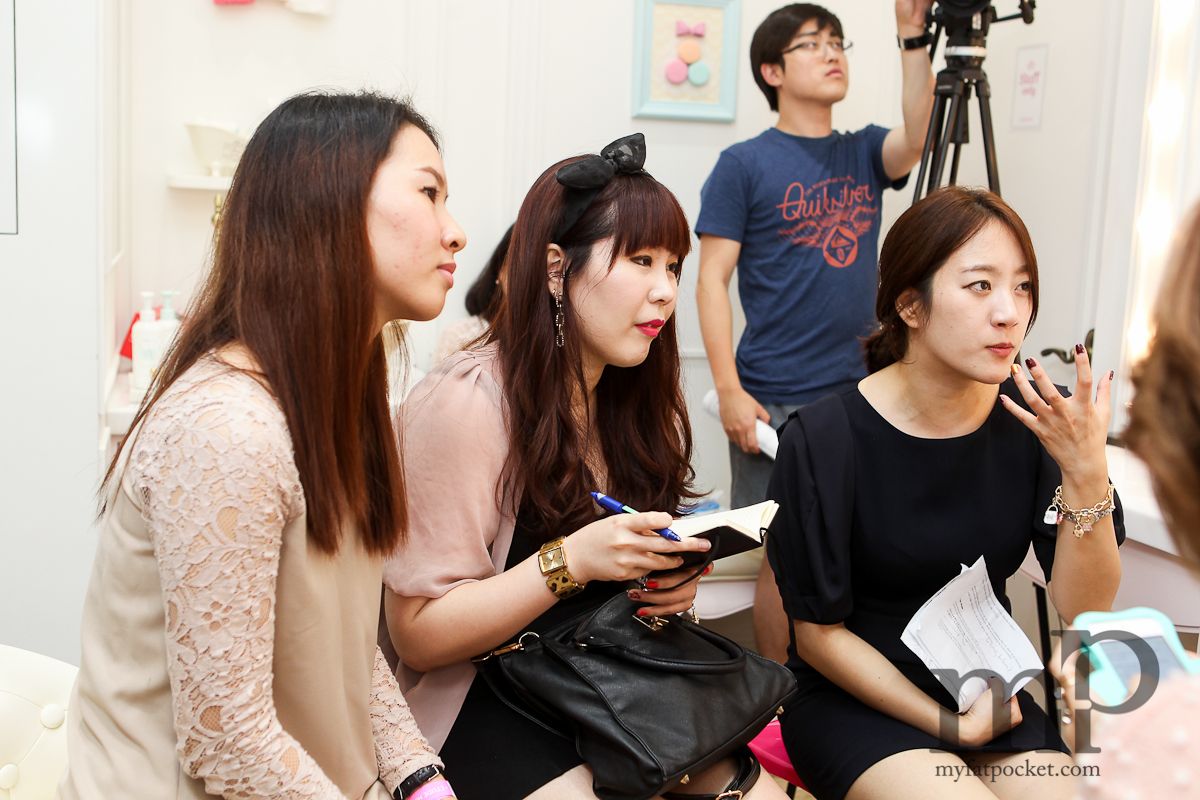 Our resident blogger, Trish, had the privilege to interview Pony. Pony was nothing but sweet and quite a sport. She relentlessly took selfies with her fans while showing off that sweet and charming smile. Trish described her as, "Beautiful. Inside and out." Oh yes, she is indeed.
Experiencing Makeup Zone in the Etude House Kingdom
Click on image to view clearer.
There is never a dull moment in the Etude House kingdom, we guarantee.
Your Princess Fantasy will definitely be realised from the different make-up experiencing zones, such as the base makeup corner, cushion table, lip fountain, play brow, skincare corner and makeup studio.
So many colours to choose from and so many variety of lipstick and lip stains... dolling up has never been this detailed and enjoyable.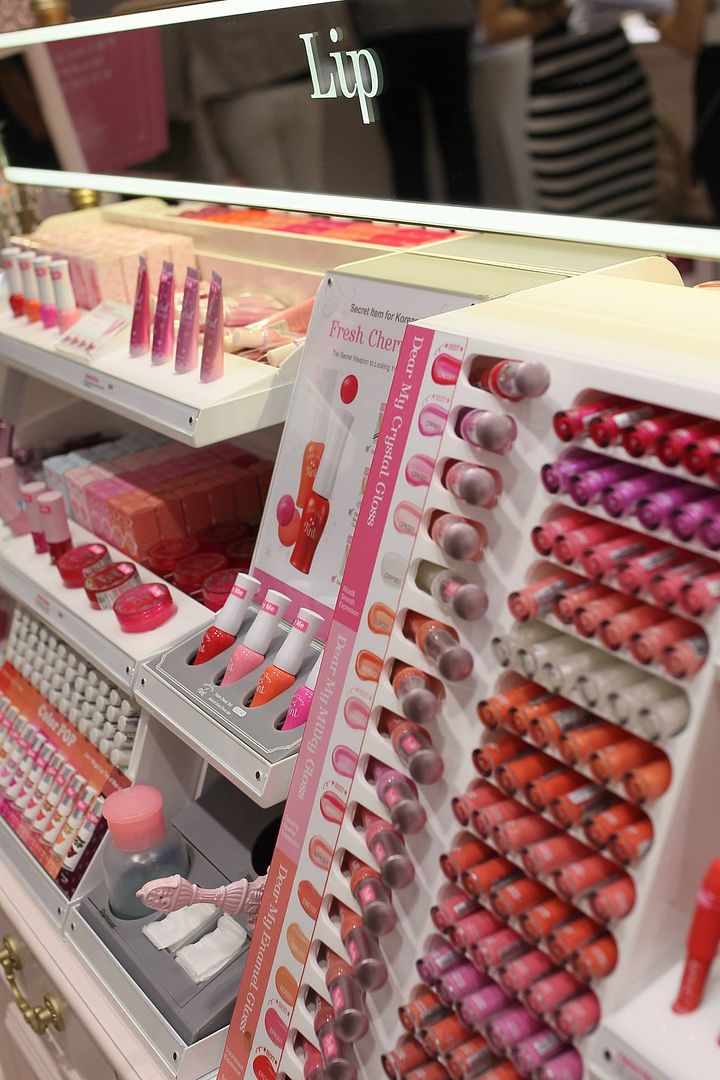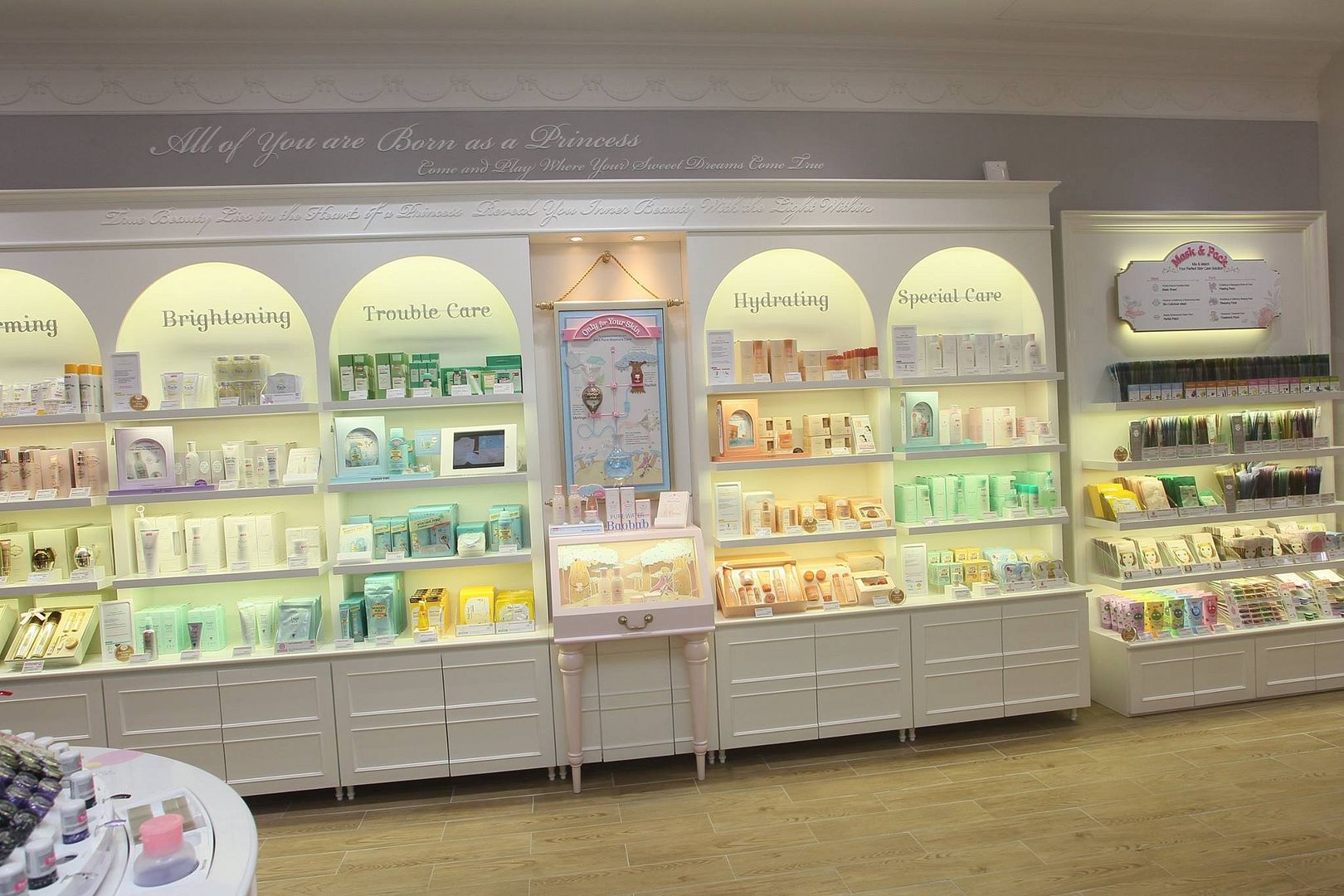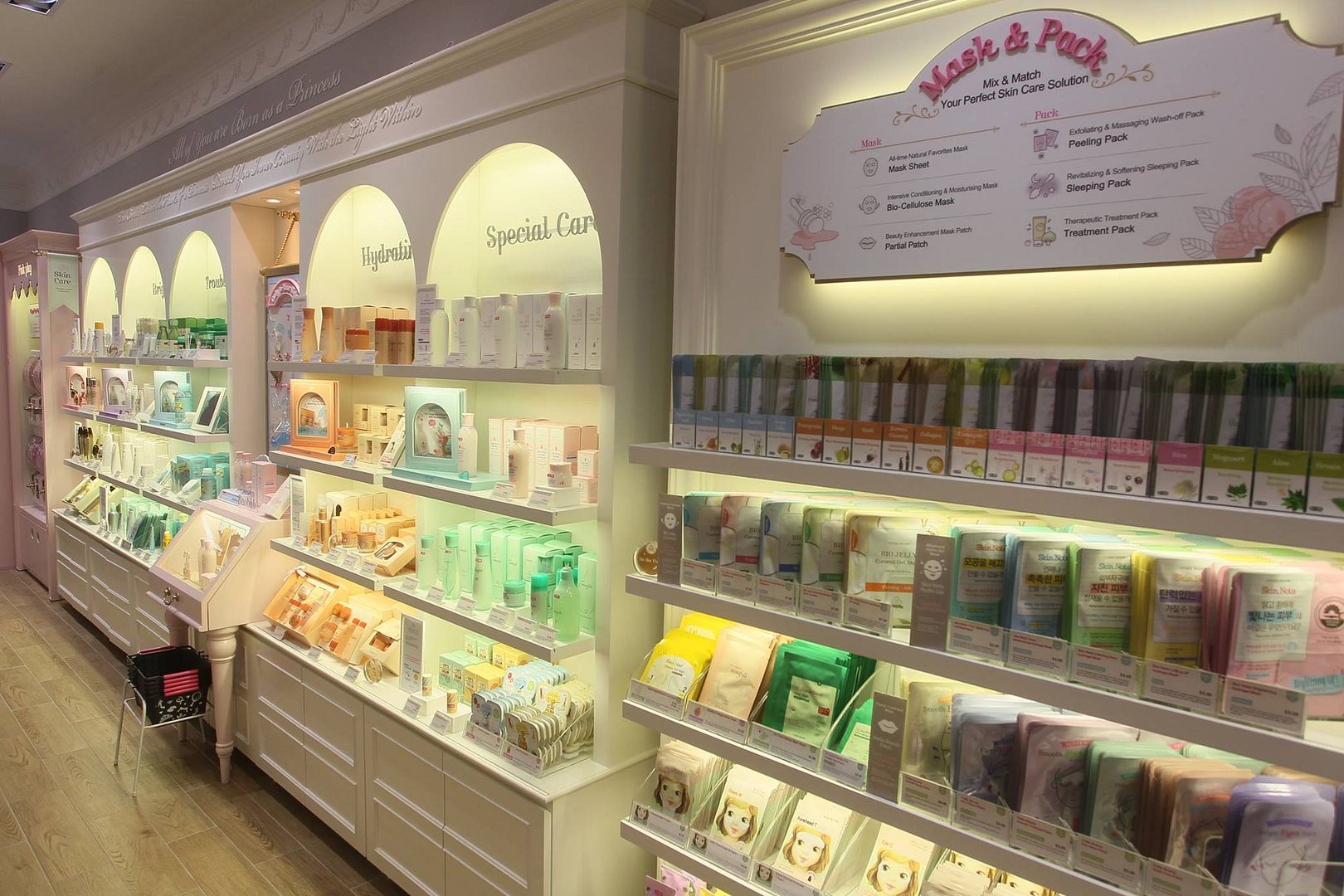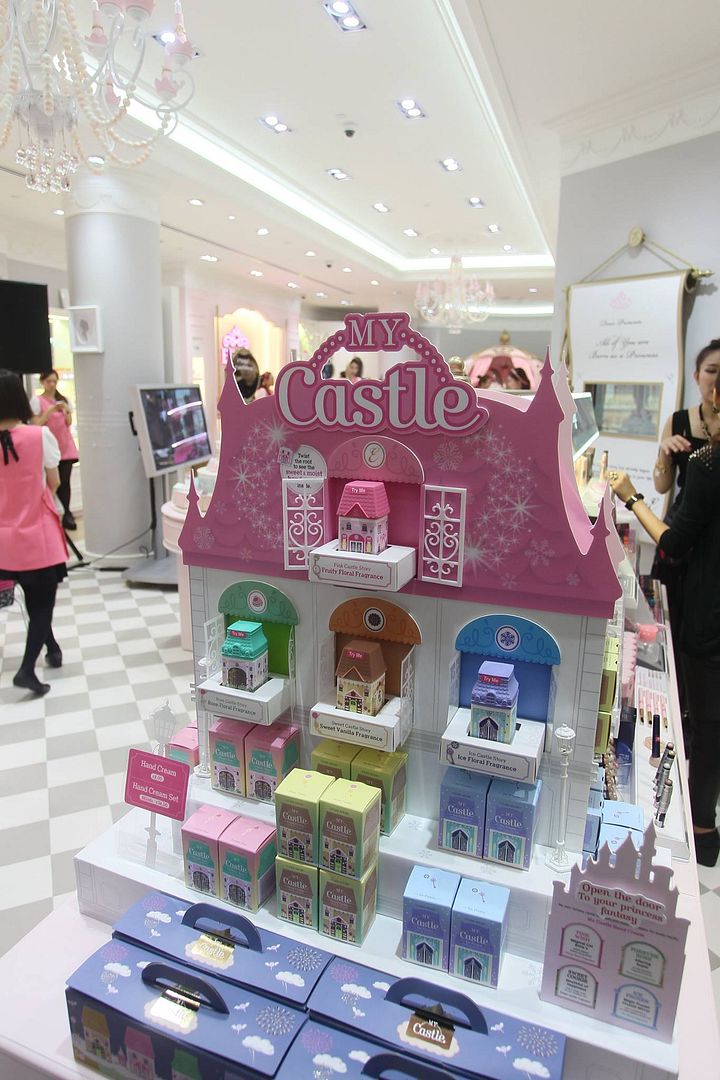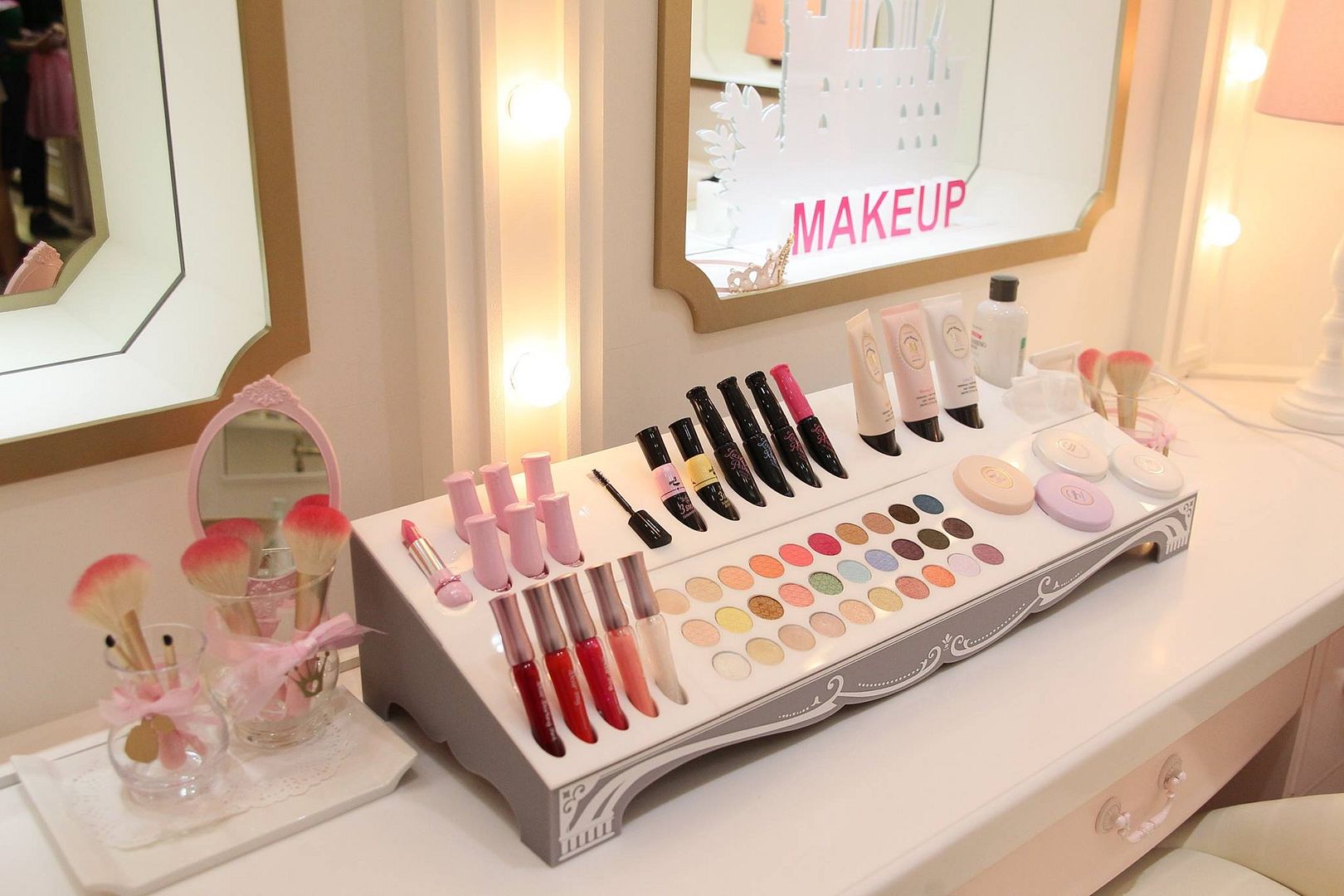 Some of MyFatPocket's favourite collections are:
Etude House Pearl Aura Collection [BB Cream]

The Pearl Aural Collection is formulated with Etude House's exclusive Pearl Aura Particles, a unique blend of Black Pearl Particles and Plant Aura Particles. Black Pearl Particles are created from Tahitian black pearls, which are touted as the "gift of god". Plant Aura Particles are produced by the process of fermentation of natural plants, bringing clarity and instant brightening effect to the skin. Coupled with the use of deep sea water and marine minerals, the Pearl Aura Collection hydrates the skin and improves its texture.
Wonder Pore Total Care Line [Pore cleansing skincare line]
Wonder Pore is a skincare line that refreshingly cleanses the pores while tightening the surface to bring brilliance and elasticity to the skin. Active ingredients in the products include Mint (Tightens Pores with Strong astringent effect while Reducing inflammation and pimples), Vinegar (Lightly acidifies pH of skin with purifying effects) and Anti Pore-Dex Complex: Deep Cleansing and Pore Purifying (Complex plant ingredients and Lightly acidifies the pH of skin).
Etude House Sunrise [Sunblock Collection]
ETUDE House' Sunprise range is the solution to more efficient sun protection and natural nutrient absorption for your skin. Vitamin D is essential in skin anti-aging, recovery and vitality. It is also helps absorb calcium and phosphorous which is vital for bone health. While using a regular sun block does protect you from harmful UV rays, it also inhibits the body's ability to absorb the natural light needed to produce Vitamin D.
Etude House Color Lips-Fit [Lipstick]

Formulated with silicon oil and silky powder ingredients, together with Airy-Fit Technology, the liquid type lipstick features an ultra-lightweight and smooth texture, which makes you feel as if you are not wearing any lippie at all. In addition, its uniquely designed flat and rounded-tip applicator allows easy and smooth application on the pucker. Available in seven vivid hues of pink, coral, red and beige, each Color Lips-fit is highly pigmented and long-lasting, giving one a matte finish.

Etude House Play 101 [Multifunctional makeup pencils. From Eyeliner to blush]
This coveted cosmetic collection boasts an assortment of 50 vivid gel-based colour pencils with 13 of them available in Singapore, which functions as eye liners, brow pencils, shadows, concealers, blushers, lipsticks and even highlighters. Available in five different textures - Creamy, Matte, Glossy, Shimmering and Glitter, each Play 101 Pencil is designed to be user-friendly and perfect for beginners to have fun experimenting with it to achieve their desirable makeup styles - from au naturel to smoky or sweet to glamorous.
Photo Booth x Pink Capsule Charm Bracelet Machines X Powder Room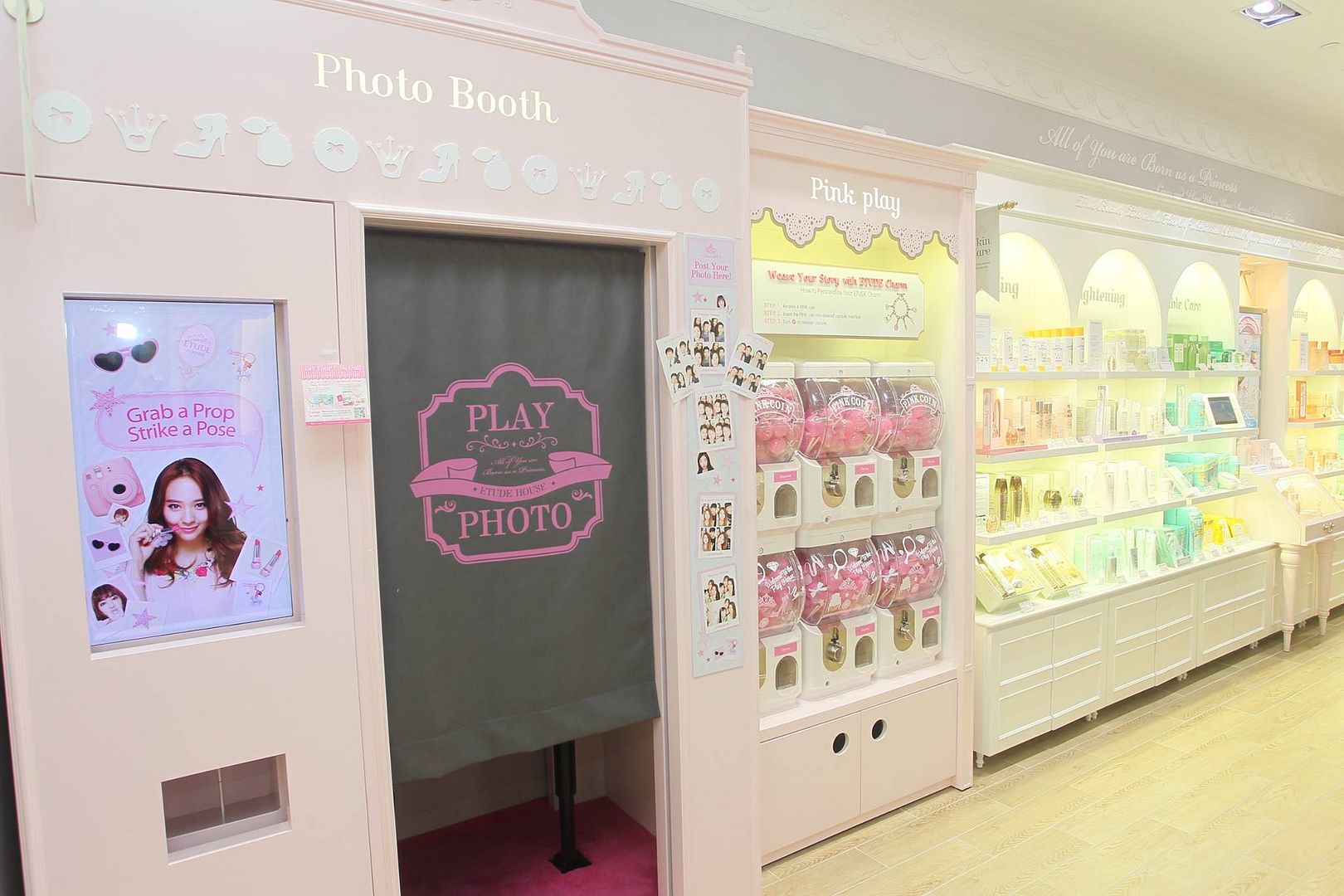 For every $30 spent in one receipt, each princess will receive 1 pink coin that can be redeemed for a charm from the capsule machines to design your own charm bracelet.
With 2 pink coins, you can take a picture at the play booth.
The Photo booth and Capsule Machine can only be found at Etude House's flagship store in Wisma Atria. So come on down!
Etude Flagship Store 'Let Your Pink Out' Photo Contest. Ends on 16 Nov 2014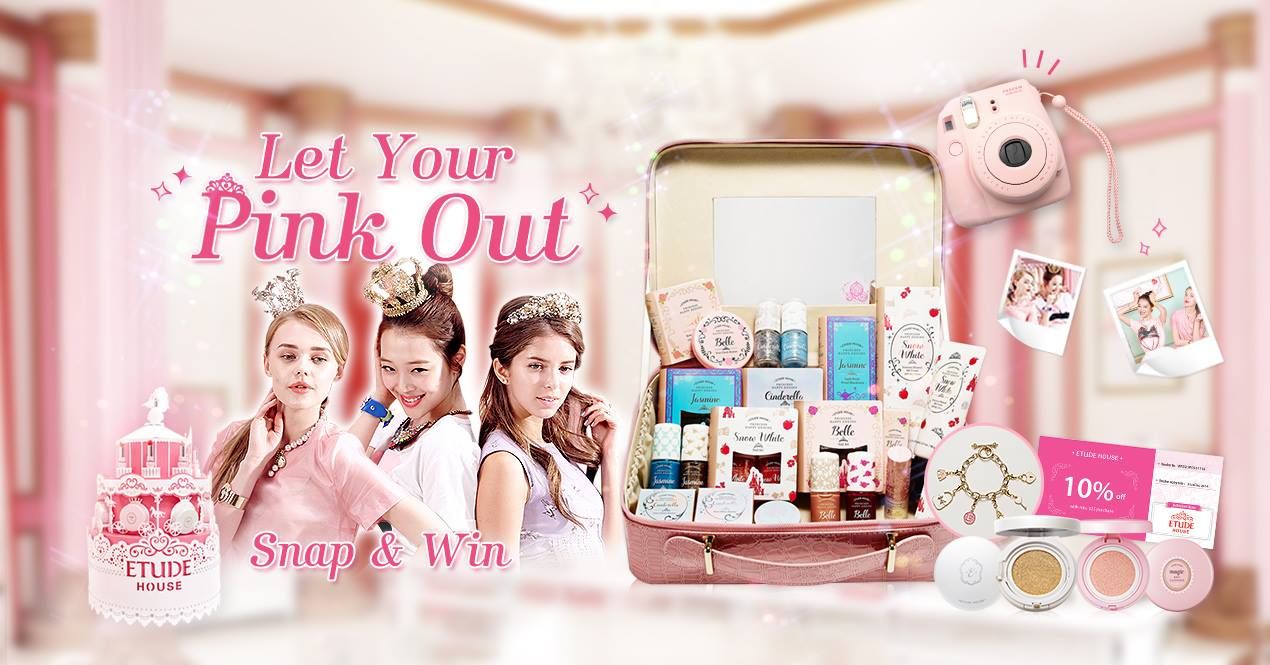 As part of the Grand Opening, Etude House is launching the 'Let Your Pink Out' contest! Share your 'Pink Out' moments and win!
Win fabulous prizes in 3 steps:
1. Snap a selfie at our Flagship Store
2. Register your details via Facebook app (https://apps.facebook.com/etudepinkout/) to qualify for the First 30 Daily Gifts and Grand Prize draw
3. Upload selfie via our Facebook app (https://apps.facebook.com/etudepinkout/) or via Instagram with hash tag #EtudePinkOut (remember to set your account to public).

First 30 Daily Gift: Flash your redemption email to our staff to redeem a Princess Bracelet, 'E' Charm and Wonder Pore WOW kit instantly! (limited to 1st 30 customers per day only)

The 20 best photos will win Grand Prizes including an Exclusive Vanity Case with Princess Happy Ending Sets, Magic Any Cushion, and more!

Winners will be announced within 7 days after the contest end date on our Facebook page. Terms and conditions apply. Contest period ends on 16 November 2014. Judges' decision is final. 1 entry and redemption per FB account only. Exclusively at Wisma Atria B1-20/21/22.
Let's hear what Krystal (fx) has to say about Etude House Flagship Store opening!