Being an avid fan of Taiwanese beauty program "Lady First" (女人我最大), I have been following Taiwanese celebrity makeup artist and beauty guru Kevin Lao Shi's for many years. Kevin Lao Shi is intimately familiar with the unique qualities of Asian skin, how our lifestyles affect the way we apply makeup, and the typical issues that affect our skin.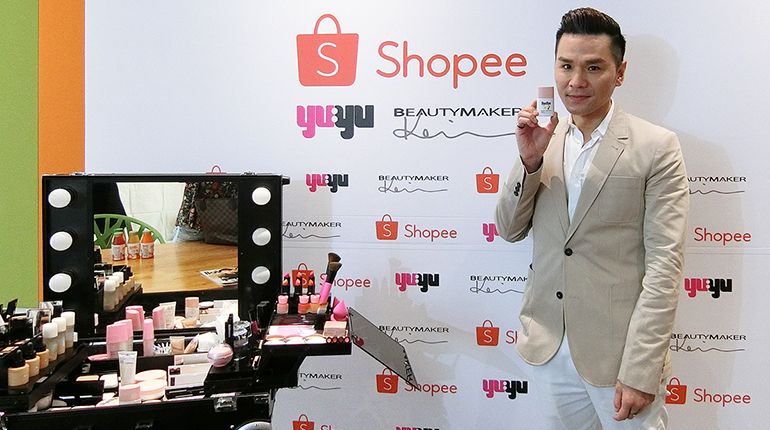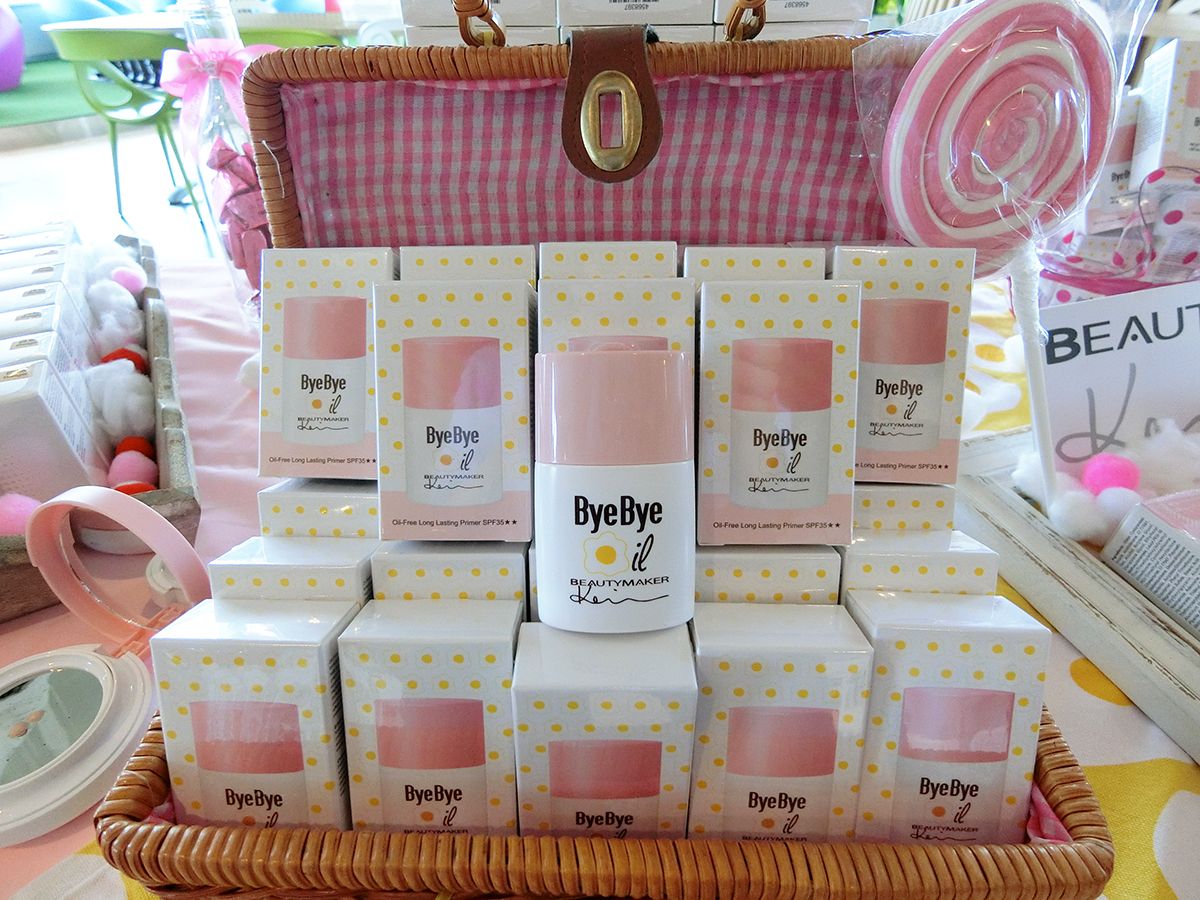 When he was in town for the launch of his new product BeautyMaker Long Keep Oil Free Primer from his own cosmetics line BeautyMaker, we knew we had to interview him and get his profession advice, and his makeup tips and tricks for our readers.
1. What prompted you to launch your own beauty line?
I started off as a makeup artist and I realised that it can be difficult to pick a foundation shade for Asian ladies. A lot of Asian ladies are really fair, but when we apply foundations from the western brands on them, there will be a greyish cast on their skin and that made them looked really dull. So when PayEasy approached me to start BeautyMaker, I was very keen because I wanted to create foundation shades that are suited for Asian skin colour. And for the past 10 years, BeautyMaker's best selling products were always our foundations.
I also wanted to have different products that catered to different skin types. For example, we have 3 different range of cushion foundations. Something suitable for Singapore ladies would be the matte cushion which is suitable for oily skin. And we have an additional shade, Honey, which is especially suitable for Singapore ladies who are a tad more tan than their Taiwanese counterparts. Next, we also have the Essence Air Cushion for those who are looking for a moisturising and brightening foundation. And lastly, the Caviar Elastic Perfect Golden Cushion, which is my personal favourite, is a high coverage foundation that comes with a lifting and tightening effect.
BeautyMaker hopes to bring a hassle-free, easy-to-use makeup line to the ladies. That is what BeautyMaker is really about, and the reason why I embarked on BeautyMaker.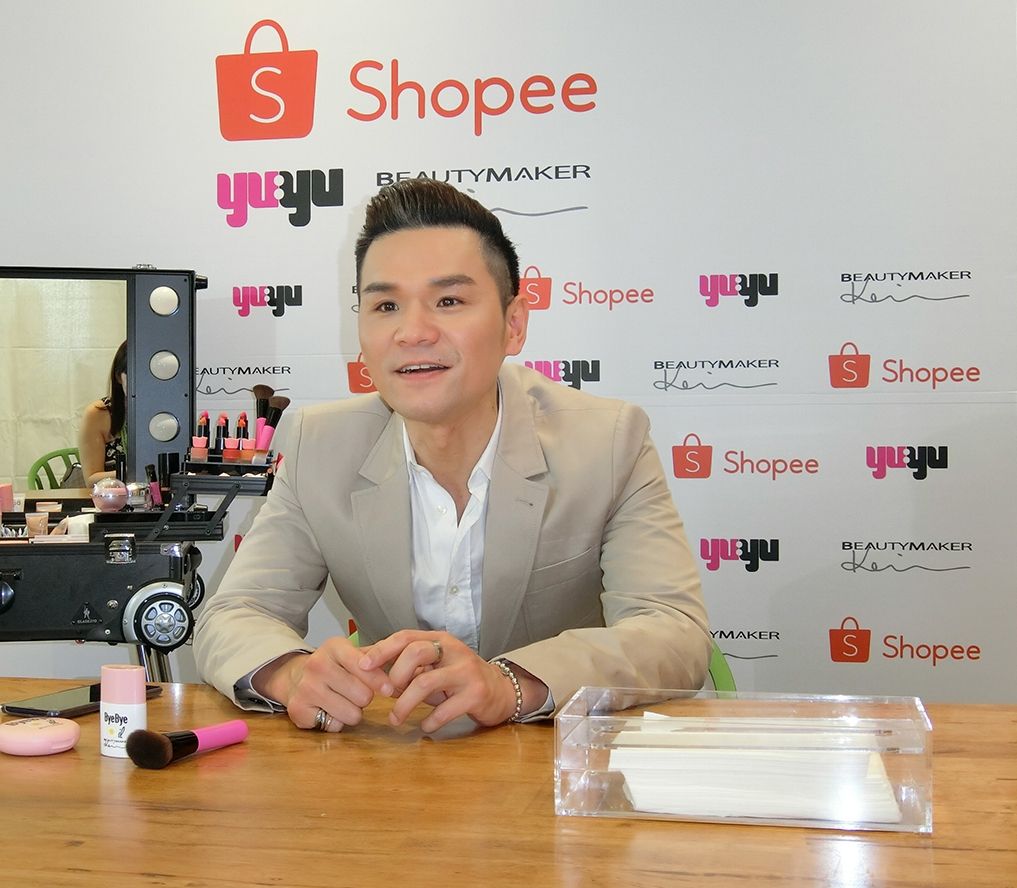 2. If I only have 10 minutes for makeup, can you advise us what are the makeup products that we need, and what are the products that we can skip?
Just remember this: You need a clean base, plus something that you can't do without.
Step one, you will need a foundation that suits your skin. Unlike traditional foundations, the newer ones aren't as thick and heavy. Furthermore, cushion foundations are very convenient and there is no need to pour them out and apply them with a separate sponge or a foundation brush, so application can be rather quick. Next, you need to identify something that is unique to you, something that you cannot do without. For example, it can be strong brows if you are lacking in the brow department, or lipstick if you look sick without any, or concealing dark eye circles if you are a total panda without concealer. Put these two steps together and you are ready to head out.
3. You mentioned dark eye circles earlier so can you share some tips on concealing dark eye circles with us? Most of us have very serious dark eye circles!
Dark eye circles amongst Asians mainly results from poor circulation and they usually appear with a reddish undertone. I've seen so many girls following Youtube tutorials and used red lipstick to colour correct their dark eye circles. It may be effective on the Youtubers with dark skin tone but they are definitely not suitable for Asian ladies. If you are white, or Asian, you risk having the red colour pigments from the red lipstick settling into your skin and that is definitely bad news. I definitely do not encourage that.
I recommend using a warm tone concealer to correct the dark eye circles. Try not to choose a yellow-based concealer, but one with a peach or orange undertone and use it as a colour corrector. Overlay it with your usual concealer to effectively cover dark eye circles.
4. Where do we apply our blusher? At the side of our face or in the centre? And how do we blend it with the contouring on our cheekbones?
In the past, we often refer to charts to decide where the blusher goes on depending on our face shape. I thought that was really troublesome. Here's a trick for you to remember. Just relax and look into the mirror and locate the area where your cheekbones protrude the most and make that point A. Next, smile and find the apples of your cheek, and make that point B. Your blusher should be placed between from point A to point B. As simple as that! After that, use a darker shade from your contouring palette to contour the side of your face, starting from where the blush ends.
5. Eyeliner always smudges in our hot, tropical weather. Any tips for us so that our eyeliner can last through the day?
The smudging is caused by the oil on our eyelids, and when we blink, the eyeliner can get onto our lower lids as well. Some of us have got upper eyelids that cover over our lower eyelids when we close our eyes, and to add on to that, most of us have short lower lashes and they aren't long enough to separate our upper and lower lids, causing the eyeliner to smudge easily onto our lower lids.
BeautyMaker has got a loose powder that is tailored for undereye area to matte out the oil. You can also use it to brighten your undereye area if you have severe dark eye circles.
One easily method for long lasting eyeliner is to use a pencil eyeliner first, followed by eyeshadow, and go over with a waterproof liquid eyeliner for lasting wear.
6. What is one makeup advice that you can give our readers?
Sometimes, showing some of your flaws can make us look more natural, and uniquely us. There is absolutely no need to layer on too much makeup to achieve a flawless face. In the past, many ladies are very used to the idea of a flawless makeup with all your blemishes hidden. But nowadays, people think that you are fake when you appear too perfect with zero freckles and zero pores, and they are going to assume that you are wearing really thick makeup.
By showing some freckles, or some oil shine on your cheeks, you can appear so much more natural and radiant, and most importantly, you can be your unique self.
7. Any common makeup mistakes that you often see on Asian ladies?
I think that Asian ladies follow social media beauty trends a little too closely, but yet they only do "window shopping". What do I mean by that? For example, a dress may look gorgeous on a mannequin, but that doesn't mean that it will look nice on you. Therefore, we need to find something that suits us, not something that is trendy.
One mistake that is commonly seen is the trending Korean straight brows. So many Asian ladies copied that and they looked so sad all the time because they did not take into consideration their facial movements and expressions, and we saw so many sad looking ladies walking on the streets. Another mistake is bold lips that is getting a lot of attention lately. However, if you don't draw it correctly or use a wrong colour not suited for your skin tone, it can be a disaster too.
Another point that I need to mention is that Asian ladies live in a world of "filters". They filter their selfies with photo-editing apps, and we know that filters can blur out makeup a lot, and hence, you need strong makeup to achieve the look that you want in photos. However, it can be really scary seeing girls on the streets wearing their "selfie makeup". It is just too much and too overpowering. It is important to find trends that suit you, and not just follow all the social media beauty trends blindly.
8. But what if I really want to re-create, for example, Kylie Jenner's makeup?
But she is not Asian and we have a very different set of features, so maybe not? Asians like duplicating so I feel that Asian ladies should start to be themselves and not look the same as everyone else. Most of us seek a sense of security and refuse to step out of our comfort zones, even when it comes to makeup. However, I feel that we should be more confident and try something that suits yourself instead of following and duplicating trends blindly.
9. Lastly, what are the must-know beauty trends for 2017?
A natural dewy shine on your face that is almost like a healthy glow. Not just on your cheeks, but also on your eyelids and lips. Use a base colour on your eyelids or lips, but we don't just end at that. Add an element of shine in the centre for that 2017 pop. Apply an eyeshadow with some shine on the centre of your lids, or add some lipgloss to the centre of your lips after your lipstick is done.
Here's a treat for all MyFatPocket readers! Use the promo code "KEVINxMFP" and all new Shopee members can get $7 off a minimum purchase of $15. Head over to Shopee to get all the BeautyMaker products that you need now. Promotion ends 31st April 2017.