If you have been following my IG stories, you would have noticed that I recently embarked a 7-day mask challenge using Dr Jou Six Essence Masks from 12th – 18th June 2019.
To be honest, my beauty routine is very basic and consists of a sheet mask once in a blue moon to treat my skin so this would be my first time undertaking such a challenge. I was pretty curious to try this out to see the effects as I've never really done masking that frequently before.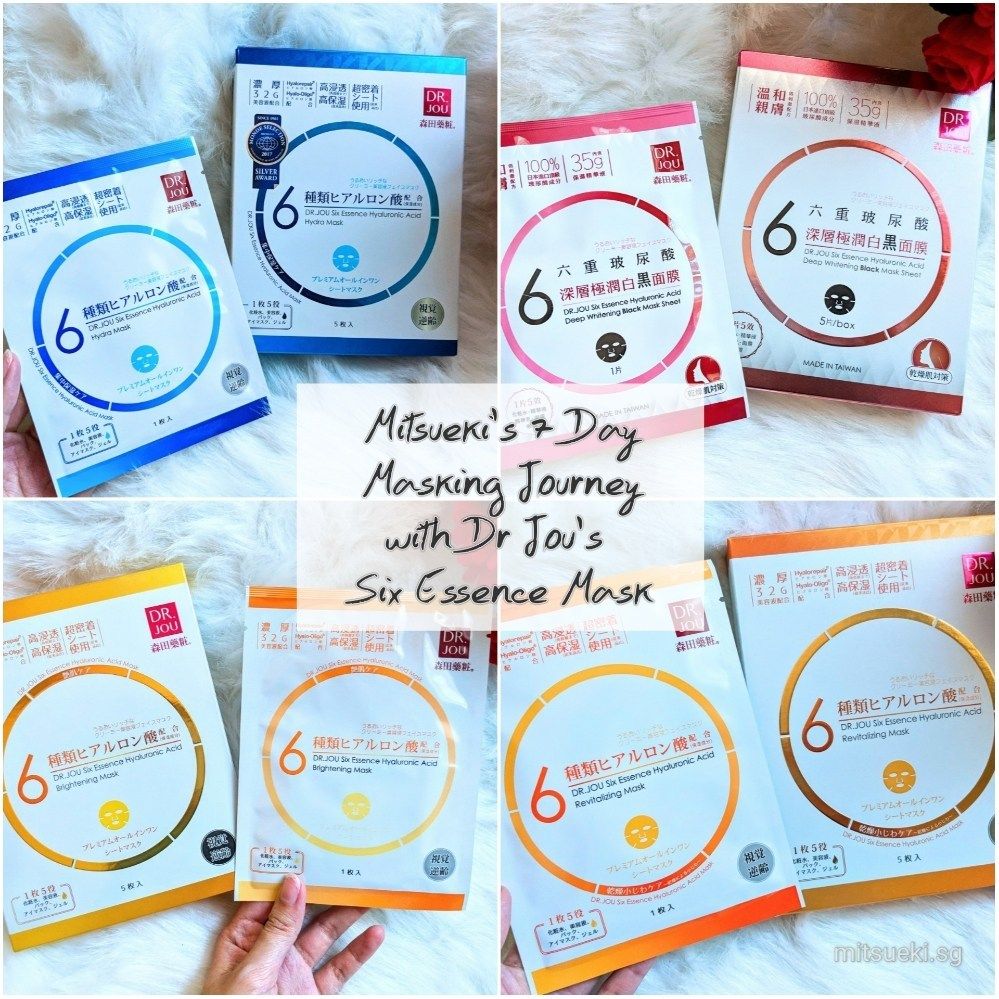 Dr Jou Six Essence Masks
Before that, let me do a very quick introduction on these award-winning and bestselling sheet masks from Taiwan.
Dr Jou Six Essence Mask range is made up of a variety of masks targeted at different skin concerns:
Whitening
Luminous
Hydra
Brightening
Revitalizing
Soothing
What's Special About These Masks?
1. 6 types of Hyaluronic acid essences in 1 sheet mask
Each sheet mask is formulated with 6 types of Hyaluronic acid essences which are 100% imported from Japan and the essences are touted to help your skin retain moisture, hydrate your skin and more importantly – create a radiant and glowing complexion.
Meanwhile, for each of the different types of masks, additional ingredients are added for the respective benefits ON TOP of the 6 types of Hyaluronic acid essences. For example, the Brightening mask contains additional Tranexamic acids and the plant extracts of hypericum and witch hazel which can create radiant skin for people with uneven skin tones.
For your reference, this is how the mask looks like when removed from the packet.
And when applied, it fits my face pretty alright, but note that I do have a very small face so most masks look pretty big on me.
2. 32g of moisturizing serum
Each mask contains a whopping 32g of moisturizing serum and it is highly recommended that you massage the leftover serum all over your body, on areas like your neckline, collarbone, chest area and elbows. This claim isn't a joke, by the way, check out the amount of leftover serum in the packet.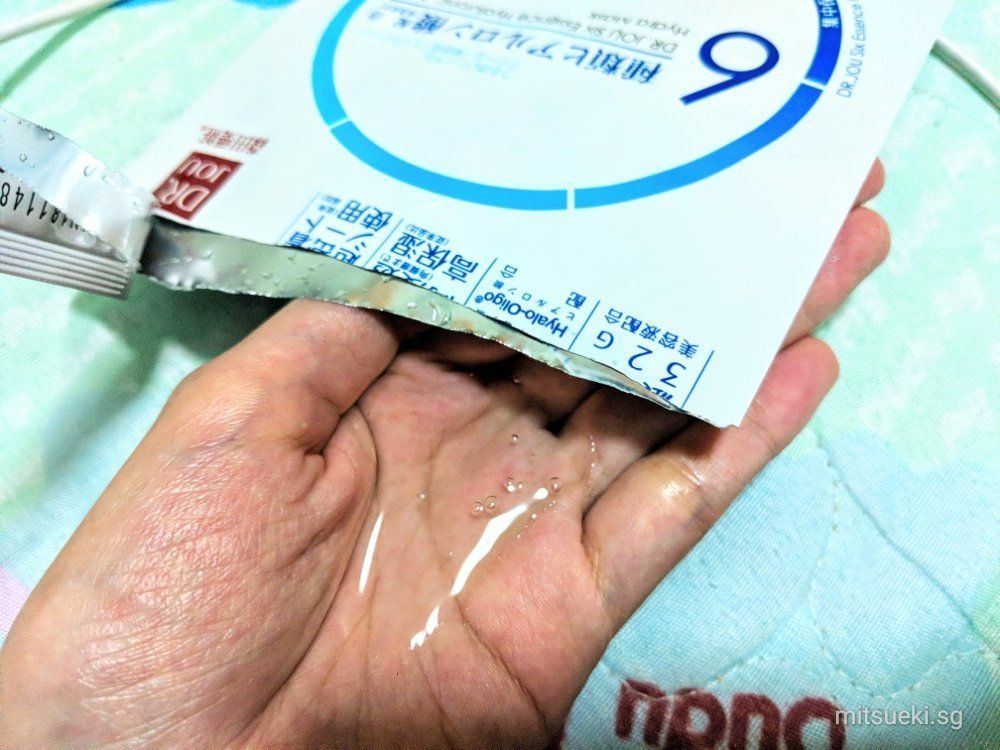 I used mine liberally all over and even applied them on the dry areas on my shins. Don't waste the serum.
By the way, the masks are also of a mild and gentle formula but I do highly recommend that you do a patch test your skin first just in case you are sensitive to any of the ingredients used in the mask.
3. 5-in-1 mask
For lazy people like me, the mask is a godsend because it is a toner, serum, lotion, facial mask and eye mask all in one (5-in-1) and you only need to apply it 10-15 minutes the night before to reap the full benefits the next morning without applying so many different products on your face.
4. Widely acclaimed and award-winning brand
I'm not sure about you, but I can be pretty particular about the brands of skincare products or masks that I use so I will always consider the brand recognition before even considering to take up a beauty-related advertorial.
In this case, Dr Jou has been awarded the following accolades (mainly for their Hydra masks) below:
Monde Selection Award 2017 and 2018 from the International Quality Institute, Belgium
Average score of 87% from Cosme, the biggest cosmetic information network
Best Selling Facial Mask in the Taiwan Watsons in the Health, Wellness and Beauty Awards 2017 and 2018
Yes, recognition does play a part too!
The Masks I received + Getting Help from my IG followers!
Meanwhile, for the purpose of this review, I was given the following masks:
- Hydra (Bestseller)
- Revitalizing
- Brightening
- Deep Whitening (Black Mask)
I wasn't too particular about the order, so I decided to let my IG story followers on @mitsueki have some fun with it with an interactive poll before I start my masking journey.
The results were out and the order was based on the votes in my poll as seen below!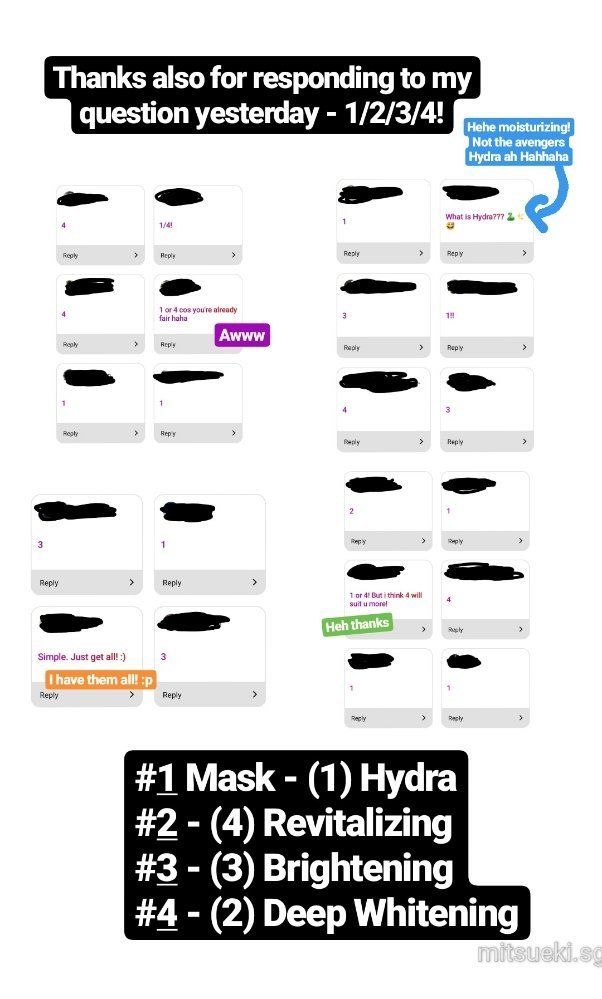 Tip: It's recommended to apply the mask at night so that you can wake up to lovely skin.
Mitsueki's 7 Days of Masking Challenge with Dr Jou
Here's what happened from Day 1 – Day 7.
Morning after Day 1 (Hydra)
Outwardly, there's not much change although my skin looks slightly glowy. I can really feel that my skin feels more "boosted", bouncy and supple.
Morning after Day 2 (Hydra)
You can definitely see the glow today. Surprisingly, my skin looks a bit brighter even though it is not a brightening mask. I can't wait to try out a different mask tonight.
Morning after Day 3 (Revitalizing)
I actually really like the revitalizing mask. My skin definitely looks brighter even with sleeping in late at 4 am.
Morning after Day 4 (Revitalizing)
Wow, my face is literally glistening as I look at the bathroom mirror in my hotel room during my staycation. This is prior to washing up for the day.
*Excitedly runs over to Crystal*
"Is my face shiny?"
"Yes, lol"
Okay, the shine was gone after I washed up but my skin does look nice and healthy!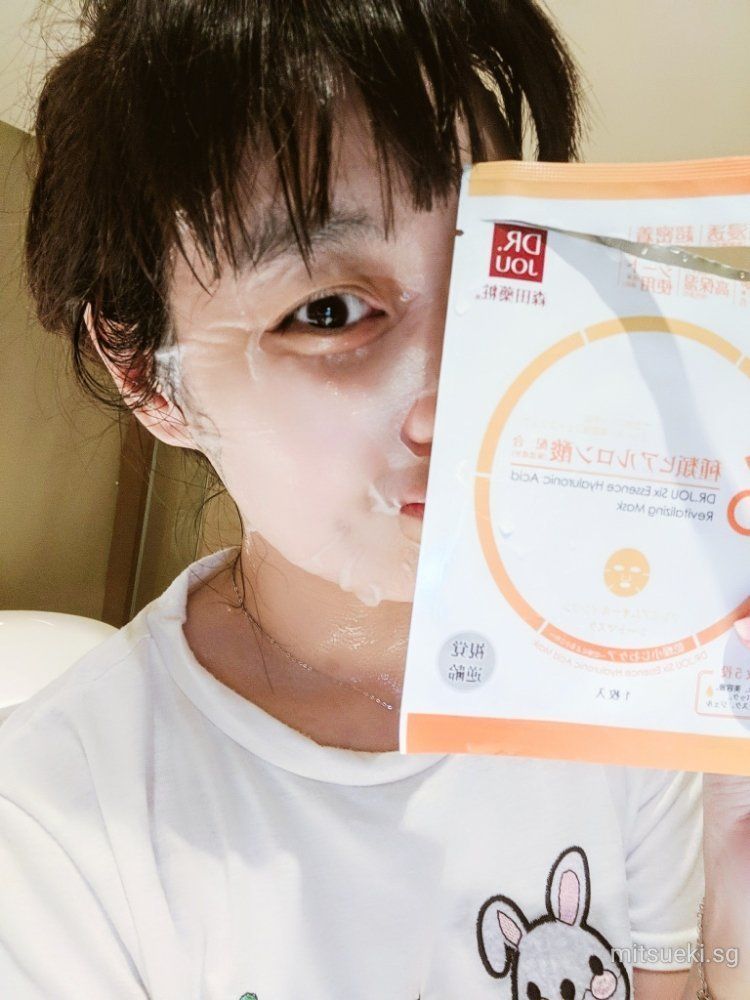 Morning after Day 5 (Glowing)
I was really excited to try the glowing one because my skin is usually quite dull. Was scrutinizing my face the morning after and even though I didn't have enough sleep over the last few days, my hereditary dark eyes circles seem to be lighter and the skin under my eyes is more plumped after this particular mask. Going to observe again for 1 more night using the Glowing mask.
Morning after Day 6 (Glowing)
Okay, it's confirmed – I really like the glowing mask and this seems to be most suitable for my face out of all the others. I can see bright and glowing skin after the second day of using it. One more night – but this time with a different mask to end off this mask challenge.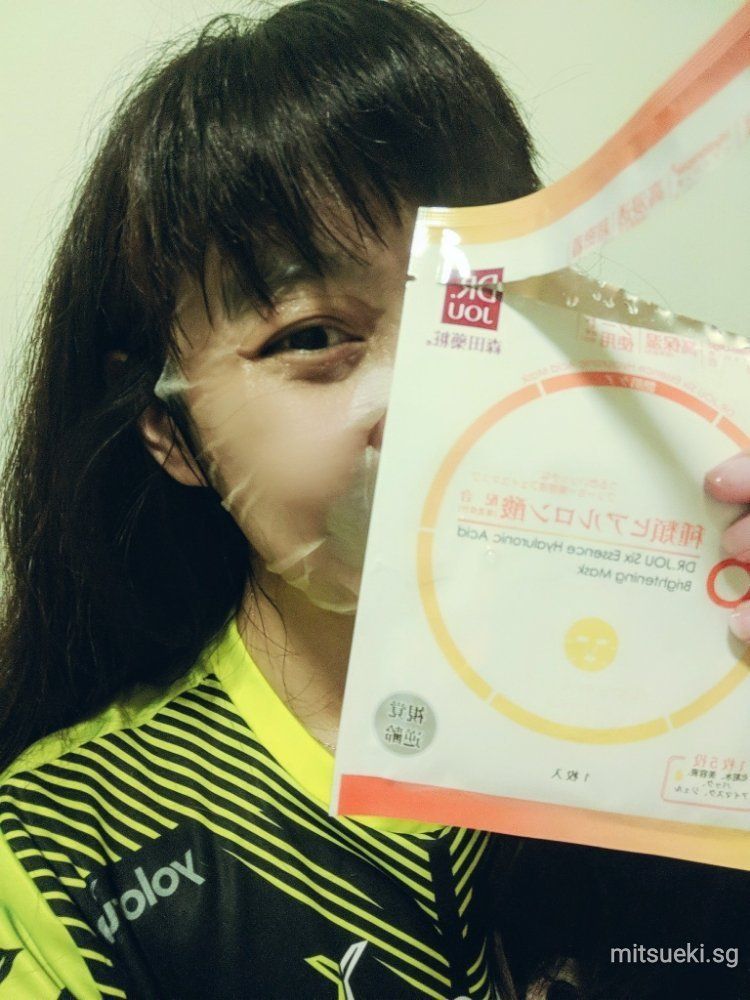 Morning after Day 7 (Deep Whitening Black Mask Sheet)
Oh, this is definitely my first time trying out a black mask sheet. I look like a joke.
Meanwhile, waking up the next morning was a little interesting, I don't really see much of a difference after a night of using it because my skin looks pretty good now by Day 7 of this masking challenge. I'm kinda sad to end this challenge but I think masking daily really shows results.
Before and After!
Here's my face on Day 1 (LEFT) before embarking on the masking challenge with Dr Jou and on Day 8 (RIGHT) after doing the 7-day masking challenge.
(Taken with my phone's camera, under natural lighting with no filters.)
As you can tell, there is a marked difference in my skin. It is brighter and more glowy.
Here's another selfie that was taken within the course of the 7 days and you can really tell that my complexion looks pretty good – glowing in fact!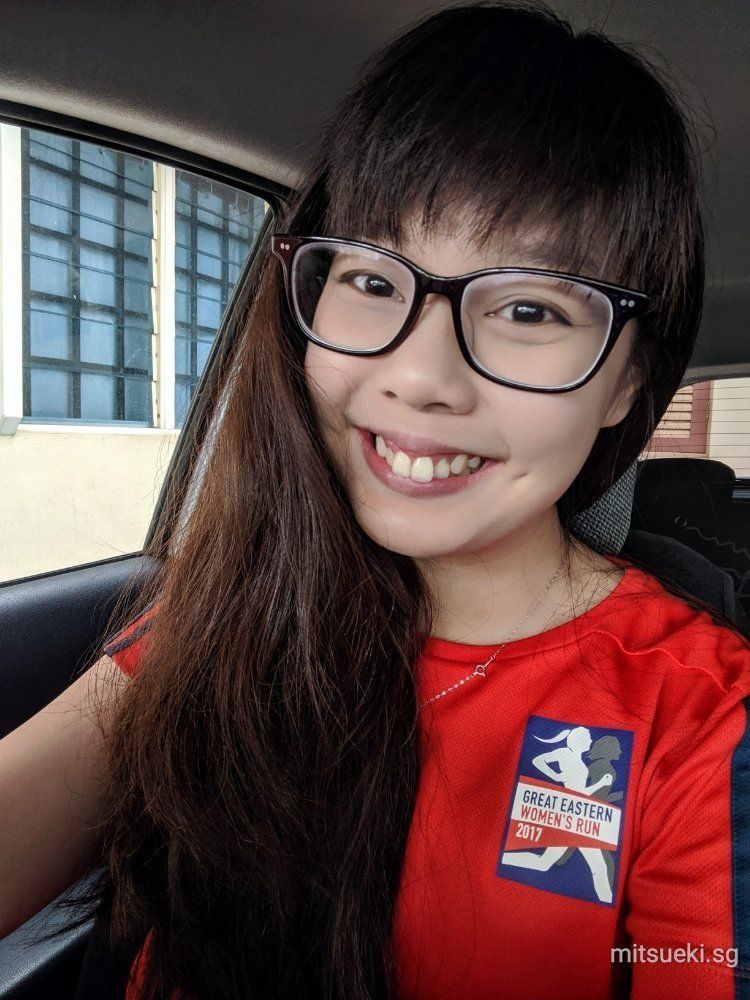 It's easier to apply my makeup as well since my face is more moisturized and I have to attribute all this to the 7-day mask challenge using Dr Jou Six Essence Masks.
My Favourite Mask?
Now if you were to ask me which would be my favourite, naturally it would be the brightening mask because I can see visible results overnight. My next favourite would have to be the Hydra Mask, followed by the Revitalizing Mask.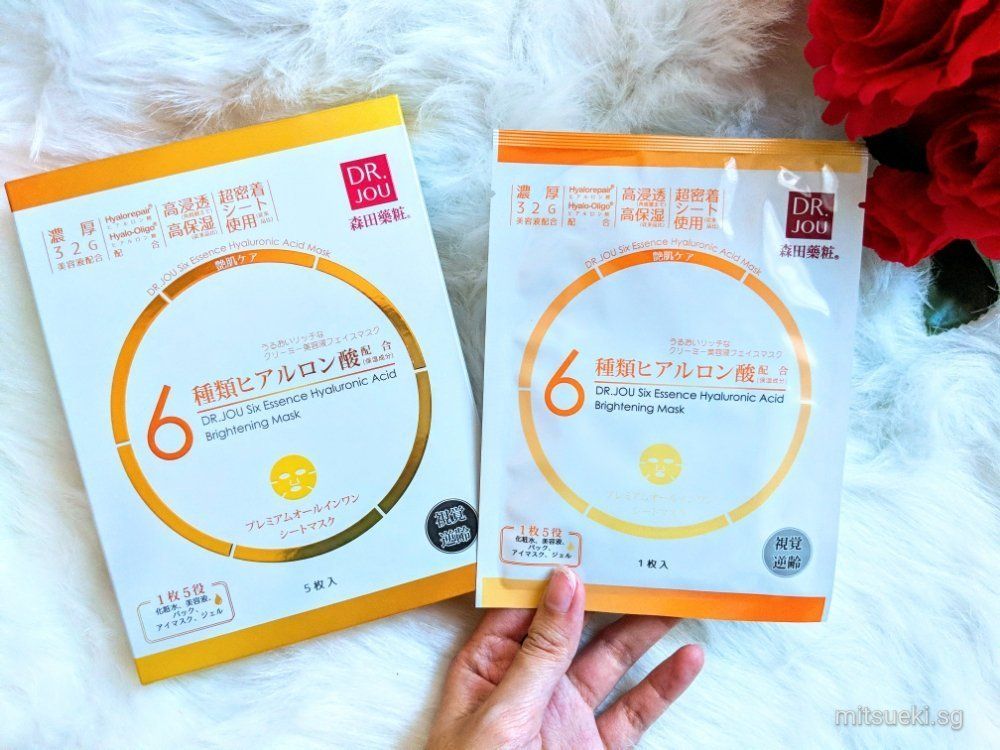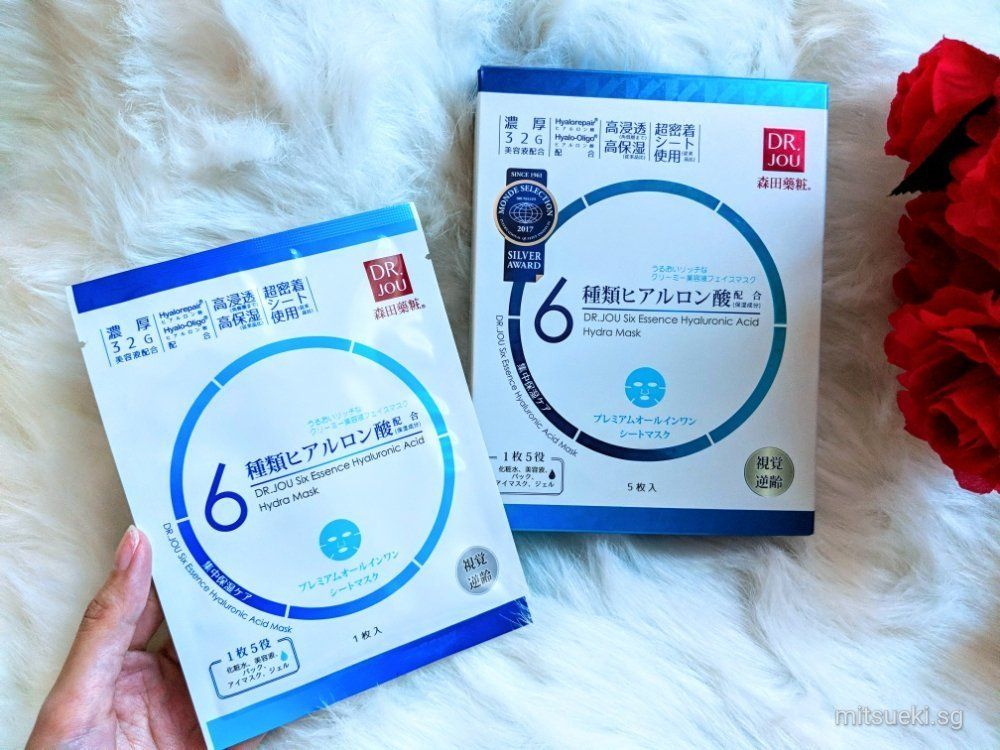 I will probably find the Hydra mask most useful when I'm overseas in colder weather where my face gets super dry and peels.
Where to Get Dr Jou Six Essence Masks?
If you are interested to get your hands on the Dr Jou Six Essence masks to try after reading my review, you can get them from Watsons, Guardian, Sasa & Welcia! Alternatively, you can also purchase them online at Lazada HERE or Shopee HERE!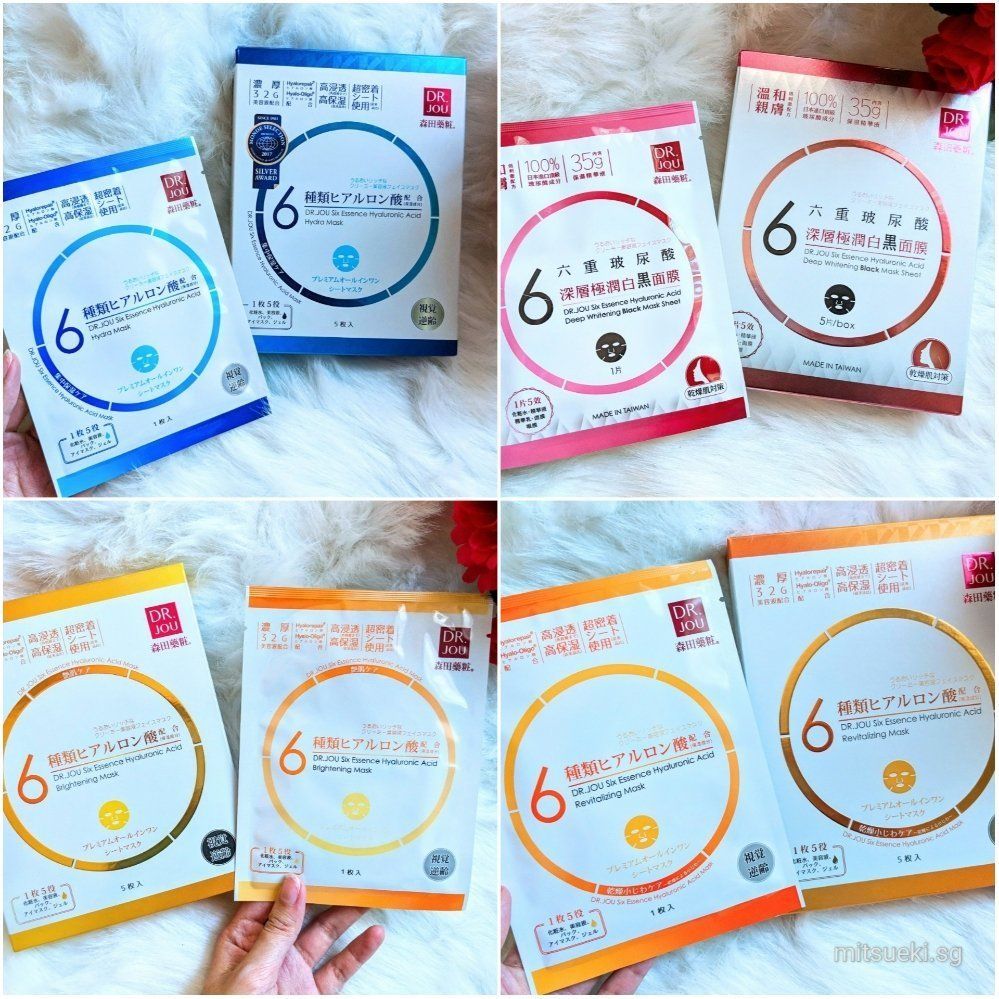 For your reference, there are only 5 masks in each box but it should suffice for a regular once a week masking and it is a good investment! Note as well that my results might differ from yours because everyone of us is different. I'm just glad I have the chance to try all 4 of them in the range during this review to find out which one suits me the best!
Afternotes and Thank You!
To end off, I just want to mention that you shouldn't expect the masks to be an overnight miracle product, but they are something that I recommend you to invest in to really pamper and treat your skin. After all, we have to upkeep and take care of our appearance, not just for vanity, but also for good skin as we age.
Last but not least, thanks so much for reading and I hope you found this review useful and enjoyed reading about my 7-day mask challenge with Dr Jou.
Meanwhile, for those who actively participated in my IG story polls on @mitsueki to vote for the order, thank you as well for contributing to this review.
P.S If you've tried the masks personally and liked it, feel free to leave a comment below as well!
Note: This post is brought to you by Dr Jou, but all opinions are of my own.
By: Mitsueki
https://mitsueki.sg/2019/06/27/mitsuekis-7-day-mask-challenge-with-dr-jou-six-essence-masks/