Even though aging is a natural process, we are always trying to find ways to help pause the biological clock and set it back a little so as to restore back our youthful days. Recently I've discovered this modern technology called 'Silhouette Threadlift' to restore sagging skin and I went to The Clifford Clinic to find out more about it.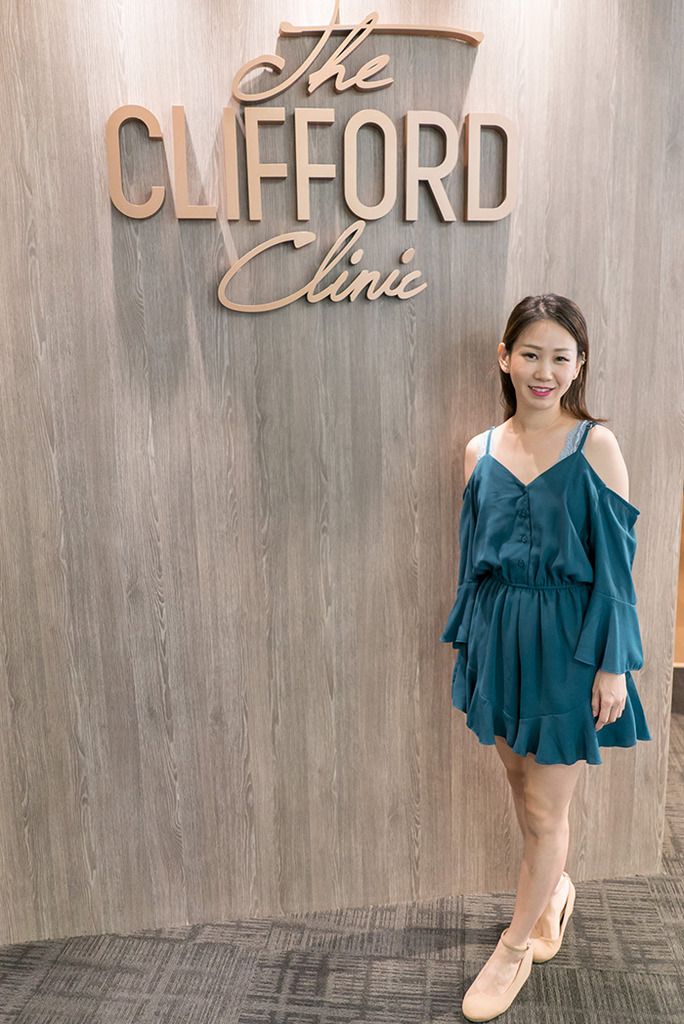 Clifford Clinic is located at 24 Raffles Place#01-03 Clifford Centre Singapore 048621
What is Silhouette Threadlift?
Silhouette Threadlift uses surgical needles and minimally invasive threads in lifting sagging tissue. The results are instantaneous, gives us a lifted and more firmed up appearance to the whole facial structure.
How does the treatment work?
This treatment consists of using dissolvable threads to lift the skin. Similar to the conventional 'sewing method', these threads are placed in the subcutaneous fats layer just beneath the skin to help lift and firm up targeted areas. There is no need to get these threads removed as they will be dissolved by the body over a period of time.
How safe is it?
This is a very fast and safe technique. You are able to achieve the same result without going through extensive surgery.
How many thread/s is enough?
It really depends on your severity. Up to 4 Silhouette threads may be placed at one area.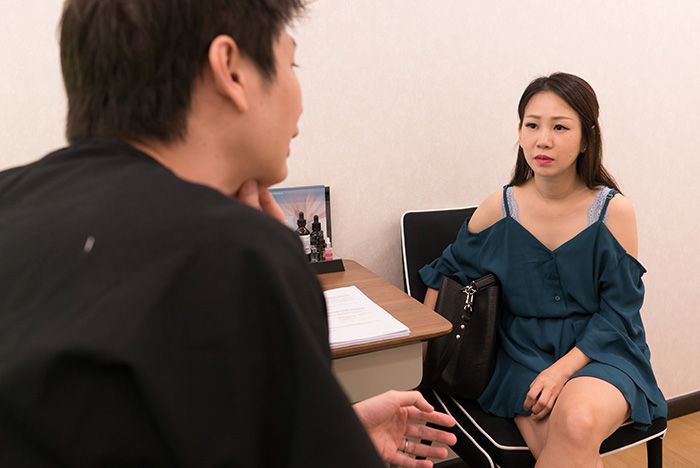 First things first, I went through a thorough consultation with Dr Gerard Ee. I shared my concerns about my sagging skin with him, and how the sagging made my double chin looked more prominent.
Being a firm believer in using non-invasive measures, Dr Ee aims to use effective and safe methods to achieve symmetry and elegance for his clients.
He recommended the Jaw threadlift to lift and minimize the appearance of my double chin.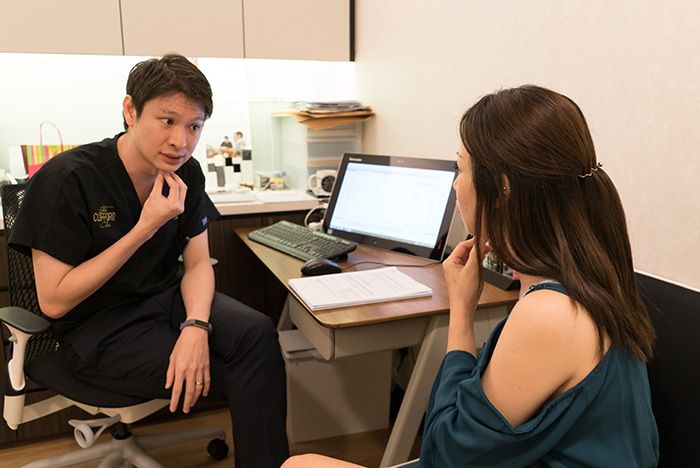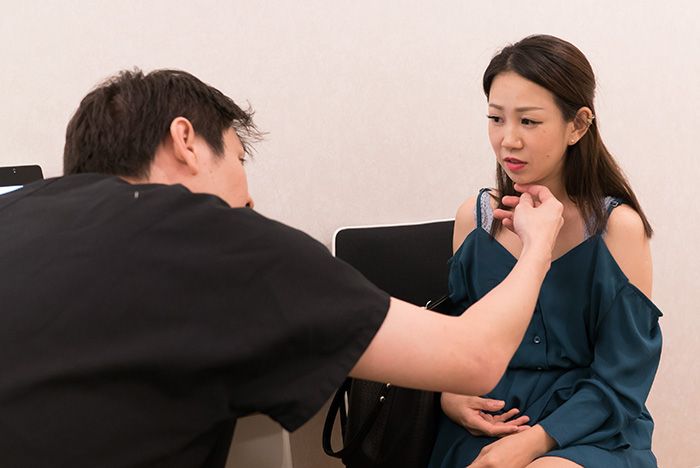 A "before" shot to document the process.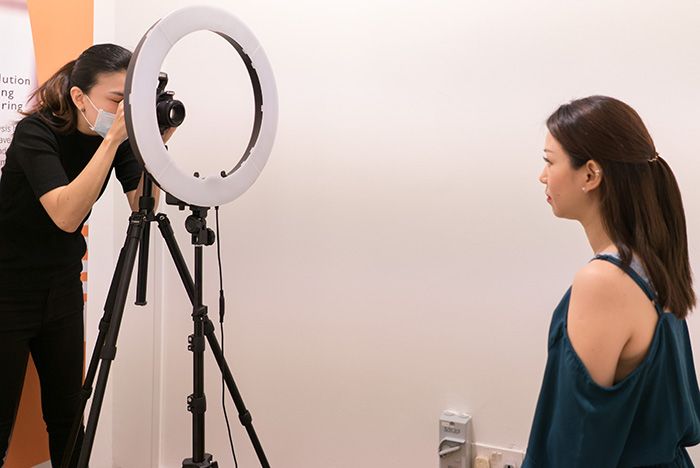 Numbing cream was being applied onto the entire jawline to minimize the pain of the local anesthetic injection.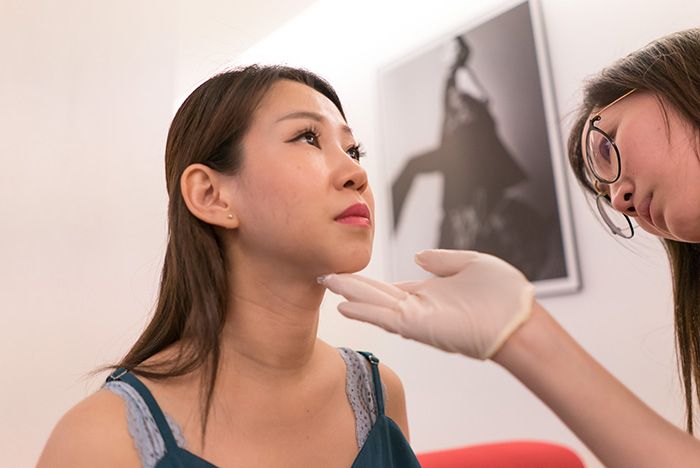 Dr Ee marking down several points for precision. This way he is able to gauge the start and end point.
Numbing jab was administered to further help numb the jawline.
From the picture below, you can see Dr Ee inserting the needle through the centre marking, and slowly 'stitching' his way towards the ear.
He will first work on half the face, followed by the other half. This way, it will produce a more even results making the face look symmetrical.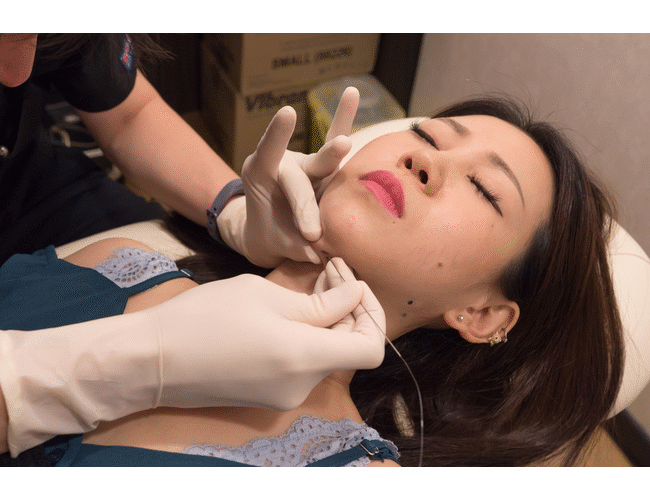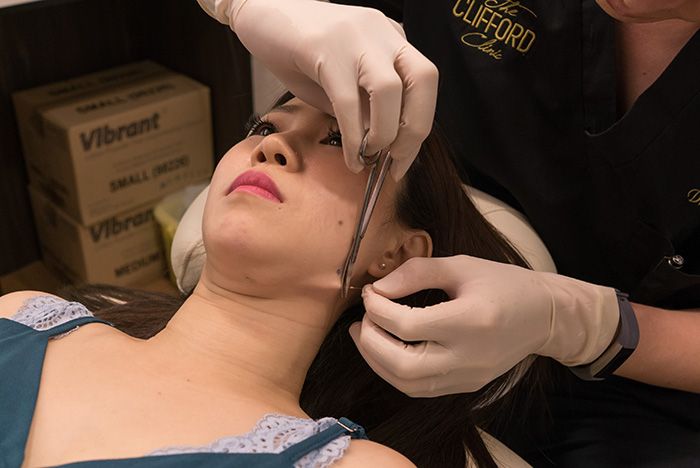 After the threadlift was done, Dr Ee injected botox to help further lift the area to give a firmer and more lifted appearance.

How was the Experience?
At first, I was a little nervous because I seriously do not know what to expect. Threading the skin may sound a little invasive but my fears and worries were really uncalled for. The entire procedure from numbing the skin to the injection of botox took only about half an hour.
Threadlift only took a mere 10-15mins for Dr Ee to complete. He is so so experienced (I heard he see many patients asking for threadlift in a day) with this procedure he gets everything done swift and fast.
The pain was minimal, after administering the numbing jab, I could barely feel anything. However, during the threading procedure, I felt slightly uncomfortable due to the tugging and pulling of the thread. Other than that, it was literally painless.
Procedures that I did
- 2 thread lifts per area 1 right below the jaw and the other nearer to the neck
- 1 x Botox right after the threadlift procedure
- 1 x HIFU Sygmalift (painless, injection-free, and surgical-free: see pic) upon follow-up(usually 1 week from the date of the threadlift procedure)
Aftercare
The antiseptic cream was given to me to apply on affected areas and antibiotics to consume to prevent infection. I didn't take any, though, because I don't like to be dependent on medicine, but it is really up to the individual.
Downtime
The bruising lasted for 1 week, and light makeup can be applied
(please ignore the rash, is an allergy reaction in no relation to the procedure)
Price range for the above
$5000-$6000
How long will this last?
Between 1-2 years depending on individual.
In conclusion:
This procedure is really what it had claimed and it really showed instant results.
Not only my double chin has reduced in appearance, my entire face also look more lifted. To honest, I feel I look different (in a good way) yet I really cannot put my finger on which area has dramatically changed. I guess is an overall thing! By only lifting the jawline, it has realigned my entire facial structure, creating a better version of me.
Take a look at how defined my jawline is, and this was taken 4 days after Threadlift procedure.
Taken 2 weeks after: Jawline more defined and lifted
Thank you Dr Ee from The Clifford Clinic for this!