I am back to Halley Medical Aesthetics again for their in-house CoolMini Treatment. My double chin had been bothering me for some time, so much so that even my sisters and close friends noticed it. And I guess it became especially prominent after all those food tasting sessions. Dr Terence Tan introduced to me to the CoolMini Treatment, which is the best way to solve my double chin problem.
WHAT IS COOLMINI TREATMENT
CoolSculpting by Zeltiq is a no downtime, non-invasive body contouring treatment. It uses the concept of cryolipolysis to freeze and destroy unwanted fat cells. The treatment removes 20-25% of the fat cells in the treated area each time. The body will remove and pass out the dead fat cells naturally. And because our body is unable to produce any new fat cells after five years of age, the fat cell that dies after fat freezing will be gone forever. By removing unwanted fat cells, we are able to achieve a better-looking body contour. Halley Medical Aesthetics is also one of the few clinics in Singapore which offers DualSculpting, which is where two CoolSculpting machines are used at the same time to do the fat freezing treatment. This can reduce treatment time by half.
CoolMini is one of the latest innovations by Zeltiq. It is used to target smaller areas of fat, such as the chin (submental), knee, and bra fat areas. The CoolMini treatment takes 45 minutes to complete, and Dr Tan told me that it can be combined with other treatments like Ultherapy and Botox to achieve a more defined and attractive facial profile. This is why I did a face shaping treatment earlier with him before my CoolMini treatment.
Before moving on with the treatment process, I had a consultation with Dr Tan and he identified the area that required treatment. He did a pinch test to determine which specific area to treat and the number of sessions I would require. He also used a body fat calliper and to measure how much fat I have under my chin so that he could record the 'before' and 'after' results. He told me that it will take about 3 months to see visible results.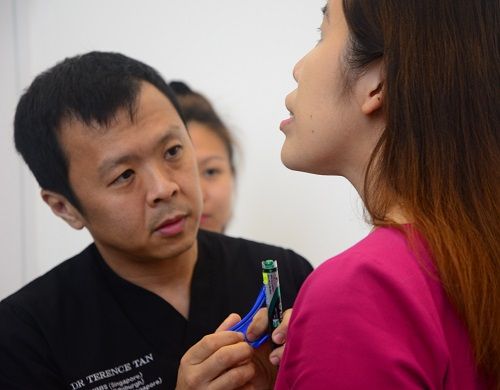 Dr. Tan then used the CoolMini template to mark out the area that required treatment, which indicates where the CoolMini by Zeltiq applicator will be placed. Then, Jean (CoolSculpting Programme Manager and Nutritionist) positioned my head carefully into the head rest to ensure that my head does not move during treatment. Once my position is secured, they applied some gel to the treatment area to protect the skin during the treatment process.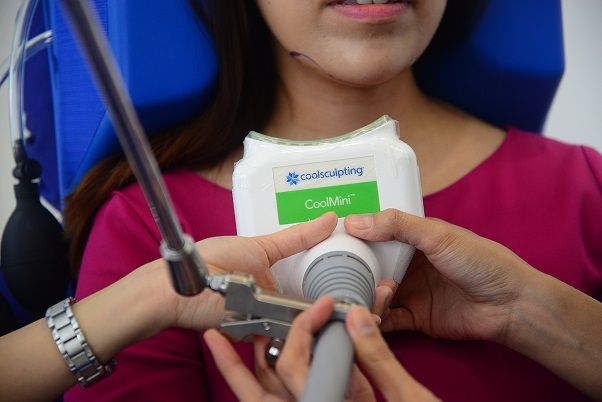 Once it is done, the applicator was then secured in place with the help of a band. And the treatment begins… It lasted for 45 minutes before the applicator was removed. Following that, the clinic assistant massaged the treated area to help break down the crystallised dead fat cells. You may also watch my treatment process in this video: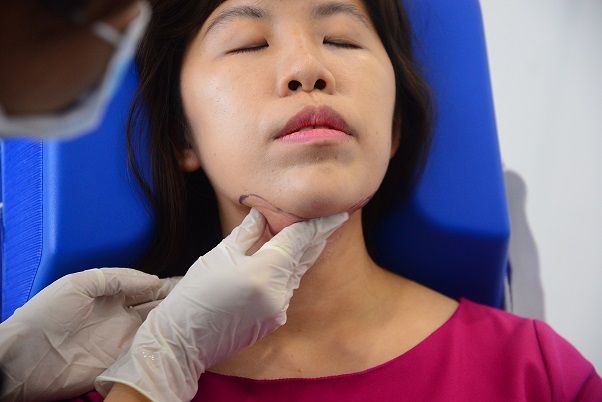 My under chin showed slight redness after the treatment but it lasted no more than an hour. The treated area felt sore and tender, with occasional numbness for approximately 1 week after the treatment. However, all these are mild and short-lived. I am back to normal again after that. Now, I can't wait to be back for the review with Dr Terence Tan in 3 months time!
For more information about the CoolMini treatment, you can read the posts below:
http://blog.halleymedicalaesthetics.com/coolmini-coolsculpting-by-zeltiq-has-a-new-fat-freezing-applicator-in-town/
http://blog.halleymedicalaesthetics.com/ice-age-body-contouring-treatments-zeltiq-coolsculpting/
http://blog.halleymedicalaesthetics.com/double-chin-causes-and-how-do-we-get-rid-of-it/
Halley Medical Aesthetics
277 Orchard Road #03-15
Orchard Gateway
Singapore 238858
Phone: 6737 8233
Email: This e-mail address is being protected from spambots. You need JavaScript enabled to view it
Website: http://www.halley.com.sg
Facebook/Instagram: @halleymedicalaesthetics
blog.halleymedicalaesthetics.com