The quest to anti-age and look radiant never ends for me and my consultation with Dr Siew Tuck Wah from Radium Medical Aesthetics got me interested in Silhouette Soft Thread Lift to lift my cheeks and define my jawline a little more.
During the consultation, Dr Siew told me that I still got enough facial volume on my face so fillers were not necessary, and he didn't like how fillers always create an "overdone" face that can look too puffy. Upon giving my face a closer examination, Dr Siew suggested getting me to try Silhouette Soft Thread Lift to instead to give my cheeks a lift and take 5 years off my face.
Looking younger, and more refreshed sounded great to me. But after hearing how Thread Lifts are done, I was pretty worried and scared. But Dr Siew has years of experience in Thread Lift procedures and he was confident and reassuring, so I decided to go ahead with the treatment after careful considerations.
What is Silhouette Soft Thread Lift?
Don't worry, it is not plastic surgery. It is a minimally invasive aesthetic treatment that can be completed in an about 20 mins (excluding consultation and numbing).
Silhouette Soft Thread Lift is an anti-aging treatment that offers instant lifting combined with gradual collagen regenerating effects to give a natural anti-aging result. The threads are bio-absorbable sutures made of poly L-lactic acid (PLLA). According to Dr Siew, the Thread Lift effects will last from about a year to a year and a half, and the threads will dissolve, generate collagen, and eventually disappear.
How does Silhouette Soft Thread Lift lift our cheeks and jawline?
Threads are inserted at the area marked out by the doctor and it is subsequently tightened to create a lifted effect. It is great for sagging skin and perfect for anyone looking for a lift in their faces.
We see a lot of reviews on nose Thread Lift on the net but not much when it comes to Thread Lift for the face. A quick google brought me to many old articles talking about older generation Thread Lifts that looked really scary and aren't as effective. Make sure you are reading the correct ones during your research.
After clarifying the doubts, I'll move on to talk about the entire procedure in as much detail as I can.
Step 1: Cleansing
The therapist gently removed my makeup.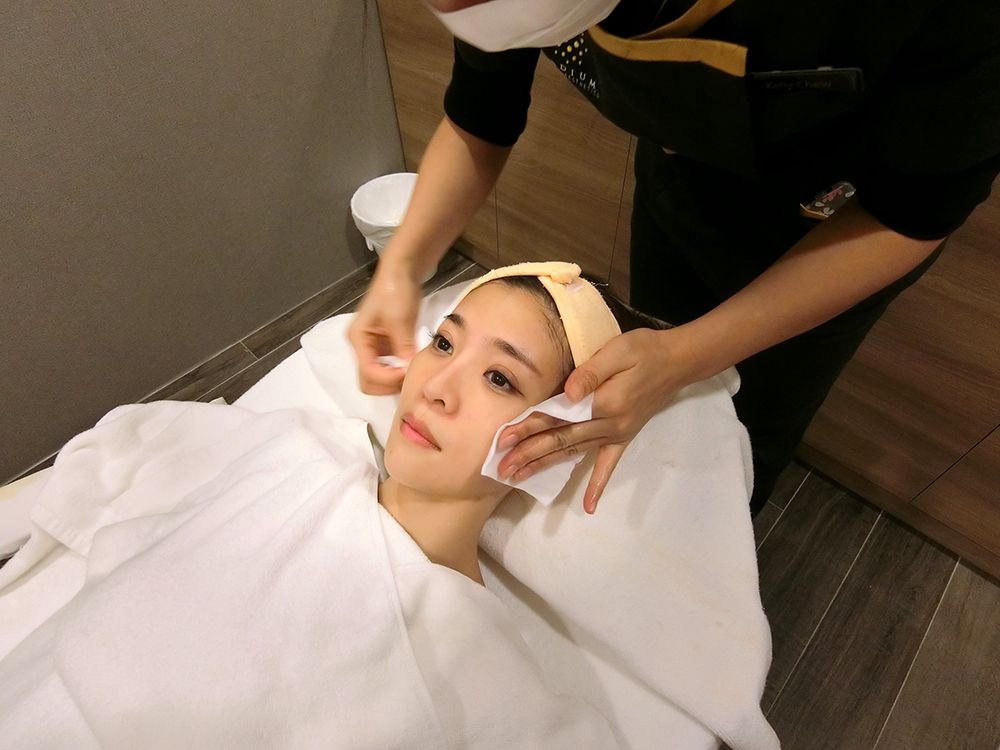 Step 2: Numbing
Numbing cream was applied to my face.
Happy me during numbing!
Step 3: Marking
Dr Siew carefully marked out the points on my face where he will insert the threads.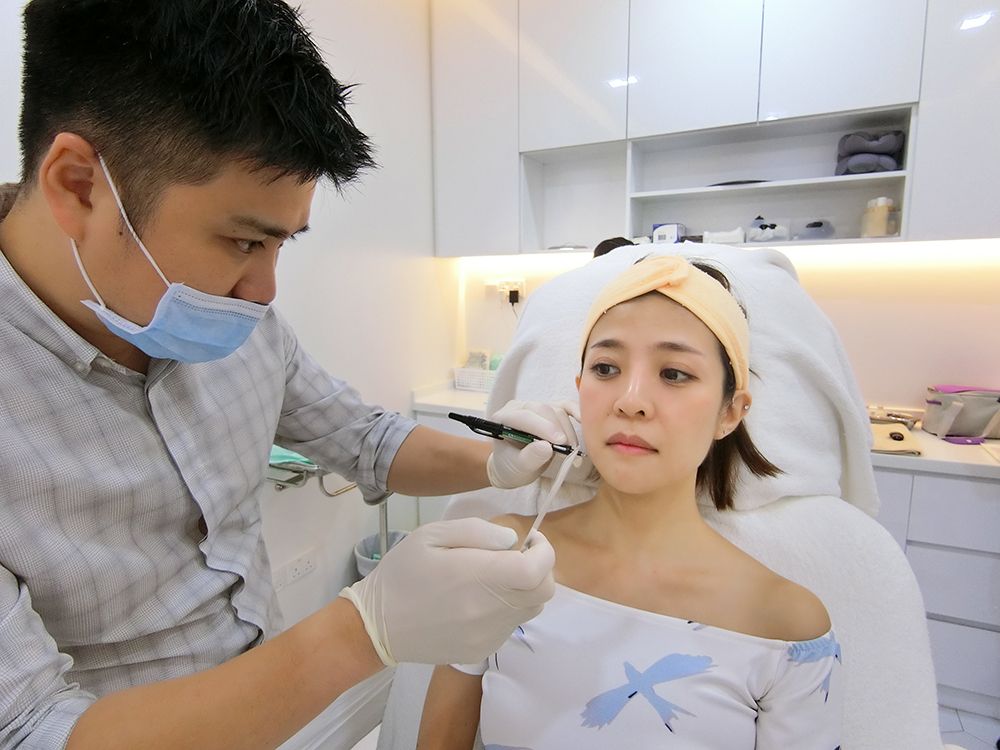 Step 4: Anaesthetic injections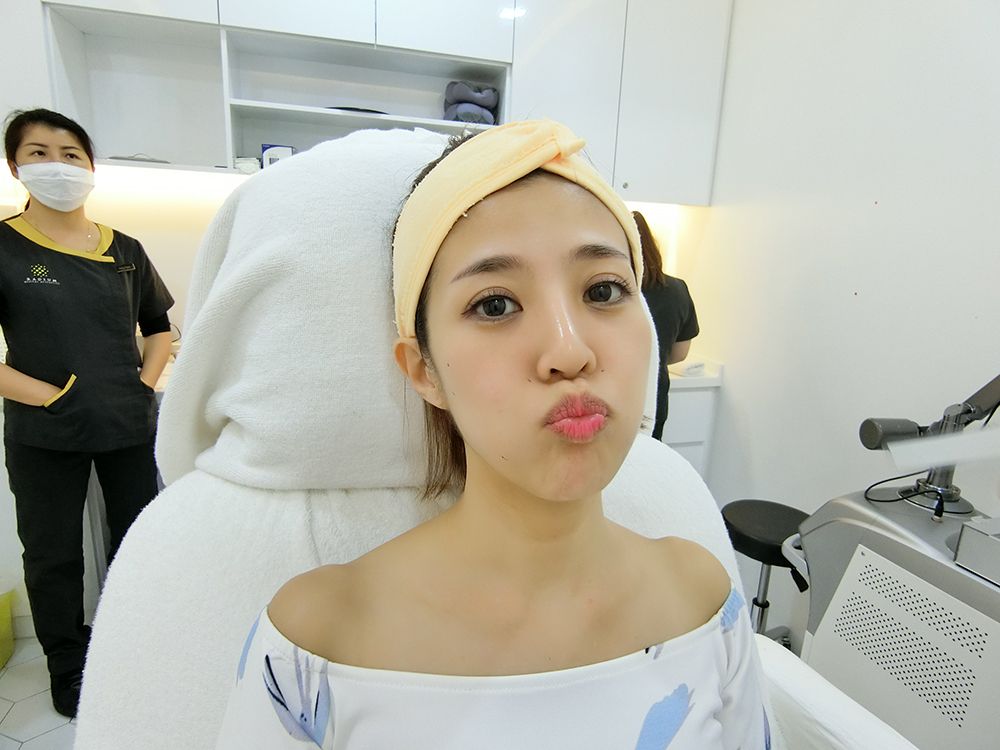 Getting a little nervous!
To minimise discomfort, a few anaesthetic injections were made on the spots of the threads insertion. Don't worry too much about the pain from the injections. See that black stone looking device that the therapist was putting on my face? It was vibrating strongly and a great distraction from the prick of the needle.
Step 5: Inserting the Silhouette Soft Threads.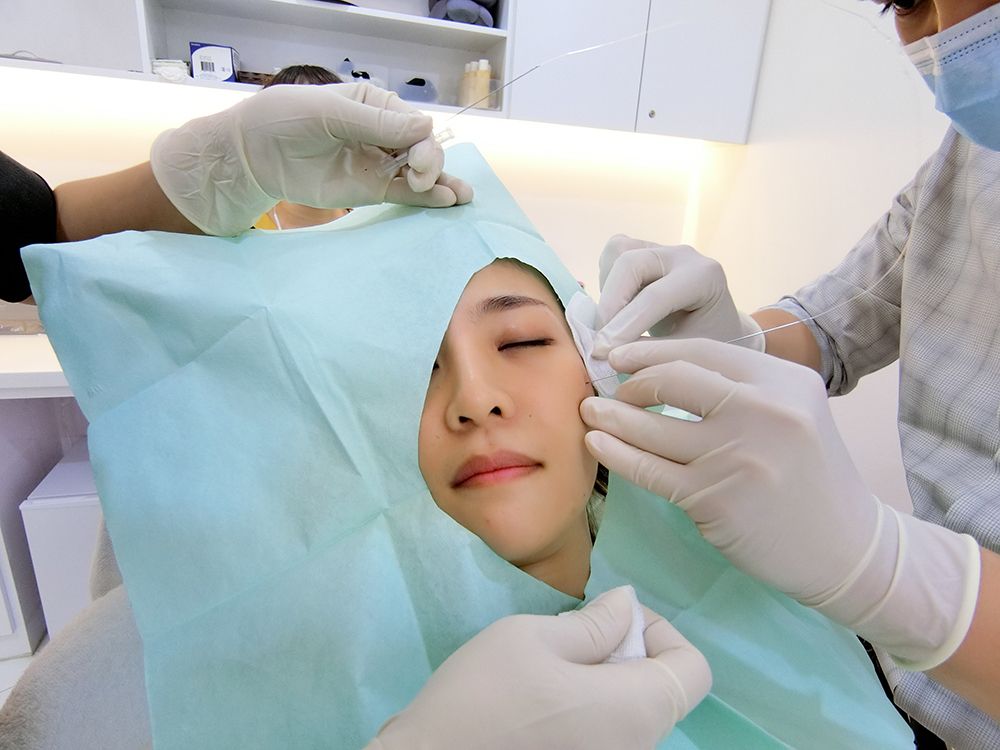 I know how scary the needles looked because I was equally scared when Dr Siew was describing how Silhouette Soft Thread Lift for face was done. But I was pretty surprised that I didn't feel anything more than some pressure and gentle pricks on my skin. It was more sore than painful. Maybeline, who was with me throughout the whole procedure was so sure that I wasn't in pain because she said, "you didn't even flinch!"
Step 6: Cutting the threads… and done!
Look carefully and see those almost transparent Silhouette Soft threads coming out from my face. Now that the procedure is done, all Dr Siew had to do was to cut them away. And that's it!
Results:
The effects of the lift from Silhouette Soft Thread Lift was instant. I could see the difference immediately. here are my before and after photos to let you have a closer look.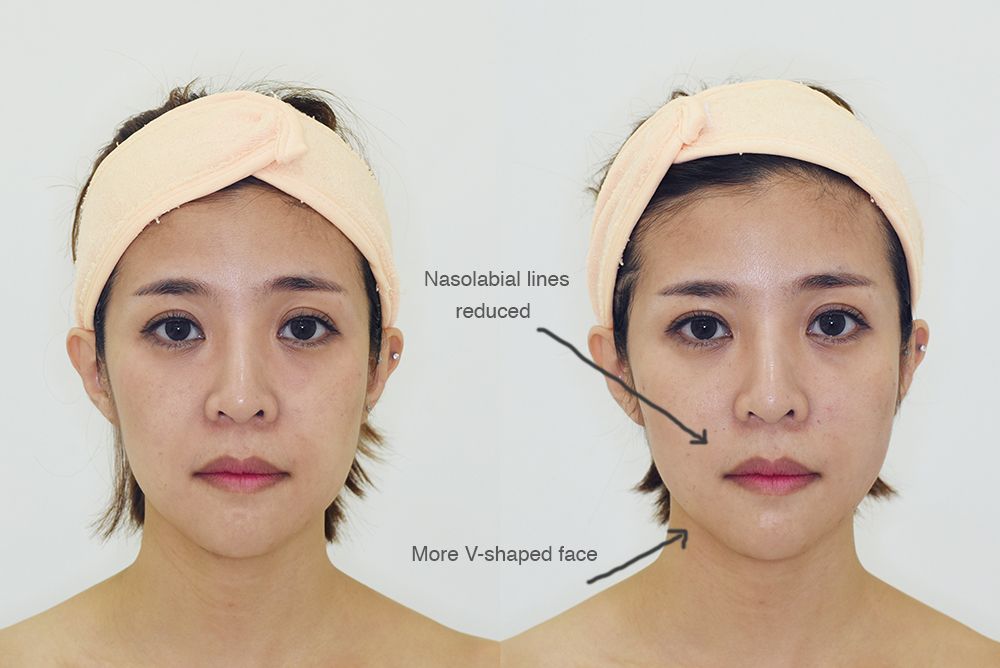 I was really happy with the subtle lift. Even my hubby told me that the difference was impressive and he was keen on trying Silhouette Soft Thread Lift too. It takes a lot to get that man interested in any aesthetic procedures so I'm sure the results are fantastic.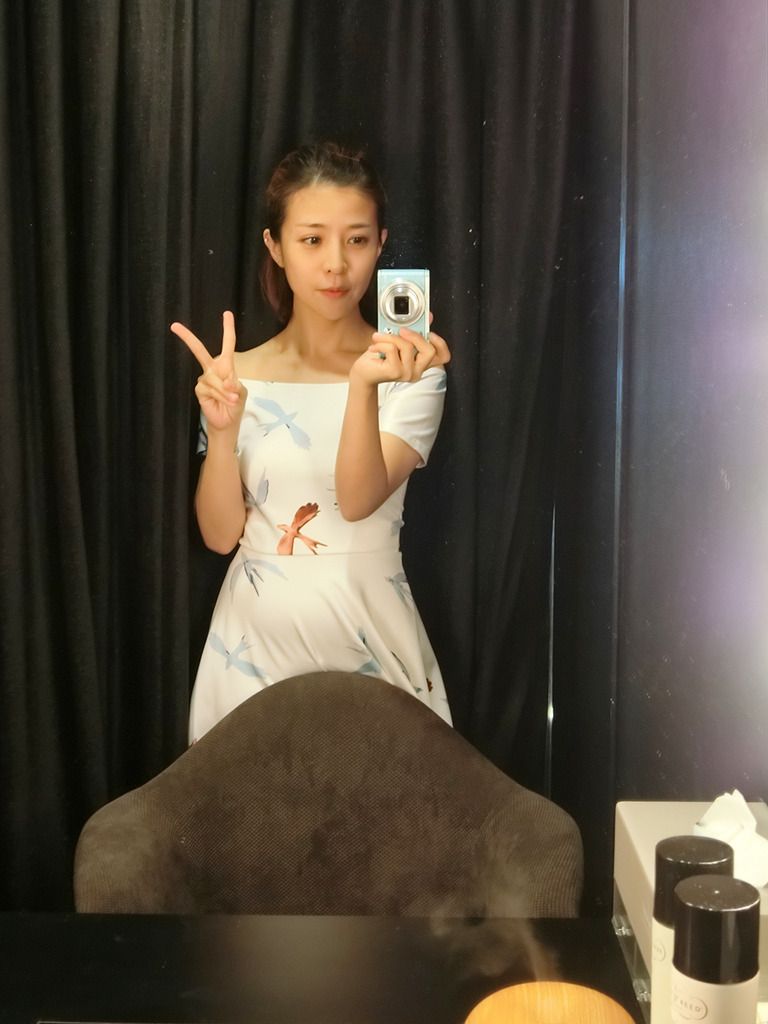 There is a nice little vanity room for customers to neaten up their messy hair or put n some makeup at Radium Medical Aesthetics and I thought that that was really thoughtful.
Recovery
D-day Day 1
I took this photo immediately the moment I reached home. All looking well and good, only some visible needle marks were left on my face.
I cheeks felt a little sore when I touched it, besides that, there is no pain at all. I can't open my mouth too big but I've got no issues gobbling my yummy dinner. However, Dr Siew did tell me to refrain from having exaggerated facial expressions for at least a week. Oh dear, I'm quite the drama queen!
Day 2
It's Friday night and we are heading out for dinner and KTV after work. Dr Siew said no exaggerated expressions so I can't sing very much and I was trying so hard to control my crazy laughter. I got so many compliments from my colleagues after I shared with them on the Thread Lift that I did, and one of them called the clinic to check for the pricing and consultation almost immediately.
Day 10
I could sometimes feel the threads for the first few days but the feeling is more or less gone now. Don't worry too much if you feel sore spots for the first few days, it will eventually go away. At day 10, I can now smile and laugh dramatically (oops!) and everything is well and good. The best part? I'm really happy that I look more radiant and refreshed, and less tired ALL the time, even after a long day at work.
Here's the video if you want to see how the whole procedure went!
I'll continue to update on the progress since I'll be heading back for a review in a few weeks time.
My 2 cents worth of advice before you all jump in to do any aesthetic procedures: Always look for a good and experienced doctor with an eye for beauty. It's never the tools that matter, but the person who handles it.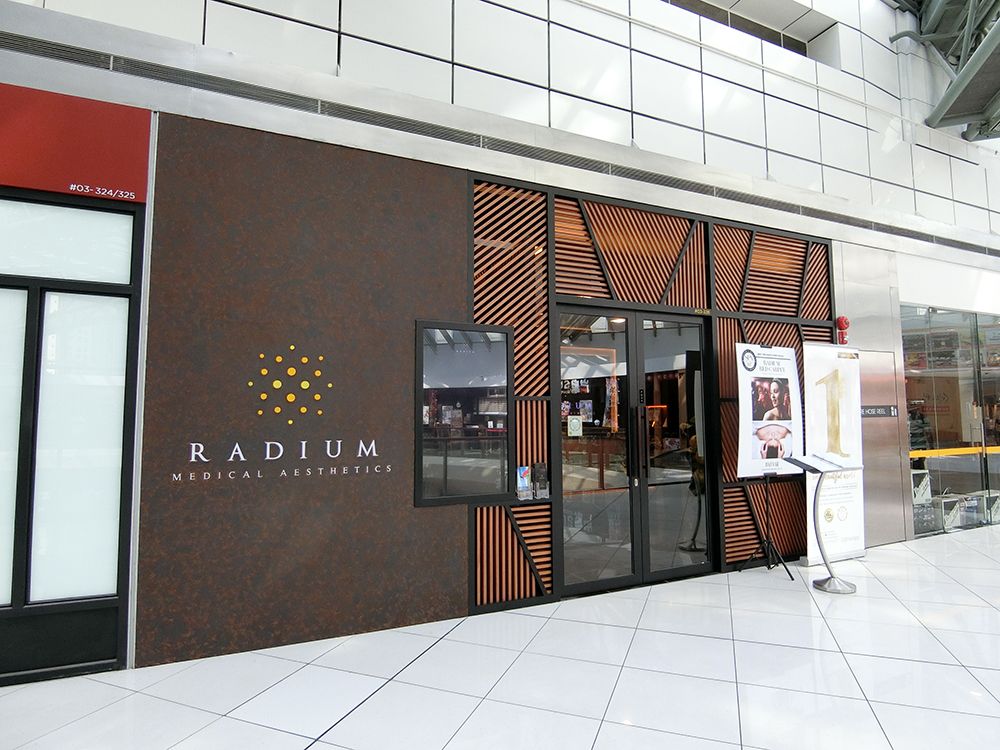 Address: 3 Temasek Boulevard #03-326
Suntec City Mall, Singapore 038983
Phone: 6837-0507
Whatsapp: 8868-0356
Email: This e-mail address is being protected from spambots. You need JavaScript enabled to view it
Opening Hours:
Monday to Saturday – 10.30am to 9pm
(Last appointment at 8pm)
Sunday – 10.30am to 3pm
(Last appointment at 2pm)