In my previous post, I shared about my Halley's Baby Skin Healer Trio treatment, and today, I'm going to share about something I've been very excited about - the results of my CoolSculpting treatment on my thighs.


Are you also one of those whose weight fluctuates like a yo-yo? Have you also tried many different methods to slim down but to no avail? I can totally feel your pain.
Fortunately, I found a safe and effective method that helps me to slim down.

I've emphasized in my earlier posts that it is important to let a doctor determine the root cause of your weight issues. For example, some of us are not fat, but rather, suffer from water retention, whereas some of us do have excess fats sitting around. Therefore, regardless of how little we eat, we can't lose those excess kgs and stubborn little bulges. With the doctor's help, you can target your problem areas easily for a more effective treatment.
Dr. Terence Tan from Halley Medical Aesthetics told me that my weight issues stem from the fact that I overate, and the excess fats are accumulated over my inner and outer thighs. If I don't take care of the problem now, it will get worse later on in life.
I know it is difficult for me to work on getting rid of those excess fats on my own. Therefore, I've decided to seek Dr. Tan's help on getting rid of those fats!


We really do need to be patient when it comes to weight loss and fat reduction. Even one of the most effective fat reduction treatment, CoolSculpting, takes around one month for visible results to show.


A comparison of my thighs pre and post CoolSculpting treatment. It is very obvious that my inner and outer thighs have slimmed down a lot! (Photos are unedited)


And with every visit to Halley Medical Aesthetics, my body fat percentage and weight are decreasing, and I'm very happy with the results.


But do you remember that I mentioned in my earlier post that CoolSculpting is a procedure that helps with fat reduction but not weight loss?

I told Dr. Tan that my appetite has expanded due to excessive eating when I travel, and although I've been trying to eat healthily recently, I still have an appetite that is bigger than average. I eat whenever I'm bored, and ate a lot whenever I feel hungry. Obviously, these habits didn't do very much for me on my quest to lose weight.
After a discussion with Dr. Tan, he prescribed a course of medication for me to help me suppress my appetite.


These are medications approved by the Health Sciences Authority and prescribed by a doctor. Please do not take any medication without prior consultation with a doctor.
Morning - Before breakfast: Medication to control my appetite
Afternoon and evening: High fibre medication to help my intestinal and bowel movements. I need to remember to drink a lot of water when I'm taking this medicine. If not, I'm going to end up with bad breath!
Evening/night: Medication to get rid of excess oil. This is so amazing because it helps me get rid of the excess oil in my body.


My weight had been fluctuating between 56kg to 59kg, and now, I've successfully lost all the kilos and stands at 51.9kg. I'm really proud of myself!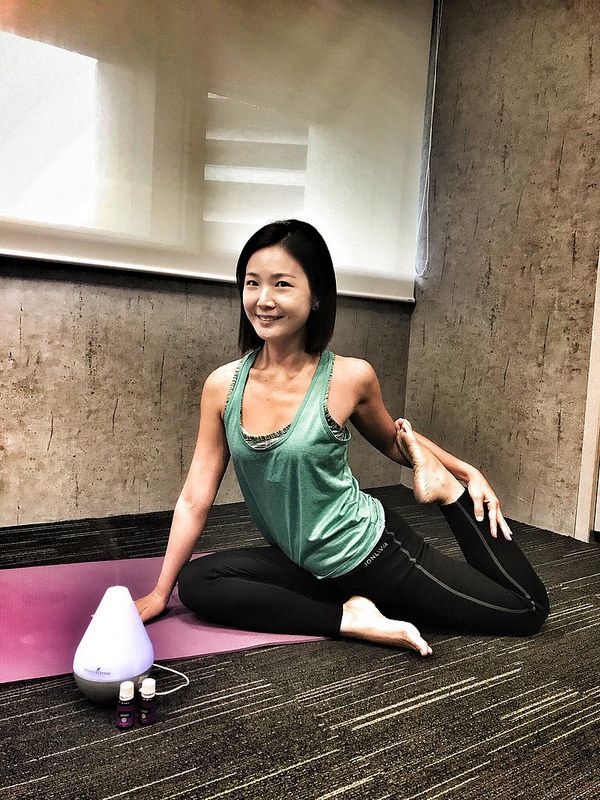 Therefore, I can confidently say that the course of medicine that was prescribed to me did their job at controlling my appetite and weight. The CoolScupting treatment also helped a lot in contouring my body.
I made a pact with Dr. Tan and promised that I will only be on medications for 3 months, and wouldn't depend on them to maintain my figure because I know myself, and that I am mentally strong enough to do that. We know ourselves best, so do voice your concerns to your doctor so that he or she can help you plan a course of treatment that is suitable for you.
So right now, I must depend on myself to manage my weight. I am careful about what I eat and I make sure that I eat healthily. Besides controlling my diet, I'm also exercising more, drinking more water, making sure that I get enough rest. I make sure that I lead a healthy and well-balanced lifestyle.

Now I can buy clothes in size S, and my body contours look good when I'm wearing a bodycon dress!

I took out a dress that I bought 2 years back. I couldn't fit into it in the past but it fits well now. And not that I want to humble brag, many of my friends told me that I'm too skinny now! Oops!
CoolSculpting treatment cost:
CoolSmooth Pro = 2(both legs)x $760
CoolFit Advantage = 2(both legs)x $760
Total :$3040


I am born with a pear-shaped body with a heavier bottom (I gain weight and accumulate fats easily) and I know that this cannot be changed. It is a misconception of many that there are magical treatments that can give you a supermodel figure and I have to say that that is unrealistic and impossible. You may make the mistake of spending unnecessary money and face major disappointments if you think that way.
I recommend Dr. Tan if you are looking to go on a weight management and fat reduction programme because he is very patient and he makes sure that his patients go through all pre-assessment tests and understands his patients' concerns. With that, Dr. Tan tailors a weight management program and treatment plan for you without pressurizing you into committing with anything you are not comfortable with.
Book a consultation with Dr. Terence Tan and let him tell you what's best for you. Feel free to tell him that Blogger Yuki recommended him to you!
Address:277 Orchard Road, #03-15 Orchard Gateway Singapore 238858
Opening hours: 10:00 AM – 9:00 PM daily
Tel: 6737 8233
Email: This e-mail address is being protected from spambots. You need JavaScript enabled to view it
Website:https://www.halley.com.sg/cn
Facebook: @halleymedicalaesthetics
Instagram: @halleymedicalaesthetics
YouTube:@HalleySGMedicalAesthetics
Disclaimer: I am not encouraging medical aesthetic treatments or plastic surgery. If you are interested in the treatments mentioned in the article, do go to your trusted doctor for a consultation to check if you are a suitable candidate. What I mentioned in the article is my personal experience, with information that I gathered from the internet for reference. Everyone is different and results may vary. I will not be held responsible for your decision to go ahead with any treatments and procedures.
Translated by: Xinyi Soh
________________________________________________________________________________________________
Original article:
Halley Medical Aesthetics CoolSculpting 酷塑疗程消灭脂肪告别胖胖大腿!
上篇分享了Halley Medical Aesthetics 魅丽医学美容诊所招牌疗程逆龄魅丽针的疗效后,接下来就是连我自己都很期待的酷塑疗效!
欲了解之前我进行的疗程点阅这里:
CoolSculpting at Halley.Medical.Aesthetics 酷塑在魅丽医学美容诊所
你是不是也为了身材反反复复的发胖,体重上上下下无法控制而烦恼?是不是试过很多方法甚至挨饿都无效呢?这种"压力折磨"我懂!
还好我找到安全有效的好方法——终究还是成功瘦下来了!
之前强调了,要先让医生检查你的肥胖问题到底出在哪里?有的人不是真的肥胖,是水肿。有的是脂肪(无论怎么减肥少吃都没用,一定要用针对性的方法,比如:CoolSculpting 酷塑疗程。
Halley Medical Aesthetics 魅丽医学美容诊所的陈锦良医生测试后知道我不是天生胖,但的确是吃过头而发胖,那些脂肪累积突出在大腿内侧与外侧不只减不掉而且会越养越肥!
其实像我这种脂肪+肌肉型混合型,一发胖超重,要靠自己是比较难的。我才下定决心集中火力先减掉脂肪!
减肥,减重,减脂肪都好...... 真的需要耐心与耐性!
知道吗?就连强效溶脂的CoolSculpting 酷塑疗程,溶解的脂肪也是需要大约一个月时间排除体外的!
之前之后的对比!DADA!很明显那令人讨厌的外侧和内侧脂肪肥肉果然缩小了不少!
(特此声明原图没有修改)
而通过每次的复诊记录,我的脂肪量,体重,的的确确的降下来了!那这个漂亮成绩单是如何办到的呢?
记得上篇我的分享吗?CoolSculpting 酷塑疗程在强效溶脂方面的确有很显著的效果。但是,它最多是局部减肥而不能让你减轻体重。
当我详细和陈锦良医生沟通后,提起我的肥胖主因是因为长期旅行把胃口吃大的,这几年就算严格选择吃得健康点,但是"食量大"是事实!一闲下来就吃,嘴停不了,一饿就大吃,体重当然下不来。
我和医生商量后,他配给我一套针对我的问题,让我缩小胃口而服用的药物。
这是必须通过医生特配,卫生部批准的药物,切勿在未经医生诊断的情况下自行在外面的药行买来服食。
早上-早餐前: 吃控制食欲的药,有饱的感觉就不会一直想吃东西。
中午与傍晚: 都吃高纤维的药,帮助肠胃蠕动排泄。
这个一定要多喝大量的水,不然喝不够水的副作用就是会有口臭!
晚上餐前/餐后半小时:吃排油药
这个好神奇,吃多少油都排出来了!
从初期暴增的59kg, 到见陈锦良医生时体重介于58kgs-56kgs一直徘徊其中,到现在的51.9kgs!我终于成功瘦下来了!此时此刻是无以伦比的为自己高兴呢!
所以可以说,这个药物配方有成功控制我的食欲和体重,这样一路坚持就成功协助我把体重减下来了! 配合CoolSculpting 酷塑疗程一起进行,简直是事半功倍!
我和陈锦良医生的协议是只吃3个月就停止服食药物,不再靠药物来维持我的身材;我向医生保证,强调自己是不会吃药吃上瘾的人,我意志能力挺强的。这点你也要清楚知道自己是什么类型的病人,坦白和医生透露才能更准确的设计适合你的处方。
接下来是靠我自己控制饮食习惯和选择较健康的种类。
当然除了管好自己的嘴;多做运动,多喝水,多休息,平衡生活也是很重要的!
现在买衣服买最小号,买紧身衣不再有穿不下线条不美的问题啦!
连两年前买了穿不下的超紧身裙也能穿下了,还不好意思的说,现在大家都说我太瘦了!哈哈哈
酷塑疗程费用建议价如下:
CoolSmooth Pro = 2(双腿)x $760
CoolFit Advantage = 2(双腿)x $760
总花费 :$3040
个人减肥心酸史的小分享:
我是天生梨形身材,下半部身材本来就是比较丰满的(一不控制容易肥胖累积脂肪)所以这点我自己很明白很难100%改变的。因为有些人天真的以为做了什么神奇treatment 就可以变成超级名模般的身材,那样的假想是很不切实际也很容易掉入误区-乱乱花钱,乱乱减,减错肥结果就令自己失望了。
为什么推荐陈锦良医生?是因为他很有耐心让你做完一切事前测试,问答题来断定你的问题所在,然后针对你的问题提出相关的建议让你充分了解慢慢考虑,没有逼你或推销你拿一大堆配套什么的,没有压迫感。
所以建议你不妨和诊所预约,就说是blogger Yuki 介绍的。让医生好好帮你看一下吧!
地址:277 Orchard Road乌节路 #03-15 orchard gateway Singapore新加坡238858
营业时间: 每天10:00 AM – 9:00 PM
联络电话: 6737 8233
电邮: This e-mail address is being protected from spambots. You need JavaScript enabled to view it
官网:https://www.halley.com.sg/cn
Facebook: @halleymedicalaesthetics
Instagram: @halleymedicalaesthetics
YouTube:@HalleySGMedicalAesthetics
申明:在此并无鼓吹微整或整形。若对手术有意者,建议您预约你心仪的专业医生,先做手术前的相关咨询和了解你是否适合进行此项手术。以上全凭个人亲身体验的分享与收集部分网络的整理资料仅供参考,每个人的条件和效果因人而异。本人将不对任何人决定进行任何手术付任何追究责任。
Bu Yuki Ng
http://iamyuki.com/coolsculpting-酷塑疗程消灭脂肪告别胖胖大腿/