Disclaimer: Do note that I'll be sharing the raw images of my serious acne skin and you may feel uncomfortable reading the post. I want to share my painful past and my acne scars removal process with those of you who are facing the same issues.
I hope that my experience would let fellow acne sufferers know that you're not alone and we shouldn't give up on searching for an acne cure. Do leave the site if you find the images disgusting but I still want to thank you guys for being here to read about my struggles and my journey to get out of this torturous acne phase in my life.
I always have oily and acne-prone skin, but it wasn't that bad in the past.
When I broke out occasionally, they will always leave scars behind on my sensitive skin. I really dislike the acne and scarring on my face and I decided to try on some skin care products in the hopes that it will help me with my acne problems.
I tried a skincare line that contains BHA and AHA and as you all know, these ingredients cause the skin to peel and help to improve the appearance of acne skin. My skin did show improvements in the first two weeks but subsequently, my acne problem worsen. I saw at least 5 to 8 new acnes a week and even after I stopped using the products, the breakouts continued. Just look at the photo below to see how bad my skin became.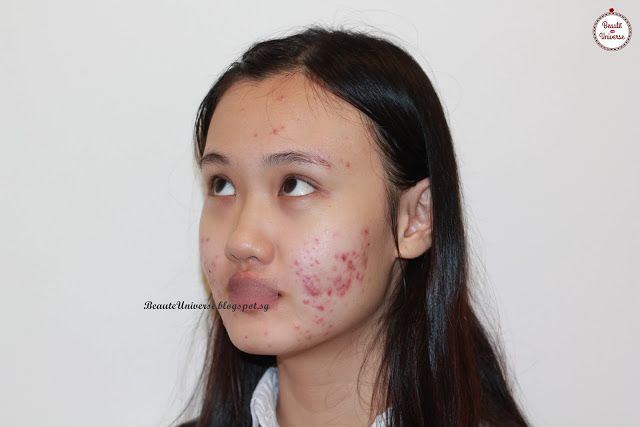 My friends encouraged me to look for a reputable clinic and get help from a good doctor. I googled and read many reviews and eventually decided to head to
The Clifford Clinic
. The Clifford Clinic specialises in treating acne and they had many positive reviews online. I was confident that they could help me and I couldn't wait to head down for a consultation and start my treatments. I rang them up, booked an appointment somewhere in March last year with my aesthetic doctor
Dr. Gerard Ee
.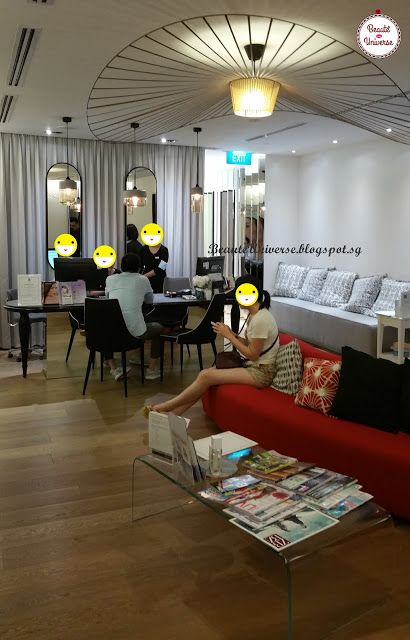 During the consultation, I told Dr. Ee about the history of my acne and basically rant to him about how bad my acne has gotten over the past few years. I was very thankful because Dr. Gerard Ee was very patient and professional, and offered me various options to start me on my treatment. He suggested getting me started on the AGNES treatment to reduce my acne breakouts, followed by a series of Q-Switch Lasers for acne scars removal. To maximise the efficiency of the treatments, he also suggested that I should go for Hydrafacial sessions to maintain the cleanliness of my skin.
Read on to find out more about my treatment details for the AGNES treatment, Q-Switched Laser treatments, and my Hydrafacial sessions over the past few months with The Clifford Clinic.
Before we go into the details, here's the results acne and acne scar removal treatments with The Clifford clinic over the past 10 months (April 2017 - Feb 2018).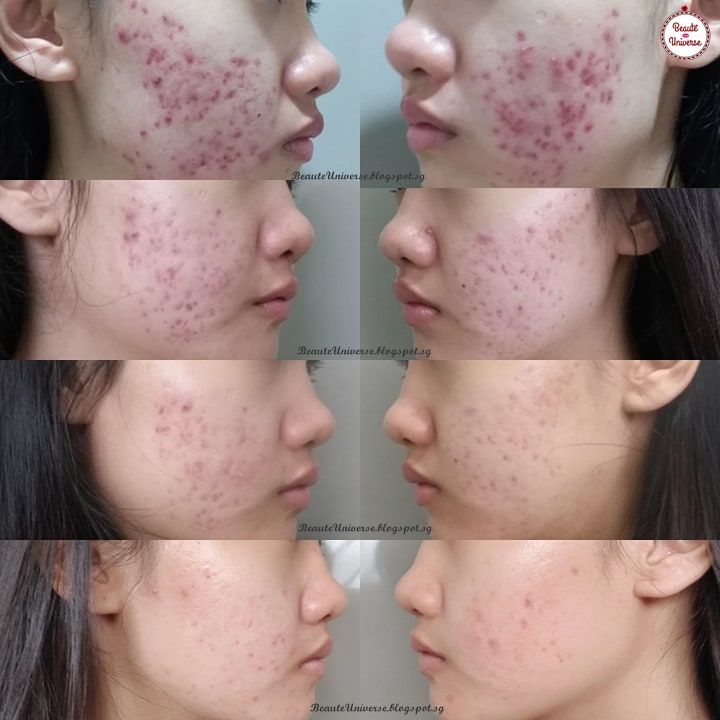 What is Agnes treatment?
"One of the latest advancements in acne treatment is AGNES, which selectively ablates sebaceous glands to cure acne that is recalcitrant and recurring. AGNES is commonly used in Korea and Dr. Gerard Ee is the pioneer doctor to introduce this effective acne treatment to Singapore."
As our skin has millions of sebum glands, AGNES will selectively destroy those individual 'problematic' glands. This will help prevent new breakouts and provide a long-term solution for those looking for a permanent cure for adult acne. For my case, Dr Gerard recommended that I get at least one or two AGNES sessions, and in addition to that, I also got started on a course of topical acne creams (Clindamycin and tretinoin) that Dr. Ee prescribed for me.
Agnes Treatment's Cost
The cost for AGNES treatment ranges from $800 for a partial face to $1500 for full-face treatment. Being a student, it is kind of expensive to me but I decided to invest all I have into my skin and took up one session of a full-face AGNES treatment.
The therapist applied some numbing cream to my face and let it do its job for about 30 mins before I got my extraction done by my therapist.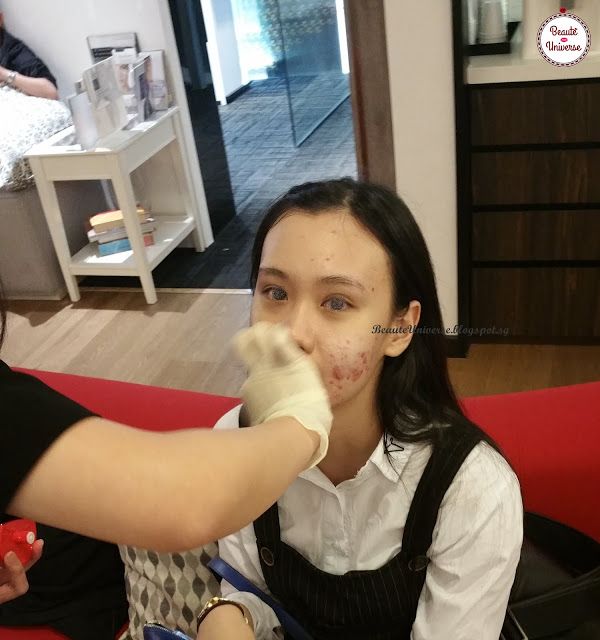 The extraction took quite a while as my face was infested with acne, blackheads, and clogs.
Note: I have a low tolerance for pain.
After the extractions were done, we went ahead for the AGNES treatment. Dr. Gerard Ee performed the treatment for me. He was very nice and caring and kept checking on me to see if I could tolerate the discomfort of the little needle poling into my face. Well, of course, I couldn't. I have really low pain tolerance and Dr. Gerard Ee injected anaesthetic into both sides of my cheeks before he continued with the treatment.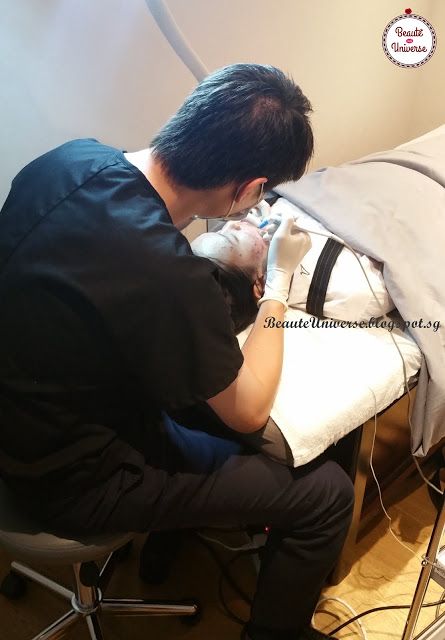 Here's the image of the equipment Dr. Gerard Ee used for my AGNES treatment, and that's the needle that was responsible for killing hundreds of my sebaceous glands on my face! It took him around an hour to complete the treatment. Thank you Dr. Ee!
Agnes treatment day 2
I went back to Clifford clinic the very next day to get my follow up treatment for AGNES. Thankfully, there's no more needle poking, but instead, the therapist used a radio frequency machine together with some gel and antiseptic solution to cleanse and soothe my skin.
Other than the slight pain from the serious acne area, this process was pretty comfortable.
I took some photos after the AGNES treatment to keep a record of my journey throughout this process. Of course, I could see that my skin got even redder compared to how it was before the treatment, and it looked so scary and disgusting. At this point, I was really worried about getting even more scars or whether they will heal properly. I was advised not to put on makeup or the next few days and since I didn't really want my makeup to affect the healing, I picked up my courage and stepped out of my house without concealing all the acne and the acne scars. Of course, I felt the judging eyes from the public though. To be honest, I still suffer from low self-esteem from these acne and acne scars to this day.
Right after the AGNES treatment. (AGNES Day 1)
I'm happy to see the improvement on my skin 2 days after the AGNES treatment. My cheek areas weren't as red and swollen, and the existing acne flattened.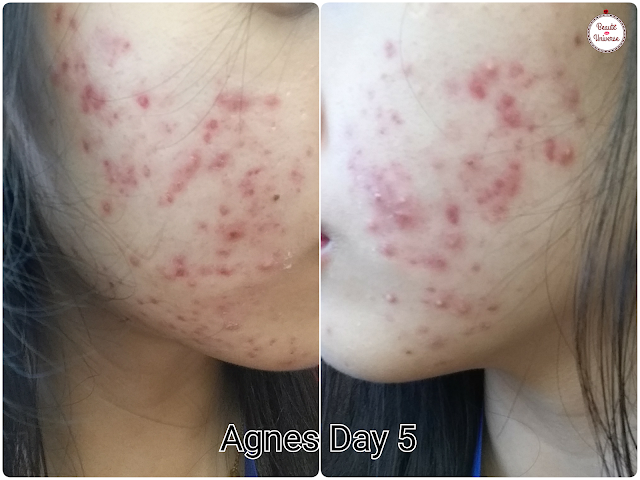 This was the 5th day after the AGNES treatment, I was so happy to see that my skin condition got a lot better. Aside from the red dots from my acne, the red patches surrounding the acnes were gone.
What is Q-Switch laser?
"Q-switch laser is the ideal lunchtime laser for common pigmentation and aging problems. Melasma, freckles and acne scars are common types of hyperpigmentation that can occur even with good lifestyle and skincare habits. Q-switch laser has been proven to erase hyperpigmentation with low downtime."
How does Q-switched laser treatment work?
"Q-Switch Laser treatment works by generating a high-energy laser on the affected area. The laser energy pulse breaks down the pigments into mini-pigments, which is absorbed by the skin, and then destroyed by the body's lymphatic system."
Dr. Gerard advised me to go for a series of 10 Q-Switch laser, with treatments every 2 weeks to heal my acne scars. I took up this package since I've wanted to go for laser treatments for the longest time. I really hate the scars on my face and wished that I could get rid of these ugly red patches as quickly as possible. I couldn't wait to try out my Q-switch Laser sessions with The Clifford Clinic and see how much my scars lighten after each session!
I did my 1
st
Q-Switch
laser a week later. The process felt like someone snapping a rubber band on my face and I wasn't comfortable with it since I've got a low tolerance for pain. However, subsequent sessions got better for me since I've gotten used to it and I did not feel as much pain as before. I would say that the pain level is about 3/10.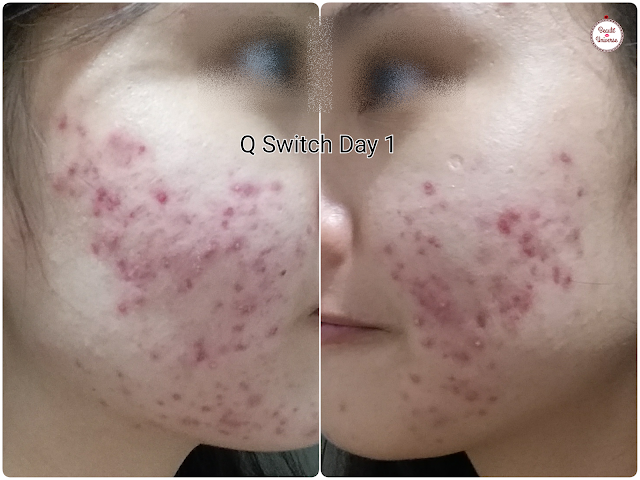 I really like how fast and effective Q-Switch Laser treatments are and I could see the results after a few sessions of it. As much as I hope to achieve baby smooth skin, I know that it may be a little difficult. However, this treatment helped me to recover by at least 80% and I am really thankful for that.
How much does Q-switch cost?
I'll be sharing the cost of Q-Switch Laser together with Hydra-Facial at the bottom of this post.
What is Blue Light treatment?
I've also received blue light treatment after my 1st Q-switch Laser session.
Blue Light treatment makes use of high-intensity, narrow-band blue light to treat mild to moderate acne. It is used to kill the acne-causing bacteria that can form within the sebaceous glands and cause breakouts. This treatment is quick and comfortable.
Upon applying a soothing mask (Omega/Centella extract), my therapist brought the blue-light generating device over my face and allowed it to target the bacteria that causes acne for around 10-15 minutes. Then she placed a mask over my face and continued with the treatment.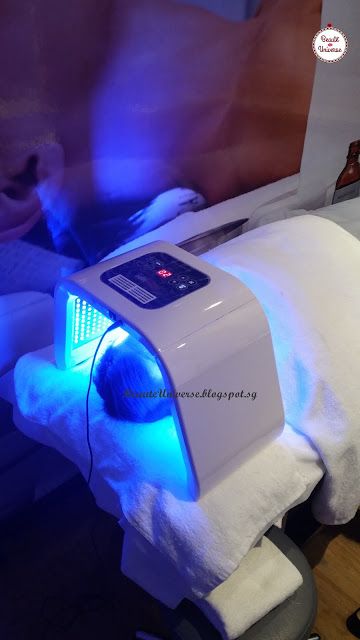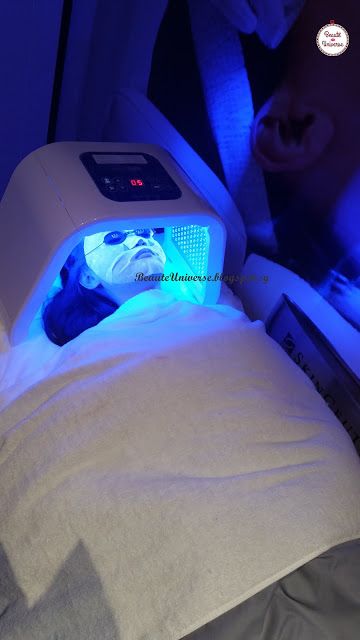 The process was really comfortable and there was totally no pain. I just felt a warm heat and I was totally enjoying this treatment.
Breakout during recovery
Though I noticed some breakout during the recovery process, Dr. Gerard Ee assured me that it was normal, and the journey for getting rid of my acne and my acne scars removal wouldn't be that smooth and I should be patient with it. I also noticed that subsequent breakouts weren't as serious as my pre-treatment condition and this definitely proved that AGNES treatment worked well for me.
Hydrafacial uses patented technology to cleanse, extract, and hydrate our skin. While getting rid of impurities it also uses super serums that are made with nourishing ingredients to quench skin to create an instantly gratifying glow.
How did it work?
1. CLEANSE + PEEL
Uncover a new layer of skin with gentle exfoliation and relaxing skin resurfacing.
2. EXTRACT + HYDRATE
Remove debris from pores with painless suction. Nourish with intense moisturizers that quench skin.
3. FUSE + PROTECT
Saturate the skin's surface with antioxidants and peptides to maximize your glow.
How much does it cost?
I signed up for a package of Hydra Facial ($1000) and Q-Switch Laser ($2000), so in total, these two treatments cost me $3000. However, everyone's skin condition is unique. While Dr. Gerard Ee recommended these treatments for me, yours may be different, depending on your skin condition.
What I like the most about Hydrafacial is how it is able to address almost all the skin concerns we have:
Fine lines + Wrinkles
Elasticity + Firmness
Even Tone + Vibrancy
Skin Texture
Brown Spots
Oily + Congested Skin
Enlarged Pores
I went for my first treatment for Hydrafacial along with my second session of Q-Switch.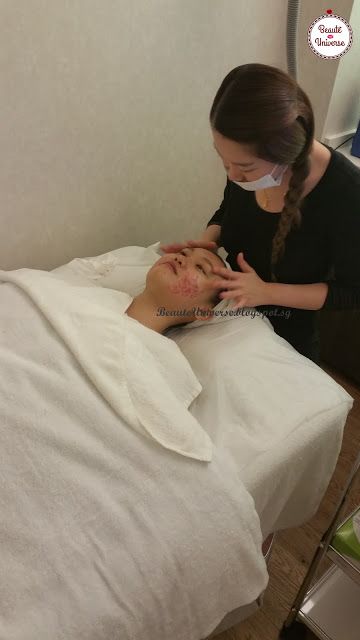 Step 1: Cleansing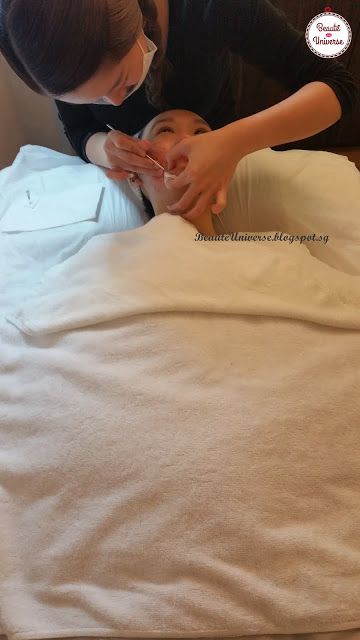 Step 2: Extraction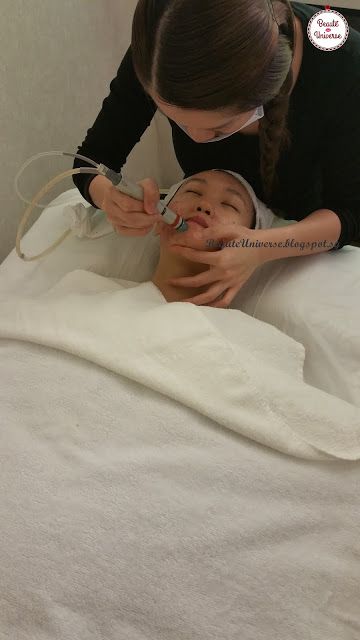 Step 3: Hydrate
Step 4: The last step where a cold mask was applied for me to relax and allow my skin to cool down.
Throughout each session of Hydrafacial, my oily and congested skin was cleansed hydrated.
2nd Q-Switch Laser + 1st Hydrafacial
I could see the significant improvement in my acne. There were lesser bumps, but again, the annoying reddish scars were there. As my skin is very sensitive, it took me a few days to a week to see the effect of Q-Switch Laser.
2nd Q-Switch Laser + 1st Hydrafacial
Again, I took pictures to monitor my acne condition and acne scars removal process from my facial and lasers. It can be seen clearly that the amount of redness had decreased a lot and there were even lesser small bumps on my skin. Yay!
3rd Q-Switch laser
I went for my 3rd Q-Switch Laser session, this time without Hydrafacial as I'm bound to do the facial every month while having my laser done every 2 weeks.
4th Q-Switch Laser + 2nd Hydrafacial
I continue with my Q-Switch treatment 3 weeks after the 3rd Q-Switch laser session as I'm not feeling well the week before, so I had my laser done together with my 2nd Hydra-Facial session
So excited to see the drastic improvement on my skin!
5th Q-Switch Laser
5th session of Q-Switch laser and I'm really so glad the see the improvement each time I completed the treatment!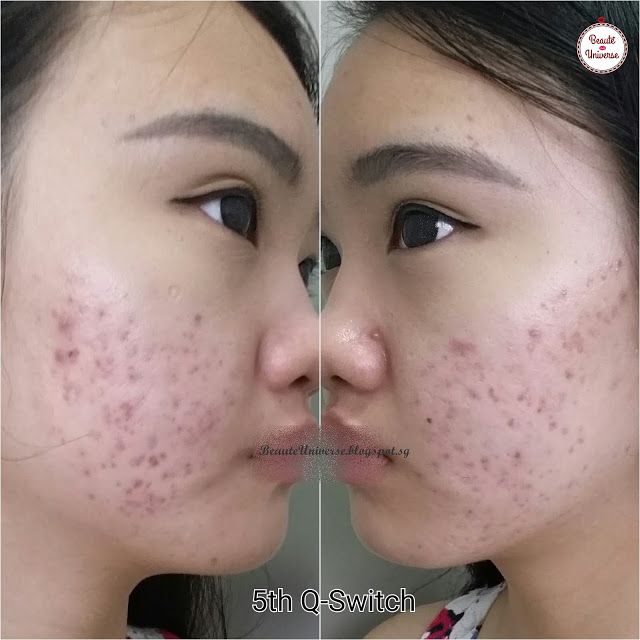 6th Q-Switch Laser + 3rd Hydrafacial
After the 6th Q-Switch and 3rd Hydrafacial, I got a slight breakout. But I reminded myself to be patient and I was confident that my skin will heal with time.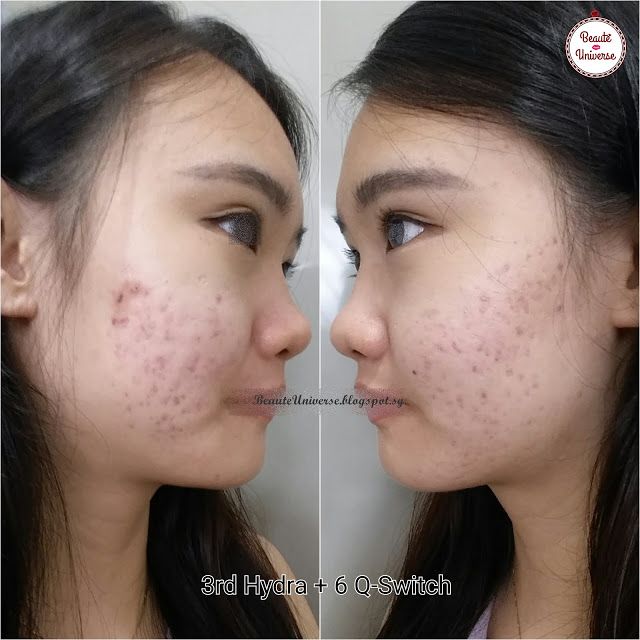 7th Q-Switch laser
Had my 7th Q-Switch laser treatment. The scarring from the previous breakout lightened and I'm always so happy to see the magic changes Q-Switch laser did for my skin!
8th Q-Switch Laser and 4th Hydrafacial
Alright, I'll end my part 1 of this acne recovery journey with you guys. I know it is a super lengthy post but I really hope what I've shared can help you guys in one way or another. And to the acne sufferers, don't feel disheartened, don't lose hope, and find a way to cure this nightmare. Thank you for reading, and stay tuned for the updates!


UPDATES
Hi guys, I'm continuing my post for my acne treatment with The Clifford Clinic. I went back to The Clifford Clinic every 2 weeks for laser treatments and every month for
Hydrafacial
.
In this update, I will be sharing my experience with Clifford Clinic for VBeam laser. I've tried 3 sessions of VBeam laser recommended by Dr. Gerard Ee as I continue maintaining my skin with Q-Switch laser treatment.
What is VBeam Laser?
The VBeam is a pulsed dye laser, which means that the laser energy is delivered in pulses and a dye is used to generate laser beams of different colours. Since the VBeam is used to treat dilated blood vessels, as in rosacea, it is also called a vascular laser. The target of the vascular laser is haemoglobin, the red protein in blood cells in the blood vessels. Skin cells that surround the dilated blood vessels are not damaged. (Safely treat rosacea, spider veins, birthmarks, acne scars, stretch marks, broken capillaries).
The pain level?
During the VBeam treatment, I could feel the device spraying cool liquid onto my skin on each laser pulse, hence giving the pain rating a 2/10 (it felt like cold zaps on the skin).
Below are some images from the after treatments and recovery process.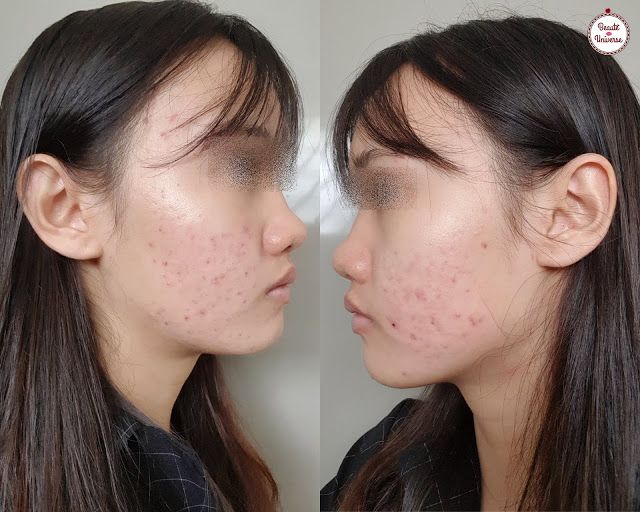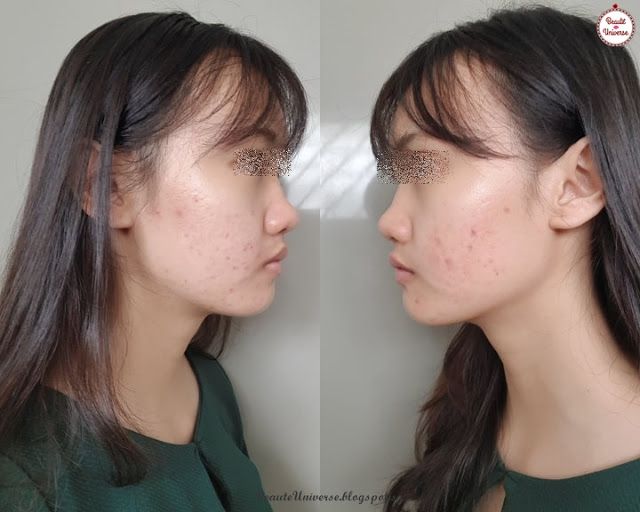 I'm so thankful to receive caring treatment from The Clifford Clinic, seeing how much my skin recovered from the beginning. It really amazed me and I'm glad I didn't give up on finding a cure to this torturous and toxic acne-prone skin.
The Clifford Clinic
24 Raffles Place
#01-03 Clifford Centre
Singapore 048621
(Exit A from Raffles MRT)
Mon to Fri: 10 am to 8 pm
Sat: 10 am to 5 pm
Sun: Closed
Closed on Sundays and Public Holidays
Call Us: (65) 6532 2400
Whatsapp: (65) 8318 6332