A month after I first did my fillers, I went back for a touchup. If you're wondering why there is a need for a touch up, now that's because very often, the result from the initial fillers injection is contributed by both the fillers as well as the swelling of the tissue. When the swelling subsides, the augmentation result will be somewhat reduced. So, having a second touch up treatment allows the doctor to improve on and perfect the overall outcome of the fillers.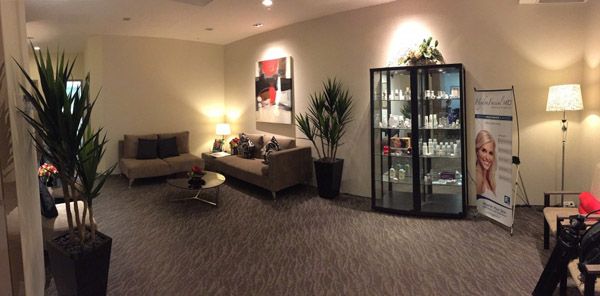 After consulting with Dr Wong, he felt that that my right cheek needed much more fillers to be injected to achieve the desired effect. As I mentioned in my previous post, my right profile is flatter than my left (sigh), which is probably why my right cheekbones require more fillers than the left. So, we decided to leave my left side untouched, and only add on a little more to my right side to balance it out.
The process is the same as the previous, but it seemed to hurt much less this time?? And I barely had any bruising! I remember my right cheekbone feeling pretty alright the next day, hardly sore at all. I was also able to see instantaneously, the obvious "lift" on my right cheekbone, much more than the previous time. I was like woah yessssss. Hahaha.
To show the "lift", I tied my hair up in the pictures above so you guys can see it better.
Previously, I had a flatter right cheekbone. Now both cheekbones are equally balanced yay! I also think that having a more defined cheekbone would draw the attention away from my asymmetrical jawline because if you remember what I wrote in my first post, I have more fat on the right side of my face than the left, and hence, the asymmetry. And since the problem is the fat, and not the jaw muscle, contouring of my jaw muscle would not have much of an effect to improve the symmetry of my face/achieving a sharper facial contour.
Thank you Dr Wong for making me feel so at ease from the consultation to the procedure. Like I said previously, he has such a fatherly vibe that it takes all your worries away haha. And also the lovely nurse, Marilyn, who was not only friendly but also made sure I was comfortable at all times.
Yay to having more defined cheekbones for the next 6-12 months! (yup, that's how long the fillers will last)
Assurance Skin, Laser & Aesthetics is located at:
Mount Elizabeth Novena Specialist Centre
38 Irrawaddy Road
#10-22/23
Singapore 329563
Tel: (65) 66941121
Email: This e-mail address is being protected from spambots. You need JavaScript enabled to view it
Opening Hours
Mon-Fri: 9am to 5pm
Sat: 9am to 12.30pm
Sun & Public Holidays: Closed