When you think about signature beauty looks, we're guessing icons like Marilyn Monroe, Brigitte Bardot, and Twiggy come to mind. But a steady aesthetic isn't relegated to old Hollywood stars. Just look at Ariana Grande.
Credit: JEFF KRAVITZ/AMA2016/FILMMAGIC
Since breaking out of the Nickelodeon mold and settling into pop superstardom, the songstress has become almost as famous for her high ponytails and cat-eyes as she is her vocal chops. But there are a few things Grande always does that fly under the radar. For example: carefully-placed highlighter, bubblegum-pink lips, and a modern take on eye makeup. Oh, and let's not forget her expertly-applied body makeup. Want to see all the trends the singer has on constant rotation? Check out the slides ahead.
1. A Well-Placed Glow
Ariana Grande loves a glowy, luminous finish just as much as the next A-lister, but she doesn't just highlight her cheekbones — she highlights her nose, too. This technique is used by makeup artists to elongate the nose, making it appear higher and slimmer.
Credit: ALLEN BEREZOVSKY/GETTY IMAGES
Grande opts for a touch of nose highlighter on the red carpet and IRL — and it couldn't be easier to copy. Simply grab your go-to luminizer and tap it onto the tip of your nose, blending as you go. Make sure to highlight your cheekbones, too, so your whole face has a similar glowy effect.
Credit: VIA @ARIANAGRANDE
2. Super-Sleek Hair
We all know that high and half-ponies are Grande's go-to hairstyles, but the star also always gravitates toward sleek textures over wavy ones.
Credit: VIA @ARIANAGRANDE
Grande's hair is naturally curly, so to achieve her polished 'do, she definitely keeps a good straightener, shine serum (we like this one), and a few extensions in the mix.
Credit: JEFF KRAVITZ/AMA2016/FILMMAGIC
3. Body Gleam
When it comes to red carpet appearances, Grande can almost always be found in body makeup. Sometimes, it's in the form of a spray tan; other times, just a bit of foundation contoured down her neck. The result every time? A shimmery décolletage.
Credit: C FLANIGAN/FILMMAGIC
After months of hiding under turtlenecks and puffy jackets, chances are your chest and face don't match (especially if you're a fan of bronzer). Instead of shelling out for a professional spray tan, opt for gradual self-tanners or body makeup to even things out — just make sure to blend to avoid lines and streaks.
Credit: JASON MERRITT/GETTY IMAGES
4. Modern Mod Eyes
Grande is partial to good ol' winged liner. But we're not talking thin kitten flicks à la Gigi Hadid or Alexa Chung — the singer opts for thick, retro wings that make her big brown eyes and long lashes the focus.
Credit: VIA @ARIANAGRANDE
To make her typical wings a bit more sultry, Grande often slicks a bit of black kohl onto her waterline. To finish off the look, she reaches for a pair of gossamer falsies to further emphasize her eyes.
Credit: JON KOPALOFF/FILMMAGIC
5. Bubblegum Pinks
We've seen Grande sport burgundy and crimson shades on the red carpet, but in her day-to-day life, she's almost always wearing a layer of matte pink lipstick.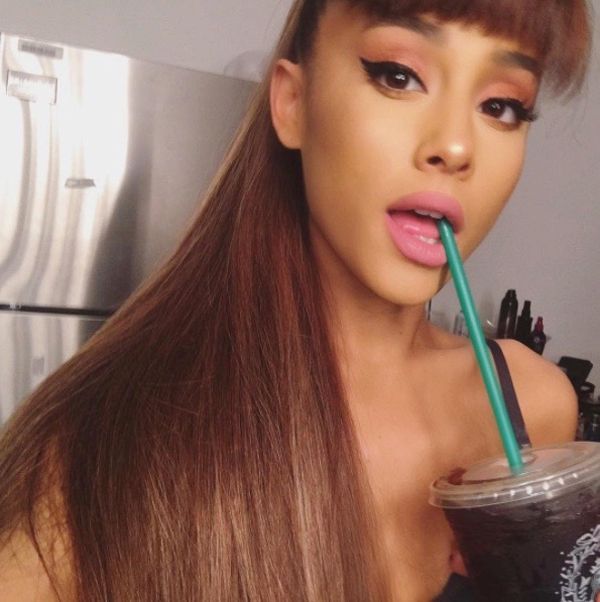 Credit: VIA @ARIANAGRANDE
The effect is similar to a nude but has a little but more punch. Thinking of rocking a similar hue? Try MAC's Saint Germain lipstick.
Credit: VIA @ARIANAGRANDE
By MI-ANNE CHAN
This article first appeared in Refinery29.