Once upon a time, aging gracefully meant that women embraced all signs of aging and do what you were "supposed" to do at that age. When you reached a certain age, you were supposed to give up trendy outfits for "sensible"clothes, chop off your long locks for a bob perm, and complete the look with a purse tucked under your armpit. That seemed to be a norm of the past.

Maggie Cheung, 52 /Credit: Booms Beat
However, the modern women age with grace and confidence, and we want to look our best at every stage of our life. Here are nine things you can do to make yourself look good and feel good, regardless of the number of candles on your birthday cake.
1. Always put on sunscreen

Credit: IMBB
We know that sunscreen keeps us from sunburns and helps prevent skin cancer, but do you know that it prevents photoaging as well? Ultra-violet (UV) rays are accountable for all the wrinkles, pigmentation, and loss of elasticity on our skin and using a sunscreen daily can help slow down the aging process. Remember to use a broad-spectrum sunscreen, like the Airy Antioxidant Sunscreen, which can protect you against both UVA and UVB rays. If fine lines and pigmentations are your concerns, laser treatments can help to slow down the aging process by reducing fine lines, improve skin tone and texture, lighten pigmentation, and at the same time put the radiance back on your skin.
2. Don't wear a mask of makeup
Slapping on more foundation to cover up signs of aging sounds idiot proof. But is that the right thing to do?

Credit: Warosu
Piling on makeup can result in a heavy, cakey look. Although you might look good from far, anyone within 2 metres of you can see all the makeup seeping into the facial lines and all the powder that is falling off your face.
Instead, get a healthy glow by using just enough foundation and let your natural radiance shine through. Apply some primer and use a lightweight foundation and concealer to even out your skin tone. If you are not confident with less makeup to mask your imperfections, you may want to try fillers and Botox® to help with the fine lines and deep wrinkles; and if you are looking to firm up your skin, Ultherapy® may be the solution you are looking for.
3. Get moving
Working out regularly helps to maintain your weight and at the same, reduces stress and gives you the workout glow. It is important to look beautiful from inside out and therefore, maintaining a healthy lifestyle is the first step to looking good.
Credit: Dr Weil
However, there are just some stubborn bulges that refuse to go away no matter how much we diet or workout. CoolSculpting is a popular treatment for fat reduction by freezing away the fat cells at that particular spot on our body. It is suitable areas like for double chin, abdomen, love handles, buttocks, inner and outer thighs, back or bra fat area, and arms. Yes to having better body contours.
4. Stay on trend
Are you one of those who is "stuck in a style rut" since the year 2000? Many women are afraid to change their beauty and fashion routines if they have a go-to look for themselves (even if it was found 20 years back). For example, no matter how young a woman looks, as long as I spot pencil thin eyebrows (think Sammi Cheng in the early 2000s ), I know that she is definitely not that young.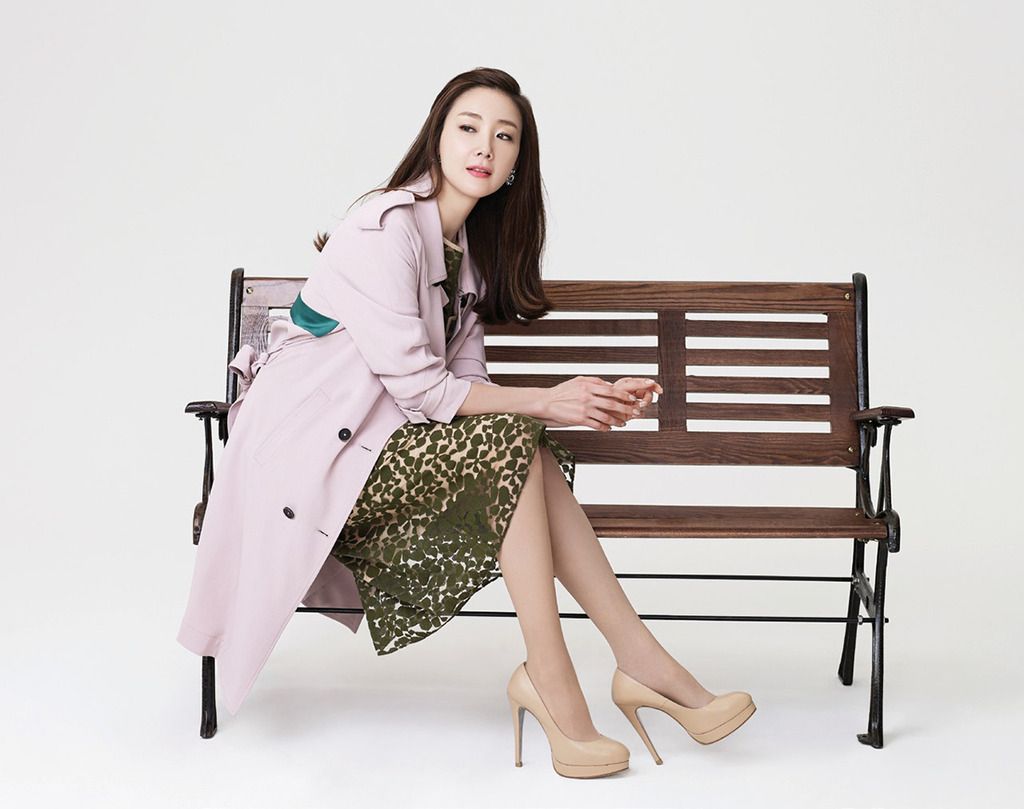 Choi Ji Woo, 46 /Credit: Tiny Pic
We are not suggesting that you to start picking up teenage trends, but to spot beauty and fashion trends and move along with them. There is no need to wear only "sensible" clothes now that we are older. We can embrace our age, and yet still be stylish and chic.
5. Invest in good skin care
Prevention is always easier than trying to reverse it when it comes to anti-aging. Investing in a good skin care range saves you a lot of money in the long run by maintaining your skin, tackling your skin issues, and slowing down the aging process. Look for ingredients like vitamin C, peptides, and hyaluronic acid to minimise formation of pigments, promote skin firmness by keeping the skin hydrated and supple, and reduce fine lines.
Have a good skin care regime too, which includes exfoliation and the use of serums to boost skin health. Halley Medical Aesthetics' Brilliance range of skin care products, for instance, are doctor-grade cosmeceuticals formulated for beautiful, glowing skin. It is based on a seven-step skin care system to help you form a well-balanced skin care regime.
6. Don't neglect your neck, hands, and feet
We save the best of the skin care products for our face but we always neglect our neck, hands, and feet, which are the biggest tell-tale signs of a woman's age. As we lose collagen and elastin fibre over the years, our neck, hands, and feet start to appear scrawny, wrinkled, and dry.

Credit: aplikasi
That said, do remember to scrub, moisturise, and care for your neck, hands, and feet just like how you care for your face. For the neck, there are also therapies like Ultherapy®, threadlift, and laser treatments to rejuvenate and maintain the skin.
7. Go to a doctor instead of a spa
A day at the spa may be pampering, but to make the most out of the money you spend, you might want to consider speaking to an aesthetic doctor.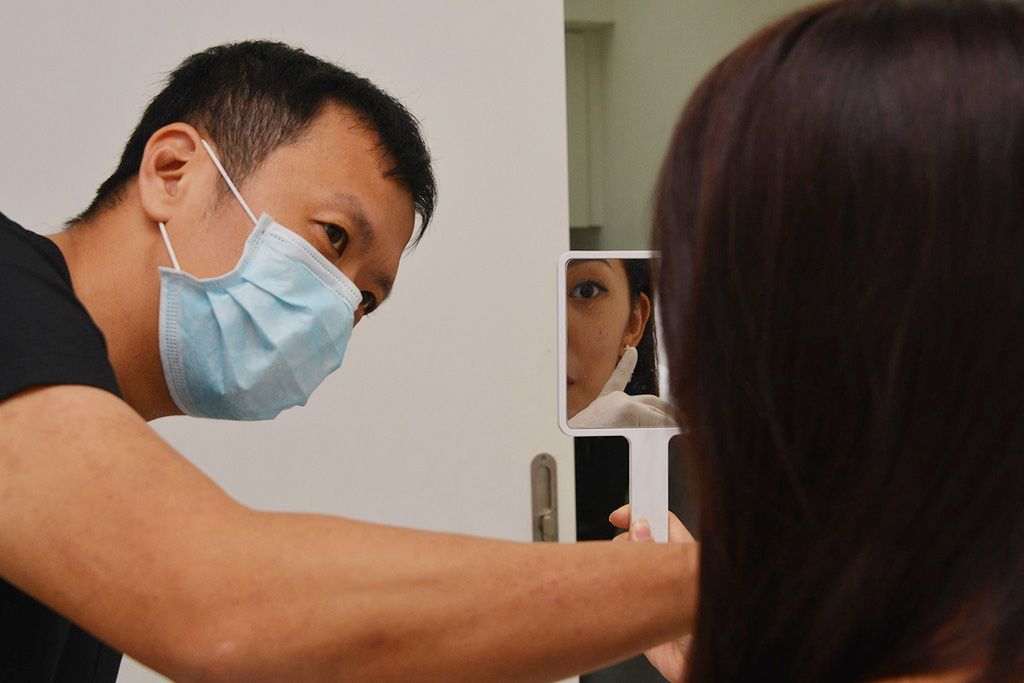 Dr Terence Tan from Halley Medical Aesthetics
A doctor is medically trained and he is in a good position to assess your skin problems and help you solve them. Doctors also have access to medical-grade equipment and are technically trained to carry out the treatments. You can be assured that you are in good hands and in the long run, it will be more cost efficient. Even if you are not looking to do Botox®, fillers or lasers, many aesthetic clinics offer medical treatment facials that utilise medical technology and skin care products that can address the root of the problem.
8. Get your beauty sleep
It is called beauty sleep for a reason. Our sleep time is a time for our skin to regenerate itself and skimping on sleep makes us look dull and unattractive. Long-term sleep deprivation will also make us look older than we are. Look toFractional Laser SkinResurfacing to give yourself a little boost in the skin renewal department if you haven't been getting enough snooze time

Credit: Pond5
9. Stay positive

Credit: Thought Catalogue
Last but not least, always stay positive. Surround yourself with positive and happy people and be one yourself. Having a positive mental outlook is one of the best ways to age gracefully and not turn into the grumpy old lady we used to fear as kids. Remember to do things that make you happy and let go of negative emotions. Having a good support network of friends can help you stay on the right track to be happy, secure, and confident.

Halley Medical Aesthetics
277 Orchard Road #03-15
Orchard Gateway
Singapore 238858
Opening Hours
10:00 am - 9:00 pm Daily
Contact
Tel: +65 6737 8233