Before Ultherapy, people who want a facelift have to ask plastic surgeons for help. But once it was discovered that ultrasound– more specifically micro-focused ultrasound energy – has the power to do a non-surgical facelift, people who want rejuvenation therapies now have the option to have their facelift with Ultherapy.
Ultherapy treatment at Halley Medical Aesthetics.
With Ultherapy, doctors are able to target the subcutaneous musculo-aponeurotic system (SMAS) layer to stimulate collagen for a non-surgical facelift. This is the same SMAS layer that was traditionally only accessible to plastic surgeons during an open surgery to get the desired lift. Although some people may find plastic surgery suitable for them, some prefer a non-surgical facelift. What's more, Ultherapy is approved by the US Food and Drug Administration (US FDA), which means it is safe and effective – two important criteria when selecting a treatment modality for a facelift.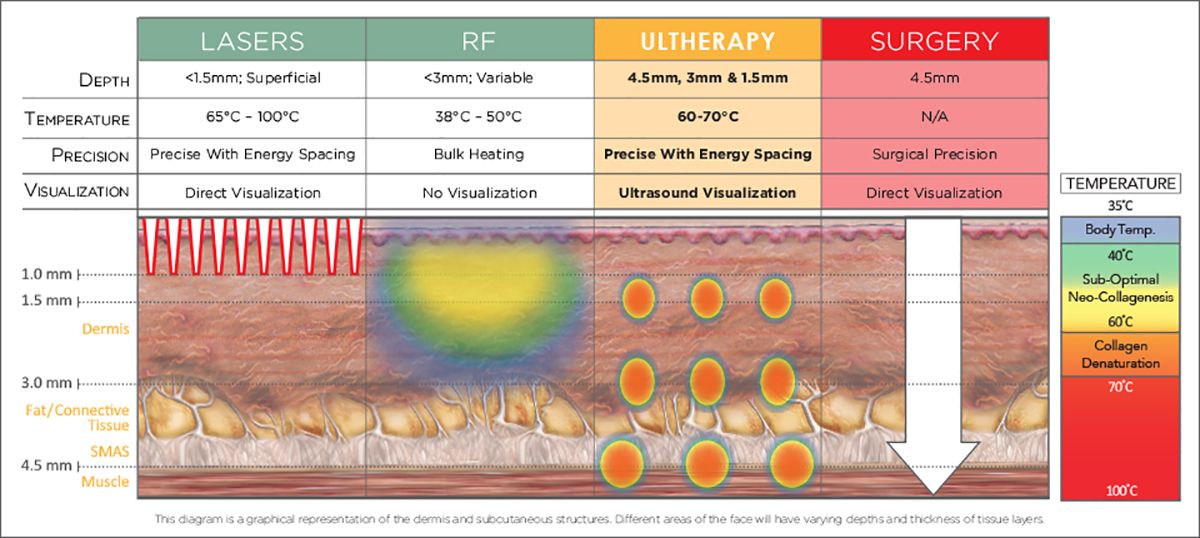 Ultherapy targets the skin's SMAS layer, the same layer accessible to plastic surgeons.
Recently, Ultherapy upped its game by introducing the 800-line Amplify protocol for its full-face and upper-neck lift treatment. It recommends that physicians apply 800 lines of micro-focused ultrasound energy instead of the traditional protocol of 500 lines. What does this protocol mean for patients and does it mean that there is no need for facial rejuvenation surgery by plastic surgeons anymore? To help us understand this better, we spoke with Dr. Donna Chow of Halley Medical Aesthetics (Halley).
Dr. Donna Chow, Doctor with Halley Medical Aesthetics.
1. Dr. Donna Chow, how is the 800-line Ultherapy Amplify protocol for a non-surgical facelift different from the previous 500-line protocol for a full-face and upper-neck lift?
Ultherapy face and neck treatment diagram at Halley Medical Aesthetics.
While the previous Ultherapy protocol of 500 lines is good, the new Amplify protocol of 800 lines delivers better results for a non-surgical full-face and upper-neck lift. This means that instead of delivering 500 pulses of energy, we are delivering 800 pulses of energy to the same area. Delivering 300 more lines mean an improved tightening and lifting of the treated area.
This upgraded protocol gives a more comfortable Ultherapy facelift experience to patients as well. Studies have shown that decreasing the baseline ultrasound or intensity of each pulse contributes to the patient's comfort without reducing clinical results. Therefore, with the Ultherapy Amplify protocol, patients are getting a higher density of pulses to their face and upper neck at an intensity level that is comfortable for them. That is why I recommend that before you embark on your Ultherapy non-surgical facelift with your doctor, remember to ask him or her about the number of pulses you will receive during the treatment.
2. How do I keep track of the 800 lines during the Ultherapy treatment, as 800 lines sound like a lot!
Ultherapy Amplify protocol of 800 lines completed at Halley Medical Aesthetics.
You can track that you are receiving the 800-line Ultherapy Amplify protocol with the help of the Ulthera device, which will display the total number of energy pulses delivered during your treatment. At Halley, our clinic assistant records the total number of pulses each patient received at three different depths on an Ultherapy patient record form. This form is given to patients at the end of their treatment and offers transparency on the number of lines they had received during treatment.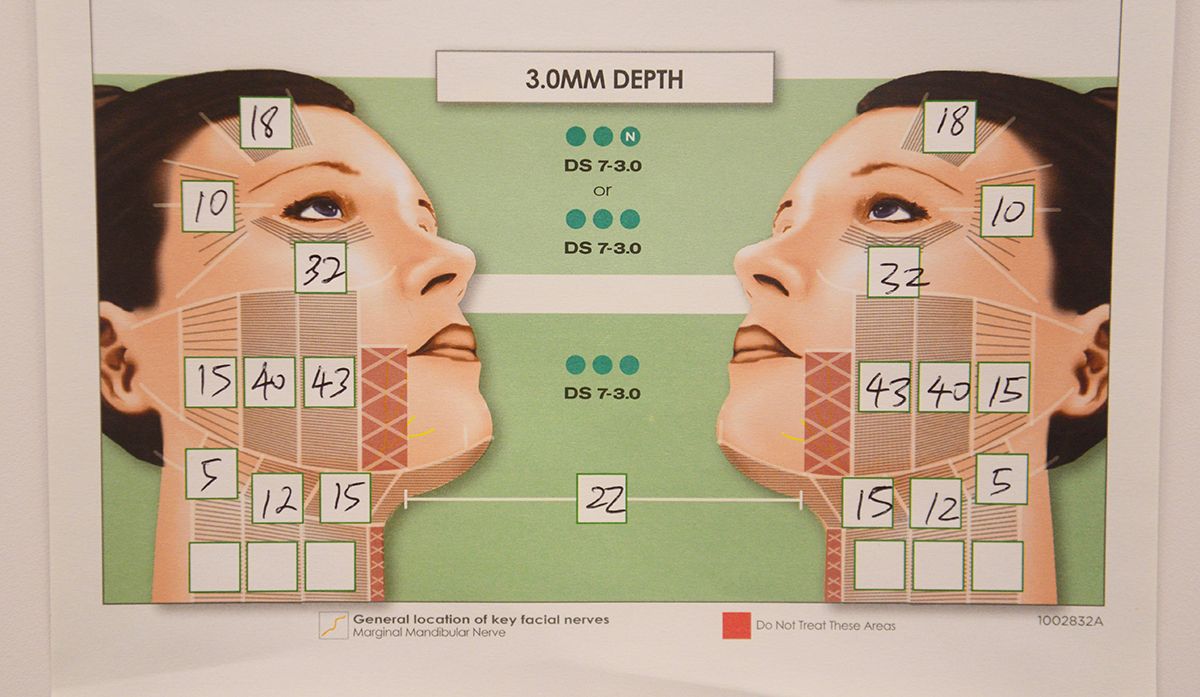 3.0mm depth image: An example of the Ultherapy patient record form for treatment at 3.0mm depth.
3. How do doctors know where to apply the ultrasound energy during the Ultherapy treatment?
The Ulthera device has a real-time skin visualisation feature that allows doctors to see the tissue layers during treatment. And with the transducers to discharge the micro-focused ultrasound energy at three specific depths – 1.5mm, 3.0mm, and 4.5 mm, doctors are able to accurately and safely apply the energy to precise layers under your skin to kickstart collagen production.
This is why no incisions or cuts are required for an Ultherapy treatment. Ultherapy is safe, effective, and there is no downtime. Patients can do whatever they like immediately after treatment with no discomfort at all.
Ultherapy treatment screen with transducers at Halley Medical Aesthetics.
4. Then why do I hear that Ultherapy is uncomfortable?
The Ultherapy procedure is very tolerable and patients complete their treatment with no problem at all. At Halley, we make sure our patients come in 15 mins before the treatment to relax and get comfortable. Then our therapist will cleanse their face and apply numbing cream to the treatment area before starting their Ultherapy treatment. We can also tune the baseline ultrasound level to suit patient's comfort level. There is no need to worry about pain.
Numbing before Ultherapy treatment at Halley Medical Aesthetics.
As mentioned, decreasing the baseline ultrasound or intensity of each ultrasound pulse will not reduce the clinical results. Furthermore, the 800-line Ultherapy Amplify protocol delivers a higher density of micro-focused ultrasound energy to patients, which will amplify the results. As physicians, if we can make the Ultherapy facelift treatment a comfortable one for our patients and deliver a more dramatic lift at the same time, we should. The Ultherapy Amplify protocol allows us to do just that.
5. What we hear about Ultherapy as a non-surgical facelift is positive, and the latest Ultherapy Amplify protocol enhances the results. Do people still need a surgical facelift then?
There is a demand for both and that will not change. Ultherapy is a convenient face lifting treatment. It delivers consistently good results with no downtime. A surgical facelift by a plastic surgeon delivers results too, but there are certain inconveniences that come with the invasive procedure. Some people do not mind the downtime and the discomfort involved with plastic surgery.
However, some people simply prefer a non-surgical, non-invasive facelift option. Those who want consistent results but do not want any downtime, will not mind coming back for their yearly Ultherapy refresher.
6. Why do we need to do Ultherapy once every year? Is that all the facelift treatment that we'd ever need?
Ultherapy delivers long-lasting results but we need to keep pace with the ageing process, which never stops. That is why a yearly refresh of Ultherapy is recommended. Since we are exposed to environmental factors on a daily basis, we also need a regular skincare regime to maintain and prolong the lift that Ultherapy has put back into our face.
Exilis skin tightening for face at Halley Medical Aesthetics.
Regular treatments of face lifting therapies like the Exilis Ultra 360 (Exilis) – a combined radio frequency (RF) and ultrasound treatment – until your next Ultherapy treatment is recommended to keep your skin firm and lifted. Think of it this way: If you keep your skin well-lifted, your body will not need to work so hard to lift and tighten your skin during the next Ultherapy session. The body, with the help of Ultherapy, can focus on piling on the benefits that were built up over the past months to give you a fresher, more rejuvenated look!
Halley Medical Aesthetics
277 Orchard Road #03-15
orchardgateway
Singapore 238858
Opening Hours
10:00 am - 9:00 pm Daily
Contact
Tel: +65 6737 8233