My Lovely Sam-soon / My Name Is Kim Sam-soon [내 이름은 김삼순] / [ 我叫金三順 ]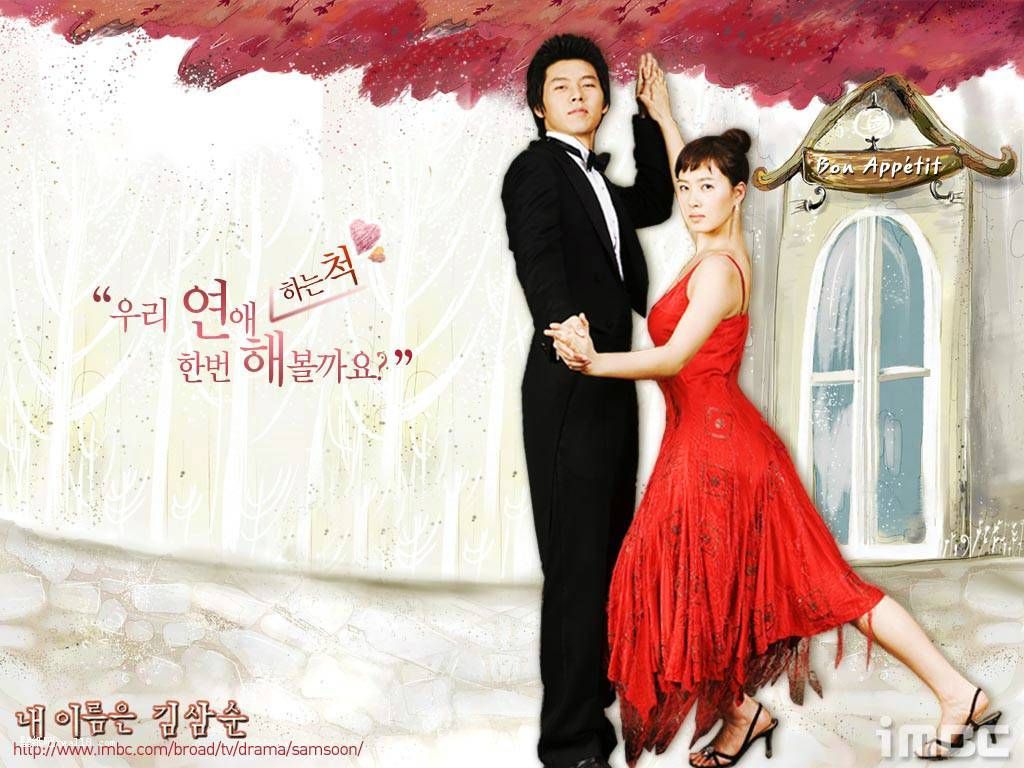 Based on the internet novel of 내 이름은 김삼순 by Ji Soo-hyun, 삼순 (Sam-Soon), whom is a single woman in her late twenties. 내 이름은 김삼순 won the popularity of many greatly because of the female lead's chubby appearance and frank, flawed yet lovable personailty that broke the long-held Korean drama stereotypes. It won numerous awards, including Baeksang Arts Awaess and MBC Drama Awards for the female main lead. 내 이름은 김삼순was the runaway mega-hit of 2005.
Synopsis
Kim Sam Soon is a loud and breash, yet insecure about her weight. She has always been embarrassed by her old-fashioned name, ( 삼 means Three, 순 means meek/ feminie and 삼순 is literally translated as 3rd daughter). She came from a lower middle-class family but she saved up to realize her dream as an excellent baker. She was dumped by her cheating boyfriend and eventually loses her job on the eve of Christmas. Hyun Jin-Heon witnessed her public humilation and decided to hire her as the new pastry chef for his upscale French restaurant after recognizing her talent in it.
Hyun Jin-Heon is the son of a wealthy hotelier and was constantly nagged on about succeeding her in the hotel business. He was repeatedly set up on matchmaking dates by his mother. With Jin Heon's family breathing down his neck to get married, and Sam Soon desperately in need of money to save her family home, the two strike up a deal despite their volatile relationship. Sam Soon masquerades as Jin Heon's girlfriend and they begin to grow close, but things get complicated when Jin Heon's lost love mysteriously returns with her sights set on getting him back.
Will Jin Heon be able to forget about her and learn to love Sam Soon for who she really is?
Main Casts:
Kim Sun Ah as Kim Sam-Soon (30 year old pastry chef)
Hyun Bin as Hyun Jin-Heon (27 year old owner of Bon Appetit restaurant)
Jung Ryeo-Won as Yoo Hee-Jin (Jin-Heon's ex-girlfriend)
Daniel Henney as Dr Henry Kim (Hee-Jin's Doctor)
Boys Over Flower [ 꽃보다 남자 ] / [ 花样男子 ]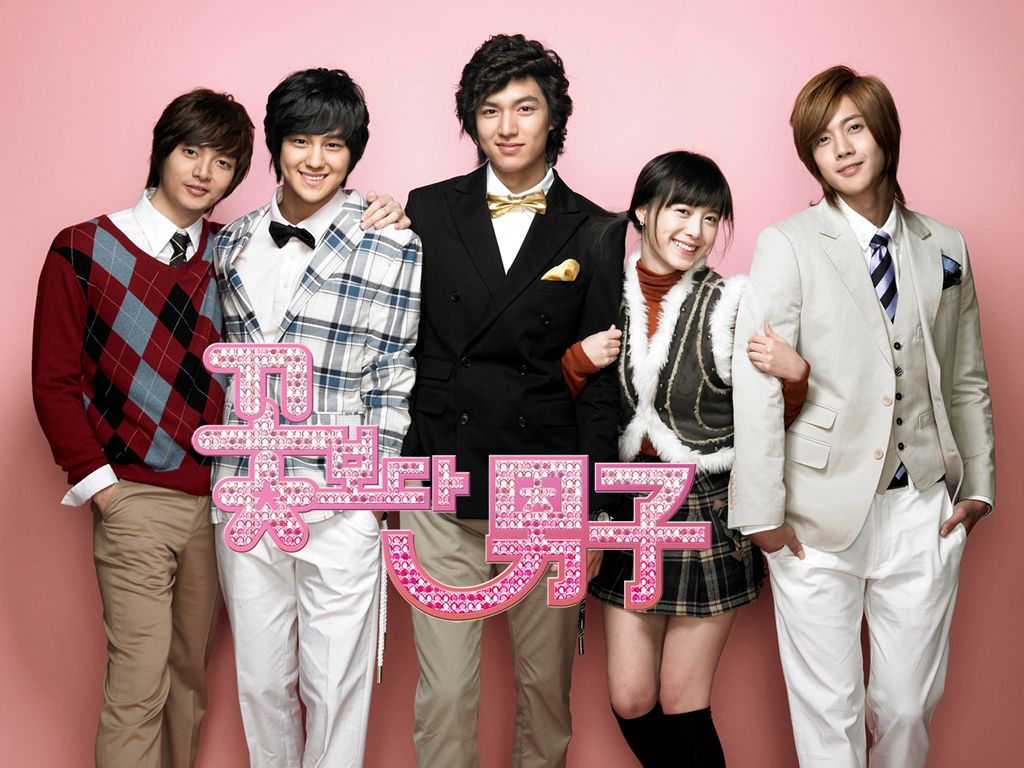 꽃보다 남자 is based on the Japanese manga, Boys Over Flowers ( 花より男子) and it spins the modern day Cinderella tale of a poor, but spunky schoolgirl at an exclusive academy who attracts the interest of the four ultra-rich and ultra-handsome princes of the school known as F4.
Synopsis:
At the prestigious Shin Hwa High School in Seoul, four boys comprise the group known as the Flower Four. The crème de la crème of the most powerful families from Korea, these spoiled, rebellious, flirtatious and cruel boys rule the school.
Jan Di, a girl of humble upbringing who is accepted into Shin Hwa on a swimming scholarship after accidentally saving the life of a Shin Hwa student.
Angry at their rudeness, Jan-di tells off F4 leader Jun-pyo, bringing a world of trouble upon herself. The proud and persistent Jun-pyo falls hard for feisty Jan-di, but she shares a connection with the quiet, sensitive Ji-hoo.
Through Jan-di's encouragement, Ji-hoo goes abroad to join his model girlfriend Min Seo-hyun, and in his absence, Jan-di and Jun-pyo grow closer. Soon Jan-di realizes that it is Jun-pyo that she really loves, not Ji-hoo. But numerous difficulties arise, threatening their relationship.
Jun-pyo's mother, a cruel and powerful businesswoman, disapproves of Jan-di's lowly upbringing and tries her best to split them up. And newly single Ji-hoo returns to Korea, prepared to declare his feelings for Jan-di. After Ji-hoo returns, he tried to hide his feelings for jan-di but jun-pyo found out.
Main Cast:
Ku Hye-Sun as Guem Jan-Di (

Geum Jan-di is the headstrong daughter of a dry cleaner)

Lee Min-Ho as Gu Jun-Pyo (

Gu Jun-pyo is the leader of F4 and heir to Shinhwa Group, one of the most powerful business groups in South Korea)

Kim Hyun-Joong as Yoon Ji-Hoo (

Yoon Ji-hoo is a member of F4 and the grandson of a former president of Korea)

Kim Joon as Song Woo-Bin (

Song Woo-bin is known as F4's

Don Juan

)

Kim So-Eun as Chu Ga-eul (

Geum Jan-di's best friend who works with her at the porridge shop)
Goong / Princess Hours [
궁
]
Chae-gyeong is an ordinary art high school student. One day, she hears totally unexpected news that, based on her grandfathers will, she must marry the unemotional Crown Prince Lee Shin who attends the same high school.
Free-spirited Chae-gyeong resists the proposal, but reluctantly marries him to help her debt-ridden family. As she struggles to adapt herself to the proper manners and royal duties of palace life and to her disagreeable husband, Lee Shins sentimental cousin and second-in-line to the throne Yul steps into her life. She feels like she can rely on Yul to help her, but cant help worrying about her haughty, cold-hearted husband.
To help bridge this gap, the senior members of the royal family take some special measures to get them to spend the night together.
Along the way, you will encounter numerous delightful episodes among the cute and lively Chae-gyeong, the cold heartthrob Lee Shin, the handsome, down-to-earth Yul, the perfect ballerina Hyo- rin who just cant get over Lee Shin, and all the other members of the royal family. Will the Crowned Princess, Chae-gyeong be up to the challenges of royal life?
Synopis
The show starts off with the news that Shin's father, Emperor Lee Hyeon of Korea, is seriously ill. There is a grim outlook on the King's health, driving the imperial family to find Shin a suitable consort that will allow him to ascend to the throne if the situation requires.
Despite being in love with the ambitious and talented ballerina Hyo-rin (whom he initially proposed to and was rejected), Prince Shin eventually marries a commoner to whom he was betrothed by his grandfather, the late Emperor Seongjo, in an agreement with the girl's grandfather. His new wife is the headstrong yet lovable Chae-kyeong, and despite initially feeling nothing for each other, love eventually blossoms between the couple.
Prince Shin has no intention of making things easy for his commoner fiancée, however, especially since he's got his eye on someone else. Chae Kyung soon finds her work cut out for her in adapting to palace life and trying to please the Royal Family. Her optimistic spirit captures the attention of Lee Yul, the other contender for the throne who, while trying to win the Princess in order to gain the throne, finds himself falling in love with her for real.
Among the plots, deceptions, and expectations in the mix, can the Royal couple see one another for who they really are and manage to fall in love?
Main Casts:
Yoon Eun-Hye as Shin Chae-Kyeong

Ju Ji-Hoon as Crown Prince Lee Shin

Kim Jeong-Hoon as Prince Yul [Hwi-Sung Dae Goon]

Song Ji-Hyo as Min Hyo-Rin

Shim Hye-Jin as Lady Hwa-Young (Yul's Mother)
The Heirs / The Inheritors [ 상속자들 ] / [ 왕관을 쓰려는자 ] / [그무게를 견뎌라-상속자들 ]
The series follows a group of rich, privileged, and elite high school students as they are groomed to take over their families' business empires. These wealthy students seem to have everything under control, except their love lives.
Kim Tan is a handsome and wealthy heir to a large Korean Conglomerate who is sent to study abroad in the U.S. But in reality, it's a form of exile, as his elder half-brother back home, Kim Won schemes to take over the family business.
While in the States, Kim Tan bumps into Cha Eun-sang, who has arrived from Korea in search of her older sister who claims that she is in need of money for her wedding. When Kim Tan's fiancée, Rachel Yoo, arrives to bring him back to Korea, his heart is torn between love and duty. Both Eun-sang and Kim Tan return to Korea, only to meet again.
Slowly, he finds himself falling for her, later realizing that she's the daughter of his family's mute housekeeper. Meanwhile, Rachel's future stepbrother and Kim Tan's former best friend, Choi Young-do (who also go to the same school as Kim Tan and Eun-sang) starts falling for Eun-sang as well. Troubles arise as the heirs realize the differences between money and the real world.
Synopis:
18-year-old Cha Eun-Sang lives with her mother who is mute. Her mother works as a housekeeper and Eun-Sang also works part-time jobs to help out. One day, Eun-Sang's older sister, calls from the U.S. and informs them that she will marry. Eun-Sang's mother then asks Eun-Sang to send her older sister some money from her savings account. Eun-Sang isn't happy with her situation and decides to go to the U.S. herself to see if she can start a better life with her sister.
When Eun-Sang arrives in California she is in for a shock. Her older sister lives in a filthy home with a deadbeat boyfriend who seems violent. Her sister is also not getting married or going to school and works full-time as a waitress. When Eun-Sang finally tracks down her sister working at a beach front restaurant, she takes the money Eun-Sang brought for her wedding and leaves without even saying goodbye. Eun-Sang's dreams of starting a better life in America quickly vanishes and she crumbles to the ground in tears.
Main Casts:
Lee Min-Ho as Kim Tan / 김탄

Park Shin-Hye as Cha Eun-Sang / 차은상

Kim Woo-Bin as Choi Young-do /

최영도

Kang Min-Hyuk as Yoon Chan-young / 윤찬영

Choi Jin-Hyuk as Kim Won /

김원

Kim Ji-Won as Rachel Yoo /

유라헬

Krystal Jung as Lee Bo-Na /

이보나

Kang Na-Nuel as Lee Hyo-Shin /

이효신

Park Hyun-Sik as Jo Myung-Soo /

조명수
My Love from the Star / You Who Came from the Stars [ 별에서 온 그대 ]
Do Min Joon is an alien who came to earth in 1609 and lands in the Joseon era, then lives through the next four hundred years to the present day where he works as university professor and falls in love with a haughty top hallyu actress, Chun Song Yi.
*PS: Both Kim Soo Hyun and Jun Ji-Hyun won the Daesang (or "Grand Prize"), the highest award for television, at the 2014 Korea Drama Awards and 2014 Baeksang Arts Awards respectively, and hence that makes them the very first male and female lead to win the Daesang with a same drama.
*PSPS: 별에서 온 그대 had also made a huge impact on Korean Fashion trends, the clothes, accessories and even make-up worn by Jun Ji-Hyun had "unprecedented" surge in orders and also Chimaek (치맥 ), which literally means chicken and maekju, struck up a real craze by people.
Synopis:
Do I need to say more? You have to watch it to find out why everybody is going crazy about this show! I am still hook to the series even after I have finished watching it since February! You will not regret it! ;)
Main Casts:
Jun Ji-Hyun as Cheon Song-yi / 천송이

Kim Soo-Hyun as Do Min-Joon /

도민준

Park Hae-Jin as Lee Hwi-kyung /

이휘경

Yoo In-Na as Yoo Se-mi /

유세미