MELISSA GOH



CONGRATULATIONS!!!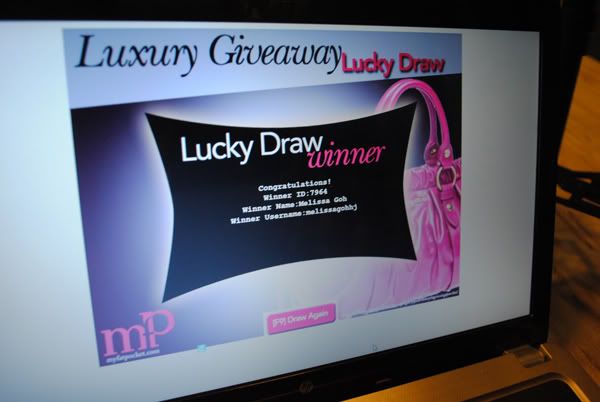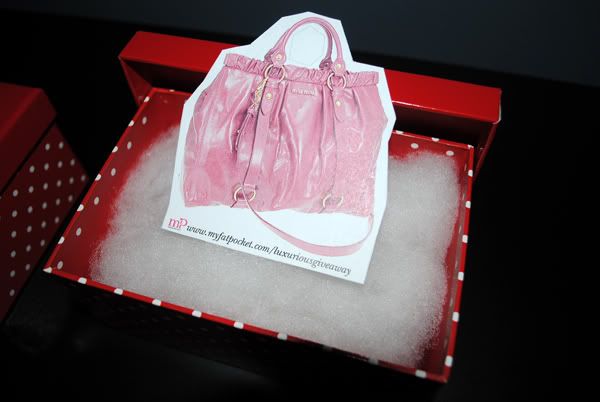 She will be going shopping to get her hands on her luxury bag at Miu Miu Boutique this week. As of now, we are not able to get her on the phone but rest assured that we will keep our readers updated. Stay tuned!
Chances are rolled, so there might be a chance for our current winners to win a second bag! So keep talking in the forums!
All our draws are automated in the presence of a certified auditor and all processes are documented. Watch the video below to witness the unveiling of the winner!
The Luxury Bag Giveaway does not stop here. We are giving away a Chanel next. And we're not just giving you the bags, we are going to bring you to the boutique to pick it up.
You'll get to enjoy the experience of stepping into the boutiques with the knowledge that you will be walking out with one of the most wanted bags, paid for by MyFatPocket.
All you have to do :
New members:
[1] Click on the 'YES, give me my luxury bag now!' button below to register
[2] Register now for 1 lucky draw chance that is valid for ALL 7 lucky draws


Existing members:
[1] You are automatically given 1 lucky draw chance that is valid for ALL 7 lucky draws
For those of you who want more lucky draw chances, visit our forum and start posting replies.
5 forum replies =1 additional lucky draw chance.
For even more chances:
Campaign Period: 01 October 2011 - 27 November 2011
All lucky draw chances are valid for ALL 7 lucky draws.
| | | |
| --- | --- | --- |
| Draw Item | Promotion Cut-off Date | Draw Date |
| Draw 1: Balenciaga | 14 Oct 2011 | 17 Oct 2011 |
| Draw 2: Prada | 21 Oct 2011 | 24 Oct 2011 |
| Draw 3: Gucci | 28 Oct 2011 | 31 Oct 2011 |
| Draw 4: Louis Vuitton | 4 Nov 2011 | 8 Nov 2011 |
| Draw 5: Yves Saint Laurent | 13 Nov 2011 | 21 Nov 2011 |
| Draw 6: Miu Miu | 20 Nov 2011 | 28 Nov 2011 |
| Draw 7: Chanel | 27 Nov 2011 | 05 Dec 2011 |