Lia Santos, our lucky Gucci bag winner, birthday gal and a very active forum member went shopping yesterday. From the personal transportation service to the luxury boutique shopping experience, we ensured that our lucky winner got the best she deserved.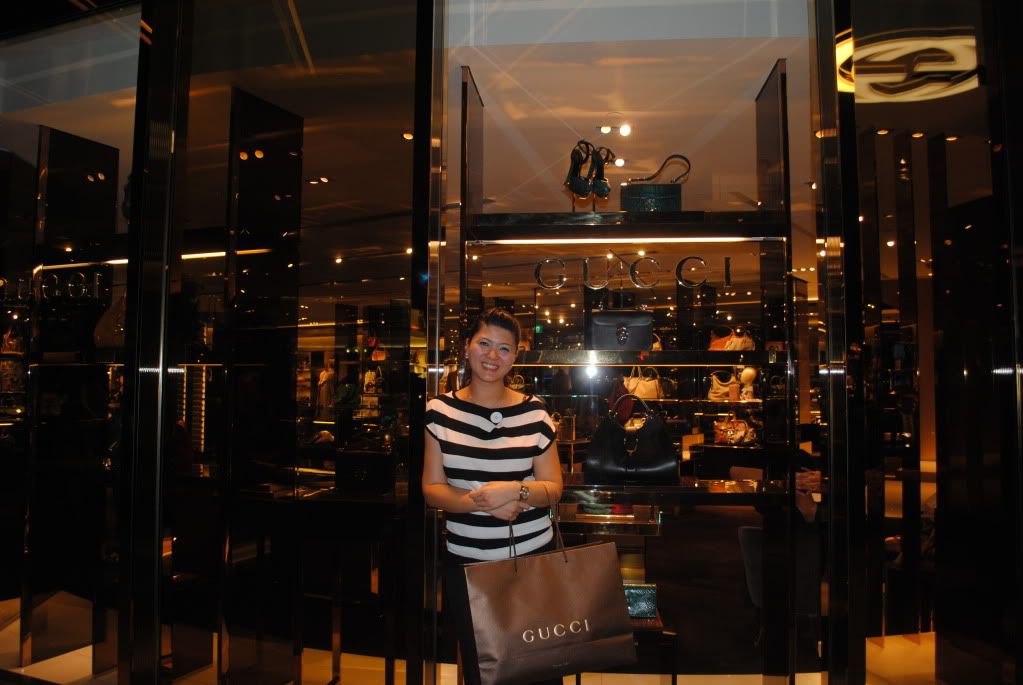 This soon-to-be 30 years old Market Data Analyst is such a sweetheart and an avid bag lover. She is a warm and happy spirit - being around her was such a joy.
Carrying a Celine luggage tote bag and clad in a black and white attire, I noticed that Lia Santos walked with a bounce in her step as she quickened her pace heading towards Paragon.
Lia was truly spoilt for choice! At the luxury boutique, she and her friend, Natasha, were contemplating between the classic, blue and the limited edition Boston bag with gold trimmings.
She settled for one of the latest bags from Gucci, the Vintage Web medium Boston Bag - a beige/blue GG fabric with blue/red/blue signature web and blue leather trim that comes with droplight gold hardware and, an adjustable and detachable shoulder strap.
The team from MFP had a surprise for her. We celebrated her birthday at Coffee Beans with a warm chocolate cake. A new friend found and a happy new Gucci bag owner, it is moments like this that MFP live for.
Happy Birthday, Lia!
30 is the new 20, baby!
"I am bringing my new bag to Hong Kong where
I will be celebrating my birthday.
This is one of the best birthday presents I have received so far.
Thank you, MyFatPocket!"
Chances are rolled, so there might be a chance for our current winners to win a second bag! So keep talking in the forums!
All our draws are automated in the presence of a certified auditor and all processes are documented. Watch the video below to witness the unveiling of the winner!
The Luxury Bag Giveaway does not stop here. We are giving away a Louis Vuitton next. And we're not just giving you the bags, we are going to bring you to the boutique to pick it up.
You'll get to enjoy the experience of stepping into the boutiques with the knowledge that you will be walking out with one of the most wanted bags, paid for by MyFatPocket.
All you have to do :
New members:
[1] Click on the 'YES, give me my luxury bag now!' button below to register
[2] Register now for 1 lucky draw chance that is valid for ALL 7 lucky draws


Existing members:
[1] You are automatically given 1 lucky draw chance that is valid for ALL 7 lucky draws
For those of you who want more lucky draw chances, visit our forum and start posting replies.
5 forum replies =1 additional lucky draw chance.
Campaign Period: 01 October 2011 - 27 November 2011
All lucky draw chances are valid for ALL 7 lucky draws.
| | | |
| --- | --- | --- |
| Draw Item | Promotion Cut-off Date | Draw Date |
| Draw 1: Balenciaga | 14 Oct 2011 | 17 Oct 2011 |
| Draw 2: Prada | 21 Oct 2011 | 24 Oct 2011 |
| Draw 3: Gucci | 28 Oct 2011 | 31 Oct 2011 |
| Draw 4: Louis Vuitton | 4 Nov 2011 | 8 Nov 2011 |
| Draw 5: Yves Saint Laurent | 13 Nov 2011 | 21 Nov 2011 |
| Draw 6: Miu Miu | 20 Nov 2011 | 28 Nov 2011 |
| Draw 7: Chanel | 27 Nov 2011 | 05 Dec 2011 |