Louis Vuitton presented its Resort 2017 collection in Rio de Janeiro today at the city's Niteròi Contemporary Art Museum, which was designed by Oscar Niemeyer. Along with Nicolas Ghesquière's favorite models and design team, the house brought with it a slew of celebrities, journalists, and guests who were treated to a full slate of activities that ranged from a helicopter ride to a shopping trip around Rio's city center. The high point, still, was the fashion show that combined some of Ghesquière's longtime references—sport detailing, cropped silhouettes, bold graphics—with a touch of Brazilian flair, not only in a series of ruffled looks, but also in some soccer—ok, futebol—embroideries. While you wait for Nicole Phelps's full review, find the nine things you need to know about LV's Resort show here.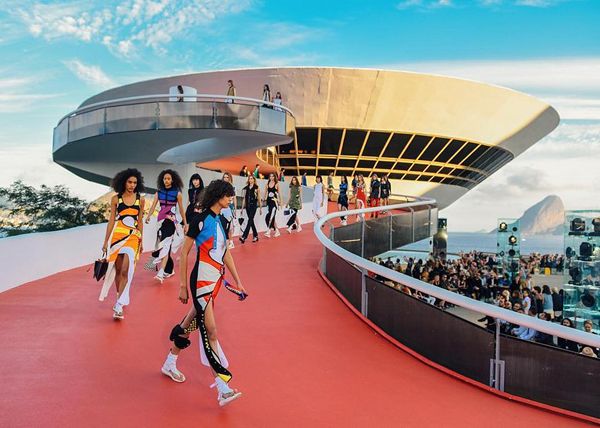 Photo: Courtesy of Louis Vuitton / @louisvuitton
1. The Niteròi Contemporary Art Museum was transformed into a show space, with models walking down the building's red ramp and around its outdoor plaza where multicolored stools were set up for guests.
Photo: Courtesy of Louis Vuitton / @louisvuitton
2. Alicia Vikander and Jaden Smith, both Louis Vuitton campaign stars, sat front row alongside Catherine Deneuve, Zendaya, Doona Bae, Alessandra Ambrosio, and Isabeli Fontana.
Courtesy of Karina Dobrotvorskaya / @karinadobrotvorskaya
3. Mica Arganaraz opened the show in a red, white, blue, and yellow maxi dress with a panel skirt and scubalike detailing on the bodice.
Photo: Courtesy of PR Consulting / @prconsulting
4. We told you flip-flops were back. Just as in Ghesquière's Resort 2016 show, models today wore flat thong sandals. This season they were black or optic white and came with a high ankle strap.
Photo: Courtesy of @amagcuratedby
5. A racing theme carried throughout the collection, with belts, skinny scarves, and dresses adorned with NASCAR-like graphics of the LV logo and signature clover motifs.
Photo: Courtesy of @mainstyleofficial
6. Behold the latest coming of the skinny scarf. In bold graphics or glittering silver, the lean accessories were tied around models' necks and left to trail behind them as they walked the runway.
Photo: Courtesy of @amodadomundo
7. Michel Gaubert might be Louis Vuitton's unofficial DJ, but you could probably give him a run for his money with this LV boombox bag.
Courtesy of Karina Dobrotvorskaya / @karinadobrotvorskaya
8. In Milan, Real Madrid and Atlético Madrid are facing off in the UEFA Champions league final, while in Rio, illustrated soccer players served as a lively embroidery on minidresses.
Photo: Courtesy of Roberto Torres / @robertotorresm
9. Flame-haired Natalie Westling closed the show in a black minidress with a skinny silver scarf tied around her neck.