You are unlucky enough to be suffering from myopia. To add oil to the fire, the spectacles you are wearing are uncomfortable AF and they are always giving you a headache.
Credit: Pinterest
Walk into an optical shop and you will be overwhelmed by the wide variety of eyewear designs. However, it isn't the easiest to pick out a frame that you like, is comfortable when you put them on, and within your budget. The most stylish frame with the best fit that feels light and comfortable may burst your wallet, and when you settle for something less, it isn't as cool nor is it comfortable.
If the above scenarios aren't foreign to you, the tips may help you pick a pair of eyewear that fits:
1. Nose pads
If your eyewear comes with nose pads, they should sit snugly on your nose and not allow your eyewear to move around when your head moves. If you notice that your glasses aren't supported on your nose, and the bottom of the rims are sitting on your cheeks as a support, that's a bad fit for your face. Get your optician to adjust it for you or try another frame.
Charmant's nose pads
Charmant Comfort collection eyewear features innovative nose pads made from a special material that will change and adapt themselves to our unique nose shape by utilizing our body heat. The unique nose pads will disperse pressure to our nose and provide a stable and comfortable fit.
2. Ears
One of the most common complaints heard amongst spectacles wearers is that the back of their ears hurt from wearing the spectacles. The arm piece of your glasses should sit snugly over your ears, curving downwards to reach the mid-point behind them. An armpiece that is too long will require you to bend it more to wrap it around your ears to prevent the eyewear from slipping, and in the long run, that can cause pain. If that is the problem you are facing, you may want to try a pair that has got shorter arm pieces.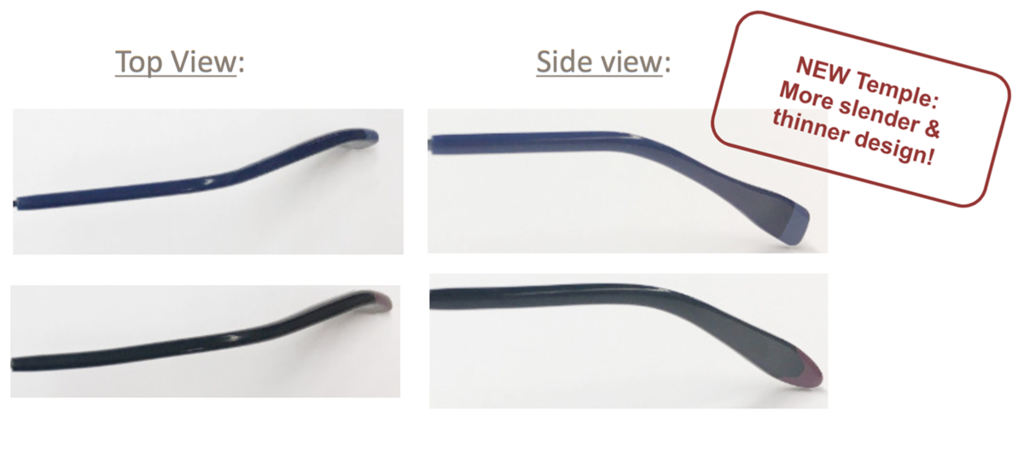 Charmant's contoured end arm piece
Try Charmant Comfort collection eyewear if that is what is bothering you. Their arm pieces come with contoured end tips to fit securely behind our ears, and at the same time reduce the pressure they place on our heads for maximum comfort.
3. Temples
Your temples may start to hurt if the arm pieces are too tight. If this is one of your concerns, switch to a pair of eyewear with a wider frame.
Credit: Tumblr
Keeping the above tips in mind, is it true that a good pair of eyewear that fits well will turn out to be out of your budget? With the advancement in technology, you can now find great quality eyewear that are half the price of what they used to be. Japanese eyewear brand, Charmant, is one such brand that carries excellent eyewear at affordable prices.
The Charmant Comfort collection features quality eyewear that feels comfortable even when you wear it for the whole day. The frames are made of β-titanium that is strong yet lightweight. The gentle curve on the temple also makes the Charmant Comfort collection a great fit for Asian ladies.
Here are some of our picks from the Charmant Comfort collection.

Charmant Comfort CH12332

Charmant Comfort CH12333
Charmant Comfort CH12334
Charmant Comfort CH10631
Charmant Comfort CH10632
Charmant Comfort CH10633
The Charmant Comfort collection is now available Eye Trendy.