It was a day of artistic and meaningful celebration at Funan Showsuite as a contemporary casual footwear brand, Hush Puppies, turns 60 this year.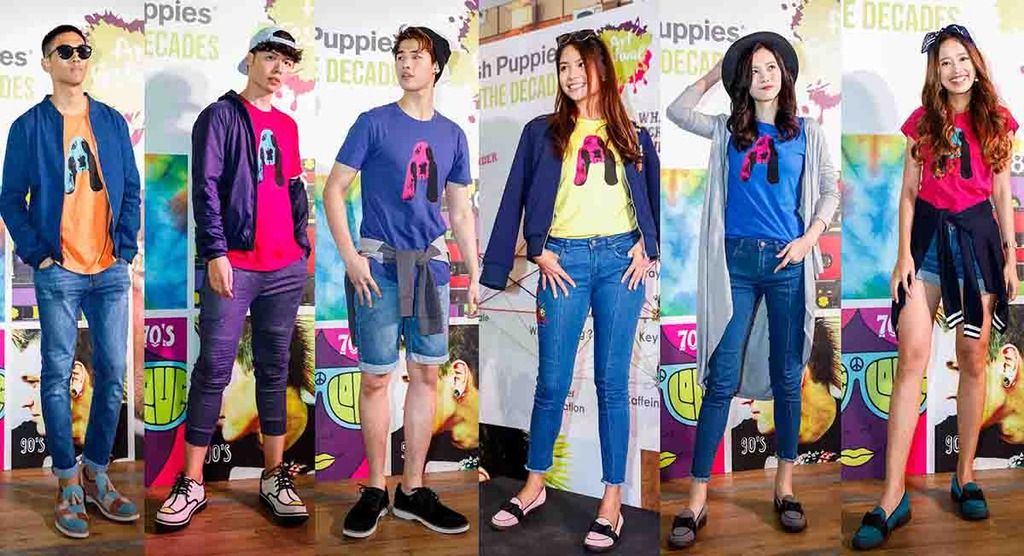 Themed, "Hush Puppies 60th Anniversary Thru The Decades", six 1.2-metres tall iconic Hush Puppies Basset Hound sculptures, given creative interpretation by six artists, that are open for auction with proceeds going to animal welfare shelter, Save Our Street Dogs (SOSD), were displayed A fashion show with six models and six Insta-Friends of Hush Puppies wearing The Decades Limited Edition collection for men and The Heritage collection for women, brought the celebration to a fashionable high.
More than 150 members of the media, fashion stylists, social media influencers and VIP guests were treated to a smorgasbord of activities, ranging from 180-degrees photo booth to capture their #HushPuppiesBestMoment; a fun survey wall to discover their "shoe personality"; a 1.2- metres tall Hush Puppies sculpture that they can doodle on; as well as get an up close and personal look at the new The Decades Limited Edition men's footwear to mark the six decades of Hush Puppies from 1950s to 2000s.
Footwear Collections: The Decades Limited Edition Launch and The Heritage
The Decades Limited Edition collection for men, featuring six iconic styles raved during the course of fashion history from 1958 to Year 2000s, reinforces Hush Puppies' contemporary and innovative outlook over the six decades.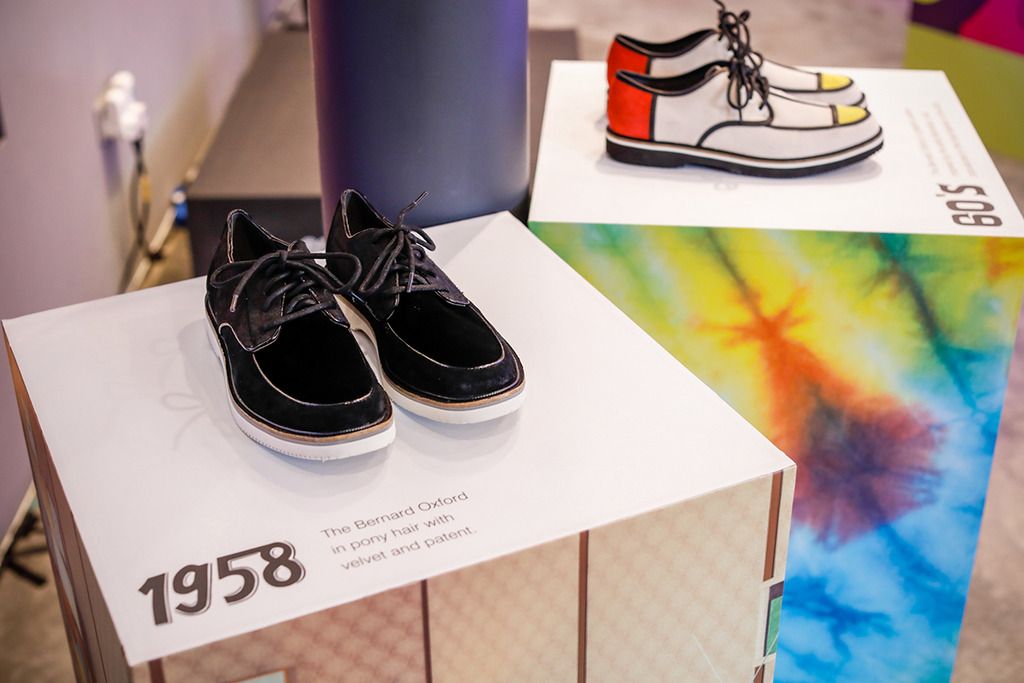 On what inspired the designs of the collection, Hush Puppies' Regional Marketing Manager, Ms Raisa Akwilla said, "We wanted to throwback to the year 1958, when it all started, right to the turn of the millennium, to show how Hush Puppies has evolved yet remain relevant to the footwear needs of our loyal consumers."
"Hush Puppies was a pioneer to introduce funky colours for suede shoes, which made us famous both in the footwear industry and the eyes of the public; and over the last 60 years, the brand has constantly introduced numerous footwear types, including Chukka, Walla, Oxfords, Derby, Sneaker and Sandal, to become the leading shoe brand that defines what it means to be modern and casual", added Ms Akwilla.
Two best-selling designs for women, the Anne Loafer and Anne Bow Loafer from The Heritage Collection, were also featured to highlight the brand's casual, chic and versatile flair.
Both collections are now available at three selected Hush Puppies stores namely, Great World City, Tampines Mall and The Clementi Mall.
Fashion Show by Insta-Friends of Hush Puppies
Six Insta-Friends of Hush Puppies, alongside six models, presented The Decades Limited Edition collection and The Heritage Collection, much to the delight of guests. Looking stylishly casual in Hush Puppies' apparel (not sold in Singapore), the Bernard 70s Slip-On was worn by model Andee Chua (@andeecys) a design crafted in sleek suede and patchwork pattern with leather tassel detail; photographer Daryl Aiden (@darylaiden) looked dapper in the Bernard 60s Oxford, which was inspired by minimalist art and the British invasion; and restauranteur Yap Xin De (@xindeyap) showed understated finesse in the Bernard 58 Oxford, a suede design that is both stylish and practical.
From The Heritage collection, model Khaw Xin Lin (@xinlinnn), actress Natalia Ng (@natalia__ng), and travel blogger Rebecca Ten (@beccabeczten) wore the Anne Bow Loafer in the colours pink, grey and green respectively to showcase the versatility of the footwear for different dressing styles.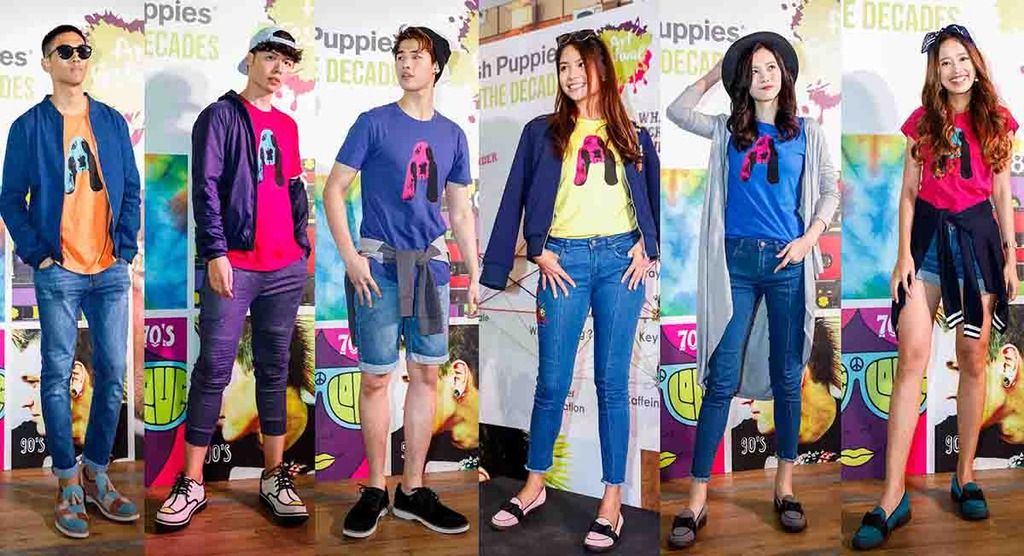 Photo: (from left) Andee Chua, Daryl Aiden and Yap Xin De in three designs from The Decades collection for men; Khaw Xin Lin, Natalia Ng and Rebecca Ten, in three designs from The Heritage collection for women.
Hush Puppies Basset Hound Art Exhibition X Save Our Street Dogs
For the first time in Singapore, Hush Puppies collaborated with 14 artists and creative groups to add their artistic rendition to the brand's iconic Basset Hound sculptures that range from 22 centimetres to 1.2 metres tall. As part of Hush Puppies' on-going corporate social responsibility efforts, the six 1.2-metres tall stylised Hush Puppies sculptures are up for public online auction with all proceeds going to animal welfare centre, Save Our Street Dogs (SOSD).
These six sculptures were designed by prominent Singaporean artists whose acclaimed works have been featured in art scenes both locally and abroad. They are Tiffany Lovage, Linda Hao, Tan Yang Er (Yang), Julian Chia from The Bold Fox, Alvin Tan from PHUNK Studios, and Band of Doodlers, who have each painted a 1.2 m-tall Hush Puppies Basset Hound sculpture with their own interpretation of a decade from the 1950s to 2000s.
Ms Malina Tjhin, co-Founder and General Manager of Save Our Street Dogs (SOSD), shared her thoughts about collaborating with Hush Puppies for the first time, "We at SOSD share a cause to rescue and rehome street dogs through education and advocacy. It is a real privilege to be given the opportunity to celebrate the 60th Anniversary of Hush Puppies. Through this art auction, I hope that people will appreciate the beauty of these dogs as aptly transformed by the artists."
A token of appreciation was awarded to each of the abovementioned six artists by Mr Ong Ming Hwee, Chief Financial Officer of Transmarco Group, the company behind Hush Puppies, for their participation and support for the charity initiative.
Photo: (from left) Linda Hao, Band of Doodlers, Tan Yang Er; (from right) Alvin Tan and Julian Chia, in photo after receiving the token of appreciation from (center-left) Mr Ong Ming Hwee, Chief Financial Officer with (center-right) Mr Anton Sutanto, Chief Executive Officer both of Transmarco Group, for each designing a 1.2 metres-tall Basset Hound sculpture for charity. (Not in picture: Tiffany Lovage)
Public Auction of the six 1.2 metres-tall Basset Hound Sculptures With All Proceeds To SOSD
The public can bid and follow the bidding updates from Hush Puppies' social media platforms:
Facebook: Hush Puppies Singapore
Instagram: @HushPuppiesSG