The future of the fashion show is up for debate. With the advent of digital, the rise in the number of brands, the dominance of pre collections, and the increased attempts to directly target the consumer, the industry has reached breaking point which has prompted a shake-up of massive proportions. Now that Burberry has announced its plans to only hold two seasonless annual shows and make its collections available immediately online and in stores, and the news that Tom Ford has cancelled its New York show to adopt a see-now-buy-now model come September, the landslide affect looks certain to ensue.
"Logistically looking at the fashion-show construct, it makes very little sense now," says
Vogue
editor Alexandra Shulman. "If you put a business consultant in to look at what the fashion industry is doing, they would think it was insane."
The CFDA's decision in December to do just that and employ Boston Consulting Group to explore viable alternatives to the current format, with the view to turn New York Fashion Week into a consumer-facing event, has been a catalyst for the recent discussions. "We have designers, retailers and everybody complaining about the shows," declared its president Diane von Furstenberg in December. "Everything needs to be rebooted." A frank admission from someone in a position to affect change, but, for an industry famous for resisting it, what are the viable options being mooted?
Switching seasons - so that during February and March the spring/summer collections would be presented and during September and October the autumn/winter collections - and inviting customers instead of press and buyers is a popular option. The idea is to make the time between seeing the collection and being able to buy the collection shorter, therefore making collections more relevant to the time of year and increasing the chances of purchases before desire has dampened.
Elsewhere, brands such as Moschino, Versace, Dries Van Noten and House of Holland have been experimenting with the notion for some time, selling capsule collections (including as-yet unseen catwalk looks) to online retailers ahead of the show happening, that drop in the weeks following the show.
But, debate surrounding the topic raises the question of who are the shows really for? For the schedule to work, four groups of people need to be catered for: the retailers, the consumers, the press, and the designers - and the demands from each group are different at each stage in the process.
RETAILERS
Browns' womenswear buying director, Laura Larbaliestier, says that her business - recently bought by Farfetch - notices a positive difference in a label's performance when a collection is sold immediately after the show. "If lead times were made shorter, we would capitalise on the thrill of 'the new' that is created by fashion week," she explains, while Henry Holland tells us that he sees a surge on his e-commerce platform (currently the source of 25 per cent of House of Holland's total annual revenues) when an edit of his collection is instantly available.

Henry Holland at his spring/summer 2016 show
Picture credit: Rex
"Sales were fast and strong," explains Ruth Chapman of MatchesFashion, who sold the Versace and Moschino capsule collections, "but also limited in terms of quantities - the intention was to sell out straight away and we did." It's a savvy move, but how does this work for full collections and brands on different stratas?
"I don't think it would work better on the whole for luxury fashion to have a shorter period between reveal and delivery," says Chapman. "The customer is increasingly interested in the artisanal design process when she invests in beautiful items. The very process of this requires a complicated supply chain and sometimes an item can pass though many different artisan hands. It's just not possible to put any more pressure on these processes without compromising on quality. The customer is smart enough to know that."
"It is clear that brands cannot create faster," agrees Susanne Tide Frater, brand and strategy director for Farfetch and a consultant at Victoria Beckham. "Fabrics will always need 12 weeks make-time and a buy-now-wear-now approach cannot have further impact on the quality of a beautiful fashion product."
High-end luxury retail is one end of the spectrum, but, says Shulman, "the problem comes more - and makes less sense - in the middle market, where if you're going to put the money in, why wouldn't you say, 'Well I'm just going to address the people that are going to buy that leather jacket next week'?
For the see-now-buy-now model to work, it means that everything shown would have to be available. Currently, approximately 20 to 30 per cent of what is seen on the ready-to-wear catwalks goes into production, meaning designers would either have to reduce the number of looks they presented; only show what had been pre-bought by retailers; or fall into a situation where they are making everything or on demand, creating a divide between the capabilities of different brands.
London Fashion Week regular Topshop Unique is in an interesting position of bridging the gap between high-end and high-street fashion. "Topshop has always put the customer at the heart of the Unique show experience and embraces the see-it-buy-it mentality with the way it constantly creates newness throughout the year; it's a part of the brand's DNA," says creative director Kate Phelan.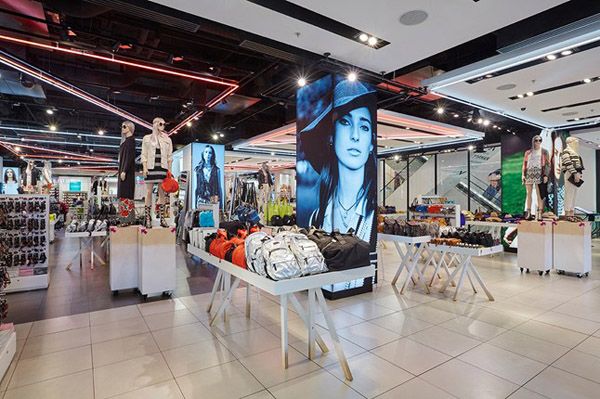 Topshop Oxford Circus
"This fast-paced way of delivering fashion, together with accessibility to international travel and the advancement of social media have all contributed to the changing of the fashion cycle," she continues. But then Topshop has the fast-fashion infrastructure in place to support the new demand, which can't be said for all.
"It's great for the people that have their own factories and have the machine in place to produce the things as quickly as they can, but for a lot of the smaller guys, I think it will be an absolute pain as it's already really difficult to get the stuff made," says Vogue fashion director Lucinda Chambers. "Big brands like Burberry can say, 'We'll do 20 of those six pieces', based on what their feedback is from live-streaming it. Smaller brands don't have that opportunity and will be unnecessarily squeezed."

The front row at Burberry
Picture credit: Getty
The dominance of the pre collections has also affected the way that retailers approach the process. While they have always been big business, there has now been an open acknowledgment of the importance of these collections that have quietly brought home the bacon. The pre shows - by the likes of Chanel, Dior, Vuitton and Gucci that take the fashion crowd on global voyages - have now put the marketable, social-media-attractive cherry on the cake, leaving the mainline collections out in the cold. With approximately 70 per cent of a buyer's budget reserved for pre, it doesn't leave much left over, says Chambers.
CUSTOMERS
The management of the proposed restructured timetable is the first thing that would need to be addressed. As would the dangers of that what Tide-Frater calls "fashion fatigue" for the consumer. "There is just too much "stuff" and not enough meaning," she says. "Where the show once served to create desire twice a year, the seasons have become hamster wheels for brands, media and consumers."
"If the consumer can't keep up, they kind of give up buying."
~ Lucinda Chambers
On this, Burberry's chief creative and chief executive officer, Christopher Bailey agrees, telling Womens Wear Daily on the announcement of the fashion house's show reshuffle that he has never understood the notion that the industry talks about what is right for "the moment" yet doesn't make it available until six months later which confuses the customer.
The "social-media buzz" surrounding the shows plays its part in the consumer experience too. Instagram, Snapchat and Twitter feeds are flooded with images of the collections, so would increasing this, by inviting consumers, speed the process up even more, eventually resulting in consumers skipping collections entirely? "If the consumer can't keep up, they kind of give up buying," says Chambers.

Picture credit: Getty
"People have to be aware of chasing the social-media dragon, because not everyone and everything should be determined by Instagram likes," says Shulman. "I think you really noticed in Milan last year, how suddenly all the brands seemed to think it was their priority suddenly, over and above the clothes, with elaborate digital backdrops and so on. It's great to have a good picture, of course, but if everyone is doing it you're not going to get a standout shot anyway."
PRESS
With consumers only at the shows, the question of what happens to the current audience of press and buyers is an essential one. Editors will still need time to style and shoot the looks and buyers the time to consider their overall spend. The current proposal of holding small showroom appointments with both in the months leading up to the show under embargo - a strategy that Burberry intends to adopt - has differing impacts.

Burberry spring/summer 2016
Picture credit: Indigital
"To some extent we are already doing this as pre collections are such a significant part of the business and we buy these collections four to six months in advance," says Larbalestier, although BFC chairman Natalie Massenet points out that while "many buyers already meet with established brands in advance of the shows, how this would translate more widely, especially for young businesses, needs to be addressed," raising concerns for brands that don't have their own channels of distribution and instead adopt the wholesale model, selling their collections to retailers like Selfridges, Net-A-Porter, MatchesFashion and Browns.
"I think most buyers would enjoy a one-to-one with the designers six months in advance, but I'm not sure how viable this is in terms of a designer's time, or even their sanity!" says Chapman. "Also as a team we do rely largely on our interaction with the press. We have a very industry-centric customer who is an early adopter of fashion and therefore our strong press relations give us insight into influential opinion."
For traditional print press it would pose more of a conundrum, with the volume of brands making it difficult to organise teams to see everything. Where a fashion show is eight minutes, private appointments would easily take an hour each.
"It's quite precarious for fashion magazines because to some extent the logical thing to do is not show clothes so far in advance, but that can't work on a monthly magazine schedule," says Shulman. "However, we are finding more and more that brands want their page in Vogue over and above any digital coverage. The idea of a fashion shoot is valued and treasured and this process takes time."
Additionally, while brands look to connect with their consumers more through social platforms, by inviting the industry in advance to view the collections under embargo they are contradictorily tying the hands of the social-media-savvy press and taking away the immediacy and spontaneity - the foundations on which social media is built.
DESIGNERS
So, are the shows still needed or relevant at all? If a see-now-buy now model is profitable, why not just upload collections to online editorial and e-commerce platforms and cut out the middle man?
"When you consider how much goes into the show, it seems crazy, but I think designers would be really sad if they had to give up something that was their pure vision and I think its wonderful to see what's in a designer's head," says Chambers. "But there are other ways of doing a show; smaller presentations featuring everything from static models to a film are just as wonderful. We don't necessarily need to see a catwalk, but we need to see their vision without any interference, otherwise all anyone ever sees is a fashion editor's interpretation."
London Fashion Week regular Thomas Tait has already announced its intentions to experiment with the format this season, holding one-on-one appointments, while Hunter is abandoning fashion week entirely to target its consumers at the summer music festivals.
How fashion houses will choose to engage with changing their formats remains to be seen. The glamour and drama of a traditional catwalk show retains strong nostalgia in the psyche of many fashion designers, as GQeditor Dylan Jones, who himself is behind the successful introduction of the London Collections: Mens showcases, puts it, "Fashion needs theatre. It's important to harness technology but it will always need the shows."
"I love the intimacy of a show," says Roksanda Ilincic, although admits to questioning the sequence of the bi-annual show calendar. "I take it as my twice-yearly opportunity to welcome guests into my world. I think any collection is all about context, about what you are communicating as your vision."
Fellow London Fashion Week designer Antonio Berardi agrees, telling us, "the idea of movement, of attitude, and of sound is something which can never be translated into digital" adding that it's through a physical show that "the craftsmanship is up for scrutiny" - a point that is also up for debate.
"Unless you are in the very front row, it can still be hard to see," Zoe Jordan (who opted for an impressive digital presentation in September) told us last year, referencing the trend for online shopping as proof that screen interface doesn't dissuade shoppers from making a purchase, although was keen to point out that every brand is different.
"True, we no longer have to be physically there in order to see the shows as we can see them in other ways, so the big point of doing them is more to do with the importance of creative aesthetic that comes out of how the designers want us to see their ideas," says Shulman. "By not having any music, no hair or make-up, anything like that, and just clothes on hangers at an appointment, you are in danger of coming away with too many navy trouser suits - but whether that means that so many people need to go to so many shows over such a long period of time, that's the question."

Alexander McQueen's famous spring/summer 1999 show
Picture credit: Rex
"The shows are an opportunity for designers to re-affirm their brand's DNA - think of those early McQueen shows," says Chapman, "but I do think there are too many shows. Often a presentation would be better for advanced contemporary or mid-market brands and those brands with one fabulous product category like Moncler or Mansur Gavriel - but these brands that are super smart and doing in anyway."
"I would be gutted if I only saw the big shows at the collections," says Chambers. "If it was just all the big guys then our lives would be diminished because it's the rising talent that feeds the soul."
Finding the right balance between commerciality and creativity, and accessibility and aspiration won't be easy and different brands will agree and disagree on the best way to do it, no-one admits to having all the answers just yet. But it's ultimately the soul of fashion that needs to be saved - and on that everyone agrees.
"It's a good thing that people are looking at it," says Shulman, "as a really big change needs to be made."