We were enthralled by Park Minyoung in her role as Kim Mi So in K-drama "What's Wrong with Secretary Kim" last year, and this year, she gave us another of her best performance in "Her Private Life".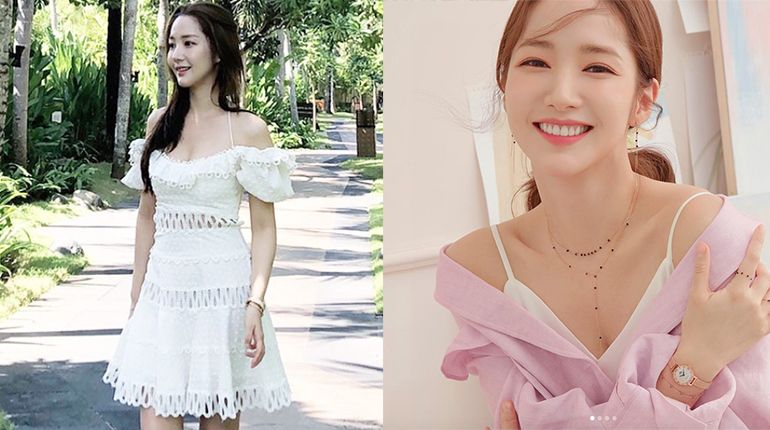 Credit: Instagram @rachel_mypark
Besides enjoying every bit of her performances in her dramas, fans also look forward to her chic and feminine style that provides style inspirations for our everyday outfits, both for work and play. With the temperature rising in Korea, her recent looks are perfect for Singapore weather. Let's take a look at Park Minyoung's summer fashion and pick up some styling tips from this gorgeous actress.
We all have a lightweight oversized shirt because that's a basic. Wear it with denim shorts, and accessorize with a straw hat for a weekend vacay look.
View this post on Instagram
Put on an off-shoulder floral printed dress in rose pink to bring out your feminine charms. Cinch your waist with a belt to avoid looking preggy!
View this post on Instagram
V-neck shirts adds a feminine twist to the usual silhouette of our favourite button downs, and adds a touch of sexiness by exposing our collarbones. Wear a little spaghetti top inside for modesty and the layering effect ups your style points too. With a wider neckline, feel free accessorize and put on a necklace!
View this post on Instagram
Go for this relax fit blouse and skirt in white and grey. Learn from Park Minyoung and do a half tuck instead of a full one, and accessorize with your favourite crossbody bag and a pair of cool shades.
View this post on Instagram
Rompers are fuss-free and great for dress down days, and a full black ensemble will not go wrong. Pull up your hair into a messy top knot and you are ready for the weekends.
View this post on Instagram
This pretty off-shoulder dress is our favourite of the lot. The cut is excellent and it fits our goddess perfectly. Get a similar dress and go for a all white look.
View this post on Instagram