Are you guilty of having a closet full of clothes that you don't wear anymore? TLC Southeast Asia's latest Korean fashion variety show, Reform, which premieres on 29th October at 9pm has some tips on how you can upcycle your old outfits into fashion-forward looks without having to break the bank.
Get inspired to do some fashion DIY as Reform shows how K-pop's hottest names like Hyomin from T-ara and Tiffany from Girls Generation get their old clothes creatively reworked by top designers, giving these outfits a stylish revamp.
1. Freshen up your old denim skirt with flirty ruffles
It's time to elevate your boring A-line denim skirt into something fun and flirty. Break down a pair of your old jeans into strips and add them as ruffle extensions to the hem of your skirt. Want to be even more daring? Play with different shades of blue denim or sew the underside of the denim ruffles with a floral print cloth for a pop of colour as seen on the Reform episode featuring Hyomin from T-ara.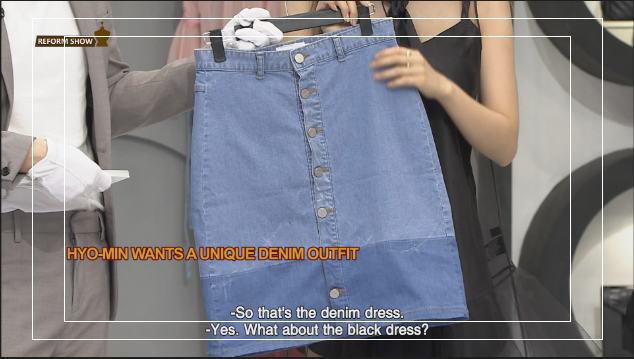 2. A little nip and tuck to get more use out of your old winter coat
With Singapore's perpetual heat, the only time your coat gets some love is when you jet off for a winter holiday. If you've got an out-of-fashion winter coat hanging forlornly in your wardrobe, do what the designers on Reform did to actress Kim Jung Min's coat and snip off the sleeves. Voila, it's now an oversized vest you can use for layering.
3. Transform your plain dresses into trendy overalls
Do you have a slightly stretched out dress that has had one too many encounters with an aggressive washing machine? Instead of tossing it out, you can similarly follow what the designers on Reform did where they transformed Tiffany from Girls Generation's old tennis dress by cutting it off from the chest up and turning the extra strips of cloth into straps to create overalls.
4. Turn your daytime floral dress into something cocktail party worthy
Seo Yuri had her sweet girl-next-door floral dress turned into something more vampy on Reform. The designers restructure the top of the dress, turning it into a sexy off-shoulder look. They even added slimming black panels around the bust and waist as well as a statement belt to show off her curves.
5. Style your blazer like a girl boss
Elevate your usual office 'blah' blazer that everyone else, including actress Kim Jung Min, has with a statement wrap-around belt. Make a quick visit to a fabric store for some textured black cloth (something with a sheen) and sew on leather straps as fasteners. The belt will make your look edgier and also accentuate your waist.
6. Create more drama with a one-shoulder dress
Tap into your inner diva by revamping that dated office shift dress. The Reform designers took on this challenge and gave Wang Bit-na's dress more of a 'wow' factor by reworking the top portion of the dress into a ruffled one shoulder. Now all you need to do is thrown on a pair of heels and you're ready for date night!
7. Turn a simple dress into a hot 2-piece set
The designers on Reform show you can get more out of your plain dress by cutting it at the waist so it now becomes a crop top and skirt. You can also add lace trimmings to the bottom of the skirt and top to give it a more youthful vibe.
8. Refashion your work dress into a head-turning party outfit
If you have an old-fashioned, slightly conservative dress that is in a serious need of a makeover, you'll have to watch Reform's designers work on Seo Yuri's old dress. They show that some deft moves with a pair of scissors can turn a high-collared dress into a halter and jazz it up further by adding layers of tulle to give it more volume, changing the silhouette completely. You'll definitely not be the wallflower at the next party with this dress on!