December is a definitely a busy month, be it at work or at home. And while we are getting ready for Christmas and shopping for party dresses, remember not to slack on your everyday outfits and be the fashion girl that you are.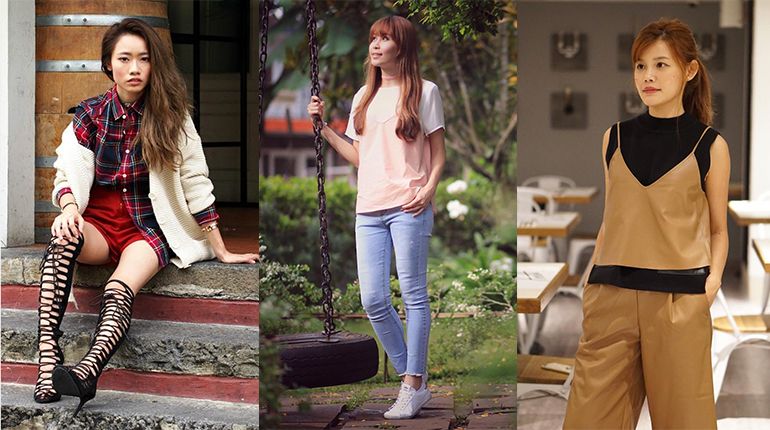 Credit: Instagram @cassandratanmonde/ @reginachow_sg/ @maybelinesim
Lacking inspirations in the styling department because of your busy schedule? We put together some styling tips from our very own local bloggers to spark your styling senses again.
Who said that sports bras are innerwears? Rock that athleisure look.
We are so in love with Cassandra's shoes!
Slip into a more fitted slip dress instead of the looser fit that we always see
Pair a high-neck with your jumpsuits
Sheer and laces are going to be big next season.
Pop your look with just one bright colour accessory in the midst of your monochromes.
Midi denim skirts goes well with almost anything
When you got bored of that slip dress over a tee, try a different take on it by playing with textures, and matching the slip over tee with matching culottes.
How about a pink slip top over a tee, paired with matching chokers? Rose quartz and serenity matched on point.
Texture adds interesting details to your outfits. Knits shouldn't be restricted to tops. Try a knitted dress.
Sheer, lace, fur, tassles.
Lace crop top with high waist culottes.
We really love how Chloe wears a pair of fishnet stockings under her torn jeans.
Drop earrings
'Tis the season for velvets.
High-waist bottoms elongates the legs
Casual chic with earth tones
Lace romper over a mesh top, when you got sick of wearing a simple tee. Don't forget your loop earrings and ankle boots.
Necklaces layering