It's official: "Athleisure" has made its way into the Merriam-Webster dictionary. Time to get to know athleisure a little if you still aren't familiar with it.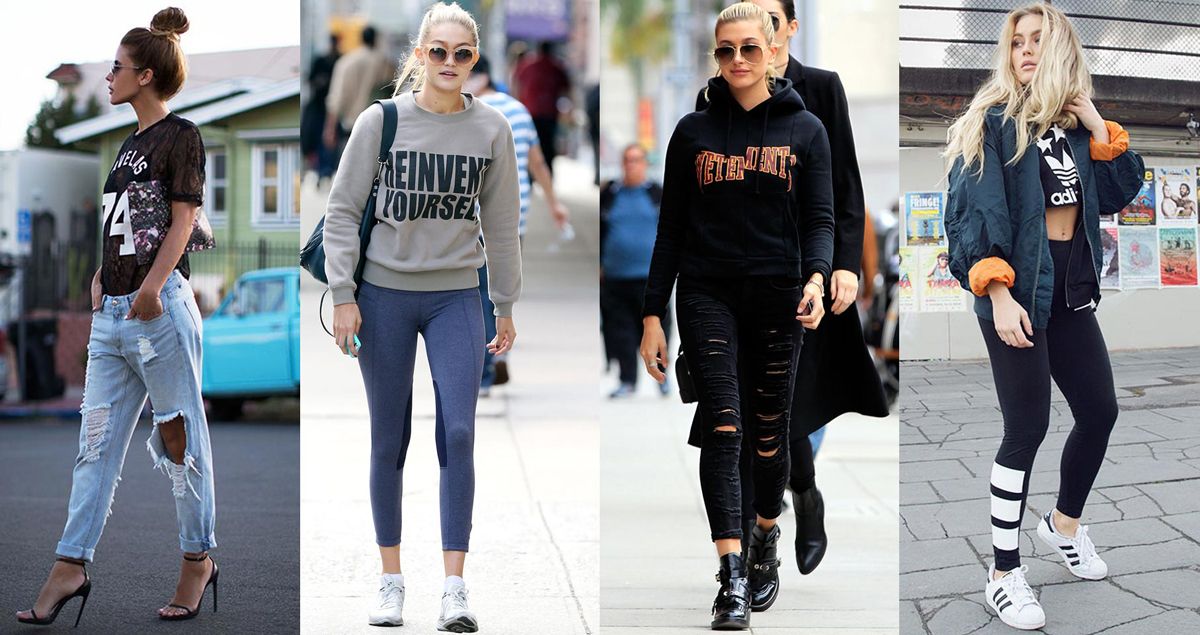 Credit: Daily New Look
Athleisure is athletic wear that is not exactly worn for workout, but more for leisure. Infusing sportswear elements into your everyday outfit, taking you from shopping to your next gym session. Convenient, yes?
Going the athleisure way is super easy. Just mix your yoga leggings, sports bras, tees, hoodies and track pants with your existing fashion apparels and ta-da! You have been transformed into next Kendall Jenner.
Credit: Its the Model Diet
However, there are some dos and don'ts that we need to take note of when we decide to follow the athleisure trend. We really do not want to come across as sloppy. Read on to find out!
The DOs:
1. Follow the trends
Sportwears have their own trends too, so follow the trends to get ahead in the style game. Florals and geometric prints are coming on big, although the neutrals are still here to stay. Mesh panels were big a while big but less so recently.
Credit: Adidas


2. Mix sportswear with your daily pieces
Athleisure does not equate full top to toe sportswear (please keep this in mind! You are welcome.). Mix your maxi skirts with your gym top, high waist jeans with your sports bra doubling up as a cropped top, throw over your leather or denim jacket, pair your yoga leggings with a pair of high heel boots... the possibilities are endless. The key is mixing your casual everyday fashion pieces with your sportwear to create the athleisure look. Remember to keep the look sharp and classy!
Kendall Jenner and Gigi Hadid - Knit turtleneck tops, bomber jackets and classy handbags paired with yoga leggings and trainers.
Credit: The Petite Bloguese
Bomber jacket and lace-up high heel boots paired with a Fila T-shirt dress.
Credit: Savoir Flair
Printed maxi skirt worn with a sports bra.
Credit: Daily Mail UK


3. Accessorize
Remove your accessories for safety reasons when you are at the gym, but there is no reason for any fashion It girl to do away with her accessories on the streets. Put on a hat or a sporty cap, wear your looped earrings, slip your arm candies on.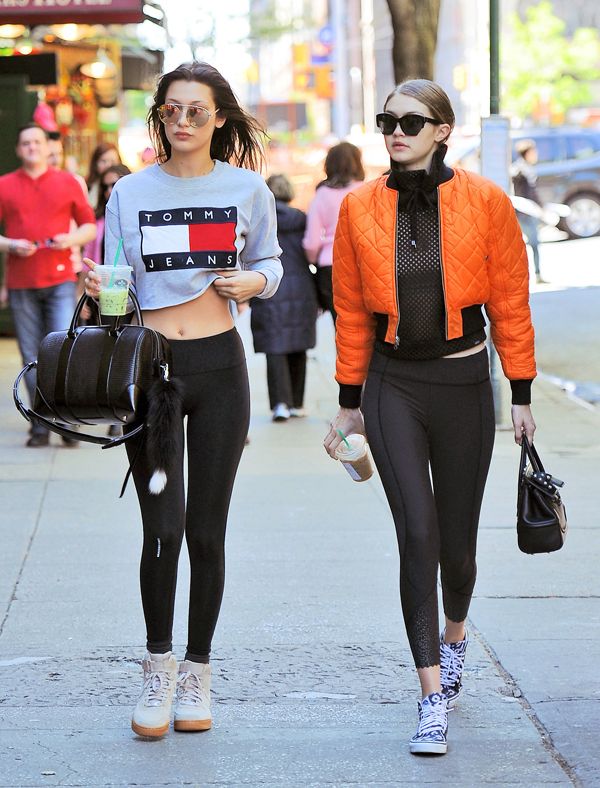 Sunglasses
Credit: Glamour
Keep your favourite earrings on.
Credit: The Zoe Report
The DON'TS
1. Go too tight
Get your sports bra and yoga leggings in a good fit. The last thing we want to see is your muffin top that results from overly tight leggings, or the bra fats that spills over from an ill-fitting sports bra.
Get a good fit, and no sloppy looking materials please.
Credit: Wake and Wonder Shop


2. Cover up
Unless you have Gigi Hadid's firm butt, try to cover up your butt a little if you are wearing leggings. One way to still look stylish is to tie a nice shirt around your waist. It accessorizes your outfit and at the same time provides a little modesty. Do keep a look out and check if your camel toes are showing through. If they are, change a pair of leggings already.
Credit: Aelida


3. Walk around smelling like perspiration
Do be nice to the people around you and change out if you have to, please! Although we mentioned that athleisure takes you from the streets to the gym, but if you visit the latter first, shower and change out if you find yourself smelling a little too much like perspiration. Furthermore, tight fitting outfits soaked with perspiration provide the perfect environment for bacteria to breed. Change out to prevent skin rashes or even yeast infections.
Credit: Spine Care Chiropractor