From Katong laksa in the east to Indian-Muslim fare in the west, here are some foods that define Singapore's culinary character.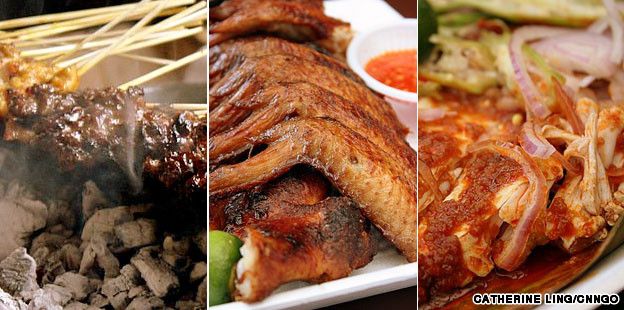 Singaporeans are simply obsessed with eating. For the best food, they will queue endlessly, they will traverse the island, and they will eat at all hours. Many have been known to come back after migrating simply because they miss their favorite foods. Much of it is humble but insanely delicious street fare found in food centers and coffee shops throughout the island.
CNNGo rounds up 40 of the best, "die-die must-try" foods from the little red dot.
1. Chicken Rice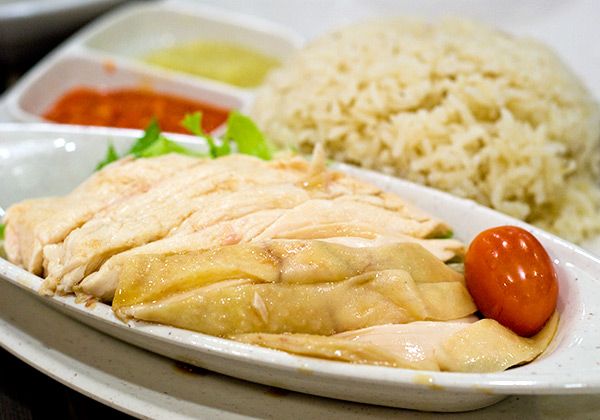 It's everywhere -- at hawker stalls, food courts, luxury hotels and even at the zoo, but Singaporeans just can't get enough of it. Chicken rice is often called the "national dish" of Singapore. Steamed or boiled chicken is served atop fragrant oily rice, with sliced cucumber as the token vegetable. Variants include roasted chicken or soy sauce chicken. Don't miss out on the dipping sauces -- premium dark soy sauce, chili with garlic, and pounded ginger. Play around with different combinations to discover new tastes.
If you are put off by perpetual queues at legendary Tian Tian Hainanese Chicken Rice (Stall 10, Maxwell Food Centre), you can dine in air-conditioned comfort instead at Boon Tong Kee.
2. Char Kway Teow
There is no stopping Singaporeans from indulging in this high-fat hawker favorite. Flat rice noodles stir-fried with lard (for best flavor), dark and light soy sauce, chilli, de-shelled cockles, sliced Chinese sausage, bean sprouts, Chinese chives and sometimes prawns and egg. Essential to the dish is good "wok hei" or breath of wok, the qualities and tastes imparted by cooking on a wok using high heat. Many now choose to omit the cockles but char kway teow will always be incomplete without the sinfully rich fried pork lard pieces.
One of the island's best char kway teow is at a humble hawker center in the east. Hill Street Fried Kway Teow at Block 16, Bedok South Road, #01-187. tel +65 9042 131.
3. Wonton or Wantan Mee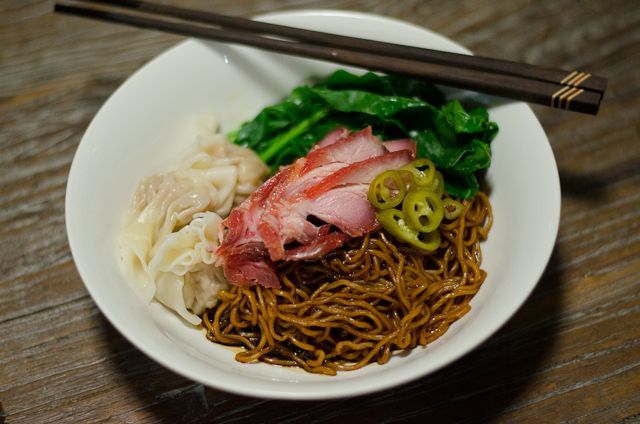 The name "wonton" literally means "swallowing of cloud" in Cantonese. Indeed, the dumplings with their flowy translucent skins resemble wispy clouds when suspended in soup. Most Singaporeans prefer the dry version of the noodles. Wonton noodles look simple but the perfect one is elusive. The thin egg noodles need to be of the right texture, the sauce has to be well-balanced, and the pork or shrimp dumplings ought to be juicy and meaty. At many places, you'll find the sliced char siew (Chinese BBQ pork) is often papery dry and red with artificial dye but that hardly deters fans of the dish who seem to prize the noodles and dumplings.
Try the cult favourite Hong Mao Wonton Mee but note they open early and close early (7am to 4pm, closed Mondays) and there is at least a half-hour wait. 128 Tembeling Road.
4. Carrot Cake (Chai Tow Kuay)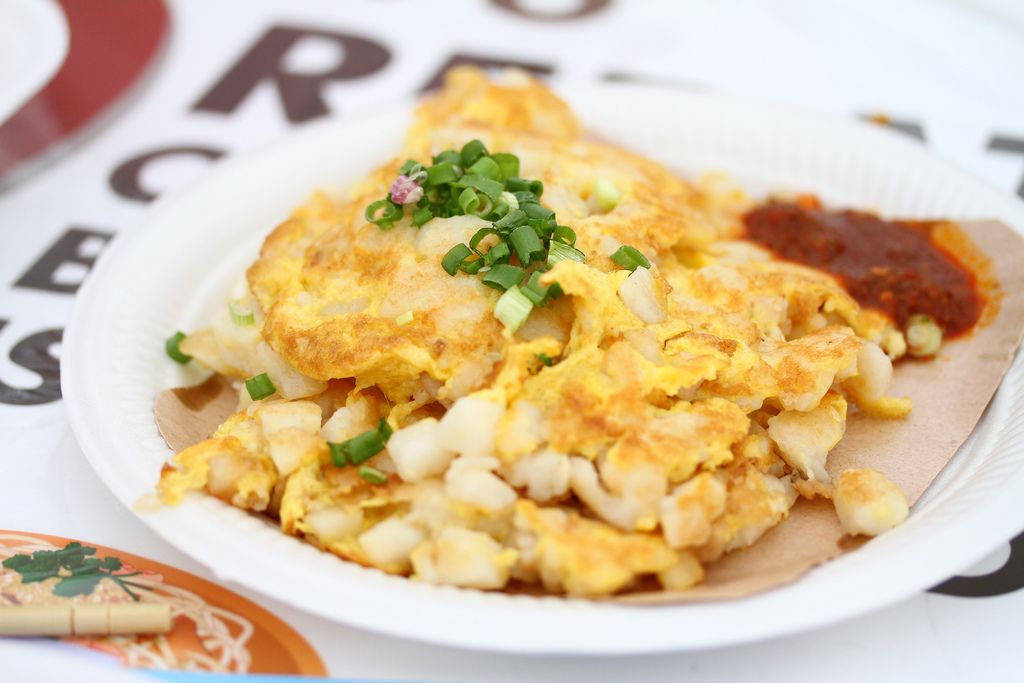 No, not the sweet Western cake loaded with orange carrots. This "carrot" is more of a white radish (daikon). Rice flour and grated radish is mixed and steamed into large slabs or cakes. These are cut up into little pieces and fried with preserved turnip, soy sauce, fish sauce, eggs, garlic and spring onions. It's amazingly good. You can have it "white" or "black" (with sweet dark soy sauce added). Also known as fried carrot cake or chye tow kueh, this grease-laden belly warmer is available at many hawker centers.
Look for old stalwart Heng Carrot Cake at Stall 28, Newton Food Centre, Newton Circus Road.
5. Chili Crab
Another national signature, chili crab is one of the most requested dishes for anyone who comes to Singapore. There are more than a dozen ways to do crab (black pepper, salted egg yolk, cheese-baked, etc) but chili crab remains the bestseller. It's certainly not something to be consumed daintily. The spicy chili-tomato gravy tends to splatter, but crab enthusiasts love it so much, they'll mop everything up with mini mantou buns.
Roland Restaurant claims to be the creator of the dish. They are at Block 89 Marine Parade Central #06-750, tel +65 6440 8205.
6. Bak Kut Teh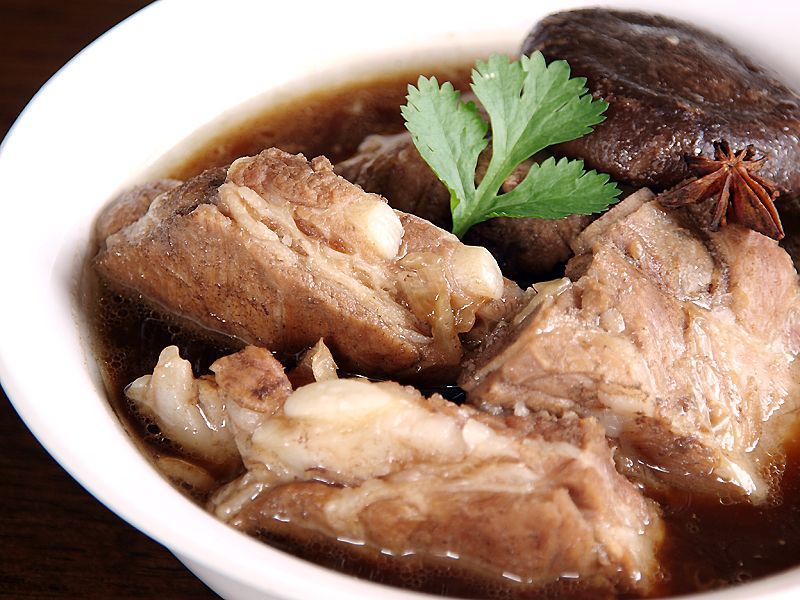 Bak kut teh, meaning "pork rib tea" is most likely of Hokkien or Fujian origin. Meaty pork ribs are lovingly boiled for hours with lots of garlic, pepper, medicinal herbs and spices. Early 20th century port coolies often relied on this as a tonic to strengthen bodies and health. These days, bak kut teh is simply enjoyed for its taste. There are two styles -- the clear, peppery Teochew broth and the darker, more herbal Hokkien stew. You tiao (fried crullers) are the perfect croutons for soaking up the soup, and a hot pot of Chinese tea (ideally Tieguanyin) helps dissolve or wash down the fats ever present in the meaty ribs.
For the Teochew variety, try Ng Ah Sio Pork Ribs Eating House at 208 Rangoon Road, tel +65 6291 4537. For the Hokkien version, try Sin Heng Claypot Bak Kut Teh at 439 Joo Chiat Road, tel +65 6345 8754.
7. Sambal Stingray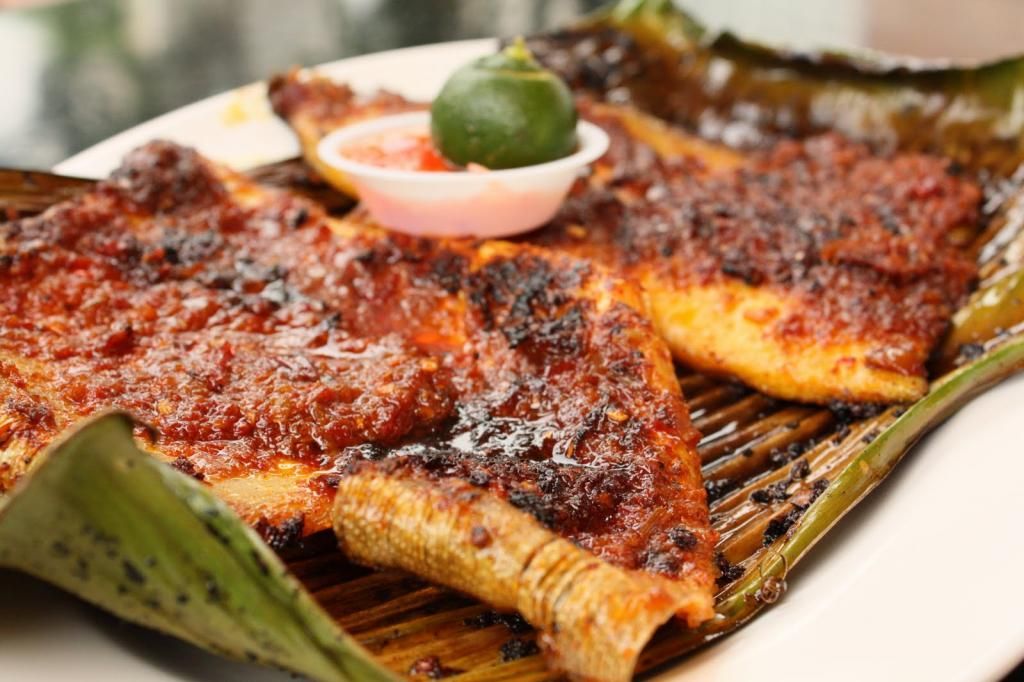 Singaporeans love their seafood and they love their spices. Sambal is a versatile chili paste blended with spices, shallots, candlenuts and often belachan (fermented shrimp paste). Sambal-coated cuts of stingray are wrapped in cleaned banana leaves and grilled to smoky perfection. The sweet, tender flesh is a perfect canvas for all the complex spices and BBQ flavor.
Check out award-winning Leng Heng Seafood BBQ and enjoy your BBQ by the sea. Stall No. 6, East Coast Lagoon Food Centre, East Coast Lagoon Road.
8. Fried Hokkien Mee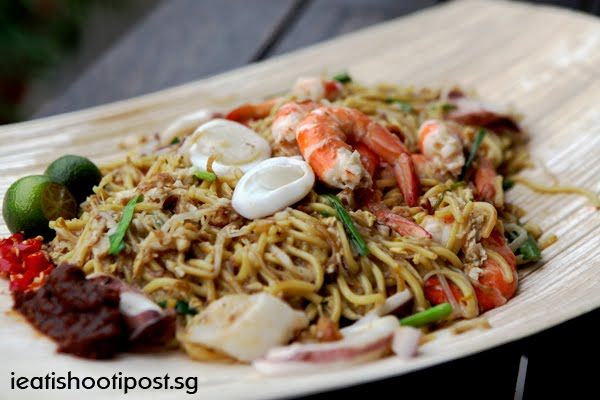 Yet another dish favored by hardworking laborers of the past. Thick yellow egg noodles mixed with rice vermicelli are cooked in a rich seafood stock, and tossed with prawns, squid, small strips of pork belly and deep-fried lard pieces. A small kalamansi lime is always given should you prefer some tangy juice to cut through the greasiness of the dish.
Tian Tian Lai (Come Daily) is practically an institution, and deserves its hype. Come to Block 127 Toa Payoh Lorong 1 #02-27, tel +65 6251 8542.
9. Rojak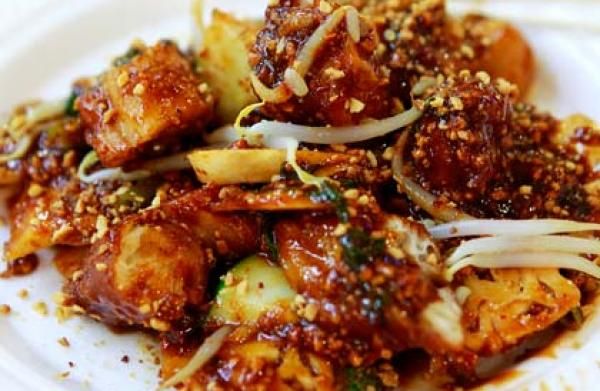 Rojak is actually a Malay word used to describe something made from a random mix of unrelated things. But any derogatory undertones are erased when one refers to the fruit salad that bears the same name. Rojak does have an odd mixture of ingredients. Bite-size pieces of fruits, vegetables, dried tofu, fried you tiao (dough fritters) and cured cuttlefish are tossed in a prawn paste sauce topped with crushed peanuts. Grated bunga kantan (pink ginger buds) add a sensuous fragrance. The result is a wild mix of sweet, spicy, sour and savory flavors.
HK-Hollywood superstar Chow Yun Fat is a fan of Balestier Road Hoover Rojak. The rojak here has jellyfish instead of cured cuttlefish. Block 90 Whampoa Drive, #01-06 Whampoa Drive Food Centre.
Read more at CNN Travel.