Being an avid reader since young, Xav has been on glasses since he started Primary 1. But boys being boys, I needed to constantly remind him to handle his glasses properly, not to act cool by removing or wearing the glasses with a single hand, clean the smudged lens when needed for he can be totally oblivious to it, check for worn-out nose pads and scratched lens and the list goes on.
Orthokeratology or Ortho-K for short may sound familiar to some of you. Ortho-K is the use of gas permeable contact lenses (hard lens) to be worn at night so that the lens can gently reshape the cornea and temporarily correct the short-sightedness while one is sleeping, so that the next day, one can still function without having the need to wear glasses or contact lenses. It also helps to slow down the progression of myopia.
This is a totally new experience for us and especially so, for the boy, as it can be quite scary for some kids to put a foreign object in their eyes. To be honest, I do have my reservations about it because, at the end of the day, it concerns his vision and his eye health. I am also worried about infections and ulcerations too and I will cover this in the later part of the post.
We made our first consultation with Yee Leen, one of the optometrists from Videre Eyecare for an Ortho-K evaluation and also a trial fit to assess if Xav was suitable for it.
The image below shows a WAM 700 machine that can check for multiple objective refraction, eye pressure, the axial length of the eye and many more.
Was it only me? I was amazed that this little station could read the power of the lens directly.
Yee Leen gave Xav a thorough professional Comprehensive Eye Examination, Corneal Health Screening, Dry Eyes Detection, Corneal Curvature Mapping (Topography), Eye Pressure (Intra-Ocular Pressure), Contact Lens Fit, Wear & Care as well as Contact Lens Safety Recommendation.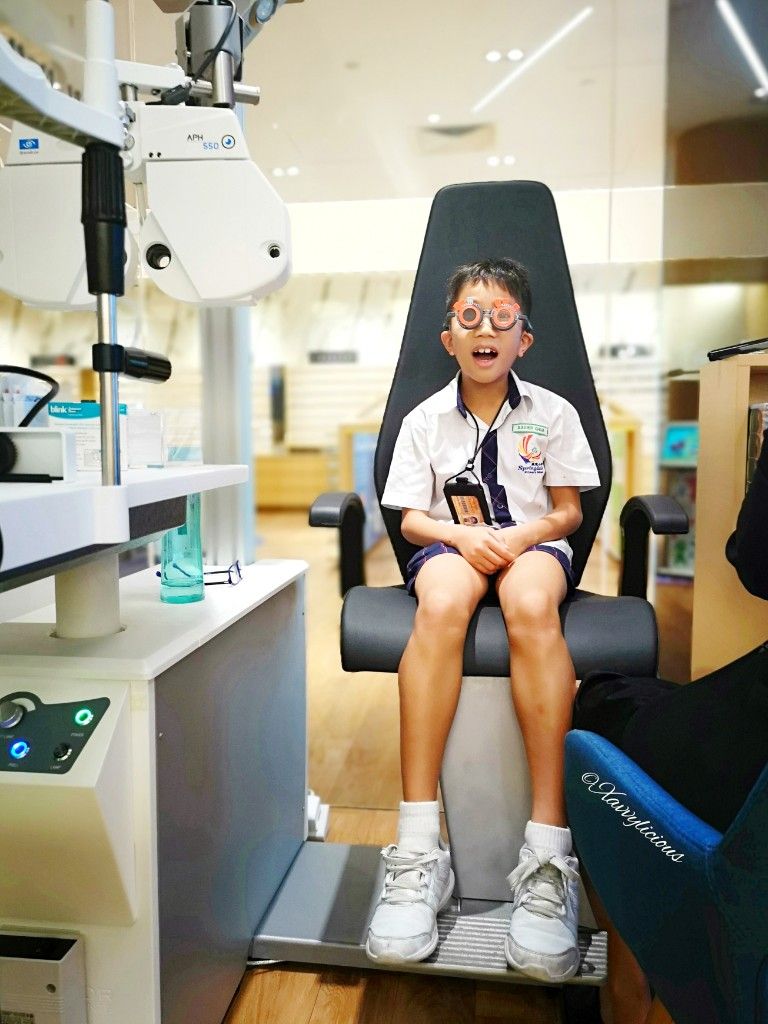 With Yee Leen, explaining to him how Ortho-K treatment works.
Being a competitive swimmer, Ortho-K treatment would benefit him and he woulddefinitely have a clearer vision under water.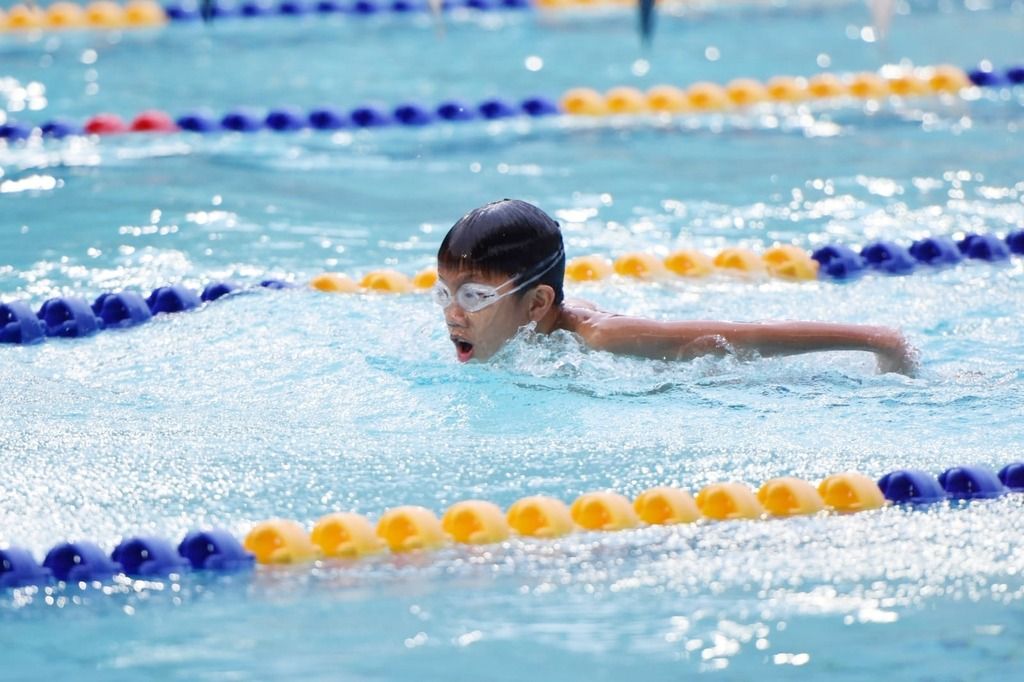 After explaining to Xav what the routine involved, the safety precaution to take, the commitment and discipline needed for this treatment, he told us he would love to give it a try! Whooo hooo! He is ready to throw away his glasses!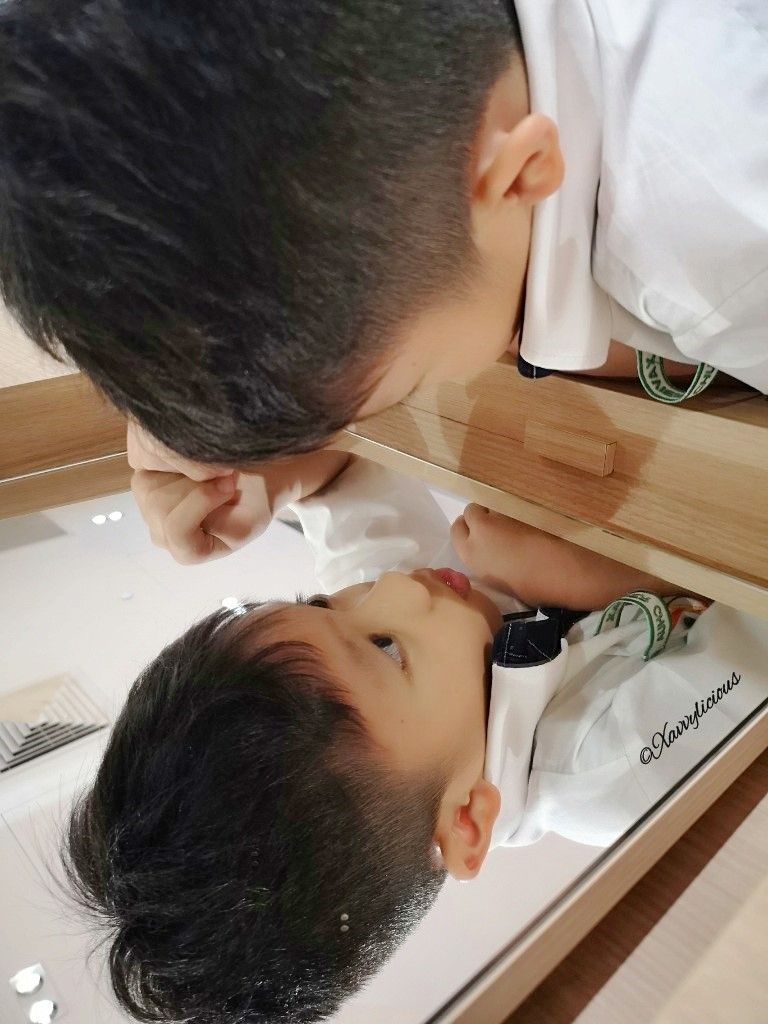 This is his new commitment and routine (day and night), and I was surprised that he was actually more cautious and remembered the steps much better than I did, which was good! The hygiene and proper handling of the lens is very crucial to prevent any risk of infection.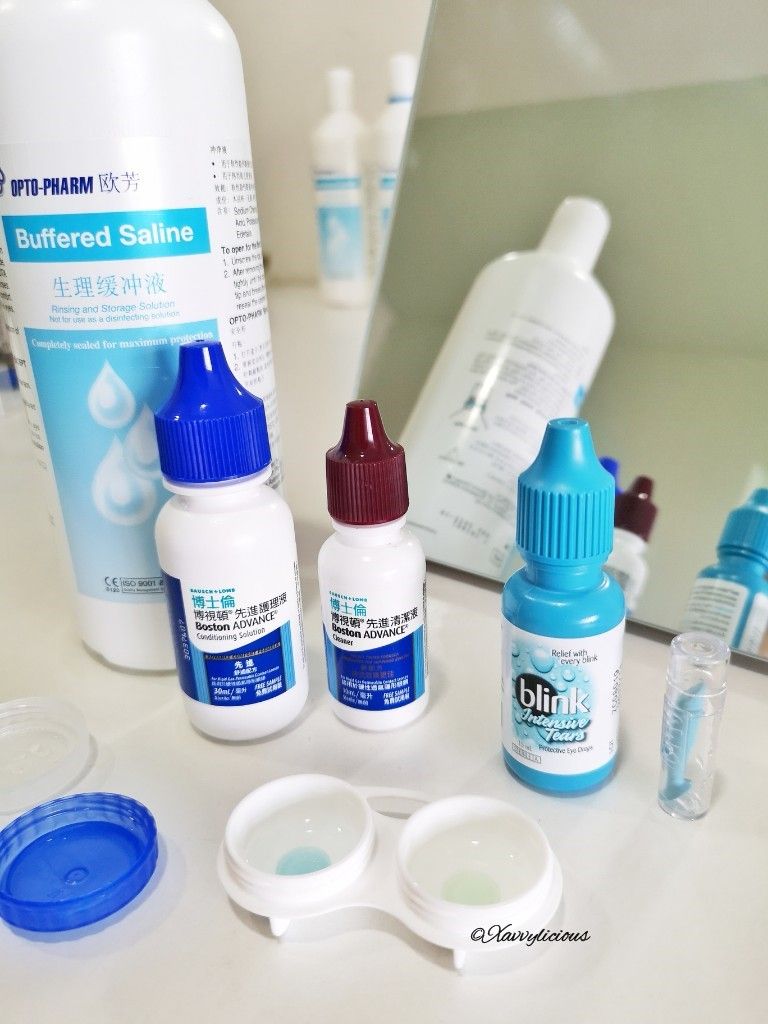 Daily routine
As his eyes are a little dry due to the regular swimming sessions, he has to do the following in the morning before school:
1. Drip blink Intensive Eyedrops before he removes the lens and drip again after he removes to moisturize the eyes.
2. Use the saline to rinse the suction pump before using it to remove the lens.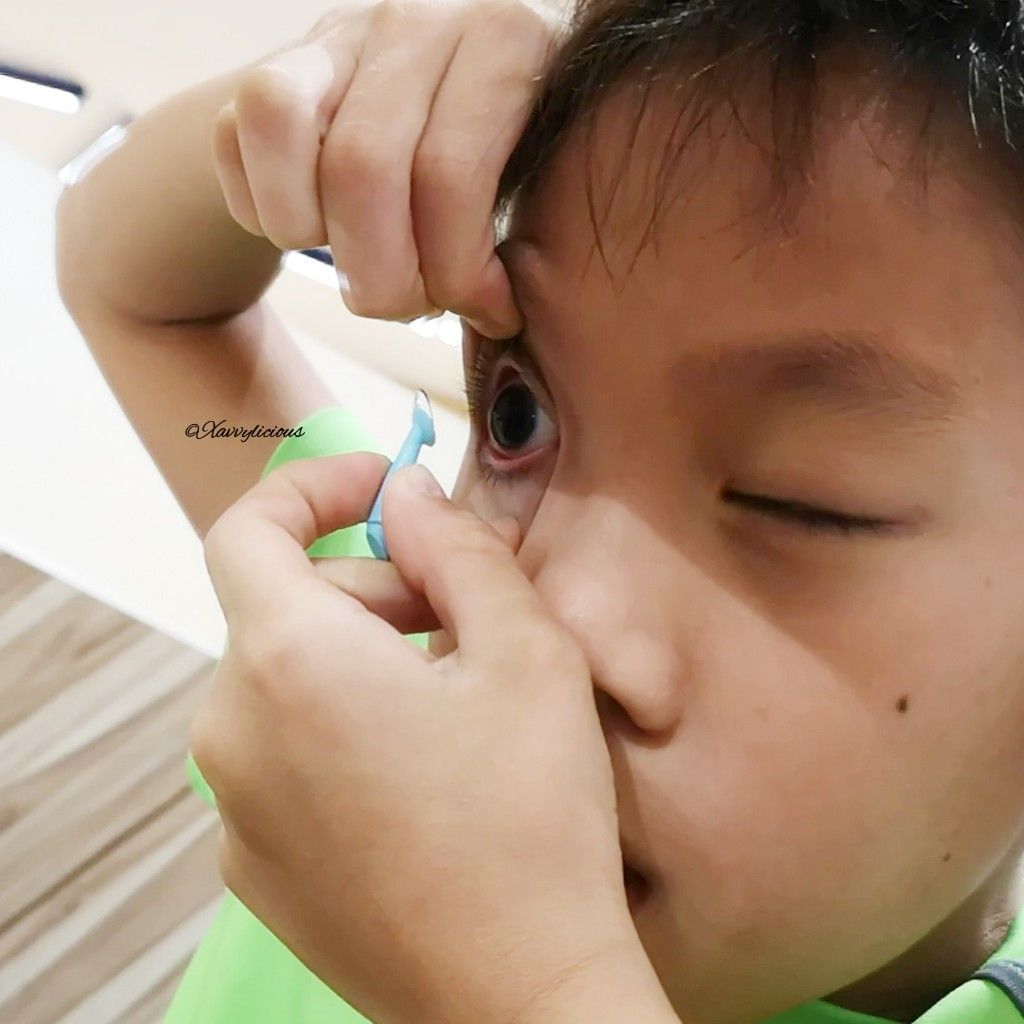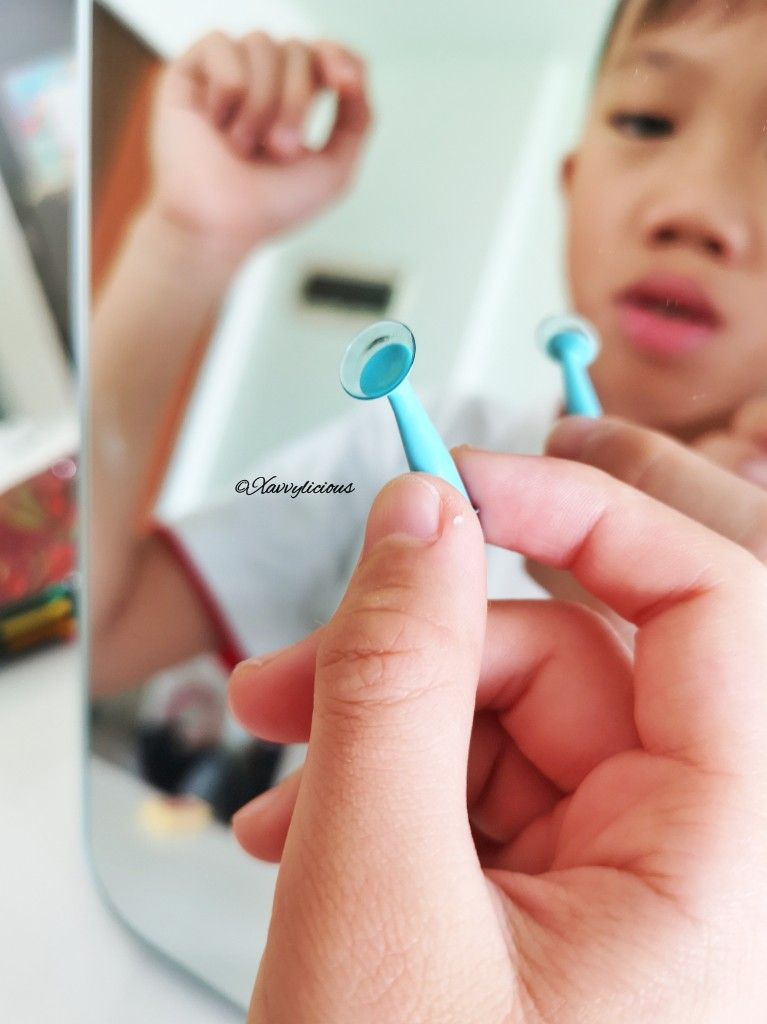 Before wearing the lens to sleep (at night):
1. Drip blink Intensive Eyedrops before he puts on the lens and drip again after he wears it.
2. After pouring away the contents (conditioning solution), use the saline to rinse the lens holder, overturn it and leave to dry.
How to prevent eye infection, ulceration and lack of oxygen to the cornea
1. Always wash your hands clean (with soap) before handling the lens.
2. DO NOT clean the Ortho-K lens with tap water. Tap water is teeming with bacterial although it has gone through intensive filtering, always wash with Saline.
3. Be committed to return to your optometrist for regular eye checks to make sure that your eye health is in optimal condition. Early detection is always better than allowing any poor eye health to further deteriorate.
4. Most would have thought that it is fine to keep using the same contact lens case. But do you know that it is essential to change it every quarterly?
5. Once the lenses are being put on, the child should be heading to bed straight away. The optimum hours of sleep are between 6 to 8 hours with the lenses on. For Xav, he usually sleeps at 10.30pm due to his training hours but thankfully he still meets the sleep requirement of 8 hours.
How often did we go back for review?
The first night after Xav wore the Ortho-K lens, we have to return to Videre the very next day for a review to see if the lenses fit well.
The second visit was a week later and third was two weeks later. The time in between visits will be longer as time goes by.
When Xav woke up after the first night, he removed the lenses and his vision was much better than when he was totally off glasses (before he started Ortho-K treatment) though it was still blurred. Second day onwards, he excitedly told me "Mummy, my vision is so much clearer now!"
Xav is now enjoying lens-free in the day and can indulge himself in all kind of sports without having the risk of getting broken glasses or bent frame at the end of the day.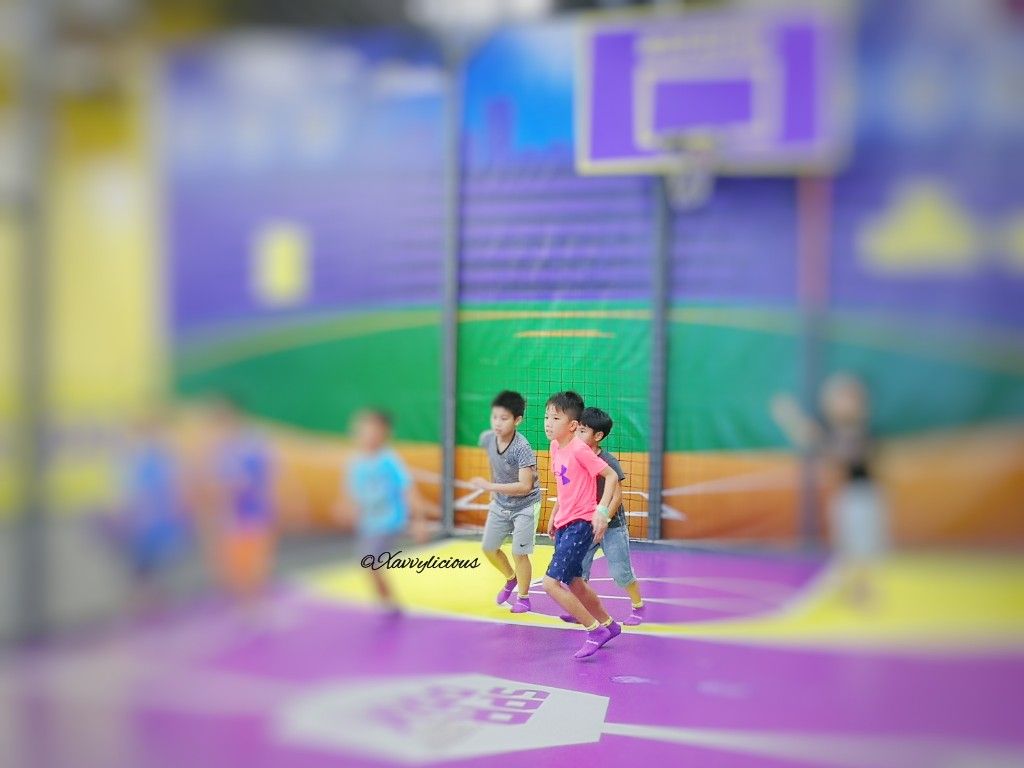 The price of Ortho-K lens starts from $1,800 onwards depending on individual complexity and can last for 1 to 2 years before you change.
Thank you Videre Eyecare! for all the knowledge and patience in guiding us on this journey. Should you be keen to start your child on the Ortho-K journey, do give Videre Eyecare a call and make an appointment for a consultation and lens fitting at 6369 0041.
Videre Eyecare is located at:
Forum the Shopping Mall
583 Orchard Road
#01-26/27/35/36/37
Website: videre-eyecare.com.sg
For more information, you can also visit Videre Eyecare:
If you have enjoyed reading my posts and find it helpful, do follow me on Facebook, Pinterest and Instagram !
Disclaimer: This review post is a collaboration between Videre Eyecare and MyFatPocket, all opinions are of my own.
By Serene