October is a magical month of mystery and horrors with Halloween and what is not a better time than for parents to dress up their little ones in costumes they wished that they had the guts to carry out. If you are wondering where are the appropriate places you could bring your children to celebrate Halloween without risking a nightmare or damaged childhood then fret not, because I have compiled a list of not-so-scary Halloween parties which are perfect for kids. And for the sake of the parents, I have also listed the adult spooky events which you can partake in, just make sure that you engage a babysitter to stay with the kids on that night.
Spooky Junior at Port of Lost World, Sentosa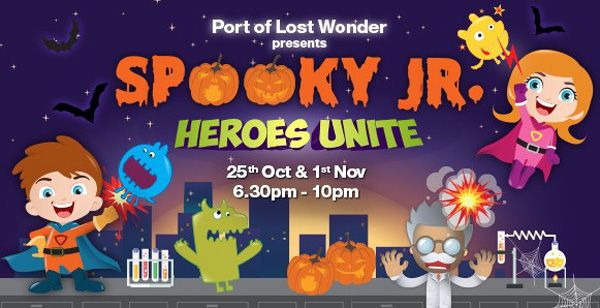 This Halloween on 25th October and 1st November (6.30pm to 10pm), Sentosa Port of Lost Wonder presents Spooky Junior's Heroes Unite specially for you and your superhero family! Port of Lost Wonder is being invaded by monsters after a science experiment has gone terribly wrong. Calling all heroes – come in your best outfits and defend the Port from the monster invasion!
Veterans (that's you, parents), we hope your old hero outfit still fits because it's time to put it on again. Be your little superheroes' sidekicks and support them together as a family, to help kick the monsters out of the Port.
Creative costumes stand to win prizes up to $3,000 including Samsung Galaxy Tab 3 Kids, Wii, hotel stays on Sentosa at Siloso Beach Resort and Amara Sanctuary, and many more. Save the port and win great prizes – the perfect family Halloween fun!
More details at www.polw.com.sg
Safari Boo 2016 at River Safari Singapore
A yearly event at the Singapore Zoo's River Safari is a Halloween event perfect for little ones. Dress up as your favourite little monster and go trick-or-treating among the animal inhabitants. The highlight of the event would be a specially-set up show featuring a bunch of fun-loving animals. Also watch out for friendly mascots, interactive workshops and marvel at the mermaids display while trick-or-treating at Safari Boo. Tickets are on sale now at SG$8 for children and SG$18 for adults. Prices vary depending on the time of day.
More details at https://safariboo.wrs.com.sg
Stage for Kids at Goodman Arts Centre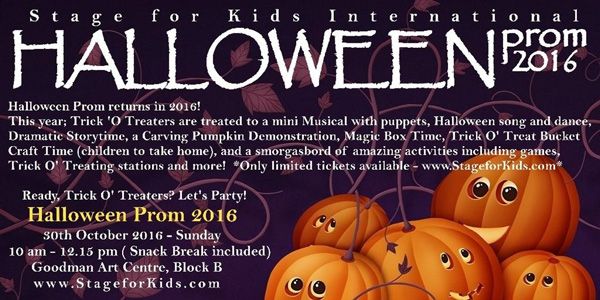 This year come 30th October 2016, Trick 'O Treaters are treated to a mini Musical with puppets, Halloween song and dance, Dramatic Storytime, a Carving Pumpkin Demonstration, Magic Box Time, Trick O' Treat Bucket Craft Time (children to take home), and a smorgasbord of amazing activities including games, Trick O' Treating stations and more!
More details at www.StageforKids.com
Spooky Seas Pirates Edition at S.E.A Aquarium
Begin the journey by travelling back in time to discover Asia's maritime heritage at The Maritime Experiential Museum™. Then enter and explore the marine realm of S.E.A. Aquarium™, home to more than 100,000 marine animals of over 800 species, across into 49 different habitats, each one as fascinating as the next. It's an experience you won't forget.
More details at www.rwsentosa.com/spookyseas
Spooktacular Party at eXplorerkid Downtown East & AMK Hub
Little ones can expect Halloween fun and games such as 3D hand painting arts and crafts. And of course, we cannot have a Halloween party without the traditional trick-or-treat parade to top things off. Dress your children in their spooky monster.
More details at www.explorerkid.com
Woodlands Woodgrove Halloween Event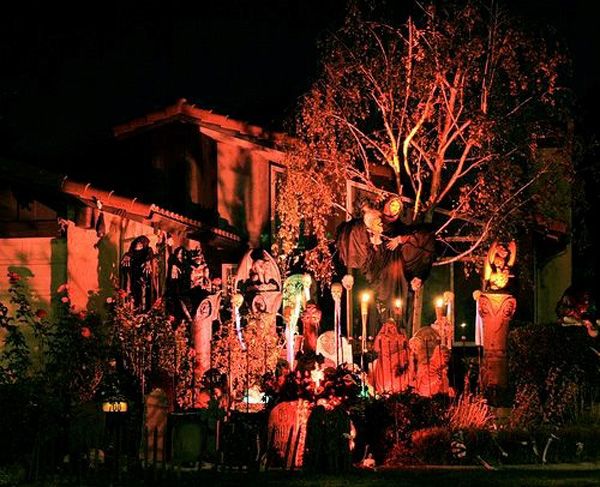 2016 and every year on actual Halloween, 31st October, there will be a massive Halloween Trick Or Treat happening in Woodlands Woodgrove neighbourhood. For an authentic Halloween experience, this is the place to be at. The residents of Woodlands Woodgrove have been so generous and gracious to share their own privately funded and organized Halloween event with the public. It happens every 31st October from 6pm to 8pm.
For the parents who wish to leave their kids at home, here are some of the Halloween events you can check out.
The Singapore Halloween Festival 2016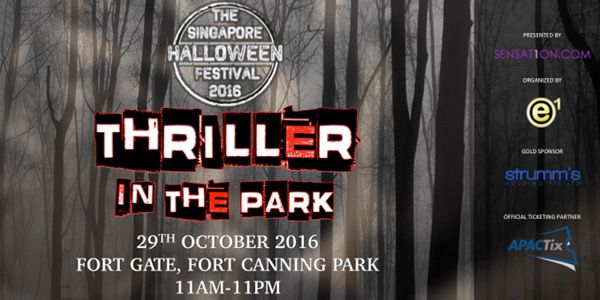 THE SINGAPOREAN HALLOWEEN FESTIVAL is a uniquely Singaporean Project, it is the first ever festival of its kind to be held in our country, featuring Extravagant Costumes, a Carnival atmosphere, Top Local Acts and Djs for a 12-hour Extravaganza.
The event is based around the concept of a picnic in a park with elaborate yet minimalistic stages, stalls and unique F&B outlets bringing pop-up bars and bistros. It is happening on 29 October from 11am to 11pm.
Children below 12 years old enter free but if you are planning on drinking (because pop-up bars!) then it is best to leave them at home with a babysitter.
More details at www.sensat1on.com
USS Halloween Horror Nights at Resorts World Sentosa
Resort World Sentosa presents 'Halloween Horror Night 6' at Universal Studios Singapore where the theme park will be engulfed in hordes of supernatural creatures from local to Western horrors and presenting the first-ever theatrical procession inspired by the Day of the Dead. Ruled by the malevolent Lady Death who awakens the dead and unravels the darkness within, it will feature five haunted houses, two scare zones where denizens of the dark rule the night and two spectacular live shows.
More details at http://www.halloweenhorrornights.com.sg