Even if you hate Valentine's Day, there's something to be said for the emotional power of a good romance film.
Image Source: Orion Pictures
To help get you in the mood, we've compiled a list of romantic movies coming to the big screen in 2018. From silly rom-coms to the final Fifty Shades of Grey movie to the Mamma Mia!sequel, there's a little something for every romantic — there's even a reunion between Dracula costars Keanu Reeves and Winona Ryder!
1. The Competition
Thora Birch stars as Lauren, a blogger who promotes the PIG theory: breaking up with a guy when you reach the Point of Infidelity and Guilt, aka six months into a relationship. When Calvin (Chris Klein) hears about her theory, he challenges her to a competition: he names five guys who have been in a relationship for over six months and she picks the women who will try to tempt them. If three out of five cheats, Calvin has to walk away. If three out of five resist temptation, she has to give Calvin a chance.
Out Jan. 26
2. Entanglement
Silicon Valley star Thomas Middleditch is Ben, a lonely divorcee who falls in love with a woman who was almost his adopted sister.
Out Feb. 9
3. Fifty Shades Freed
If you're already super into the Christian Grey movies, based on E L James's novels, then you won't want to miss this sexy final instalment. Christian and Ana are married, but Ana's life is in danger courtesy of her former boss, who is out for revenge after being fired.
Out Feb. 9
4. Permission
A woman, Anna, is advised by her brother and his life partner to "test date" other men before accepting her fiancé's proposal. The cast is stacked: Rebecca Hall, Dan Stevens, Morgan Spector, Gina Gershon, Jason Sudeikis, and Sarah Steele.
Out Feb. 9
5. Every Day
This romantic drama stars Angourie Rice as a 16-year-old girl who falls in love with a travelling spirit that wakes each morning in a different body, living a different life every day.
Out Feb. 23
6. Love, Simon
This teen dramedy is about Simon, a closeted gay high school student who is being threatened by another boy in revealing Simon's sexuality to the school. Jennifer Garner and Josh Duhamel star as Simon's parents.
Out March 16
7. Midnight Sun
A girl with a rare condition where she must stay out of the sunlight at all times ventures out at night to play her guitar in a train station. There she meets a boy she has secretly liked for years, and they begin a romance.
Out March 23
8. Overboard
This remake of the 1987 rom-com starring Kurt Russell and Goldie Hawn stars Anna Faris and Eugenio Derbez in the same roles, respectively. It's a gender-reversal of the original, as a spoiled playboy falls off his family's yacht and ends up with amnesia, only to be taken in by a working-class mom who convinces him that they're married.
Out April 13
9. Disobedience
Rachel Weisz, Rachel McAdams, and Alessandro Nivola star as the three sides of a tragic love triangle. When Ronit's (Weisz) father dies and she returns to her hometown, which is largely populated with strict orthodox Jews, she discovers that her cousin David (Nivola), a rabbi, is married to her former lover, Esti (McAdams).
Out April 27
10. Mamma Mia! Here We Go Again
This sequel to the 2008 film Mamma Mia! picks up with Sophie (Amanda Seyfried) pregnant and being told by her mother Donna's friends all about her mother being young, pregnant, and alone. Meryl Streep reprises her role as Donna, with Lily James joining the cast as young Donna.
Out July 20
11. Crazy Rich Asians
The delightful Constance Wu stars as Rachel, a woman who travels with her boyfriend to Singapore for a
wedding
and discovers he comes from a ridiculously wealthy family — that also has a dark past. Plus, every woman in town is after her man because they want to marry into it.
12. Destination Wedding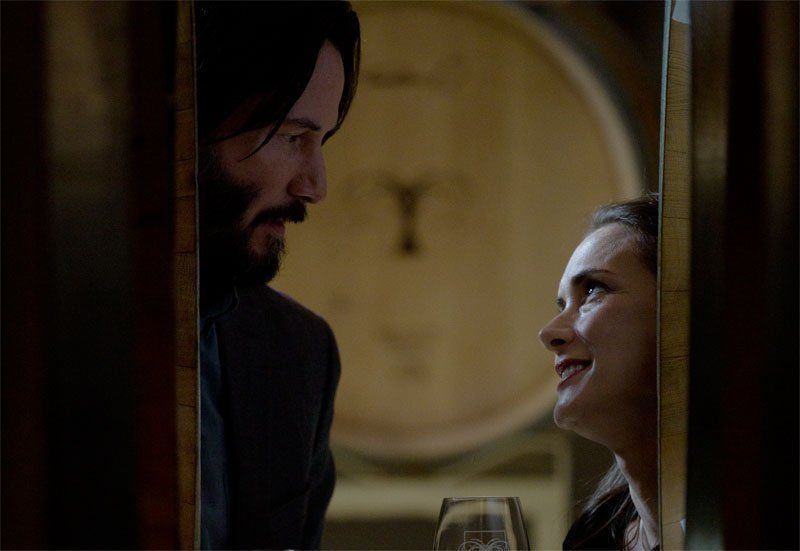 Keanu Reeves and Winona Ryder, stars of the 1992 drama-horror Dracula, are reuniting for this rom-com about two lonely people who separately attend the same destination wedding and find themselves both drawn to and repulsed by each other.
Out 2018
By ANDREA REIHER
This article first appeared in Pop Sugar.