A woman's Facebook post about her unhappiness with the authorities for putting down a lost golden retriever went viral overnight.
The above are pictures posted by Victoria Lim in her Facebook that say, "HERE ARE MORE PICTURES OF THE GOLDEN RETRIEVER an hour before she was picked up. We'll let you decide if this looks like a dog that "was not in good condition".
In a statement, Agri-Food and Veterinary Authority (AVA) said it did so as the dog was very sick.

However, AVA has also apologised for a service lapse as its call centre officers did not check with the manager on the status of the dog, even after the woman and her family made repeated calls to its hotline.

In her post, Ms Victoria Lim said she and her family had handed over a lost dog to AVA last month, as they hoped the agency could help them locate the dog's owner.

However, despite repeated calls to not put down the dog, Ms Lim said she and her family were very distressed that AVA eventually did so nearly three weeks later.

She said her mother had asked AVA to inform them if the dog's owner is uncontactable. She added they would like to re-home the dog if so.

Her post attracted many sympathetic comments and some 4,000 shares on Facebook.
AVA told Channel NewsAsia the dog's condition continued to deteriorate after it had taken the dog in despite the care and veterinary attention given.

It said the dog was old and had poor appetite and later on, was not able to stand or move by itself. AVA said it also tried to contact the owner through various attempts including a newspaper advertisement.

However, it said the dog's condition had deteriorated so badly that its vets decided to euthanise the dog.

AVA added that its call centre officers who took the calls from Ms Lim and her family did not inform or check with the manager on the status of the dog.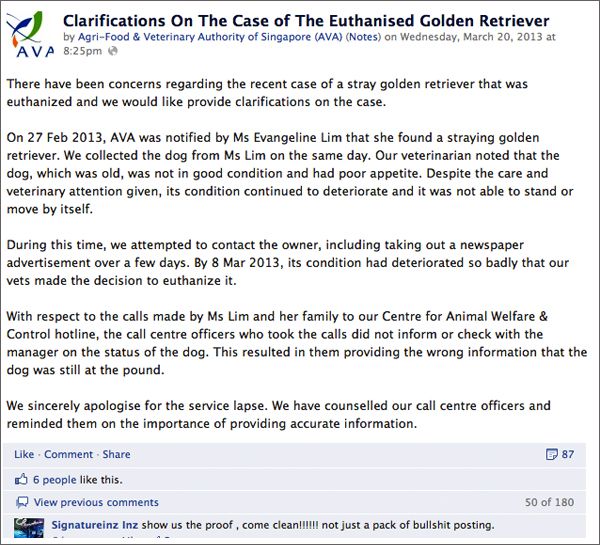 AVA said this resulted in them providing the wrong information that the dog was still at the pound.

It said it has counselled its call centre officers and reminded them on the importance of the providing accurate information.

Source: Channel News Asia
What do you think? What are your comments on this?