In the ultimate anti-Oscars fashion display, the days of Hollywood glamour were long forgotten and underwear was prized over taste and class.
At an annual awards ceremony that attracts the hottest young talent in the music industry, outfits are bound to be youthful and adventurous. But stars went to the extreme and instead opted for trashy, tacky frocks and flashing their flesh and the MTV Video Music Awards last night. From Lady Gaga's Halloween costume bin bag ensemble to Selena Gomez's flashing bra and Erin Wasson's sheer mesh dress, FEMAIL outs the biggest fashion victims of the night.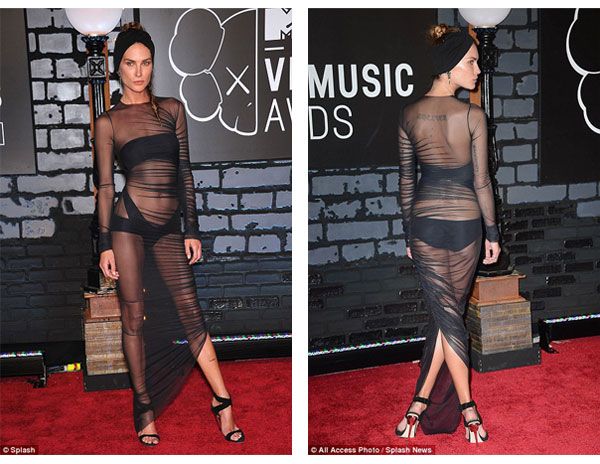 Bra and knickers on show: Ex-Victoria's Secret Angel Erin Wasson, 31, wore just a mesh dress covering her underwear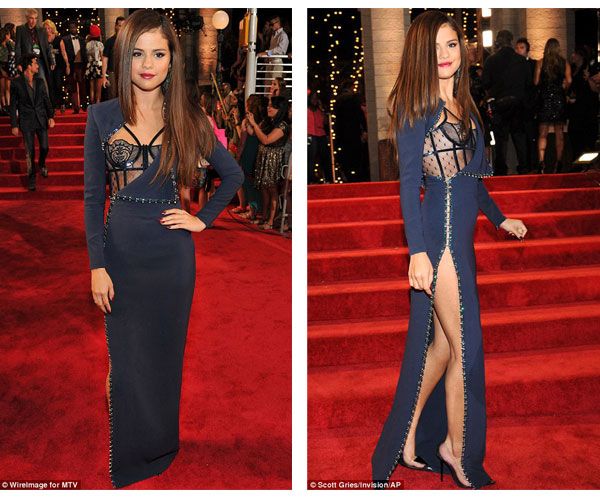 Bustier on show: Selena Gomez looked wore an unbuttoned navy blue embellished floor length dress complete with cut out bustier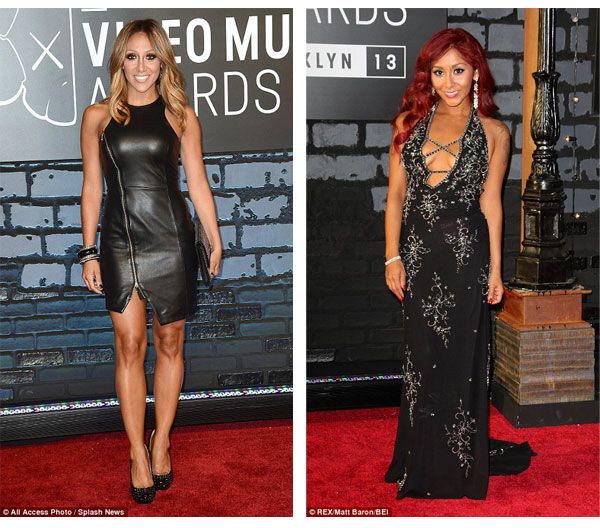 Flashing flesh: The Real Housewives of New Jersey star Melissa Gorga wore a thigh-high tight leather dress with zip from top to bottom as Snooki opted for an embroidered non-supportive low-cut dress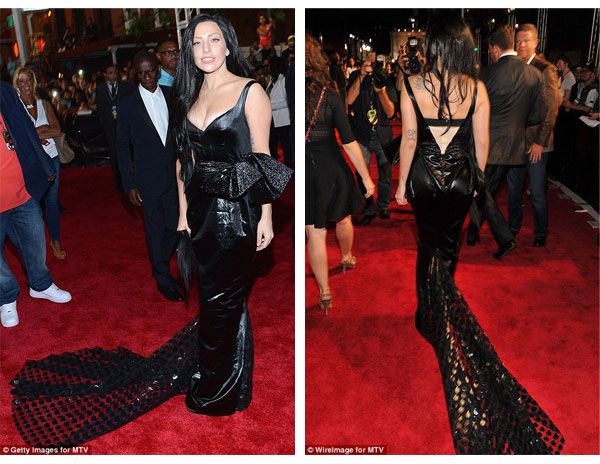 Back to black: The eccentric star sported a black PVC gown resembling a crinkled bin bag, complete with sheer train and no jewellery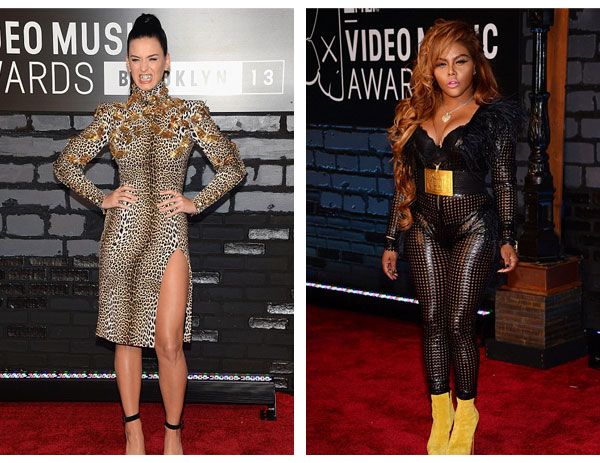 Ghetto glam: Katy Perry showed off her grill teeth jewellery as Lil Kim wore a shiny, holey jumpsuit and garish yellow shoes 
Special Mention for Holland Roden's Period Drama Costume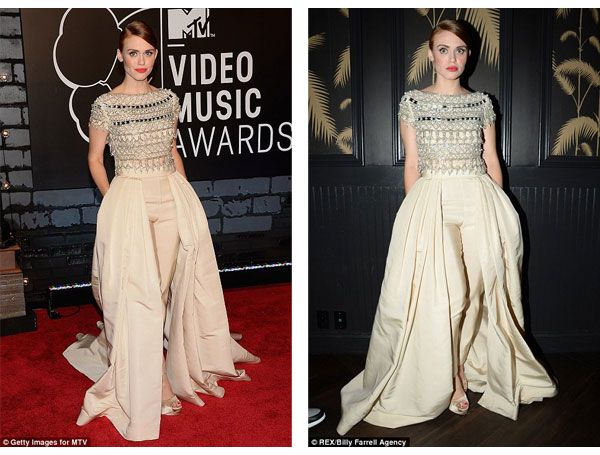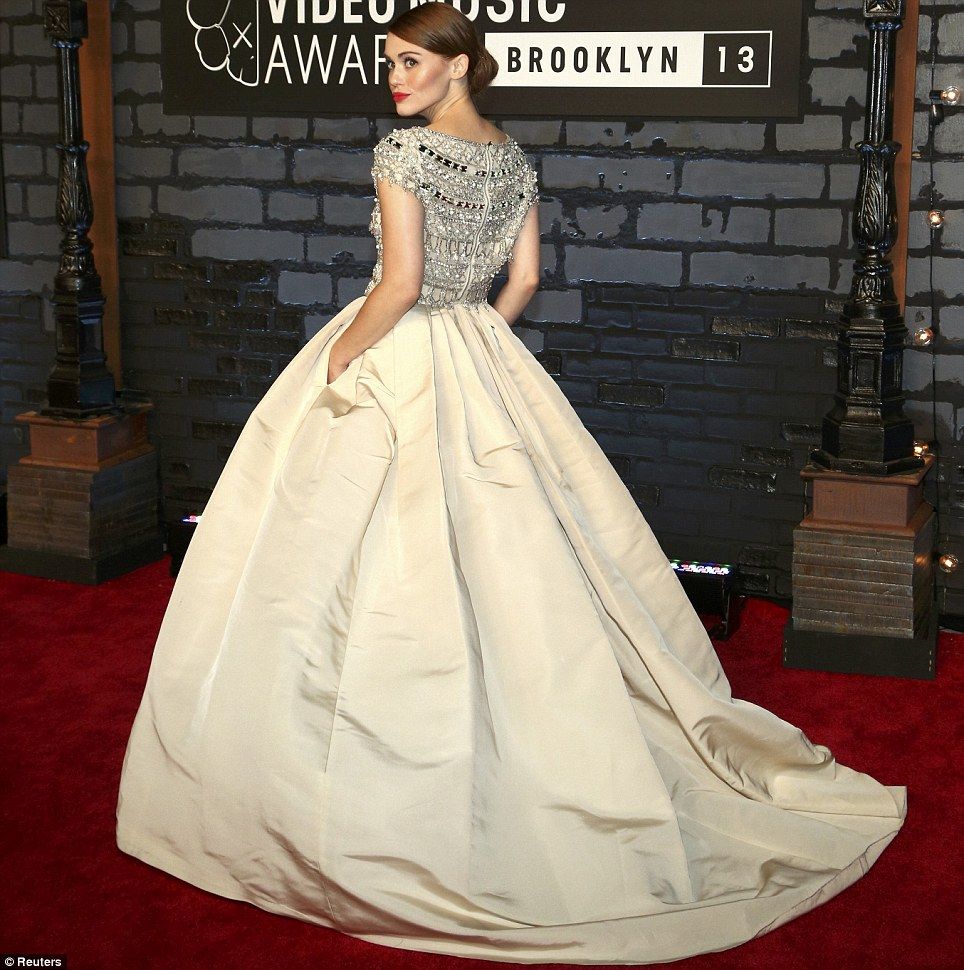 Confused: Holland turned up to the party in a cream ensemble which covered her from top to toe. She looked beautiful but swamped in the outfit. 
The Teen Wolf star, 26, was swamped in a confused outfit resembling a glamorous ball gown from the back and a chic pant suit from the front. 

A look Tilda Swinton and not many others could pull off was too mature for the young actress. One or other would have been fine. 
Celebrity fashion stylist Alexis Knox on the stars' outfits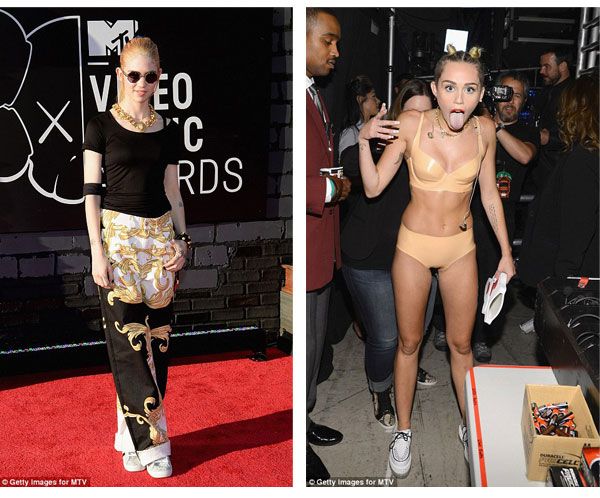 Sophisticate the look: There's no need to shun ghetto fab if you take style tips from Grimes in Versace pants, not Miley Cyrus in rubber underwear
'When taking inspiration from the 'ghetto fab leg and cleavage baring' trend that took over the VMAs this year - think Katy Perry with her grills and leopard print thigh high split mini dress, and Miley twerking in rubber underwear - is to remember that these girls are performers, so are dressing to the extreme in the correct context. 
'So when you want to unleash your inner ghetto fab, take inspiration from artists such as Grimes that chose to show her inner ghetto queen with a pair of gold Versace trousers - which is a more sophisticated option.
'Rita Ora and Ciara both successfully pulled of the feathered dress trend with elegance, as Selena Gomez upped her sexy stakes not only with a thigh high split dress but by indulging in the underwear as outer wear trend by showing off her cleavage in that bustier style dress.' 
Alexis has styled Jessie J, Ciara, Bruno Mars, Nicole Scherzinger, Little Mix - Miley herself - and many more.
The celebrity fashion stylist and DJ can be found tweeting at Twitter

Source: Daily Mail