Grab, the leading ride-hailing platform in Southeast Asia launches GrabShare, a new commercial carpool service.
But isn't that what GrabHitch is about? Well, it is similar is some ways, but not exactly.
In summary, GrabShare is essentially sharing a GrabCar ride with a fellow passenger so as to enjoy lower fares. GrabShare pairs passengers bookings with similar routes within a single trip but fret not if you worry about the many detours the driver will make for pick ups and drop offs, because only a maximum of 2 stops will be made. For example, if Passenger A commences the ride and is paired with Passenger B, depending on the more efficient trip route, Passenger A may make a first stop to pick up Passenger B and a second to drop off Passenger B. No more than that.
GrabShare's matching algorithm ensures that passengers can get to their destinations in the shortest possible time taking into considerations the closest available drivers, travel time, overlap of trip routes, detour distance and current traffic conditions. On the other hand, the drivers get to maximise potential warnings to boost their income.
"Commuters in Singapore indicated that they would be open to carpooling if they didn't have to make long detours with numerous passengers in one trip. Drivers had the same feedback and wanted the option of taking short breaks between trips. GrabShare is designed with drivers and passengers in mind to provide the best carpool experience in Singapore — passengers enjoy cheaper fares with minimal additional time spent on the road, and drivers earn more from shorter carpool trips," said Lim Kell Jay, Head of Grab Singapore.
But what if there isn't a match found for your trip? Enjoy the whole ride yourself, but yet you get to enjoy savings just by paying the GrabShare fare, which is estimated to be 30% cheaper than your usual GrabCar.
Still not too sure how GrabShare differs from GrabHitch?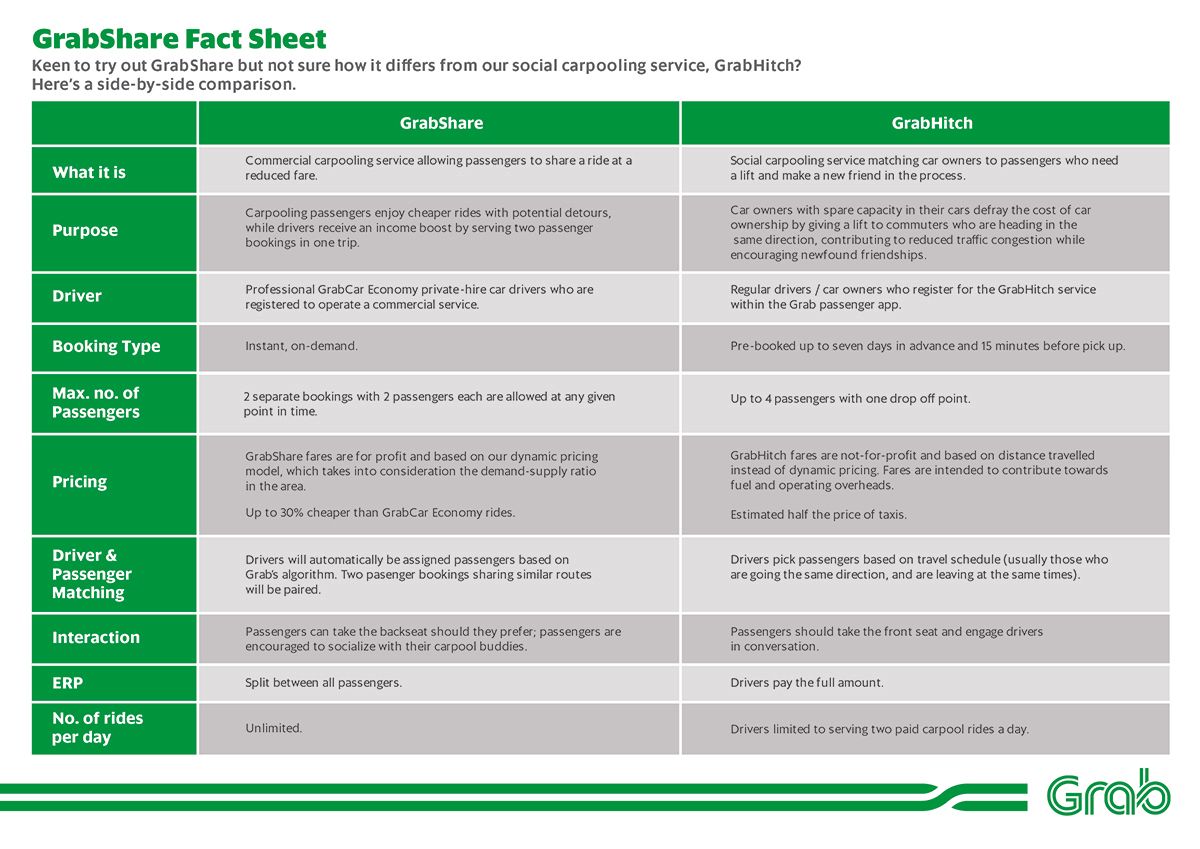 So why should you give GrabShare a try?
1. Cheaper fares
GrabShare fares are priced up to 30 percent cheaper than GrabCar Economy fares. Fares are fixed and displayed upfront.
2. Ride with a friend at no additional cost
GrabShare users can bring another friend on the ride at no additional cost, as long as both share the same pick-up and drop-off locations.
3. Maximum two-stop guarantee
Passengers can expect no more than two stops before reaching their destinations. This ensures everyone reaches their locations fast for less. Drivers will wait up to three minutes for each passenger at pick-ups.
4. Instant booking
Passengers can book a GrabShare ride on-demand from anywhere, at any time and enjoy socialising with fellow commuters on the ride.
5. Ride with peace of mind
Grab's Group Personal Accident Insurance covers all passengers in the event of an accident. The total personal accident benefits for the driver or passengers can be up to US$250,000 per vehicle, or up to an aggregate limit of US$2.5 million per accident.
To celebrate the launch, passengers can ride with GrabShare for a flat fee of SGD$5 on Friday, 9 December, regardless of the journey.