Curious about what's going to be smokin' hot in the dance fitness sphere this year? Well, you have hit the right spot! Here at team MFP, we swapped across the town with Hoka Clayton and picked out 3 dance fitness trends that would be creating a storm in the dance fitness scene. Join the Party, Bid Goodbye to Zumba, and get ready to revolutionise the way you stay fit in 2016. Happy swaying that hips!
Credit: Simply Amino
MOSSA GROUP GROOVE®
I like to move it move it~ if you can move, you can groove. Be blown away with the cardio medley of club, urban and Latin dance styles that Group Groove offers. This dance cocktail also incorporates top-billboard songs to set your heart pounding. The best part is, all tracks and dance choreographing were meticulously selected, and tested with over 7000 dance fanatics in various population before release. With such commitment from the Group Groove team, rest assured that the dance will definitely keep you motivated and safe, while bringing you effective results.
[Calories Torch- O Meter]: 400 -500 calories per hour
[Compatibility Meter]: For those who think exercise is all serious business, and prefer to flaunt that megawatt smile, scream and sweat their way to getting fitter and healthier.
[Groove More at:] Mossa Group Groove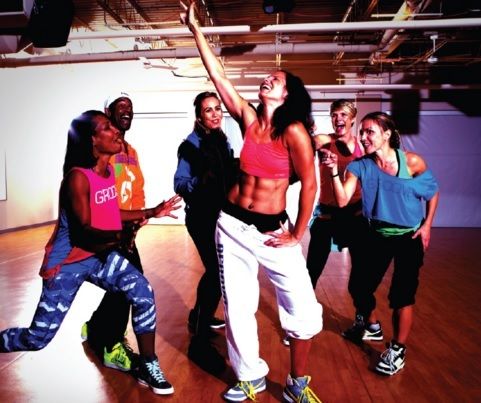 Credit: Groove
Burlexercise
Burlexercise, a medium to high intensity burlesque-inspired class, is the brain child of both Katie Hardwickie and Sarah Lou Buckle (both professional dancers at London West End), and is said to target your whole body. The class commences with cardio-blasting workout that combines showgirl dance moves, and continues with strength and resistance workout using the weighted boas (2kg each). The great music, fun atmosphere and showgirl sassiness promise a class that is energising and entertaining as well as a good workout! Fellow Sisters, ditch your shyness (stop practising showgirls move in the comfort of room!), and shake your booty with Burlexercise in the New Year!
[Calories Torch- O Meter]: 600 calories per hour
[Compatibility Meter]: For those who want to avoid "gymtimidation'', or add a touch of glamour to your resistance training (imagine sassy feather weighted boas! Shrieks!)
[Sashay with your boa at:] Burlexercise
Credit: Burlexercise
Block Fit
Want to exercise, but have too little time? Or being too fickle minded, and can't decide which dance classes to sign up for? Well, the answer to your woes will be Block Fit! This new kid is spearheaded by X Factor's Chico Slimani and works by the formula of "4 workouts 1 class", which marries dance, combat, high intensity interval training and yoga (saves time and indecisiveness). All that we can say is, there's finally a fitness brand that combines the mind, body and soul. Make sure you make some 'Chico Time'to try this out.
[Calories Torch- O Meter]: 1000 calories per hour
[Compatibility Meter]: For the hardcore, adventurous or fickle-minded that loves trying out different fitness classes, yet have a tight budget or too little time to explore.
[Tone up your abs at]: Blockfit

Credit: Fit Pro