Have you been doing the usual on every third Sunday of June? Since Father's Day is meant for celebrating your relationship with your first hero, why not make new memories together on the special day instead of sending a card or settling for a dinner date?
Credit: Verywell
Here are 5 interactive activities (and calorie burning) that will bound to make both your father and your day memorable.
1. Conquer the Terrains with Your Dad at Sync Cycle
Regardless of how much both your Pop and you embrace the great outdoors, don't you agree that cycling under the scorching sun can really be an unglamorous affair (imagine unkempt hair &sun burns)?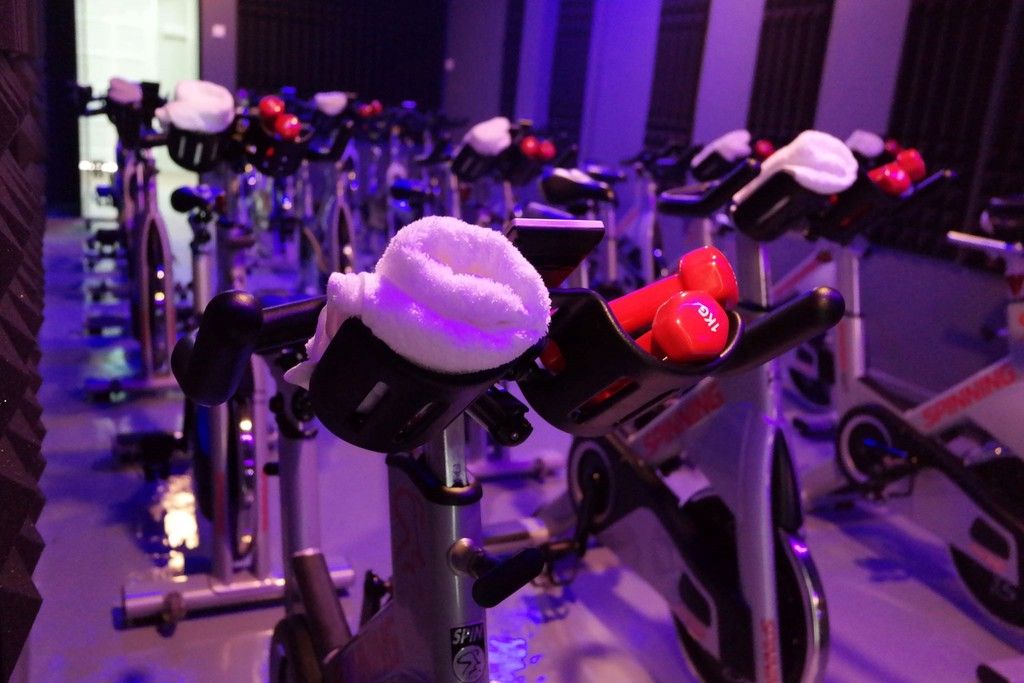 Credit: Sync Cycle
Why not take your dad to an indoor spinning class at Sync Cycle, where you can hit the pedals according to the rhythm of the upbeat music, all in the comfort of an air-conditioned and neon illuminated studio? In case you're wondering, the intensity of the spin class increases as the trainer guides you through the mixture of "weights", "peaks" and "terrains", so be prepared to hop on the bikes, party on and fry some calories (every 50 minutes of spinning burns 409 calories)!
Book a class from here
Enjoy 50 minutes of Rhythmic Indoor Cycling at $18 (U.P. $28) with Crunch app for both Android and IOS devices.
2. Let Your Dad Take Revenge at Katapult Trampoline Park
We are sure that your dad remembers those "gruelling" days where he had to catch you while you ran and jumped endlessly around the playground (because kids just love to play).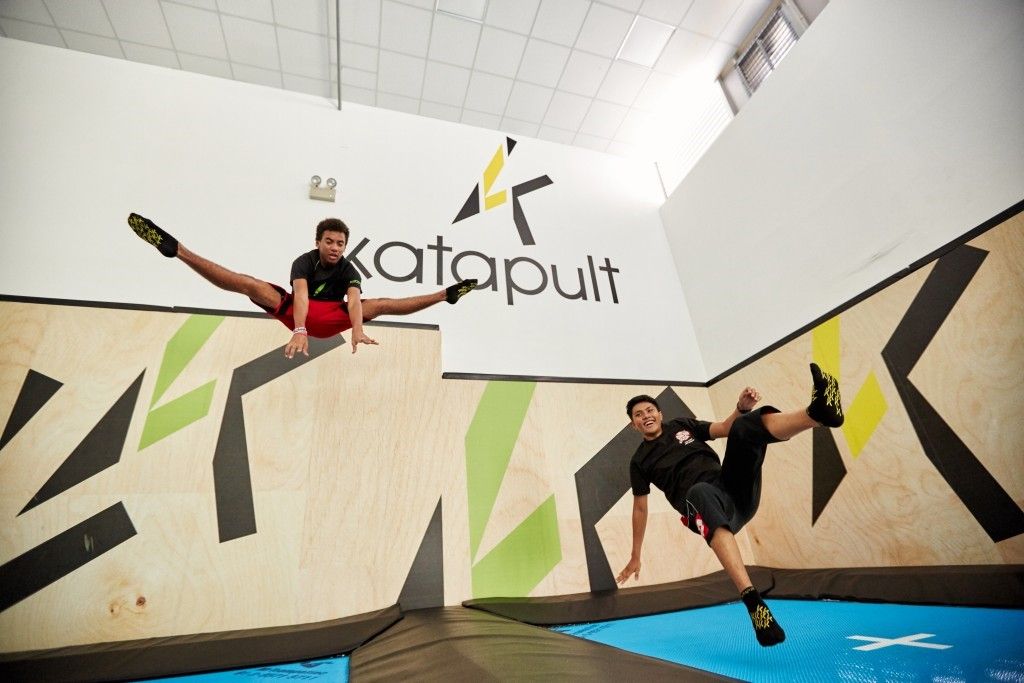 Credit: Katapult
Help your dad to take "revenge" by bringing him to Katapult Trampoline Park. Your dad will definitely have a blast catapulting himself around the Olympic trampoline while shedding some calories (101 calories for 30 minutes of the recreational trampoline). You can even challenge your dad to the title of "Daredevil" by freefalling from 3 metres height. Need more? Slacklining and dodgeball are also on offer!
Find out more here
Enjoy 15% off your jumping sessions with Crunch App
3. Fulfil Your Dad's Korean Superstar Dream at Janesis Fitness
Ever caught your dad happily grooving to PSY's latest tune- "I Luv It" or heard him praising G-Dragon's new mullet hairstyle for countless times? Well, your dad may secretly harbour the thought of being a Korean Superstar.
Credit: Janesis Fitness
We know it's expensive bringing your dad to SMTOWN for the full K-pop Experience Program. Now, you can help your dad fulfil that inner desire by signing him up for the KPOPX Fitness class at Janesis Fitness. We recommend going for Brekletics (workout based on basic bodyweight and basic breakdance moves) if your dad wants something more challenging.
Every 30 minutes of dancing burns 225 calories
Find out more here
4. Practice that David Beckham's Move with Your Dad at HYFA
Can't fathom your dad's interest towards football? Well, you might finally understand it after engaging in a 5-a-side football game with your dad.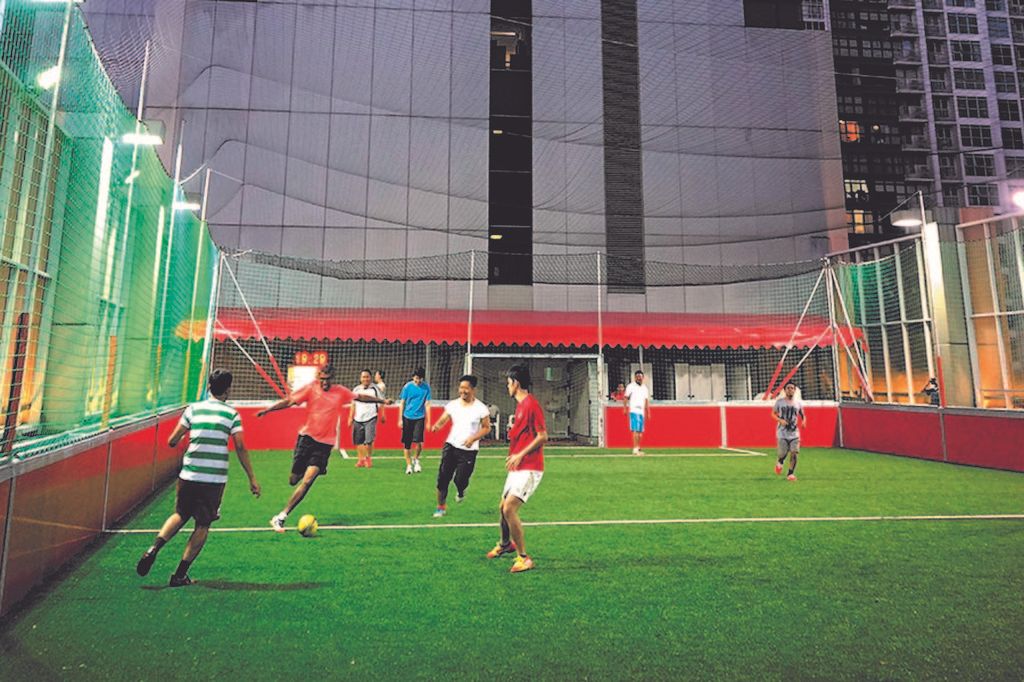 Credit: Timeout
Ladies, before you start whining, you will be glad to find that the game requires less running and provides more opportunity to come into contact with the ball (thanks to the smaller pitch area). As the saying goes "the more the merrier", so remember to invite your dad's buddies along.
Every 30 minutes of footballing (light effort) burns 116 calories
Find out more here
5. Cool Your Dad Down at SportsQuest
We don't blame your daddy if he can't stop complaining about the scorching weather. Don't you agree that the weather had been crazily hot the past few days?
Credit: SnowQuest
Cool your dad down by arranging for a date with him at SportsQuest (located in Snow City). Here both of you not only could immerse in the chills but also the thrills by skiing down the 60 metres long adrenaline packed slope. Do remember to ask your dad to look out for the various Artic exhibits and snow sculptures while he slides down. We're totally excited as the new snow machine is capable of producing up to 40 tonnes of powder that is of similar quality to real snow!
Every 30 minutes of skiing (light effort) burns 202 calories
Find out more here
All activities were calculated using the Metabolic Equivalent of Task (MET) equation based on a 55kg adult.