When we think about dance, we think of the popular ones: ballet, salsa, tango, or hip-hop. There's a common perception that dance needs to be structured, disciplined, and learned via a series of numbered steps and over an extended period of time.
What if I told you that there's a growing dance movement that breaks conventions and is dedicated to free-flow movements? That there's a community right here in Singapore that indulges in this type of dance? And that we call it ecstatic dance.
We Dance Founders: Anne-Laure, Gustav, Helena
So what is ecstatic dance?
Its origins can be roughly traced all the way back to 330 BC, during the heydays of Ancient Greece – when myths and legends were in full swing and the dance itself was commonly linked to followers of the wine-god, Dionysus. Some say it had its roots in religious or spiritual traditions such as Sufism's Whirling Dervishes or shamanism (*mindblown!*). In the modern age, it's widely attributed to have been revived by Gabrielle Roth in her 5Rhythms practice – which is a meditation movement that started in the 1970s during the heydays of hippies.
When I first joined an ecstatic dance event a year ago while vacationing in Bali, I was sceptical about it. I had read some social media posts and online articles about how the authors experienced a sense of zen, calmness, peace, and yes – even ecstasy and emotional healing! Some attest that they were placed in a state of trance or meditation. Sounded like a bunch of hokey pokey to me at that time. I imagine some people might even resort to eye-rolling here. Well, I didn't experience ecstasy or fell into a meditative state during my first event – but I did feel reinvigorated, refreshed, and ready to take on the world again. Overall, I thought it was an interesting albeit kinda hippie-ish way to move and burn some extra calories! Despite my initial misgivings, I was instantly hooked.
It's a form of self-expression
Ecstatic dance is all about having music as your teacher and guide – listening to it and letting your limbs move as naturally as possible to the beat. You abandon yourself freely to the rhythm and let your body flow the way it wants to flow. Different people will experience it differently. There's no right or wrong way to experience it. That's the beauty of this dance movement – everyone's thoughts, feelings, movements, and experiences are valid.
During all the events that I joined with We Dance, there's always a live DJ playing some of the most amazing tracks that I have ever heard. Typically, the DJ will start slow and then build it up to a resounding crescendo when perhaps, some of the participants might even whoop, cheer, laugh, or let out some guttural or animalistic sound (what did I tell you about self-expression?!). I have seen some participants do fancy footwork, another do a yoga tree pose the entire session (quite impressive I have to say, since it's not easy to keep still for 5 minutes – let alone for a full hour!), a man doing Spiderman-like movements across the floor, a woman flapping her invisible wings… you get the picture! It's a curious thing, maybe even weird to outsiders, but every single one of us is just doing what felt natural at that point in time.
I feel a sense of catharsis and absolute freedom every time I fully surrender myself to the music and express myself through unconstrained, free-form movement and dance. Plus, the event itself is a good way to sweat it all out in however way you like it (imagine dancing nonstop for 1-1.5 hours!). I found it akin to a strenuous cardio exercise: pulse racing, sweat dripping, panting, gasping for breath – quadruple checks! Oh, and did I mention you can come all dressed up? Come in whatever fun outfit or costume suits your fancy – or not – as long as you are being true to yourself.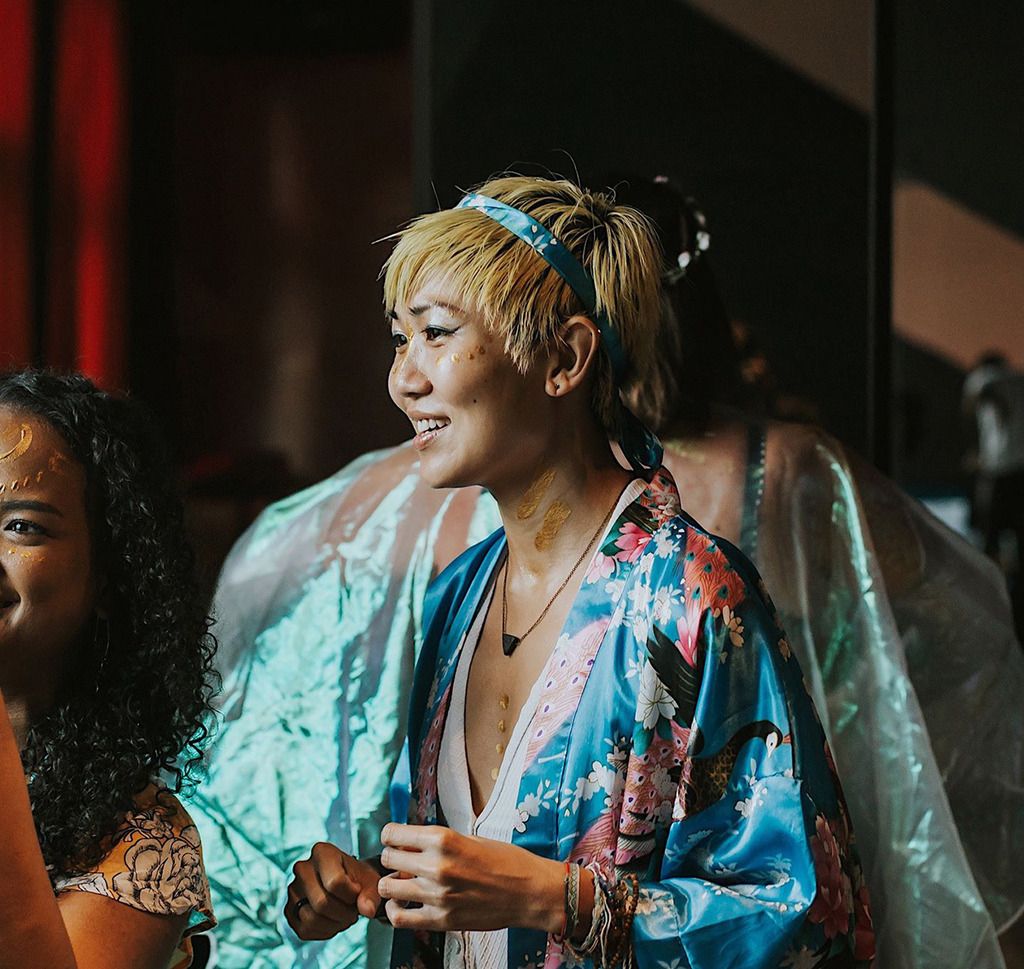 There's so much love and support within the community
The ecstatic dance community in Singapore and elsewhere in the world is all about creating a safe, non-judgmental space for all of us adventurous and free-spirited folks. The past two events that I joined were set inside the exclusive, members-only, and beautifully-designed Straits Clan - which is definitely a big plus since the interiors are gorgeous and inspiring! The event is also a drug and alcohol-free zone (despite it being originally linked to a Greek wine god!) – everyone is lucid and the only thing we're high on is life itself. We also believe in disconnecting from social media during the dance itself to allow participants to be fully present in the event and not feel conscious. Conversations are also not allowed for the duration of the dance – in the spirit of mindfulness and non-disruption of the event's flow. There's an overwhelming sense of respect for everyone's space and form of self-expression.
Frankly, I love that I'm meeting like-minded people through this community – all thanks to the We Dance founders Gustav, Helena, and Anne-Laure. There's no one single profile for the participants and we come from all walks of life – I have met creative types, banking folks, investors, entrepreneurs, artists, activists, travellers, mothers, CEOs, digital nomads, etc. I am simply thankful to have found a growing community here in Singapore and I highly encourage everyone to explore this form of dance as a fun yet purposeful way to get out of your comfort zone. You might learn to love it, you may feel it has therapeutic benefits, it may help make you a more open-minded/hearted person, heck - it may even change your worldview, or at the very least – you make some cool, new friends and tick it off your bucket list!
Stay tuned for more ecstatic dance events via the We Dance Facebook Page! Next up is November 2018. See you there!
All image credits: Straits Clan and Colossal Pictures