Forget about Lau Pat Sat, Changi Village or Newton Food Court the next time your friends from overseas are in town. Bring them over to Keong Saik Street instead! For the uninformed, the once red light district has been ranked as one of the top travel destinations in Asia by Lonely Planet (yes, the online travel guide). And we're glad that the street has some of the most eclectic and experimental dining hotspots. Here we compiled 7 of best dining places for a great time with your pals.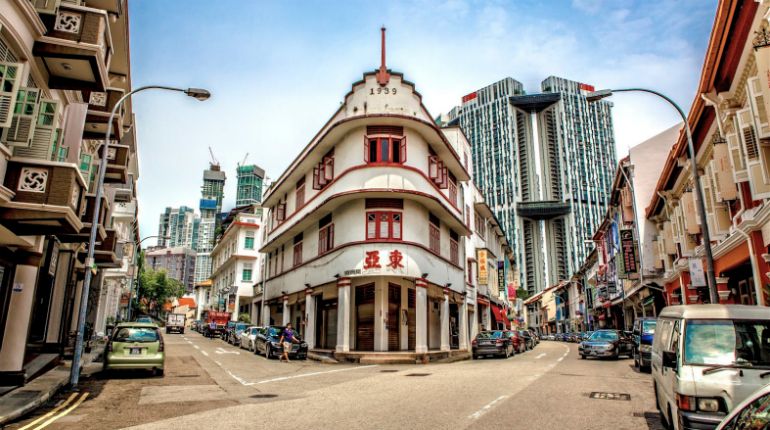 Credit: Gastronaut 
1. Luxe (Australian)

Credit: thefoodchapter
With its airy and light environment, this contemporary Australian café is easily one of our favourite date venue with our girls. Catch up with your girlfriends over some Sunday coffee and popular breakfast options like Bondi breakfast (scrambled egg, sautéed mushroom and avocado on sourdough, along with pork &fennel sausage and grilled tomato, $28) or light bites (e.g. parmesan doughnuts, beef tartare with fries or calamari fritti with lemon & rocket). Alternatively, arrange for a dinner date over Luxe Burger on the charcoal bun with grass fed beef, gruyere, pickles, tomatoes and lettuce ($27) and some pandan madeleines with kaya ($6).

Credit: The Ranting Panda
Website
1 Keong Saik Road #01-04, Singapore 089109 (The Working Capitol Building)
Tel: 6221 5615
2. Afterglow by Anglow (Vegan)

Credit: Poh.tato
Vegan-friendly by the day, and cool bar by the night, Afterglow is a place to go if you fancy "eating clean". Pop by the place in the afternoon for a high tea session with your pals over finger food such as kimchi nori rolls ($14), raw vegan nut "cheese" platter with crackers ($16) or raw salted caramel fudge ($12.50). Or head down after work for a nutritious dinner. One of our favourite dinner choices is the raw burger ($20), which comes with dehydrated carrot pulp patty flavoured spices, and yummy sides (jicama fries and creamy coleslaw with herb mayo).

Credit: Expat Singapore
Website
24 Keong Saik Road, Singapore 089131
Tel: 6224 8921
3. Muchachos (Mexican)

Credit: Seth Lui
Known as one of the best burrito in town, here's one place you really need to visit if you love Mexican food. Inspired by Subway, the concept at Muchachos is simple, all you have to do is to choose the size you want, either Burrito (Big, $12) or Burritino (Small, $9) and then go on to build your burrito. The best day of the week to visit is probably Wednesday, as the buffalo-style chicken wings will be going for 50cents for one.
 
Credit: Seth Lui
Facebook
22 Keong Saik Road, Singapore 089129. 
Tel: 6220 0458 
4. Man Man Japanese Unagi Restaurant

Credit: The Edge Property
Wondering what's so special about the Unagi in this place? Over here, Unagi is served in Nagoya-nian's style, and that means you get to enjoy the Unagi in 4 different ways (we're not telling you details, visit the store to find out yourself). In case you didn't know, the restaurant just got listed on Michelin Bib Gourmand 2017- another reason to visit. Don't fancy anything "fishy", no worries, just order the stew pork belly version of Hitsumabushi-Butamabushi ($18.80).

Credit: Fundamentally-flawed
1 Keong Saik Road, Singapore 089109
Tel: 6222 0678
5. Taratata Bistrot (French)

Credit: Tripadvisor
This place is indeed a gem with its offering of authentic French fare at friendly price tags. Upon entering, you're almost instantaneously teleported to France with the wall hangings of famous French landmarks, street lights and soft French music in the background.  One can find classics like Coq au vin (braised chicken in red wine with lardons, mushrooms and carrots, $38) or Confit de canard et pommes de terre a la truffe (duck confit with sautéed potatoes with bacon & onion, $36).  Go for the Executive 3 Course Lunch ($38) or 3 Course Dinner ($68), if you're looking for something much fulfilling. Remember to pair your meal with a glass of wine like how the French do it.
 
Credit: Seth Lui
Website
35A Keong Saik Road, Singapore 089142
Tel: 6221 4506
6. Esquina (Spanish)

Credit: Esquina Singapore
It really doesn't do Esquina any justice by labelling it as a tapas bar. This charismatic hole-in-the-wall restaurant delivers exquisite plates with "atas" flavours, like saffron scented paella with sweet and creamy morsels of sea urchin and lobster, along with crunchy snow peas and drops of saffron aioli (Sea Urchin& Lobster Paella, $32); as well as crispy potato cubes topped with black truffle shavings, Iberico ham, organic egg tossed in rich onion sauce ($20). Do end your meal on a sweet note with the equally wonderful desserts, such as the "BBC" ($15), which comes with a dollop of beer ice-cream, and topped with banana and caramel.
 
Credit: Esquina Singapore
Website
16 Jiak Chuan Road, Singapore 089267
Tel: 6222 1616
7.Loloku

Credit: Pinkypiggu
The colourful flamingo backdrop of this Hawaiian poke bar and deli either reminds you of the Flamingo Beach in Aruba (if you're an outdoorsy person) or Kate Spade (for the shopaholics). Either way it definitely a great Instagram hotspot and the great ambience comes with even greater food. At Loloku, patrons have the option to design their own poke bowls or go for those on the menu for a price ranging from $14 to $18. One of our favourite includes the Wiwiki Salmon, which provides a tinge of spiciness from the chipotle mayo among the delicious concoction of kumbu rice, quinoa, salmon, jalapeno, avocado and kimchi. 

Credit: Loloku
Loloku
1 Keong Saik Road, Singapore 089109
Tel: 6223 5001