The Japanese are known for their efficiency, and we adore that. Well, just look at how the cherry-blossom food creations are already sprouting up around the country, even before the pretty flower go into full bloom. Here, we rounded up some of our favourite creations for you to sink your teeth (eyes too) into this season.

Credit: Savvy Tokyo
1. Cinnabon's Sakura Minibon
This spring, the American baked goods chain- Cinnabon brings a twist to our usual sugary cinnamon roll with its Sakura Minibon. The minibon is beautifully decorated with sakura-flavoured cream cheese, Makara cinnamon and sakura crunch topping, and is said to offer a subtle sakura taste, that will leave you craving for more.

Credit: Tokyo Weekender
The petite cinnamon rolls (minibons) will be on sale until 31st March 2018 and are sold individually for ¥390 at the following outlets: Roppongi, Futakotamagawa Rise Shopping Centre, Concoon City, and Atre Kichijioji.
The boxed 3-pack set and 6 pieces set (3 Sakura and 3 regular minibons) retail at ¥1170 and ¥1850 respectively and are available at the following outlets: Roppongi, Futakotamagawa Rise Shopping Centre, Concoon City.
The Sakura Minibon Combo set (3 sakura minibons and 1 regular minibon) retails at ¥ 1100 and is only available at the Tokyo Station and Atre Kichijioji outlets.
Visit here for more information.
2. Haagen- Dazs Mochi Sakura An Ice Cream
Haagen-Dazs joins in the fun with its new mochi ice cream- Mochi Sakura An! The dessert (¥324) goes on sale tomorrow and ice-cream lovers can look forward to savouring a triple helping of the sakura deliciousness. With each mouthful, your tongue will be greeted with the icy sensation from the sakura ice cream before experiencing the soft and stretchy mochi texture, and then finally tasting the sweet-and-sour flavour from the sakura sauce and salty-sweet sakura an paste.

Credit: Haagen Dazs Japan
Available from 27th February 2018 at selected convenience stores.
3. Patisserie Kihachi's Mont Blanc Sakura
Don't you agree that this delicate pink Mont Blanc is too beautiful to be eaten? Patisserie Kihachi's version of Mont Blanc features a sakura-scented buttercream and a rich white bean paste mousse. Infused with flavours of plum, strawberry jelly, and chopped sakura leaves, the mousse is sure to unfold an authentic cherry blossom taste that leaves you mesmerised.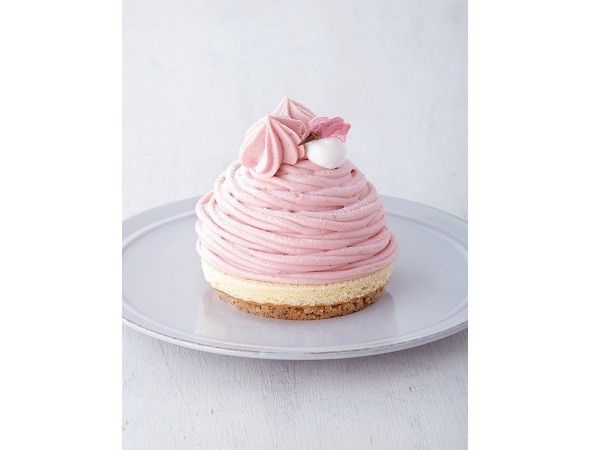 Credit: PR Times
Available at Patisserie Kihachi from 28th February to 24th April 2018 at ¥584.
4. Patisserie Kihachi's Verrine Sakura
The other spring treat from Patisserie Kihachi is Verrine Sakura. Layered with pastel pink and gentle green cream, the dessert portrays the image of a sakura tree and the leaves around it. The bottom layer is a smooth pistachio mousse, while the middle and top layer contain a sakura and salted leaf mousse, and cherry-scented white wine jelly respectively.
Credit: PR Times
Available at Patisserie Kihachi from 28th February to 24th April 2018 at ¥526.
5. Pocky Sakura Biscuit Sticks
The Sakura Pocky (¥365) belongs to the more premium Pocky's label- Luxury Chocolatier, which means it comes with a price tag that is a little pricier than its regular counterparts. Inside the gorgeous black box packs several pastel pink packets of delicious Pocky biscuit sticks inside. Each stick has a light pink chocolate coating and is flavoured with sakura leaf extract along with sugar and salt to mimic the saltiness of many traditional sakura sweets.

Credit: Rainbowholic.me
6. Starbucks Sakura Drinks
The coffee chain truly believes in "the more the merrier". This year Starbucks' fans are being introduced to not one but three new drinks as part of its Sakura Collection.

Credit: Sora News
First up is the Sakura Strawberry Pink Mochi Frappuccino (¥580), which is set to tantalise your taste buds with its interesting glutinous texture, thanks to its star ingredient: Domyoji-ko. The millennial pink beverage also contains a dollop of whipped sakura mochi sauce along with cherry-blossom flavoured mochi bits and crunchy strawberry chocolate chips.
*Domyoji-ko: a powder made from steamed sticky rice.

Credit: Instagram/@starbucks_j
The other drink is the Sakura Strawberry Pink Milk Latte that offers a combination of the sweet-and-sour taste of Sakura and fruity strawberry flavour, along with chopped pieces of sakura leaf and sake lees. For something light and comforting, there is the Sakura Strawberry Pink Tea (¥430 -550) which creates a pulp-like texture with its freeze-dried strawberry bits.
To get the full Starbucks cherry blossom experience, we suggest indulging in one of these cakes (see below) while sipping on your drinks (clockwise: Sakura Chiffon Cake, Sakura Donut, and American Strawberry Cheesecake).
Credit: Instagram/@starbucks_j
The beverages are available from 15th February to 14th March 2018 at all Starbucks outlets (Japan).
7. Yoku Moku's Sakura Crème Brulee
If there is a dessert to describe happiness, then it must be Yoku Moku's Sakura Crème Brulee. At Yoku Moku, the classic dessert is given a transformation with garnishes such as the crisp sheet of cherry flavoured caramelised sugar, pink meringue, strawberries and cherry sauce. This dessert is indeed one-of-a-kind creation.

Credit: Tokyo Weekender
Sakura crème brûlée ¥1,404. Available at Yoku Moku Aoyama Flagship Store's Blue Brick Lounge from Feb 20 to Apr 19.