GSS isn't reserved for shopaholics only. We foodies get to have our tastebuds satisfied with pocket-friendly prices during the GSS period too!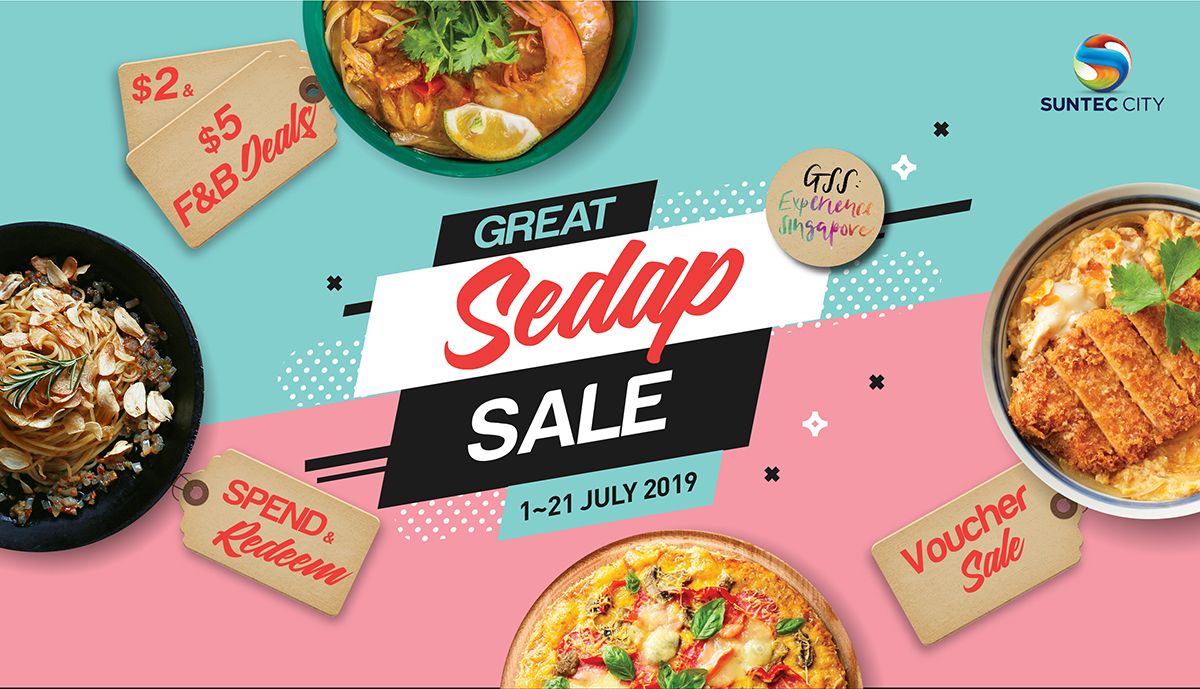 The Great Singapore Sale is happening this July, and Suntec City took its own spin on GSS with its very own food-themed "Great Sedap Sale" that will be happening from 1 to 21 July.
$2 and $5 Flash Deals Up for Grabs Daily
During the period of the "Great Sedap Sale", one Flash Deal will be released on the Suntec City app at 10am daily, with limited redemptions per deal. Discover new favourites with 21 highly- enticing F&B flash deals, available at unbeatable prices of $2 and $5, so make sure you grab them before they are gone. Choose from delectable mains, craft beer and cocktails, as well as sweet treats and thirst-quenching drinks.
Some of these deals include:
$5 Deals
- Fat Chap Burger (U.P. $22) from Fat Chap – Pork cheek, sriracha mayo, and vegetables in a brioche burger bun.
- 2 pints of Crossroads Premium Craft Beer (U.P. $24) from Pepperoni Pizzeria – Crisp and refreshing, this beer balances a smooth, malty backbone with a fragrant, restrained bitterness imparted by premium European hops.
$2 Deals
- Regular Hot Coffee, choose from Long Black/Cappuccino/Café Latte/Flat White/Café Mocha (U.P. $6) from Olivia & Co – Aromatic, freshly brewed coffee crafted by baristas who take great pride in the coffee beans sourced directly from the coffee farms of Bali
- 700cc Gaoshan Oolong Fruit Tea (U.P. $5.90) from Partea – Refreshing, fragrant fruit tea brewed with high-quality oolong tea from Taiwan, infused with six different varieties of colourful fruit
Download the Suntec City app from the App Store or Google Play, and sign up for free membership to access these amazing promotions. Also, stay tuned to the Suntec City Facebook page, which will provide timely updates announcing the deal of the day.
New Opening of Food Hall at Basement of West Wing
To add on to the good news of the "Great Sedap Sale", Suntec City will also unveil a new food hall at Basement 1 of West Wing, with a total of 16 F&B brands comprising both new and returning brands.
Melt-in-your-mouth grilled meat rice bowls at Aburi-EN
Just in time for the wave of pancake and dessert store launches, new-to-market Fluff Stack will make its introduction at the food hall with its own version of fluffy and soft Hokkaido soufflé pancakes. Diners will also be excited to find other well-loved food concepts now available at Suntec City, including Taiwanese-inspired tapas restaurant The Salted Plum and Aburi-EN, specializing in aburi, or partially grilled meats in high-quality Donburi rice bowls.
Taiwanese 'Zi Char' bursting with flavour at The Salted Plum
Regular shoppers will notice several returning brands who are back at the mall, such as Soup Restaurant, Bali Thai, Famous Amos and Yogurtland. The new food hall is targeting to open in phases starting from July 2019.
For the latest updates, visit:
https://sunteccity.com.sg/greatsedapsale
https://www.facebook.com/SuntecCity/