Feeling vexed because your family or boss have tasked you to look for a venue that provides both healthy and delicious CNY dinner? For deep down, you strongly believe that their relationship is like oil and water, and nothing positive will come out from their union? If so, then you will be greatly surprised with Elemen's Prosper-licious 8 Course CNY Menu!
Here we break down the menu that uses ingredients specially curated to enhance your overall well-being as well as to tantalise your palates for you.
Prosperity Truffle Yusheng (contains nuts)
This colourful dish comes with crunchy and juicy strips of beetroot, orange peel, purple cabbage, ginger and fried yam along with a generous assortment of truffle, konnyaku jelly, edible flower petals, chopped peanuts and tea leaves. With the myriad of colours, we would say the dish is indeed an eye pleaser (and IG worthy too). Both curry leaves and truffle oil were also incorporated to enhance the fragrance of the dish.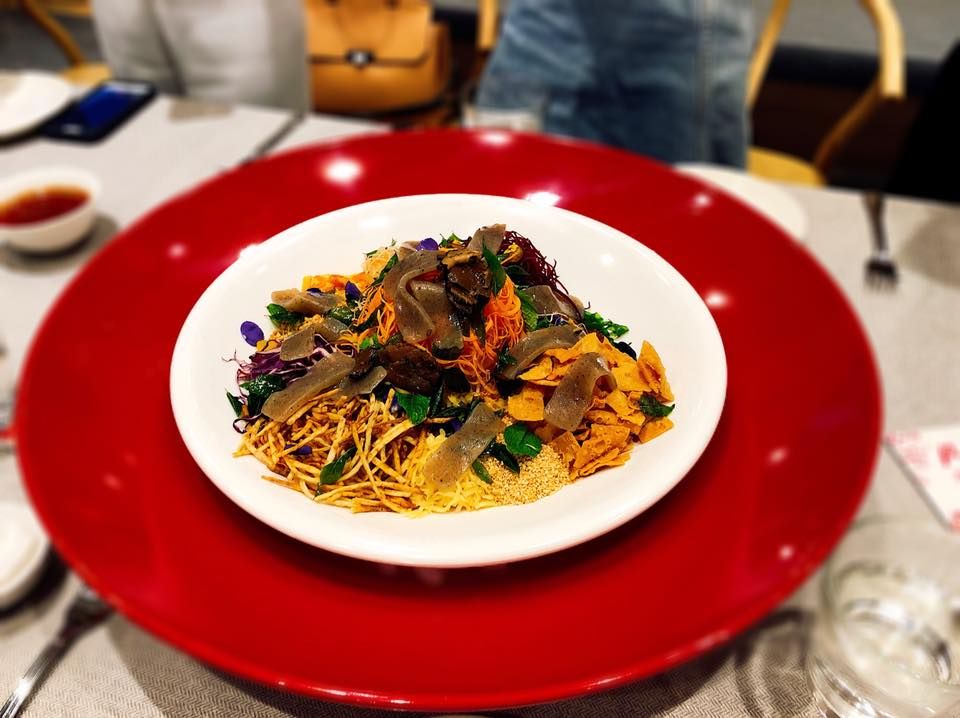 The curry leaves and truffle added faint hints of spicy and earthy notes to the entire dish, something which you would not experience from the usual yusheng. We really liked how the konnyaku jelly and fried yam provided a textural contrast making the dish enjoyable on the palate.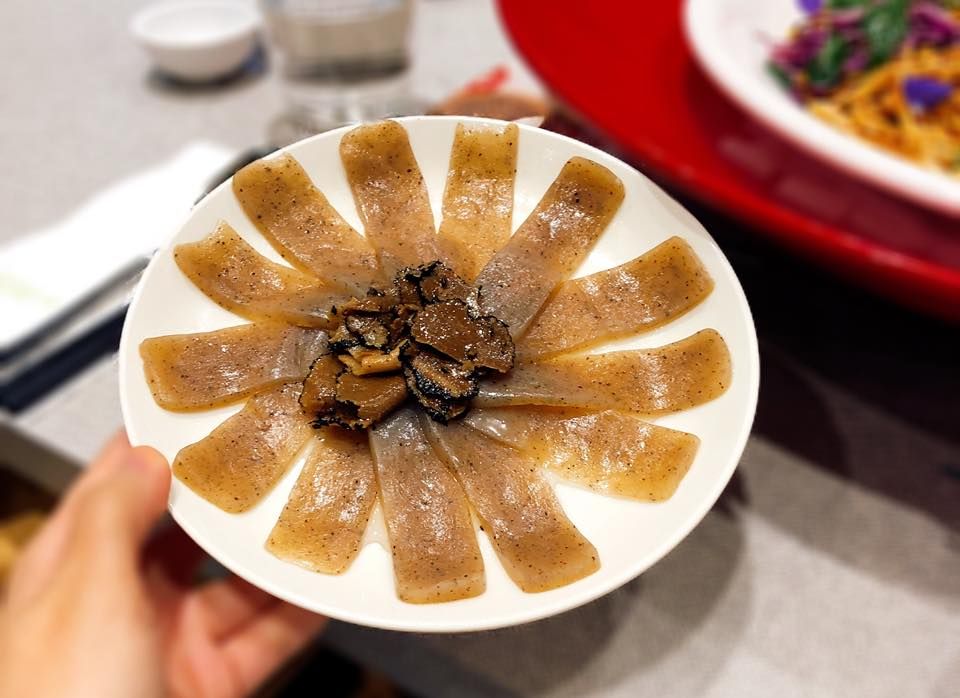 Purple Rice Porridge with Coconut Ice Cream (contains dairy & nuts) 
Under the hands of the creative chef, the Pulut Hitam is recreated into a healthier dessert with ingredients like purple rice, almond shavings, coconut shreds and coconut ice-cream. We love how the combination of ingredients work harmoniously together to provide a subtle roasted sweet finish. Each mouthful offers a chewy texture that leaves us craving for more.
For the uninitiated, purple rice obtain its colour from the flavonoid-anthocyanin. The flavonoid possesses both antioxidant and anti-inflammatory properties to maintain healthy cholesterol levels by reducing the concentrations of total cholesterol, low-density lipoprotein and total triacylglycerol [1].
Steamed Truffle Rice with Braised Sauce
The fragrance of the truffle immediately saturated our nostrils as soon as the dish is presented on to our tables. Plated on the pandan leaf and doused with savoury braised sauce, the warm and fluffy grain dish leaves a texture that is reminiscent of glutinous rice in our palates. 
Here a fun fact: Truffles are excellent sources of protein (20-30%/ serving), and contain all the amino acids that contribute to good nutrition [2].
Apple Cider Vinegar
Surprisingly, this apple cider is not overly sour, but rather boasts a mixture of white grape and apple aromas that is sweet to taste. You might be baffled by the appearance of the apple cider, yet we say it's rather a thoughtful act of Elemen. If you do not know, vinegar actually aids in digestion by increasing the acidity in the stomach. This allows it to digest the food we've eaten and helps propel it into the small intestine.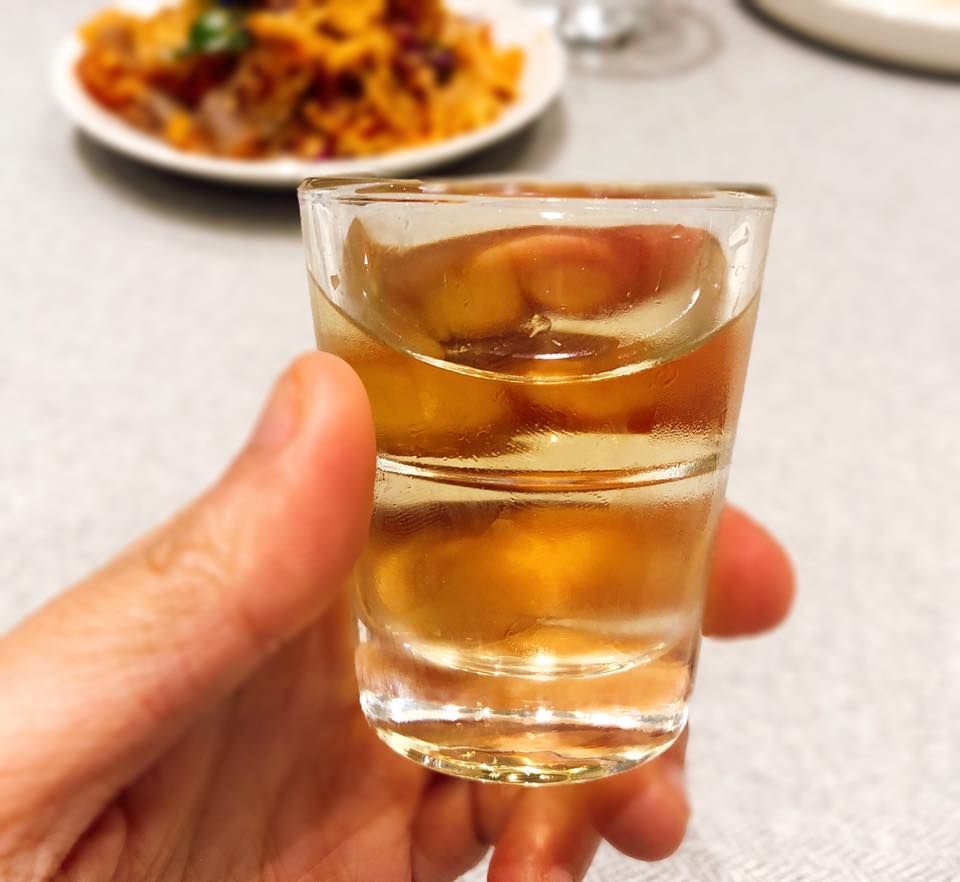 Charcoal Beancurd with Golden Oyster Sauce (contains egg)
This seemingly ordinary dish is nothing ordinary with its good grasp of fragrance, taste and texture. The tofu is crisp on the outside, with the insides remain soft. With every bite, the tofu just crumbles in our mouth, and the savouriness of the sauce slowly spreads and engulfs our palates (it's really therapeutic). 
Tofu is rich in isoflavones, which has the ability to exert both direct and indirect antioxidant effects. Such that it directly scavenge the free radicals to prevent premature ageing, and indirectly prevent the effects of free radicals by suppressing the phagocyte radical production [3].
Firecracker Nest (contains chilli, dairy, and egg)
Not only does the dish's presentation and its garnish (pineapple, dried chilli, cashew, and flower petals) exude the Peranakan vibes, its distinct spicy and piquant flavours also reminds us of the Peranakan's culture. Dusted with chilli powder, do take small bites into the juicy lion's mane mushroom unless you want to set your tongue on fire. Otherwise, we suggest eating the mushroom with the pineapple to neutralise the spiciness. 
Studies show that the incredible lion's mane might have a beneficial impact on neurodegenerative diseases. Such that it improves the "neurite outgrowth" (growth of axons and dendrites from neurons) in the brain, and this means it could potentially be possible to retard or reverse cell degeneration in the brain [4].
5 Elements Soup
Those who dislike coconut might not fancy this soup, nevertheless, do give the soup a try. Upon removing the coconut shell, you will be greeted with a delightful sight of dates, shiitake mushroom, golden fungus, snow fungus and bamboo fungus. Brewed for 5 hours, the broth offers a subtly sweet taste that slowly changes to savoury with every sip. Do remember to eat the coconut meat too, you will be surprised with its yam-like flavour. 
As recorded in one of the ancient Chinese medicine books, snow fungus is able to moisten and clear the lungs and is recommended for people with lung function deficiency (lung qi and lung yin) [5].
Strawberry with Plum Sauce Drink
The entire meal ends on a sweet-sour note with this glorious red concoction of strawberry, plum and beetroot. These fruits are rich in Vitamin C, which protect the eyes from age-related diseases (e.g. cataract) and maintain the health of connective tissue and blood vessels around the eyes [6].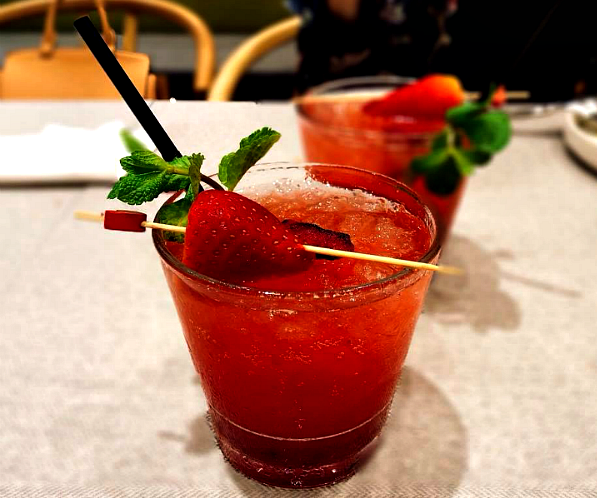 The Prosper-licious 8 Course CNY meal is available from 12th February to 2nd March 2018 at a price of SGD 108.80 (2 pax) and SGD 208.80 (4 pax). Find out more here.
References
[1] Barrell. A. (2017) What Are The Health Benefits of Purple Rice. Retrieved from: https://www.medicalnewstoday.com/articles/319958.php (Accessed On 26/1/18)
[4] Sabaratnam, V., Wong., K.H., Naidu. M. and David, P.R. (2013) Neuronal Health-Can Culinary and Medicinal Mushrooms Help? Journal of Traditional Complementary Medicine, 3 (1), pp.62-68
[6] Afrin.S., Gasparrini, M., Forbes-Hernandez, T.Y., Reboredo-Rodriguez, P., Mezzetti.B., Varela-Lopez.A., Giampieri, F. and Battino, M. (2016) Promising Health Benefits of the Strawberry: A Focus on Clinical Studies, Journal of Agricultural Food Chemistry, 64 (22), pp.4435-49.