Just when we think the café scene has hit its plateau with the customisation of coffee, the coffee connoisseurs at Central Perk decided to kick up the notch by bringing us coffee tailored to our personalities!
From the neon signs, signature orange couch, and Monica's kitchen, it's certainly not difficult for fans of the popular 90s sitcom- F.R.I.E.N.D.S to realise that Central Perk is, in fact, a loving homage to its onscreen counterpart. What's intriguing is that the coffee blends correspond to the characters (their personalities too) in the sitcom. With the array of blends, we're sure you will find the right blend that suits your personality too!

Credit: Seth Lui
If You Are Someone Caring (Lightly Roasted)
Being someone who loves to nurture deep caring relationships with those around her, we do think Rachel is a sweetheart. If you always hear compliments like "you're so sweet" from your friends, then the Rachel Green Blend is perfect for you. With an earl-grey like smoothness, this blend features an array of sweet (think prune) and piquant flavours with a hint of berries.
If You Are Someone Adventurous (Lightly Roasted)
Are you someone who is interested in adventure and experiencing new things even if they may be unusual?  If so then you're just like Phoebe! Her high openness to experience has enabled her to overcome her homelessness, and eventually find the love of her life, Mike. Cheers to your adventurous spirit with the Phoebe Buffay Blend, which reveals a uniquely weird scent of herbal tones and earth-like sweetness with a hint of HazelNUTS.

Credit: Eatbook
If You Are Someone Sociable (Full Italian Roasted)
Make a guess! This person is always full of energy, thrives on human interaction, and constantly plunges himself into new social settings due to his job as an actor. Yes, the answer is none other than Joey! If you're as energetic as Mr Tribbiani, then you will fall head over heels for the Joey Tribbiani Blend. This Italian roasted blend offers a strong rich raw robust flavour that is sure to perk you up within minutes, and prepares you for more socialising.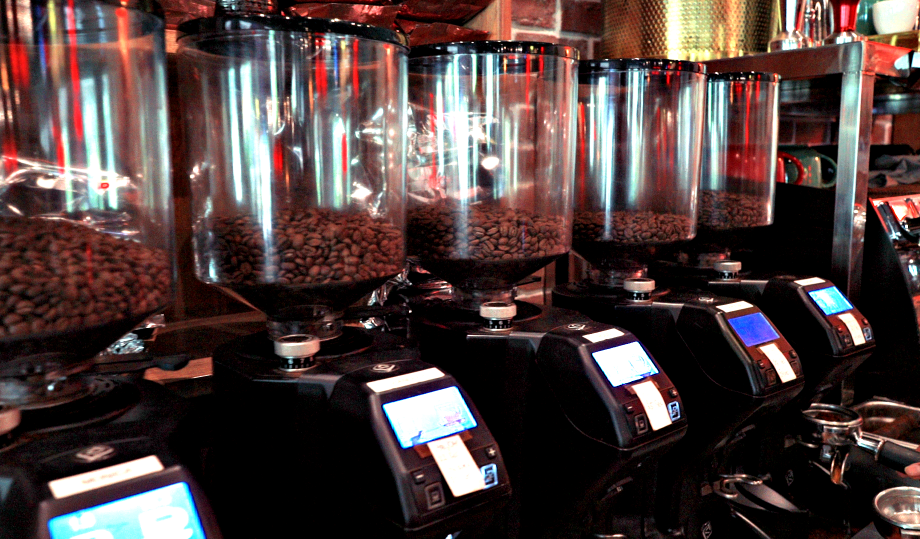 If You Are Someone Peaceful (Medium Roasted)
Read this: I am someone who advocates harmony because I dislike conflicts, and I'm willing to compromise my own interests for those of others. If you think the sentence describes you, then the Ross Geller Blend is right for you. With its delicate sweetness and bold notes of cocoa, this quirky mellow and well-balanced blend is sure to give you peace of mind.
If You Are Someone Organised (French Roasted)
Being someone who moves confidently toward her goals, and believes that everything and everyone has its proper place (just look at her cleaning habits), we're sure that we can always count on Monica to get the job done. If you're like Monica, then the no-nonsense Monica Geller Blend is for you. The rich snappy acidity blend boasts a mixture of dazzling dark berry and brown sugar aromas that is not only strong but also comes with a VERY CLEAN finish.
If You Are Someone Witty (City Roasted)
If you're observant, you will realise that Chandler's quick wit is his most defining trait! Not convinced? Recall how he is always the first to pick up on what's being left unsaid and rushes to rectify the situation, regardless of how inappropriate his comment may be. If you're as witty as him, then a witty complex with a perfectly balanced blend like the Chandler Bing Blend is the ultimate choice for you. With a full body and smoky finish, we say things couldn't be anymore smoky (or wittier)! 
After picking your blend, just let the friendly baristas know how you'd like it done. From espresso, Americano to cafe latte with chocolate, or soy milk, Central Perk certainly have got your back.
Join the Barista Workshop
Aside from sipping your personalised coffee, you also get the chance to learn to make your own coffee (using the blend that suits your personality) through fun and interactive coffee barista workshop! For a price of SGD 480 *, you get first hands experience on grinding the coffee beans and making beautiful latte art using the award-winning coffee machine- Black Eagle; under the guidance of Central Perk's master roaster (who happens to be the world champion for the World Coffee Show)! The wonderful thing is it even comes with a complimentary SGD 100 Central Perk's voucher.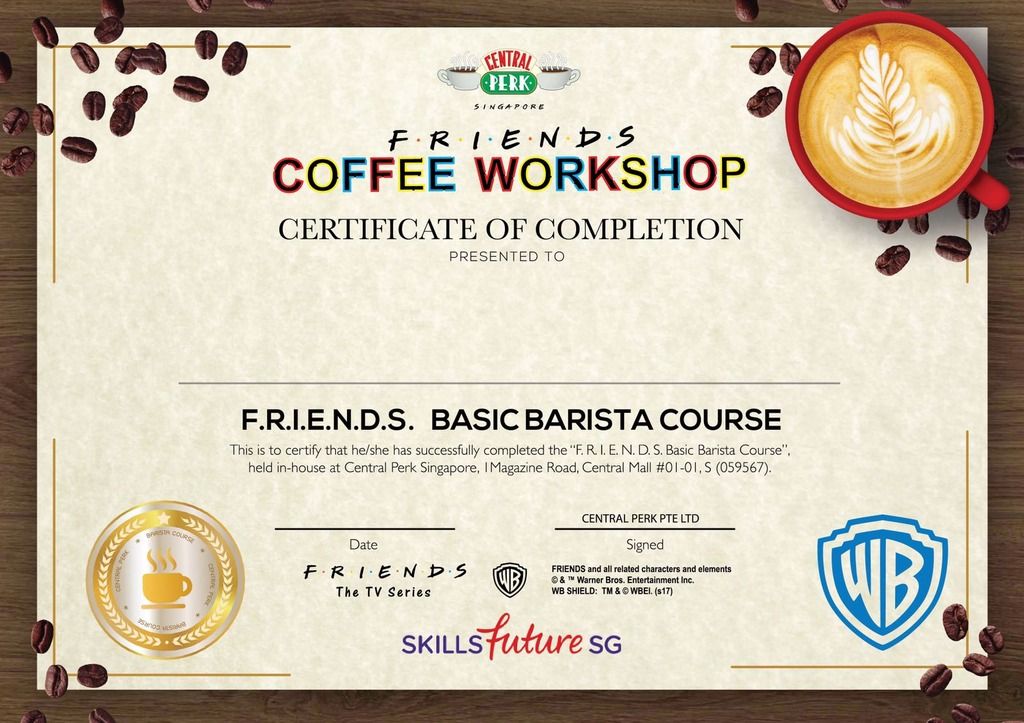 Sign up for the barista course today!
Central Perk
1 Magazine Road, 01-01 Central Mall, Singapore 059567
Operating Hours: Tue-Sun 10am-10pm