Halloween this year falls on a Wednesday and if you're hosting your own party, one of the main things you're probably worrying about is the menu.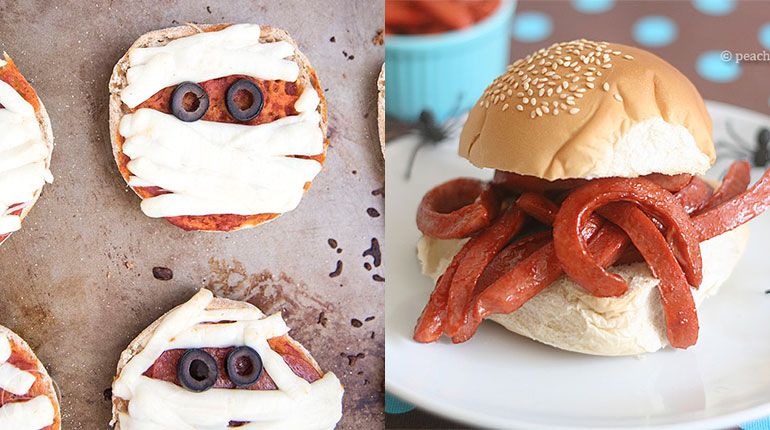 Let's face it – between balancing your hectic work schedule and prepping your awesome costume (not to mention, attending all the weekend Halloween parties!), you're not really left with any time to cook up a storm from scratch. But worry not! This is what we're here for – to help you become the perfect hostess, we've curated a few quick and easy Halloween food ideas for your party.
You're welcome.
Blood Drip Cupcakes
Credit: Naomi Robinson
Cupcakes are always a crowd pleaser – so why not buy a box or two from some of the local bakeries in town like Swirl, Plain Vanilla, and Twelve Cupcakes? To get the blood drip effect, you can easily buy a tube of red decorating gel from your nearest grocery store. Just make sure you get cupcakes with white icing on top so the red colouring effect is oh-so-bloody!
DIY Trail Mix
Credit: Arielle Jackson
You'll love us for this as it basically just needs you to mix all your favourite snacks in one big bowl! Keep to dry snacks – we don't want your mix to become soggy! Start with some pretzels, popcorn, corn chips, and colourful gummy bears. To keep it on-theme, spread a few orange-coloured cheese balls (especially if you can't find pumpkin-shaped snacks) and mix thoroughly in a white or black container.
Ghost Kebabs
Credit: Katerina's Paperie
A spooktacular yet easy snack to prepare! Cut some strawberries and a medium-sized melon into bite-sized pieces and arrange nicely into the bamboo skewers. Reserve the top and second to the last spot on the skewers for the white marshmallows. Use black food colouring pens to draw in the ghostly eyes and mouth on each of the marshmallows.
Mummy pizzas
Credit: Like Mother, Like Daughter
The original recipe calls for home-baked mini-pizzas, but we're not giving you a baking lesson just for this! The easiest way is to your order your favourite regular-sized pizza (not the large ones so the design is proportional!) and prepare some cheese slices and cut olives. To get the bandaged effect of a mummy, cut the cheese slices and layer them into the pizza, then add two olives each for the eyes. Instant pizza mummification!
Worm sandwich
Credit: The Peach Kitchen
Here's a way to add a bit of squirm to your Halloween party menu. All you need to do is buy a bag of burger buns, spread some chilli or tomato sauce on each side of the bun, and fry up the store-bought red sausages. Make sure you cut the hotdogs lengthwise and as thin as you can so they look like curled-up worms after frying and when you stack them onto the bread. Add plastic toy spiders around the plate for that sinister effect!