With all the foodgasmic creations flooding your social platforms, are you tempted to make a trip down to the Geylang Serai Ramadan Bazaar (like now)? Before you go, remember to memorise this cheatsheet. We guarantee that it not only help you to feast happily but also eliminates your risk of bursting out of your Baju Kurung.
Scotch Egg from Loco Loco

Credit: Instagram/locolocosg
Unleash Your Fussy Side
Remember the saying, "customer is always right"? Use that authority of yours and have the final say in how you want your scotch egg to be prepared. Request for less Peking duck sauce to be drizzled, and ask for more greens at the side. Don't be afraid of being labelled as a fussy customer, because you're actually saving your kidneys from overstressing (due to excess sodium filtration) itself by doing so.
Location: Stall 7 (Malay Village along Engku Aman Rd), Stall 11 (In front of Alwadi Coffee Shop)
Price: Chicken ($5), Beef ($6)
Chili Crab Churros from Loco Loco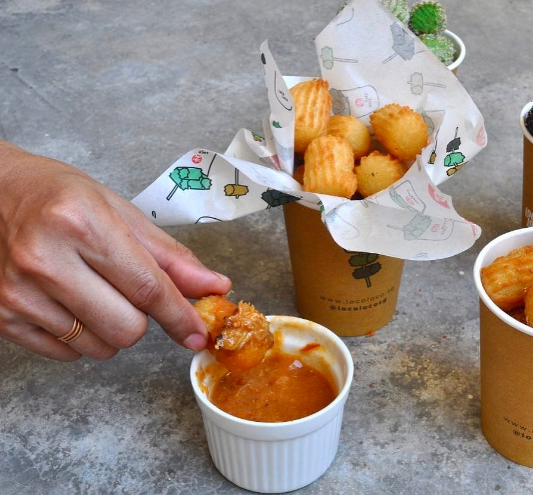 Credit: Instagram/locolocosg
Do Not Mess with My Sauce
Rather than having all the sauce drizzled over your churros, why not request for the server to prepare the sauce in a separate container? This way, you can have full control of the amount of sauce you want (cut down on sodium intake), and create your own masterpiece.
Simplify
If the crispy churros are what you're looking for, then we advise simplifying things and going for the plain ones. Doing so, not only reduce the calorie intake, but also sodium intake. We heard the store do serve the plain original churros at $5 (you saved $1).
Location: Stall 7 (Malay Village along Engku Aman Rd), Stall 11 (In front of Alwadi Coffee Shop)
Price: $6 
Handsome Burg from Word
Credit: Daniel Food Diary
Work Out While Eating
Take it easy! We're definitely not asking you to forgo your burger and head straight to the gym. Rather, give your mouth a chance to work out. Instead of taking big bites into your burger, take the time to chew every bite, the more thoroughly, the better. Doing so slows down your eating, and gives your brain ample time to register the feeling of fullness, and this keeps you away from overeating.
Bulk Up Your Burg
Want to eat more & feel satisfied without all the calorie guilt? You can achieve it effortlessly by bulking up your burger with extra greens. The greens add fibre, and retards the absorption of carbohydrates (from the burger buns), thus saving you from turning into a cranky lass, due to the sugar crash.
Location: Stall 50 (Next to the Wima Geylang Serai construction site)
Price: $8
The Raclette Set from The Raclette Factory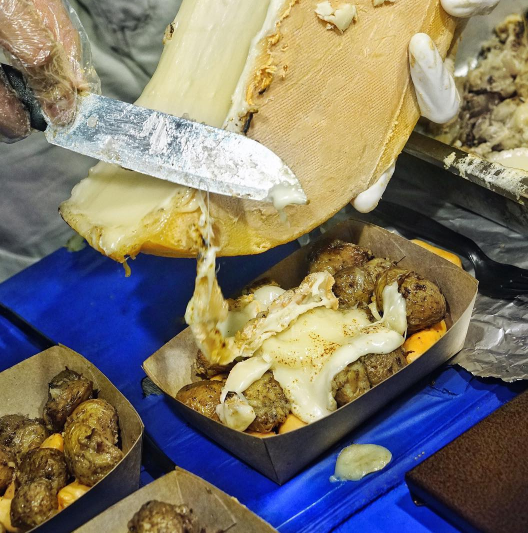 Credit: Instagram/Crappysotong
Prolong Your Orgasm
We need not explain how orgasmic it is to bite into the Raclette cheese. Rather than immersing in a short-lived episode of orgasm, why not prolong the pleasurable experience? Take your time to really savour the fragrance, and tenderness (from the hotdogs) of every bite. By eating slowly, you give your brain ample time to register the feeling of fullness, and this keeps you from overeating.
Location: Stall 78 (Right next to the Muslim Converts' Association of Singapore), Stall 8 (Jalan Engku Aman)
Price: $12
Wicked Mallows from The Wicked Cream
Credit: Little Miss Tiam Chiak
Tear It Down
The next time you decide to pop the marshmallow down, STOP. Give it a good look, bite a part of it, let the piece wiggle around in your mouth, and wait for the taste to engulf your mouth. Repeat the entire cycle, till the very last piece. Doing so forces you to eat slowly, giving your brain sufficient time to register the feeling of fullness and prevents overindulgence.
Location: Store 26 (At the corner junction of main road Geylang Rd & Engku Aman Rd)
Price: 3 for $4
Jackfruit Bombs from JC Creative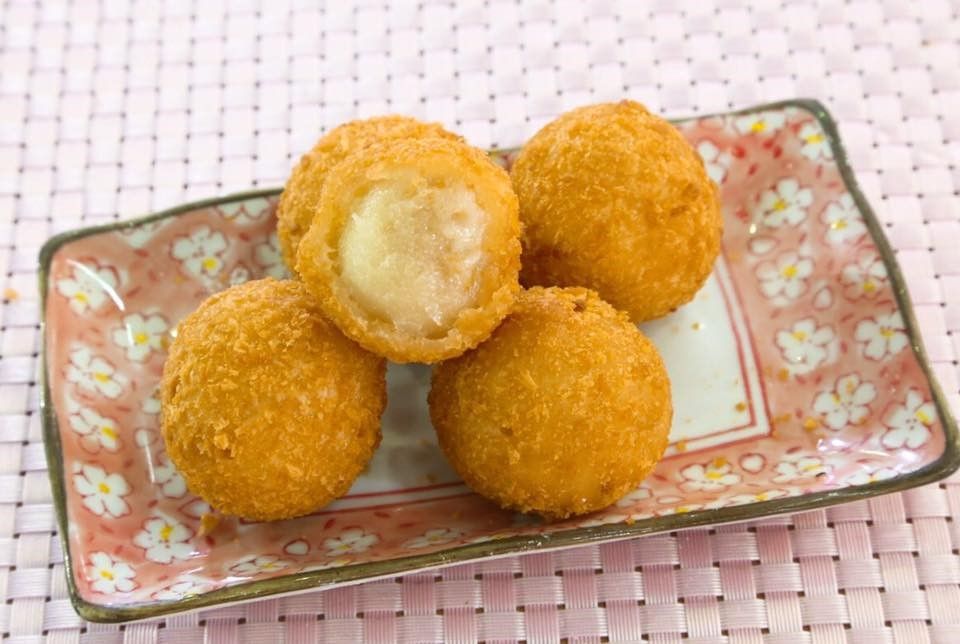 Credit: JC Creative
Give the Non-dominant Hand a Call
We don't know about you, but ever since childhood, we are holding & savouring our goreng pisang with our dominant hand. However, today we decided to change our childhood pattern and eat it with our non-dominant hand. Turns out, researchers from the University of Southern California discovered that simply by switching the hand you eat, can curb your calorie consumption. In other words, eat with your left hand (or right hand if you're a lefty) and you'll eat less. It's as simple as that.
Location: Store 65 (Next to the Wisma Geylang Serai construction site)
Price: 3 pieces for $4, 5 pieces for $6
Galaxy Milkshake from Sofnade
Credit: Instagram/Sofnade
Control Your Degree of Craziness
Bring back some insanity (and waistline), by requesting for fewer toppings or sauces for your milkshake. We're sure your foodfie will still look pretty even with fewer toppings. Alternatively, request for your milkshake to be prepared with a smaller portion of ice cream.
Location: Stall 9 (In front of Alwadi Coffee Shop)
Price: $6.90
Cloud 9 Waffle from Rainbow Works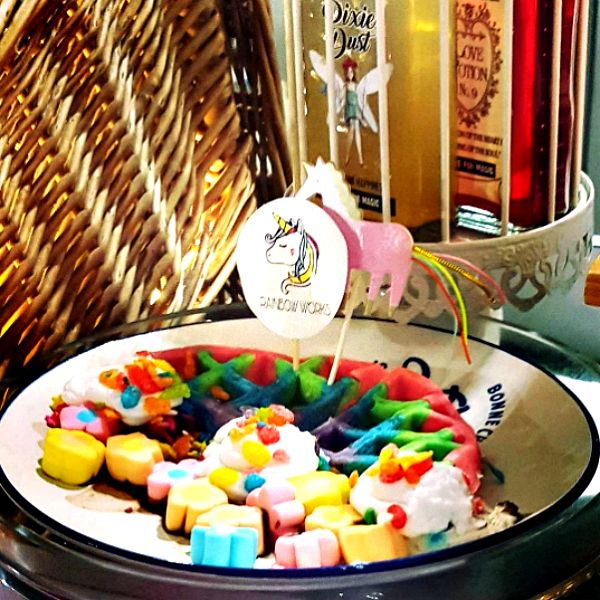 Credit: Instagram/weeqiweewi
Don't Insult the Waffle
We know how the chocolate sauce will enhance the taste of the waffle, but do yourself a favour by requesting for less sauce. Too much sauce not only make your waffle soggy but also give you a sizable intake of calories (every tbsp. packs 46 calories). Oh did we mention asking for less whip cream and marshmallows still enable you to create that magical Instagram post?
Location: Stall 29
Price: $6.90
Charcoal Planet Ice Cream Bun from Fairyfloss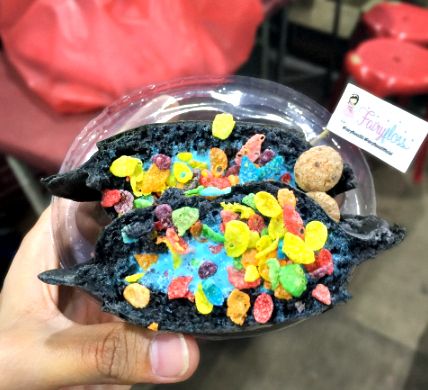 Credit: Burpple
Utilise & Lay the Spoon
Wait! We know you can't wait to sink your teeth into the ice cream, but you would be better off by eating it with a spoon. But that's not the end of the story, you need to force yourself to put your spoon down between each bite. Doing so prevents you from stuffing more than you need.
Location: Stall 33 (Next to the Wisma Geylang Serai construction site)
Price: $8.50
Honeydew Lava from Happy Rollies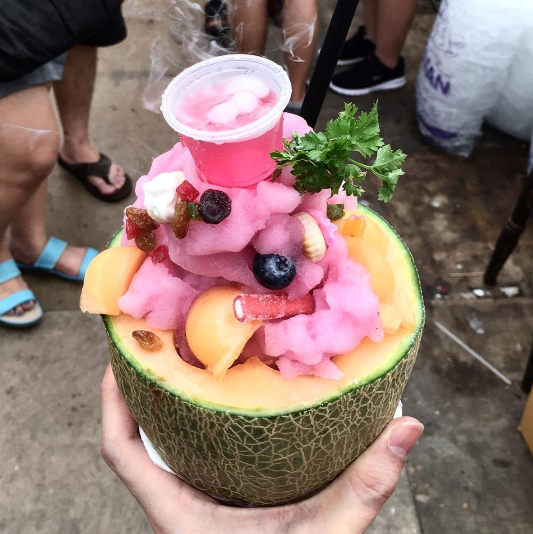 Credit: Instagram/iam_shervin
Make the Syrup Dispensable
Forget about what the aficionados say about the grape syrup being an indispensable part of the dessert (you're already sweet enough!). Move away from the sin by asking for less syrup or totally ditching it. Your waistline will definitely thank you for that, as expanding waistline are common woes associated with exceeding your recommended sugar intake on a regular basis.
Share with a Buddy
Ever heard of GrabShare? Truth to be told, you can apply the same practice to your drink too. Recruit your most trustworthy buddy to sip the sweet drink with you because we should also share our joy and calories. We recommend going for the small one though because it helps save your tummy space for more yummy treats.
Location: Stall 130-132 (12 Haig Rd)
Price: $6.90 (Small, 2-3 pax), $12.90 (Big, 5-6 pax)