Seoul, the land of all things beauty and skincare, is also known for trendy street foods that will have you clicking away on your camera like a food blogger. (Spoiler alert: major food porn coming your way)
Milky Bee Ice Cream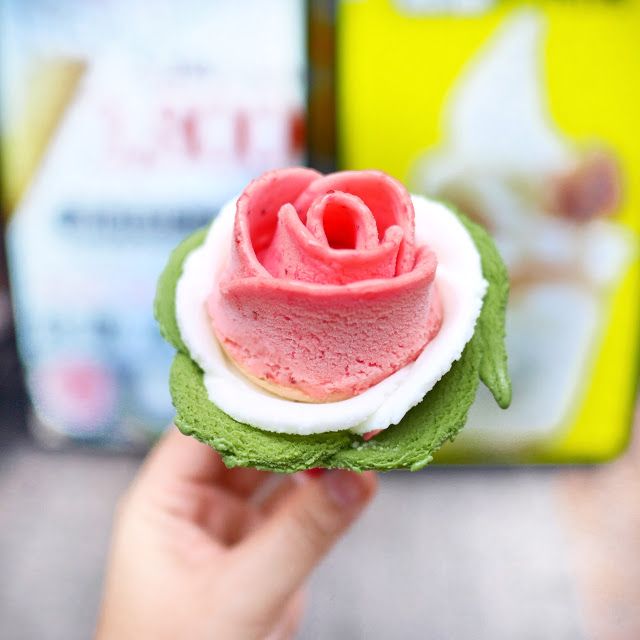 Pictures of this rose-shaped ice cream have been popping up on food bloggers' Instagrams. These beautifully sculpted ice cream can be found at Milky Bee in Myeongdong, and comes in four flavours - chocolate, strawberry, green tea and yogurt. A maximum of three flavours can be selected to craft the rose. Our only advice is to take a photo before it melts! 
Croissant Taiyaki 
You might have heard of Croissant Taiyaki? The popular Japanese brand made waves in Tokyo a few years ago with its fish imprinted croissants, and has now made its way into Seoul. There's nothing traditional about it, the snack is made from croissant dough and filled with sweet fillings such as custard and ice cream. Fingers crossed that they will bring this to our shores soon. 
Gyeranppang 
The glorious combination of eggs and cakes make Gyeranppang a favourite amongst South Koreans and tourists. This tantalising treat can be found along the streets of Myeongdong. You know what to have for breakfast now, don't you? 
32cm Ice Cream
Eating an ice cream longer than your face may seem indulgent, but we would love to have it in our Instagram feed. Bring your ruler if you're heading there, we are still waiting for visual proof that the ice cream is indeed 32cm. 
Bbopki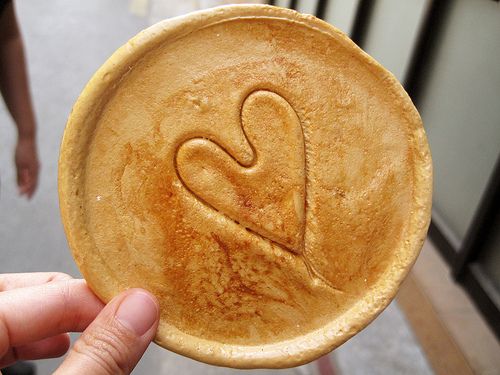 Made from sugar and baking soda, Bbopki is South Korea's version of a lollipop. These round candies are imprinted with cutesy shapes such as stars, hearts and flowers. We are waiting for an ahjumma to add on emoticon shapes. 
Baked Cheese 
Cheese fans would want to get a load of this baked cheese skewer. The cheese is grilled and paired with rice cakes, the perfect combination IMO. 
Penguin Macaron
The queue at Penguin Macaron means that its ice cream macarons are worth a try. Pick from flavours such as cheese cake, green tea and bischoco, and let the scooper decide the best macaron shells to go with it. 
Grilled Sausages 
Grilled sausages are the mainstays of Seoul's street food. This version is stuffed with rice cakes and slathered with mustard and tomato sauce. 
Mochi Story 
While Japan may have their daifuku, Mochi Story upgraded the traditional mochi to other variations such as blueberries and grapefruits. These mochis come sliced in half for ease of eating and the all important photo op. 
Mr Churro 
We know Mr Churro from the store in ION, but the humble churro store originated from a street stand in Hongdae. This fried Spanish pastry is served with chocolate sauce, cheese or ice cream. 
King Kong Waffle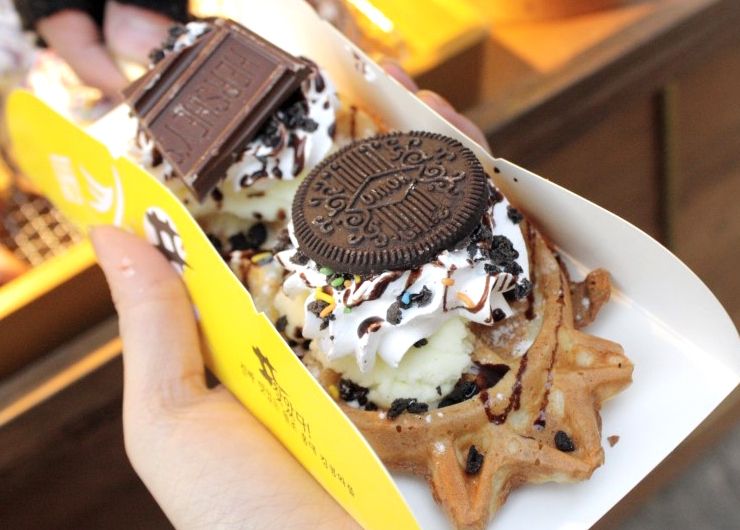 Hongdae's street food scene is brightened by the addition of King Kong Waffle. The waffles are served on a stick and decorated with just about any sweet toppings you can think of - cream cheese, oreos, rainbow sprinkles and Hershey's chocolate bars. For savoury waffles, there is always the pizza waffle.