We may want to save a few bucks, but we still want to taste the best of Japan.
In a country well known for its extensive list of Michelin-starred restaurants (we're not at all surprised), the list for Japan is a mixture of high-end restaurants, traditional ryokans, and hole in the wall eating places. Sukiyabashi Jiro may be way over our budget, but there are still a few affordable eats that won the hearts of the Michelin Guide inspectors. We decode the all-Japanese websites to bring you the 10 places to eat under $40 in Tokyo, Kyoto and Osaka.
Tsuta, Tokyo
Credit: HUH
Tokyo's Tsuta is the first ramen establishment in the world to score a Michelin star. To get in, all you need to do is grab a ticket in the morning and show up at the allocated time slot. While shoyu soba ramen is one of the highlights, the menu is a blend of Japanese and European ingredients. Think rosemary flavoured char siu. If a trip to Tokyo is not in the works for you, head to Pacific Plaza to try a bowl of Tsuta ramen at the newly opened branch.
Ramen from ¥1,000.
Ginza Ibuki, Tokyo
People head to Ginza Ibuki for authentic Koichi cuisine, and especially for Chef Sadahisa Yoshizawa's katsuo. While dinner prices can reach a whopping high, its lunch bonito set won't burn a hole in your wallet.
Lunch set from ¥2,600.
Totoya Uoshin, Tokyo
The chef at Totoya Uoshin is a fish expert. Japanese fish is not only served as sashimi, the restaurant's seasonal fish can be steamed or cooked in a soup, amongst other preparation techniques.
Lunch set from ¥1,800.
Yoshihashi, Tokyo
There's not much internet hype over Yoshihashi, a sukiyaki restaurant frequented by bureaucrats. From what we can gather online, there is only space for 12 for the affordable lunch set. Strictly no reservations allowed. Wagyu beef and vegetables are cooked in sukiyaki broth and served with an egg on the side as a dipping sauce.
Lunch set from ¥2,160.
Okina, Kyoto
Making advance reservations is a requirement to get a seat at Okina. But to get a taste of Michelin-starred Kyoto cuisine, putting an Okina slot into your itinerary a month in advance is well worth it. There are as many as 60 items on the menu, but the chub mackerel sushi is the first thing on our list to try.
Lunch from ¥2,000.

Nicolas, Kyoto
Don't be fooled by the traditional wooden exterior of
Nicolas
, its menu is a refreshing take on the classic soba dish. Many rave about the handmade soba topped with fresh fruit tomatoes. Don't expect just the typical soba and tempura combination, as it is often accompanied with an assortment of other types of dishes such as almond tofu.
Set menu from ¥2,160.

Hirokawa, Kyoto
It's all things unagi at
Hirokawa
, from unagi donburi to grilled eel liver. Hirokawa is housed in a sukiya-styled structure, and marries its fresh eel dishes with views of nature at Arashiyama.
Unagi donburi from ¥2,100.
Takama, Osaka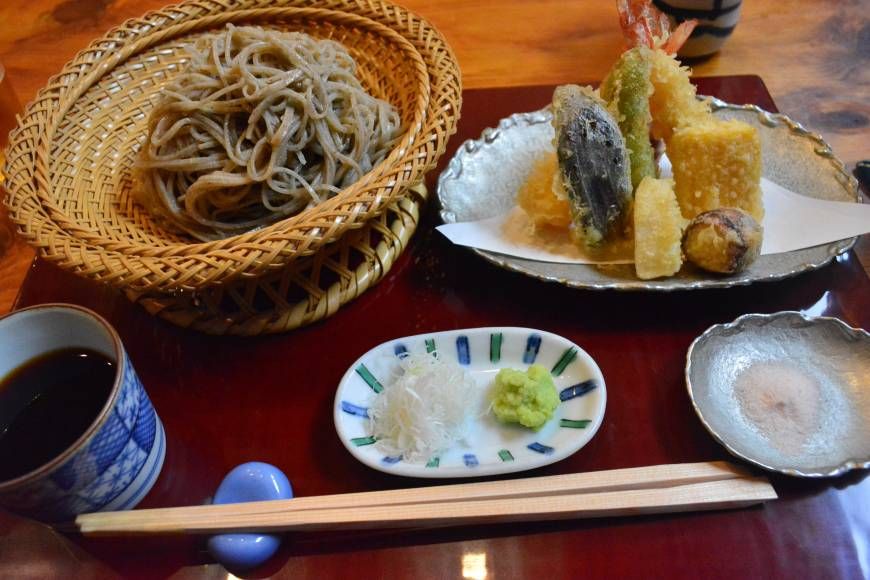 Wake up early to go to Takama, it closes at 2.30 pm or until it's sold out. There are two types of soba - mori soba and inaka soba. We say go for the inaka, it's made from 100% buckwheat flour.
Lunch from ¥950.
Ajinakaori Yamawaki, Osaka
Traditional Japanese cuisine is at the heart of Ajinakaori Yamawaki - Japanese sets comprising of anything from carefully sliced sashimi to chawanmushi, some of which are the owner's unique creations.
Lunch from ¥2,160.
Yotaro Honten, Osaka
This tempura store at Koraibashi garnered two Michelin stars. At Yotaro Honten, Kansai-styled tempura is served with baked salt in place of regular tempura dipping sauce. The seabream rice is a house specialty, so pre-order it for your visit.
Lunch set from ¥2,500.