Known for its yummy flavours and the ability to keep our gut healthy, VITAGEN LESS SUGAR has been a household name for decades in Singapore.
Out of the seven flavours of VITAGEN LESS SUGAR and VITAGEN LESS SUGAR COLLAGEN, we did a quick poll with our team to see which is the most popular flavour.
Before we start, let's just have a quick recap on the different flavours we have for VITAGEN.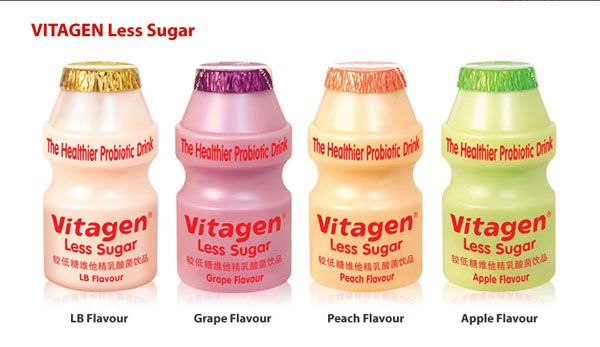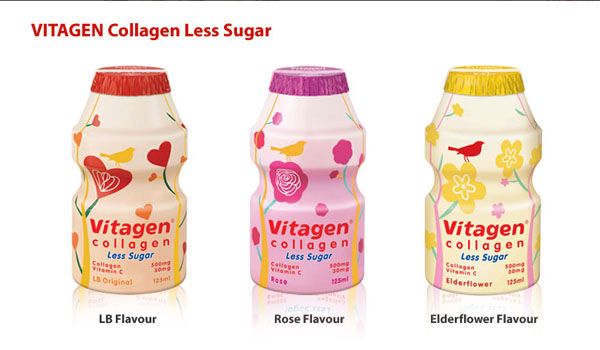 Team MFP has a majority vote of love for the LB Flavour. Only 2 chose the Grape Flavour and 1 loved all seven flavours!
Immelda, Client Service Manager
I'm choosing Grape flavour as my favourite because purple is my one of my favourite colours. My family drinks VITAGEN LESS SUGAR regularly since it is good for the digestive system.
Eunice, Business Director
I love the VITAGEN LESS SUGAR LB Original Flavour. I like its milky taste that is not too sweet.
Xinyi, Editor
VITAGEN LESS SUGAR LB Original has always been my favourite since I was a kid. I like it so much that I will always get the single flavour packs, meaning the one with 5 bottles of LB Original in a pack, so that I drink them to my heart's content! And being the vainpot that I am, I appreciate the fact that collagen is now added into VITAGEN to help us on our anti-aging journey!
Sandra, Nutritionist (Food and Fitness Writer)
VITAGEN LESS SUGAR COLLAGEN Elderflower flavour! Because yellow is my favourite colour. Ok, I like its tart and florally sweet flavour, 2 different tastes in 1 bottle. Reminds me of the girl who is flirty yet sweet. I drink VITAGEN to prevent constipation and for beautiful skin!
Stefanie, Digital Content Producer
I chose the VITAGEN LESS SUGAR COLLAGEN Elderflower as my favourite because the slight tinge of sourness lends it a refreshing after-taste.
Helly, Client Service Manager
I prefer the VITAGEN LESS SUGAR LB Original flavour. My mom is very health conscious and we have no soft drinks in the house, so when I open the fridge, all I see is VITAGEN!
Jacky Choo, Head of Mobile and Web Development
I love all the 7 flavours and I always buy VITAGEN LESS SUGAR for my children since it is a healthy drink for them.
Herman Wu, Head of Creative Services
I love VITAGEN LESS SUGAR Peach flavour. It is tasty and I appreciate the goodness it does for my body. It also brings back memories of my childhood because it is something I look forward to in school. I always ask my grandmother whether I can buy VITAGEN when I was a kid!
Suk Yi, Multimedia Designer
I like the original flavour, as I tend to prefer the pure taste of VITAGEN LESS SUAGR. Love it since it is good for stomach health and digestion!
Herine, Blogger
My favourite is the VITAGEN LESS SUGAR LB Original flavour. As a kid, I would watch VITAGEN's TV commercials and I always know that it contains probiotics and it is good for the body. Hence my family always buys VITAGEN LESS SUGAR!
VITAGEN LESS SUGAR and VITAGEN LESS SUGAR COLLAGEN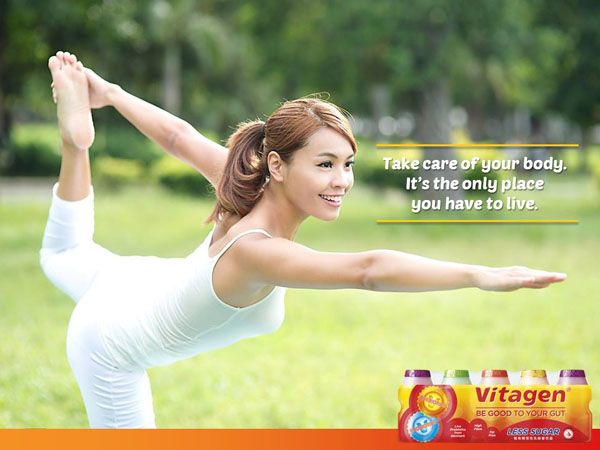 The VITAGEN story begins in 1977 with the understanding that a healthy digestive system is the key to helping Singaporeans lead healthier lifestyles, and VITAGEN became the premier cultured milk brand in Singapore.
Singaporeans became more health conscious and VITAGEN was relaunched in 2005 to VITAGEN LESS SUGAR. It is formulated for consumers who are concerned about their sugar intake and is in line with a healthier Singapore.
VITAGEN also launched their VITAGEN LESS SUGAR COLLAGEN that is especially for those of us who are fighting signs of aging. The floral flavours of VITAGEN Collagen Less Sugar offer a new sensation to delight one's taste buds.
Choose VITAGEN LESS SUGAR and VITAGEN LESS SUGAR COLLAGEN for a healthier you! Get it delivered to your house today!