Cast your superstitions aside this Halloween to enjoy an evening of unearthly delight at the Caffé B Bar's first Ghost Riders' Night on Saturday, 27 October.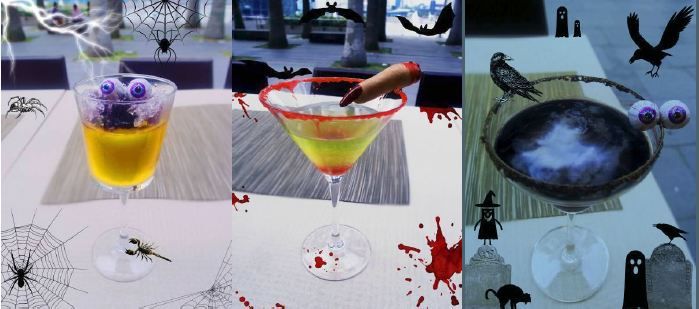 With the pre-Halloween merriment kicking off in spooky style from Monday, 22 October onwards, look forward to a playful twist on traditional trick-or-treating that features frightfully addictive themed cocktails and sinfully scrumptious nibbles.

Against a breathtaking backdrop of the iconic Marina Bay skyline, immerse yourself in the surrounding lights and laughter of the chic al fresco setting from 6pm till luxuriously late. Groove to the familiar beats of song thriller favourites or revisit the cauldron of candy treats perched on the bar top, all the while sipping some specialty poisons – if you dare.




The outdoor bar at Caffé B will be offering the following divine deals to all ladies and gentlemen:

15% off Selected Cocktails From Monday, 22 October until the end of the month, enjoy 15% off selected cocktails.

1-for-1 Halloween Ghost Riders' Cocktails Caffé B's resident mixologist has specially created three original Halloween-themed cocktails – Fluffy Monster, Vampire Kiss and Forever Death. From Saturday, 27 October until the end of the month, buy 1 Halloween cocktail to get another free.

The bar will also play host to its own band of Ghost Riders that very afternoon, who will be swooping in to mingle with a lucky few for some pre-Halloween ghoulish fun.

While the grisly touches to the tempting themed concoctions may evoke quite a scream from the faint-hearted, each cocktail is hardly a horror for the taste buds. In fact do not be too surprised if the bewitching blends have you hooked before you can even utter 'Hocus Pocus'.

Nearly as saccharine as its name, the Fluffy Monster is an amalgam of riveting sweetness with its melding of peach cordial, Cointreau, lychee syrup and orange juice to fruity perfection. Unapologetically intoxicating, each Vampire Kiss is a divinely heady potion of Midori, Gin, Cointreau and syrupy Grenadine in gold dust. Showcasing Black Vodka, Cointreau and Sweet and Sour ingeniously combined with a dash of milk, let the Forever Death be an alluringly worthwhile lesson in living dangerously.

After all, there is no better place than the Caffé B Bar to experience the more thrilling sideof Halloween.

Address:

2 Bayfront Avenue
B1-15 & 01-83
The Shoppes at Marina Bay Sands
Singapore 018972

Opening Hours Restaurant: Lunch 12pm – 3pm Dinner 6pm – 11pm

Bar: Sunday – Wednesday 11am – 11pm Thursday, Friday, Saturday & eve of PH 11am – till late

Reservations Restaurant: +65 6887 3311
Bar: +65 6222 2329

www.caffeb.com.sg