The actress shares her strong opinions on motherhood, her hair, and much, much more.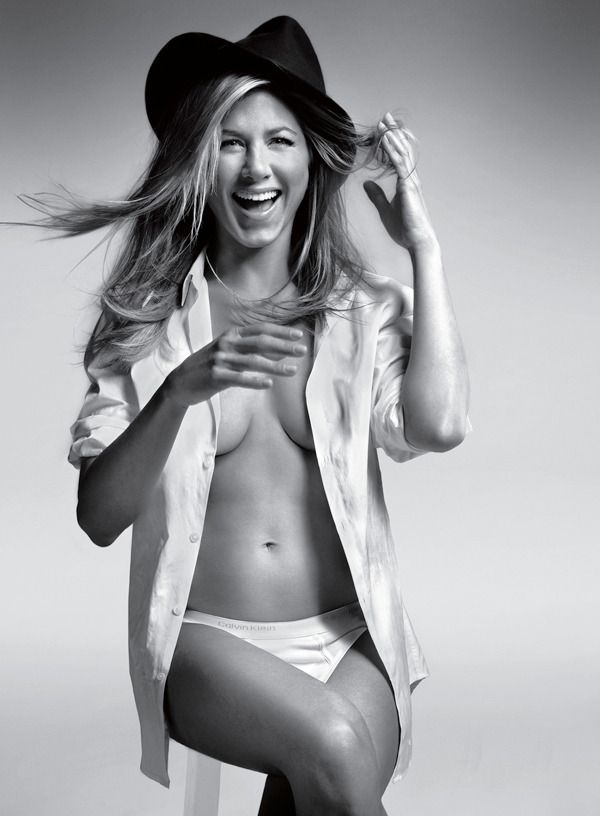 Credit: David FromFrance Flickr
In her latest film Cake, Aniston plays Claire, a woman in chronic pain after being in a car crash. "So much of the exercise was just letting yourself fall apart," says the actress. During filming, Aniston stopped wearing makeup, shaving, and looking in mirrors; she also had a large prosthetic scar on her face. "A woman going physically unattractive is where you get recognition and some sort of respect. You read things like, 'Oh, finally, she's acting!'" Aniston scoffs. What does she make of the fact that so much attention is paid to the physical appearances of actresses, especially when they go without makeup for a role? "Quite sexist, to be honest, because men don't get that." Here (below), Aniston poses for photographer Michael Thompson in a sequined silk dress by Donna Karan New York.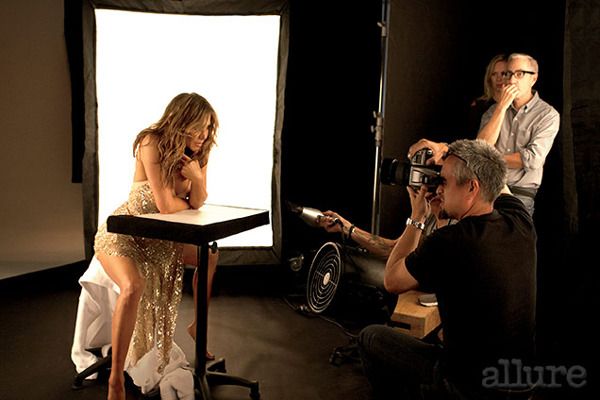 Credit: Allure
For this shot (the cover, below), hairstylist Chris McMillan combed a mixture of mousse and shine serum through Aniston's damp hair. He straightened just her roots and scrunched the bottom half of her hair with his hands while he dried it with a diffuser. To play up Aniston's golden look, makeup artist Charlotte Tilbury swirled bronzer along the sides of her face and apricot blush on her cheeks. She chose a palette of gold and bronze shadows for Aniston's eyes and layered shimmery bronze gloss over berry lipstick. The look can be re-created with Colour Riche Eye Shadow in Treasured Bronze, True Match Super-Blendable Blush in Soft Sun, and Colour Riche Le Gloss in Nude Touch by L'Oréal Paris.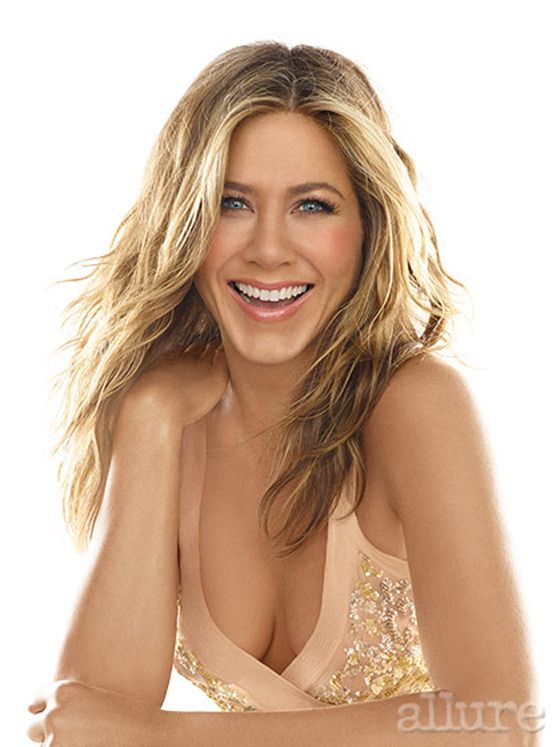 Credit: Allure
When asked why the word "feminism" is so complicated, Aniston is direct: "Because people overcomplicate it. It's simply believing in equality between men and women. Pretty basic." She's not shy about her thoughts on motherhood, either. "I don't like [the pressure] that people put on me, on women—that you've failed yourself as a female because you haven't procreated. I don't think it's fair. You may not have a child come out of your vagina, but that doesn't mean you aren't mothering—dogs, friends, friends' children." Aniston has reason to have thought these issues through. "This continually is said about me: that I was so career-driven and focused on myself; that I don't want to be a mother, and how selfish that is." Ticking off these accusations now, she seems unfazed. But when it's suggested to Aniston that maybe she just lets the insinuations roll off her back after so many years of hearing them, she says, "No. Even saying it gets me a little tight in my throat." Here, she wears a beaded silk dress by Altuzarra.
Credit: Allure
Aniston's hair is naturally curly, though in the past she usually wore it straight because controlling the texture was so arduous. "The amount of crap that I'd have to load up, layering different products and going down to the ocean and getting some water bottles filled with beach water [to spray on it]. That would work. But how often are you near a beach? It's nice to let it go raw and animal. You just have to have the right product," says Aniston, who is a co-owner of and spokeswoman for Living Proof, which this month introduced Living Proof Curl, a line of products promising to help curly hair hold its shape without frizz. "It's nice when something works and does what it says it's going to do," she says of the new products. "A bad-hair day really can set you off on the wrong foot, as can many other things, but it's nice when you get the good hair down because that way you can focus on all the other things that are going wrong."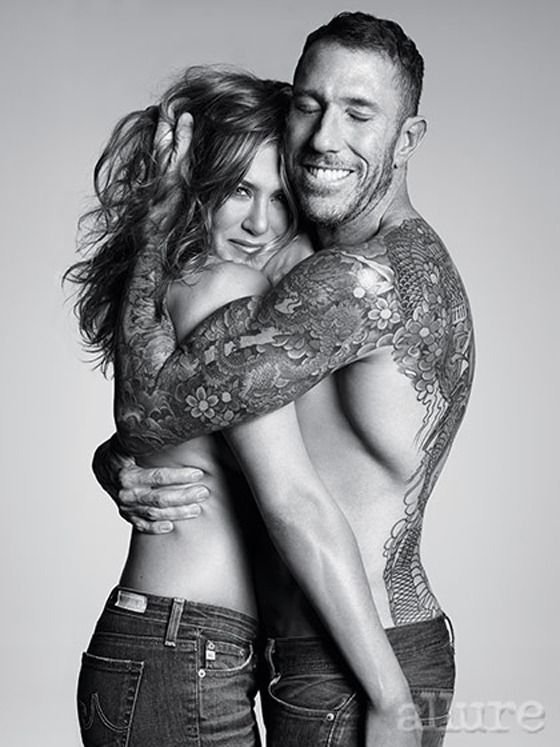 Credit: Allure
Souce: Allure