This Valentine's Day, kikki.K is offering up the windows of their ION Orchard and Changi Airport boutiques to help you let your loved ones know what they mean to you, by means of a special handwritten message.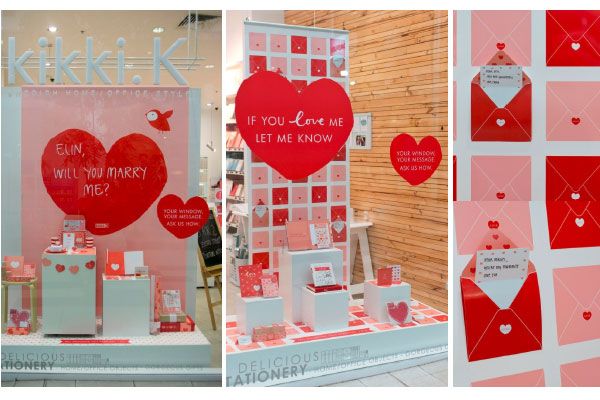 Between the 28th January and 14th February, kikki.K will display six messages in billboard style, handwritten with love in white paint marker across the Valentine's Day themed windows of both boutiques for all to see.

Whether you decide to send some love to a friend, or it's the perfect timing for that four word question you've been sitting on, kikki.K encourages you to submit your message over the next two weeks for the chance to have it shared publically.

Those looking to submit their messages can do so from today by emailing This e-mail address is being protected from spambots. You need JavaScript enabled to view it with a special message of no more than 40 characters or tweet it @kikkiK with hashtag #tellsomeone. Messages can also be submitted at your nearest kikki.K boutique or via the kikki.K Facebook page.

The secondary window in kikki.K boutiques features a wall of handwritten love messages, inspiring you to put pen to paper to send a heartfelt message the traditional way this Valentine's Day.

The special window project celebrates the sentiment that Valentine's Day is the perfect opportunity to tell any of your loved ones what they mean to you – whether it is your partner or simply a special friend or family member.

kikki.K's new You & Me Collection - in stores or online at www.kikki-k.com this week – also celebrates this sentiment. The delicious array of greeting cards and creative DIY items inspires you to share meaningful gifts and messages to tell someone you love them this Valentine's Day.




Date Night Kit
Share the love with a partner or simply someone special, with the help of this kit – including: 2 x Paper Cups, 2 x Paper Straws, 2 x Placemats, 2 x Napkins, 2 x Coasters, Menu & Conversation Starters





Wooden Stamp Set, $29.90
Create a gorgeous, personalised card or project with this gorgeous set of stamps.

Wooden Blocks, $19.90
A gorgeous set of wooden blocks to give some love to any space at work or home. Display the blocks to spell 'L O V E' or 'YOU & ME




Printed Notepad, $11.90
The perfect notepad for sending some love this Valentine's Day

Everyday Gel Pen, $5.90




So Much Love Memory Book, $39.90
A gorgeous memento for your partner or friend. Recount special memories, stick in photos and decorate with stamps and stickers. Front cover features gold foil detailing for that extra special touch.

Heart Bunting, $9.90
Add a touch of love to any space with this gorgeous heart shaped bunting.



Greeting Cards, $6.90 each






Create with kikki.K Notepads & Journals
In as little as five minutes, you can turn your personal photos into gorgeous, personalised stationery for loved ones to use for years to come. Visit create kikki-k.com.




Create with kikki.K Photobooks
Treasure beautiful memories and photos in a hardcover, softcover or linen cover Photobook. Combine your photos and kikki.K designs pre-loaded in the unique editor. Visit create kikki-k.com.