Trendy Fashionistas on Android, these are probably the best 4 Android apps to date worthy of your downloads.
Trendstop Fashion Trend Tracker
Trendstop is an extremely well-designed app for those Android owners with an interest in high-fashion. Check out the latest news and track the hottest creations from your favourite designers through a slick menu-driven system that's full of pictures and extremely easy to navigate. Best of all are the app's 'Trend Reports' which offer you a guide to everything from python punk to futuristic flapper. No, we did not just make that last one up.
Imagine you're a trendy fashionista who wouldn't be seen dead in the same outfit twice. If you're Life Of Android, you have to imagine really, really hard. Whatever your tendency for eye-catching clothes combinations, Fashion Diary will help to ensure you never bust the same outfit on multiple occasions in the same week/month/century depending on the size of your wardrobe. Simply take a picture of yourself and the app will archive it by date for you to return to if you're unsure of the last time you donned a tatty t-shirt and jeans. In our case, that would be yesterday.
A simple how-to app illustrating several timeless make-up tips courtesy of the Glamour fashion team. Fast Beauty is sponsored by Lancôme so there are a fair few plugs for its products but for a free and refreshingly professional app, that's a simple sacrifice to make. Most importantly, the majority of tips are shown in video for maximum convenience.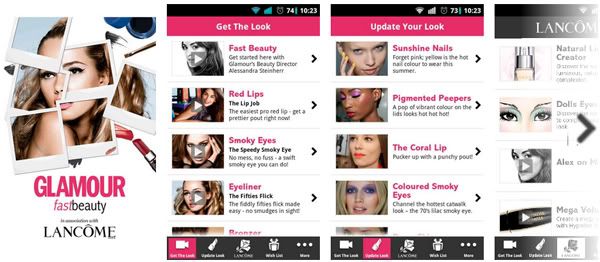 The gold standard for catalogue apps, H&M contains many a well shot snap of this season's H&M catalogue, tailored specifically to the country you live in, and presents them in a set of impeccably presented galleries. Including a local store finder, Facebook connectivity and timely news updates plus the option to shop online, there's little more you could ask for here.
Source: Lifeofandroid