Erm... You are puzzled as to where in this tiny red dot you could bring your girlfriend or boyfriend or partner to. And it MUST be surreal. Making him or her feel that this is THE PLACE that belongs to both of you at that very moment.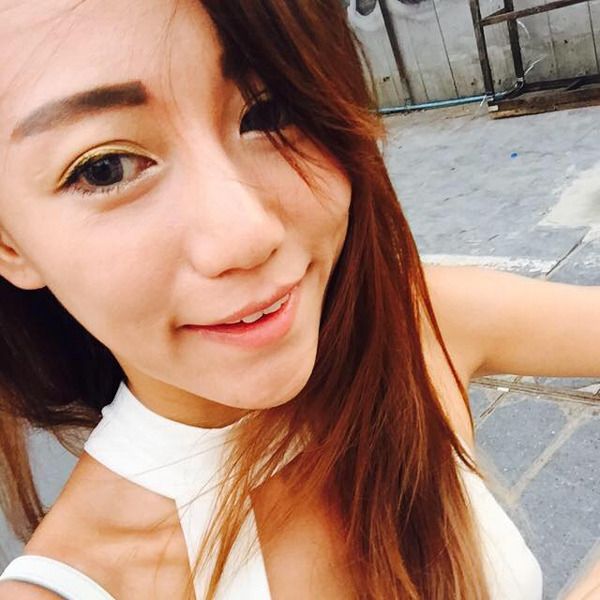 Well, I have put together some romantic places that I have been to and felt that they're really THE PLACE that you should visit with your partner once in your lifetime at LEAST, if you are in Singapore.
Well, for me I'd wish to go these places again with my partner if he actually reads my article.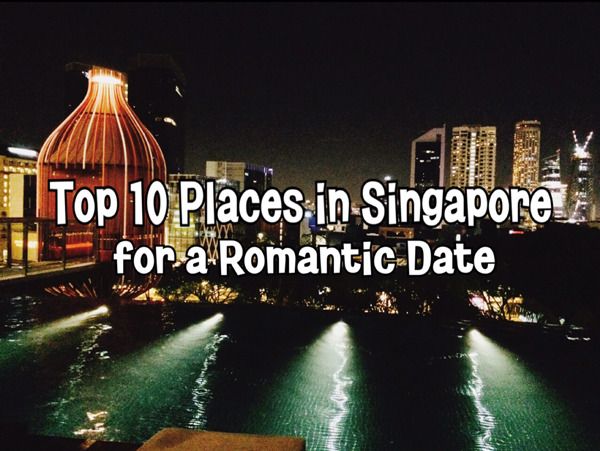 HERE IT GOES...

1. LANTERN AT FULLERTON BY THE BAY
I can say nothing but to sing praises to this hotel. Because once you step in, the whole hotel smells so GOOD! And that makes me feel so happy and pleasant. And the Lantern is located at the pool side of the hotel. So remember you NEED TO MAKE A RESERVATION in advance because if you don't you won't get a good seat or rather no seat. The front sofa seats are overlooking the river and MBS. You'll get a very very good view of the laser show - although from the opposite side - but still it's really pretty to look at the magnificent view of the most famous hotel in Singapore, MBS, and the Singapore Flyer. A bottle of wine and some finger food will make your night sing like a lullaby.
2. GARDENS BY THE BAY
Watching the movie AVATAR made me think that this imaginary planet that James Cameron had seen in his vision just came to LIFE at Gardens by the Bay. This indoor green house or should I say a botanical display of so many species of plants had made me feel that I've stepped into a whole new world of wonders. The water, the structure, the fresh air and so many reasons that I can't pen them down right just here. You've just got to bring your partner for a very meaningful day out there. It's not like a family place only but I felt peaceful and the whole place made me feel I am in some place in the universe and not Singapore. That's how I felt. And when night falls it's a different story to tell.
3. INFINITY POOL AT MARINA BAY SANDS SINGAPORE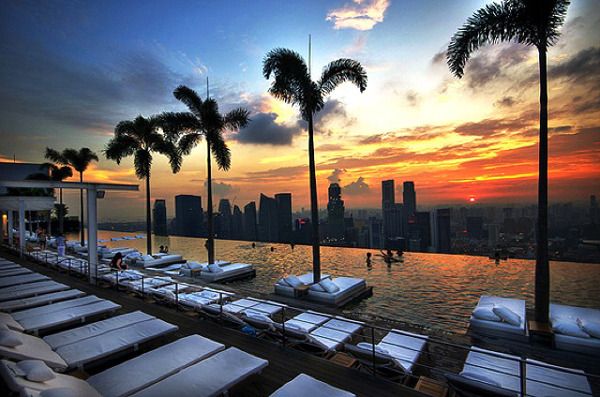 No need for much introduction of this piece of artwork that the architect has presented. This is THE MOST POPULAR INFINITY MUST GO POOL IN THE WORLD! It won so many awards and it's so HIGHLY TALKED ABOUT ever since it made it's way to the public eye. And I too, felt that I always wanted to go there again! Well, the catch here is that you need to be a hotel guest in order to access the pool. So why not plan a staycation with your partner during the low peak season and you might just get a stay there at a really reasonable price. And what's more, the truffle fries there ROCK! So it's not just about dipping in the pool but also relaxing, chilling and yup, doing the Asian thing, #selfie. So if you are planning a visit there remember to buy a waterproof pouch for your gadgets cause you won't want your devices getting wet and spoilt. Yup! You can take a dip in the evening time before sunset and a bottle of wine or champagne will just do the trick to boost up the ROMANTIC AMBIANCE! If you can't find a seat, you can always look for their friendly staff there for help or simply inform the hotel that this is your special moment. Tipping is unnecessary but it's good because you'll bring a smile to the service people there.
4. PARK ROYAL ON PICKERING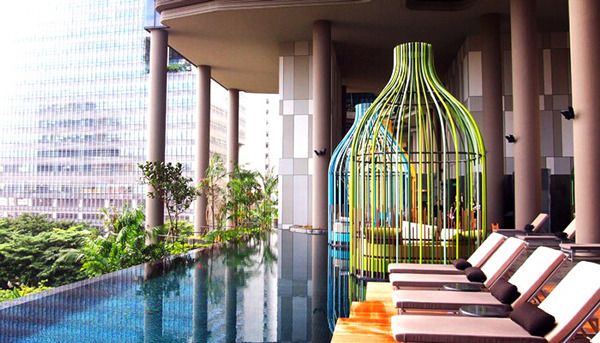 I just had a staycation there recently with my partner, and of course, it was a really really pretty hotel! And I can say it's one of the most prettiest hotel I've stepped into in Singapore. The whole hotel is like a GREEN place, covered with plants and woods and yup it all just falls into place. And they have a pool area which resembles much of the infinity pool in MBS, but with a totally different view. I felt that this area is like a mini lake and it had like self-contained cambers for you to do whatever you want inside if you want to skip the tanning chair. I guess you need to be a member or hotel guest to be able to access the pool located on the 5th floor of the hotel. So if you are planning for a staycation, you could consider this place. And what's more, it's conveniently located at Chinatown and you can just grab food over at Hong Lim Market Food Center which is located behind the hotel and yup, everywhere is reachable. And they do have really attractive promotions running now and then so here's one more place you might consider.
5. UNIVERSAL STUDIOS SINGAPORE
I guess it's romantic in a way because the theme park has so many little themes. And my favourite is the NEW YORK theme. When you walk into those small alleys at night, it's just like a blown away feel that I was teleported to the olden days. And at night, the park is so peaceful and I just held my partner's hands and ate churros while watching the calm man-made lake and seeing the stars in the sky. That is romantic to me. And yup, after a day of screaming and having fun in the park, it's just peaceful to be there looking at the night view of the park. Remember to get a fast pass if you are lazy or impatient like me because the queue is so long for a ride and it just wastes your time doing that. So splurge a little more and yup, enjoy that FUN DAY!
6. THE WHITE RABBIT AT HARDING ROAD
This is one of the MOST POPULAR wedding solemnisation location and it was a church previously. What more can I add? An old church always preserves very ptraditional architecture and stained glass on the windows are always an art that would make me raise my head to observe. The White Rabbit preserves the original layout of the church, only the furniture has been replaced, and it's now a semi-fine dining restaurant. They serve more french cuisine I would say because their dinner lobster pasta rocks! They do have a mixture of like fish & chips for children and yup, other specialties but mainly people go for their pasta and wine there. So if you're looking for a place to bring your partner for brunch or dinner you should do an online reservation first. And trust me, it's worth the taxi trip there.
7. PALAWAN BEACH AT SENTOSA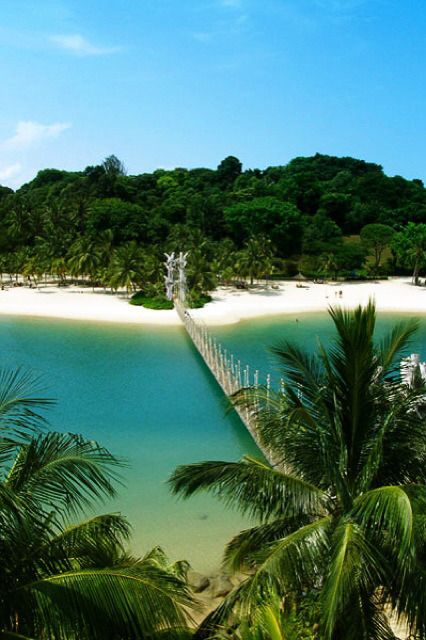 It's all about the sun and the sea. This beach is how the word RELAXATION looks like. It looks exactly like the picture and no joke! It's SINGAPORE. So why not pack your picnic bag and head down for some beach fun with your partner and I'm sure this is something better than a short getaway.
8.  S.E.A AQUARIUM SINGAPORE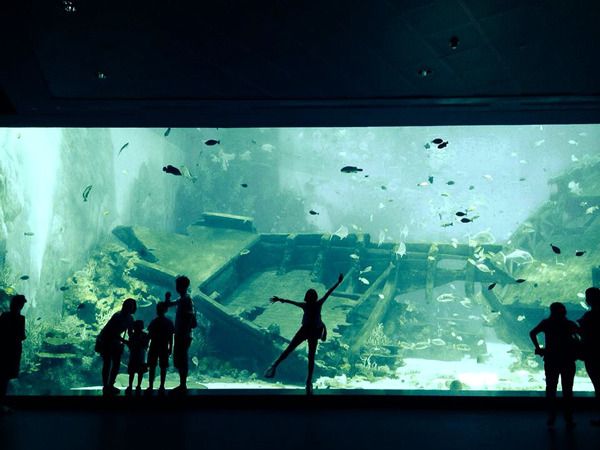 This is one of Asia's most talked about Aquarium. Yes! And I've seen it right with my own EYES! And that is me right in the middle of the picture. I was dead impressed by the whole massive display tank that was right before my eyes! Can't believe this is SINGAPORE! Holding hands with your partner and touring this underwater fantasy is absolutely romantic! They also do have an aquarium restaurant at Cat Cora, which is also THE MOST POPULAR PLACE FOR PROPOSALS. So save it for that special day♡

9. SALT GRILL & SKY BAR AT ION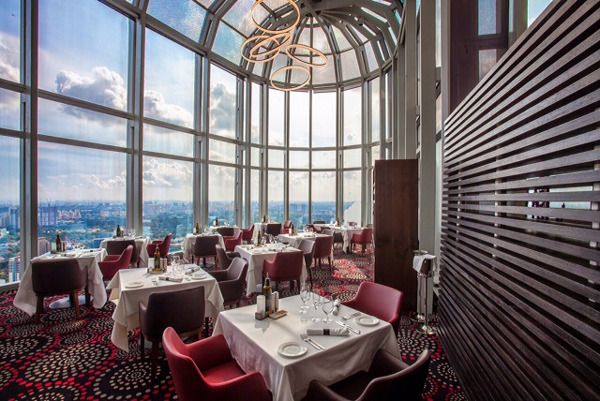 A fine dining restaurant located on the highest floor of ION Shopping Mall. The food says it all. It's a MUST GO, MUST TRY place! When night falls it's just perfect for two to wine and dine. They have excellent service and great food. What more can you ask for? Surrounded with high glass panels that makes it perfect for you to enjoy the night lights of Orchard Road, Salt Grill & Sky Bar is a place I would recommend! Remember to do an online reservation and a special request on siting preference.
10. EQUINOX AT SWISSOTEL
Set in the heart of the city and the tallest hotel in Singapore, this is the perfect place if you want to bring your partner on a fine dining treat with a very good night city view. Dress code is a must and remember to make a reservation to get a good seat because it's always packed with the after office crowd.

So remember to bookmark this page because it'll come in handy if you need a special place to be with that special someone (๑>ᴗ<๑)