You know, sex on the beach (not the cocktail) is one of those things which looks much more enjoyable on TV or in your head, than it is in real life. The first time I had sex on the beach was on Siloso beach at Sentosa one dark and clammy night, almost a decade ago, but I remember it to this day because it was such a horrid experience.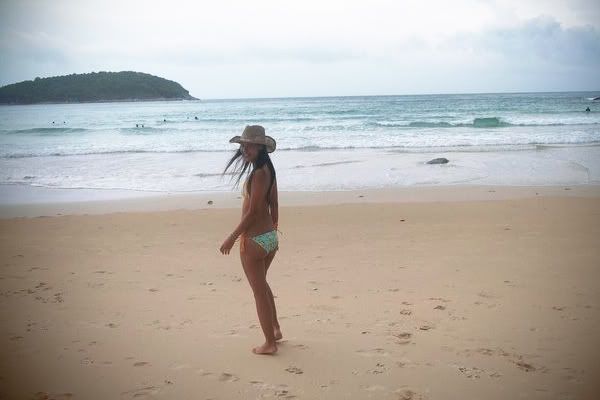 I remember getting bad abrasions from the sand, fearing getting caught and the whole scene of having my bikini bottom dangling off my ankles was not at all sexy to me. To top it all off, my partner was using a Durex Performa condom which had a special lubricant on it to control his climax... and prolonging my misery!
The good thing is, we all learn from bad experiences. So, here's how to have sex on the beach and make it a good experience for everyone- you and your partner (or partners- whatever floats your boat)!
Pack the Essentials - Bring a plastic bag for your used condom, a bottle of water for washing off sand and a towel for drying off or emergency covering up. Please leave behind the lubricant. Sticky lubricant + fine sand = pain.
Pick a Good Spot - You need a spot that is sheltered from prying eyes because in Singapore it is illegal to have sex in public. You could face indecency or lewd conduct charges if you are caught. Also for safety, pick an area which is free from litter, or sharp rocks. Having a tree around makes for good support should you want to do it bent over doggy style.
Wear the Right Outfit - Elasticated waist swim shorts are a good easy-on-easy-off option for guys. For girls, just wear your bikini. You can also wear easy access clothing like Sarongs or wraps. These double up as huge mat because lying but naked on the sand is like rubbing sandpaper around your bum and crotch!
Use Props - You can lie face down and place a large beach ball under your pelvis. Your partner penetrates from behind. With your pelvis elevated by the ball, your partner can reach your G-spot and the bounce from the ball makes good rhythm.
Don't Do It in the Water - I know sex in the sea with waves lapping over you seems like a real hot thing to do. However, water sex is gross because of all the micro bacteria in the sea.. which he will pump into you with every thrust. There are also sharp objects or even jelly fish in the water which you won't be able to see in the dark. Water sex can also dry you out, making it very uncomfortable. Condoms are not reliable in the water.
When you're done, remember not to leave any traces behind, and have a good squeaky clean long shower when you get home!
Check out what the rest are sharing about Love, Relationships and Sex in our Forum!